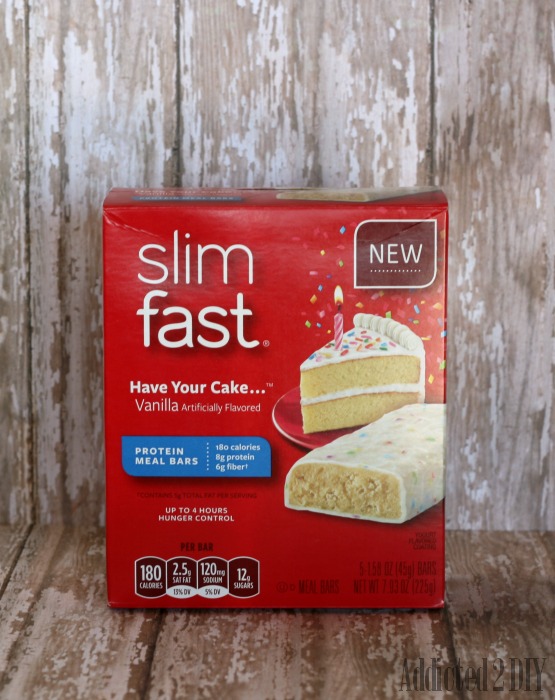 This shop is part of a social shopper marketing insight campaign with Pollinate Media Group® and Slimfast, but all my opinions are my own. #pmedia #14daystoslim http://my-disclosur.es/OBsstV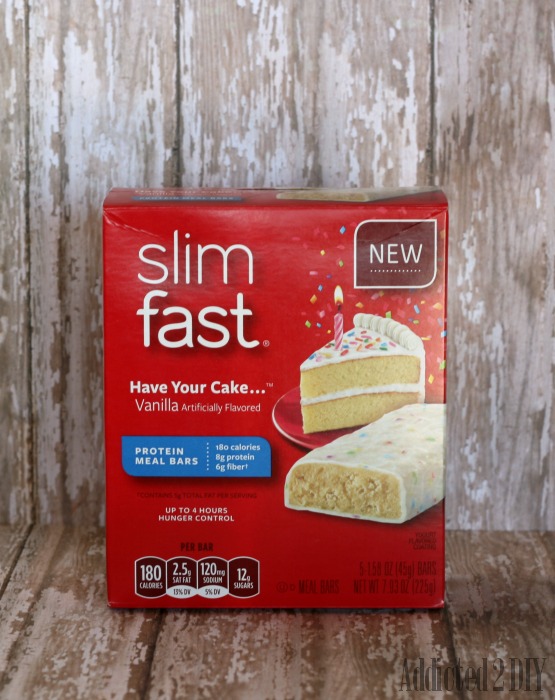 Hey everyone! I hope you had a great weekend! It's getting hot here in Arizona, which means the dreaded swimsuit season us upon us. I personally want to lose a few pounds this summer and feel more comfortable when I'm out in my swimsuit. Not only that, but I'm attending my first blogging conference next month and I want to feel comfortable and look my best! SlimFast will help me do just that!
I've tried SlimFast shakes in the past, but I had never tried their meal bars. Back in April of 2014, SlimFast introduced their newest meal bar, the SlimFast Have Your Cake… meal bars! I've tried various brands of meal replacement bars in the past and they tasted like I was eating chalk and I felt like I was tricked into thinking their flavors would actually taste the way they claimed. Imagine my delight when I tasted the SlimFast Have Your Cake… bars for the first time. They were delicious! It really did taste like I was eating birthday cake. These tasty bars are only 180 calories and they have the most delicious vanilla cake flavor, complete with sprinkles! They're sold in 5 count boxes and you can find them at your favorite retailers like Target, etc. They retail for around $5.49, so they are affordable too!
I love how convenient these bars are. I've got two young boys who keep me really busy, and I've also got loads of projects that I am working on for our home. These bars are so easy to just grab and go when we're headed out for fun activities during the day, or if I'm working in the garage. These SlimFast bars also help curb my appetite. Even on the mornings when I'm really hungry, my SlimFast meal bars actually satisfy me and keep me satisfied for up to four hours. Plus, did I mention that they taste great?
Now SlimFast makes it even easier to lose weight with the SlimFast 14-Day Slimdown. It's is an easy way to lose up to 6 pounds in two weeks and help you get ready for swimsuit season or your next big event! With the 14-day slimdown, you just replace two meals per day with a SlimFast shake or a meal bar, your final meal would be 500 calories and you can have three 100 calorie snacks or a piece of fruit each day. How easy is that? The SlimFast Have your Cake… meal bars are the perfect addition to the Slimfast 14-Day Slimdown. Who wouldn't love to have cake for breakfast? You can find more information and support on the Slimfast 14-Day Slimdown on the SlimFast website. You can also like and follow them on Facebook and Pinterest.
I love the idea of having a plan in place to help me on my weight loss journey. I also love how easy this plan is! Do you have any weight loss goals this year? Have you thought about adding SlimFast into your diet to help you along your way?