Hey everyone! What better time to talk about sleep than on a Sunday (aka a day of rest). Last month, I shared with you the plans and tutorial for the PB Teen knockoff bed that I built for my 9 year old son. We decided to upgrade him from a twin size bed to a double bed, which he is loving. Because of that, we needed to get him a new mattress. It's no secret that quality of sleep is so important at any age; however, with our son, not getting a good night's sleep impacts him in other ways besides the obvious. He has Tourette Syndrome, which you can read more about here if you like. In a nutshell, he has involuntary motor and vocal tics that happen throughout the day. The severity of his tics change almost as quickly as the weather, but one thing we have noticed is that when he is tired, his tics get worse. We wanted to make sure that when he got his new bed, he would have a quality mattress that would give him a great night's sleep. We liked the idea of a bed-in-a-box, because who wouldn't like a nice, quality mattress to just show up to their door? No trying to figure out how to get it home or pay expensive delivery fees. I scoured internet and read people's reviews and comparisons of mattresses and found that Yogabed had great comparison reviews. (affiliate)
One thing I liked about this mattress when I looked them up was the number of layers that were in the mattress, including the cooling gel layer. My son sleeps a lot like I do, which means that he becomes an oven at night. The YogaGel layer means he sleeps comfortably without getting too hot. The mattress is firm, but also has a decent amount of give. It also bounces right back when you press or lay on it, which is nice. My husband thinks it would be too soft for our bed, but we currently have a popular, traditional memory foam mattress and we hate it because it's too firm. Thankfully, Yogabed offers a 101 night free trial, so it's something we can test out and see how it goes. The cool part is that each mattress comes with two free pillows (one if you purchase a twin size).
Probably one of the coolest things about getting one of these beds is that you get to marvel at how they manage to fit a great big mattress into this relatively tiny box! It was pretty fun to watch it unroll and take shape when we took it out of the box. We let it set out overnight to air out until it was ready to put on his bed. Oh, and shipping was so fast! We had the mattress in just a few business days.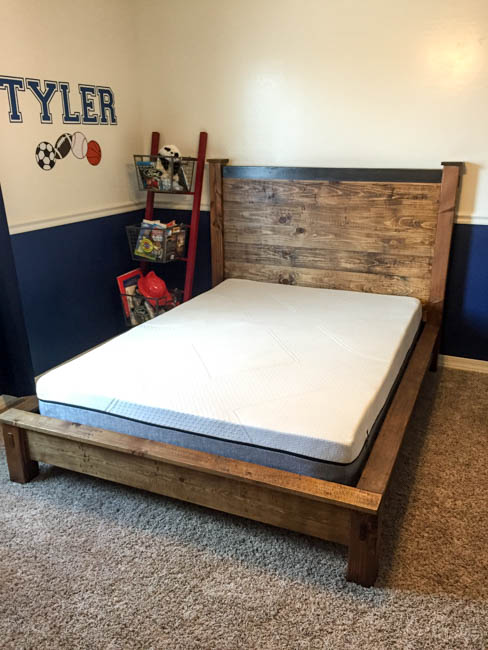 The mattress fit perfectly into his new bed and my son couldn't wait to flop down on it when he got home from school.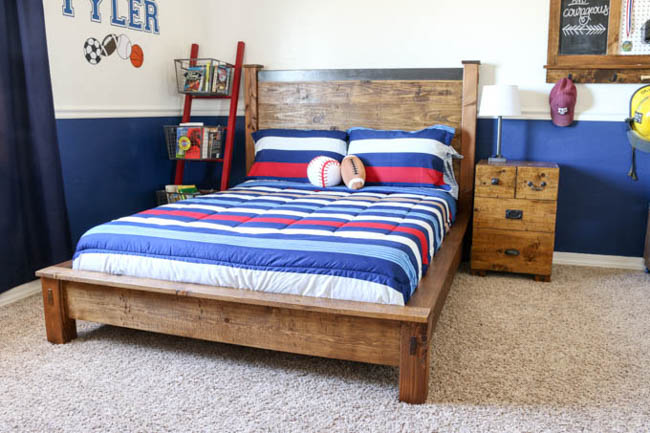 It's been just over a month now that my son has been sleeping on his new bed and I've checked in with him several times to see how he likes his new mattress. He says he loves it and that he's sleeping great on it! Knowing that makes us so happy about our purchase. Not only does he have a mattress that is high quality and that will last him a long time, but he also loves it. I think I may even upgrade my younger son to one of these mattresses when I get around to building his new bed! If you want to check out more information about Yogabed, you can visit their site for all of the details. Also, here is where I found some of the most helpful information when choosing to purchase the Yogabed. (affiliate)
DISCLOSURE: I was given a discounted price on the purchase of my Yogabed in exchange for this review; however, all opinions of this mattress are entirely my own.