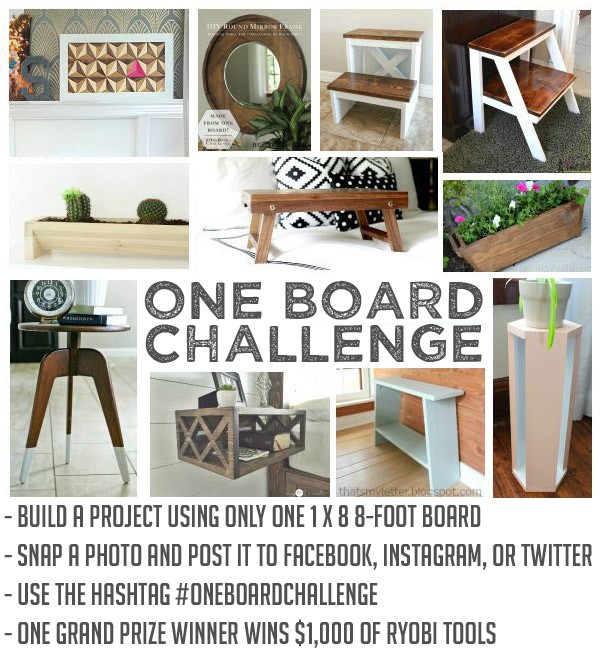 Hey everyone! If you remember, back in July I teamed up with some of my seriously talented fellow bloggers in a One Board Challenge. We had to create something amazing from a single 1x8x8′ board. A challenge it certainly was, but to see all of the different projects that everyone came up with was truly incredible and inspiring! I came up with this rustic x backed stepstool, which has gotten a TON of use since I built it. If you want to see the tutorials for the other projects, you can follow the links at the end of my One Board Challenge post.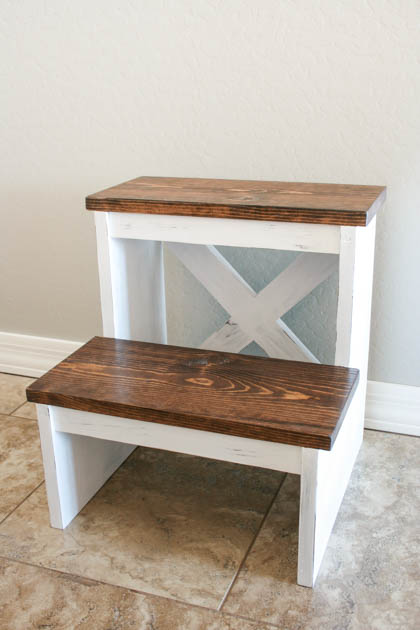 Because we all received so many questions/requests about participating in another One Board Challenge, we decided to hold a contest! The rules are simple; take a 1x8x8′ board and let your creativity flow. You can use fasteners, glue, finish, and hardware, but no more than just the one board. To submit your project, use the hashtag #oneboardchallenge on Instagram, Facebook, or Twitter and we'll gather all of your entries. If you happen to have a private social media account, you'll want to either make it public for the duration of the contest, or you can email me with your pictures and I'll add it to the entries. Now here's the best part. The winner will receive a $1,000 worth of RYOBI tools to outfit your garage or workshop.
You read that right, $1,000 worth of RYOBI tools!!!
Who wouldn't be excited about that!? This contest runs from September 15th to October 15th. At that point, we'll all pick our favorite entries and choose a random winner from there. You do not need to have a blog to participate. Just use the #oneboardchallenge hashtag and we'll be able to find your entries. We can't wait to see what you come up with! Happy building!