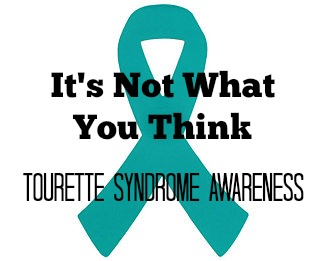 Today, I'm taking a break from my usual DIY posts to open up to get a little personal. It's not something I plan to do often, but I want to bring awareness to something that is very near to my heart. Today I want to talk to you about Tourette Syndrome. It is hard to know where to start with all of this. There is so much I could share with you about Tourette's, and I will try to not bore you with too many details and facts. What I want to do is inform you of a condition that many know very little about.
Tourette Syndrome is one of those diseases that has been the butt of many jokes. It is not the swearing disease as so many think it is. In fact, uttering of socially unacceptable words or phrases (coprolalia) occurs in less than 15% of people. Movies like Deuce Bigalow, What About Bob?, as well as many comedians have made Tourette's seem funny and have made many people (including myself) laugh. Tourette's; however, is nothing to laugh at. Here are some quick facts about this disease:
Tourette Syndrome (TS) is a neurological disorder characterized by repetitive, stereotyped, involuntary movements and vocalizations called tics. It is estimated that approximately 200,000 adults in America are diagnosed with TS; however, those numbers could be much more as there are many who are not diagnosed. Tourette's is an inheritable condition that emerges in early childhood. It is more common in males than females and affects approximately 3 in 1,000 children. The symptoms of Tourette's can me mild, or very severe. To be diagnosed, one must have at least one verbal tic as well as involuntary motor tics. Verbal tics can be anything from grunting, snorting, gasping, barking, etc. Motor tics can be anything from slight jerks to more prominent muscle movements.
Why am I telling you all of this? Because my son has Tourette Syndrome.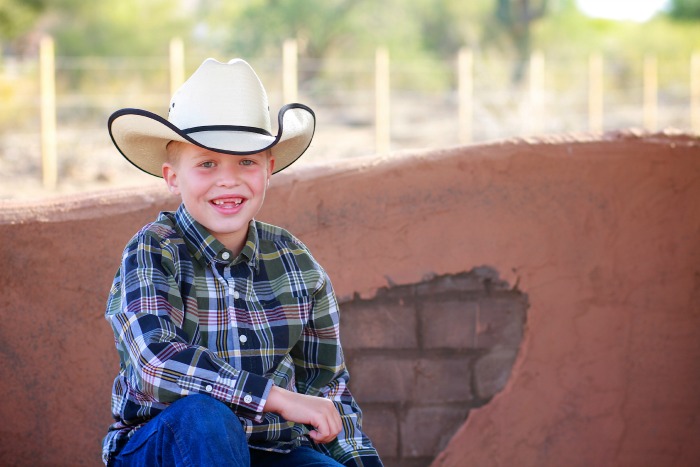 This cute little cowboy is our oldest son, Tyler. He will be 8 years old in less than two weeks and is finishing up second grade. He is the sweetest, most thoughtful kid I've ever met. He's incredibly smart, almost too smart for his own good. He loves sports, riding his quad and dirtbike, hiking, and being with his family. All in all, he has always been a perfectly normal kid. As if any boy could actually be normal;)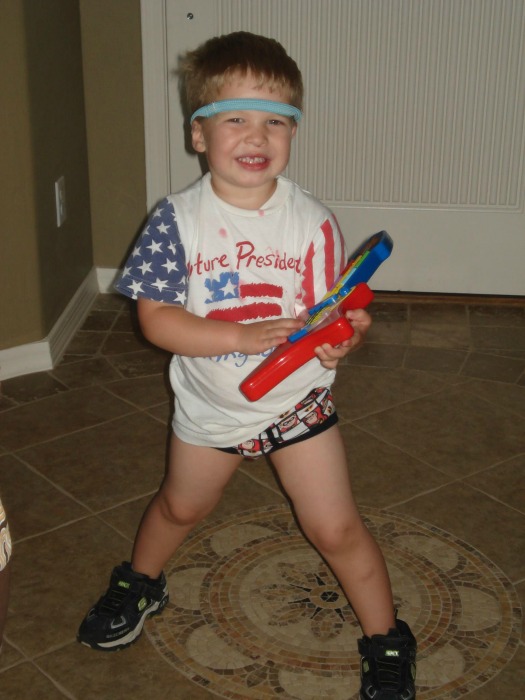 A little over two years ago, we started to notice some odd things happening with him. It began with him rolling his eyes a lot while watching TV or playing video games. He has seasonal allergies, so my husband and I assumed that his eyes must feel itchy or watery. He would always say no when we asked if his eyes were bothering him though. Fast forward two or three months and he started making snorting sounds constantly. Once again, given that Arizona is now a terrible place for people with seasonal allergies, we figured he just had a lot of sinus drainage. The problem was that he did it constantly. We took him to the doctor who recommended allergy medication. It didn't change anything.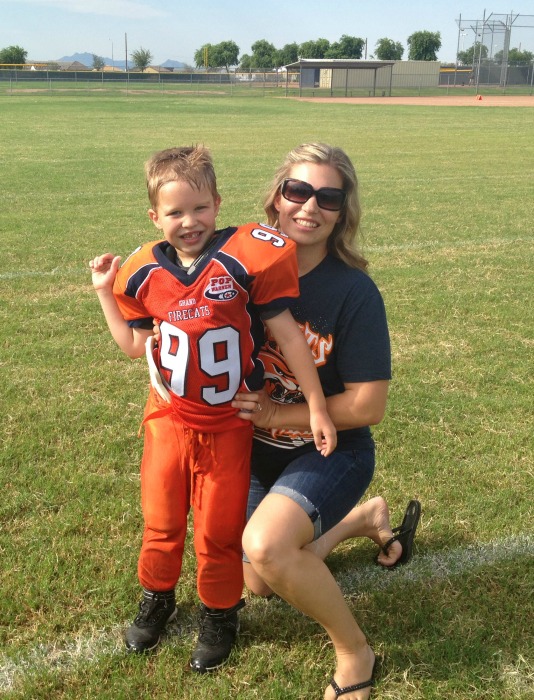 Thankfully, after a few months, the snorting noises stopped. Then he started making other noises and facial movements. Last spring, my dad was over one night and Tyler was going to bed so my dad went to say goodnight. He came out and said "he's got Tourette's." Me being the mature adult who has realized my parents aren't as dumb as I thought they were when I was a teenager said "no he doesn't! You don't know what you're talking about. He has allergies." My dad shook his head and said "Katie, I work with a guy who does those exact same things and he has Tourette's." Once again (mature adult here) said "You're wrong. It's just allergies, dad."
As the months passed, his facial movements and noises evolved and he began to have more exaggerated movements. He would make fists and bang his thighs or kick his legs. We kept asking him why he was doing those things and he could never give us a reason why other than he "just needed to." It was that summer when I began to realize that maybe my dad was right and that Tyler did have Tourette Syndrome. My husband still wasn't ready to believe that was the case, so I never really pushed the idea too often. After all, his tics weren't really that bad and weren't a problem at school or socially.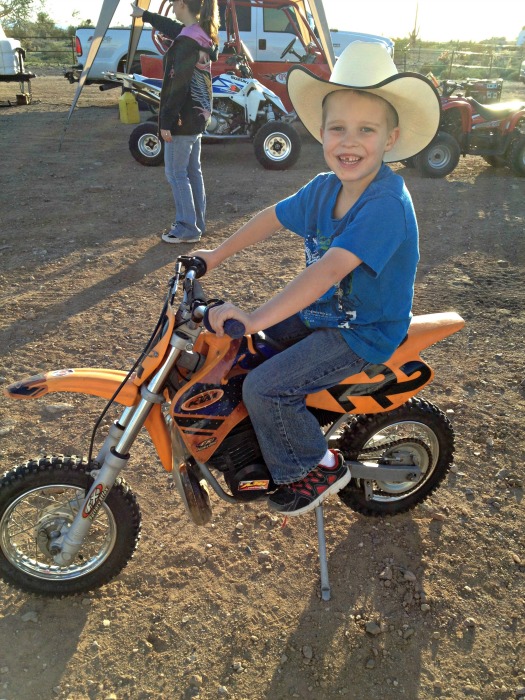 Fast forward once again to early this year. His tics began to get worse. We could always count on him to drop one tic before picking up a new one, but now they were compounding. He still usually just had one or two verbal tics (at this point loud, screeching gasping noise sometimes followed by squeaking or clicking), but now he also had two or three motor tics. I called my father-in-law (a psychologist in Houston) and asked him what his thoughts were. He agreed that it could possibly be Tourette's and we should have him checked out. By this point, my husband had also accepted what was going on. It was (and still is) a hard time for us because we were both doing what we could to be strong for the other one when all we really want to do is cry our eyes out.
Tyler's verbal tics were becoming more noticeable at school, so it was finally time to call a neurologist. That was a hard phone call to make. Listening to the automated recording saying "you've reached the Barrow Neurological Institute at Phoenix Children's Hospital" caused me to hang up the phone sobbing. I didn't want to make that phone call to make an appointment to see a doctor and have them tell me there was something wrong with my kid. What parent does? I broke down again when I finally had the courage to speak to the receptionist. I'm pretty sure she's used to moms crying over the phone, and she was very kind and patient.
We had to wait a long, agonizing month to see the neurologist. In which time, Tyler's verbal tics were getting to be so noticeable that people kept asking if he had asthma. Even Tyler was asking what was wrong with him. We didn't want to tell him too much yet without a diagnosis, so we would just say that we didn't know yet and we would find out when we saw the doctor. When we did finally see the neurologist, he was ticking away as if on cue. After a lot of talking and us answering her questions, she gave him the official diagnosis of Tourette Syndrome. As much as I was prepared to hear that diagnosis, I still cried right there in the office.
The good news was that we finally were able to explain to Tyler why he made his noises and banged his elbows or kicked his feet, etc. He said he felt better knowing that there was a name for it. It doesn't make it any easier though. A little boy in his class had started teasing him about his noises. I was furious when Tyler told me about it (as any parent would be), but kept my cool in front of him. He said he wanted to talk to his teacher about it and when he did, she made sure that all teasing stopped right then and there. I can't say enough how her support (as well as others at his school) has helped him and us during such a difficult and emotional time.
He still has fears that kids will laugh at him because of his noises though. There is nothing worse than your child coming to you crying asking "why can't I just be normal?" I thank God I had the strength that morning to keep it together and comfort him. Right now, we can't answer all of his questions. He wants to know when his tics will stop, or if he will grow out of them. He wants to know if they will get worse or stay the same. Unfortunately we just don't know. It does get worse during puberty when hormones are going crazy. That is about all we know and there's no way to predict just how it will affect him. All we can do is pray that he will grow out of it. If for some reason God has a different plan for him, then we will continue to pray for his strength and perseverance.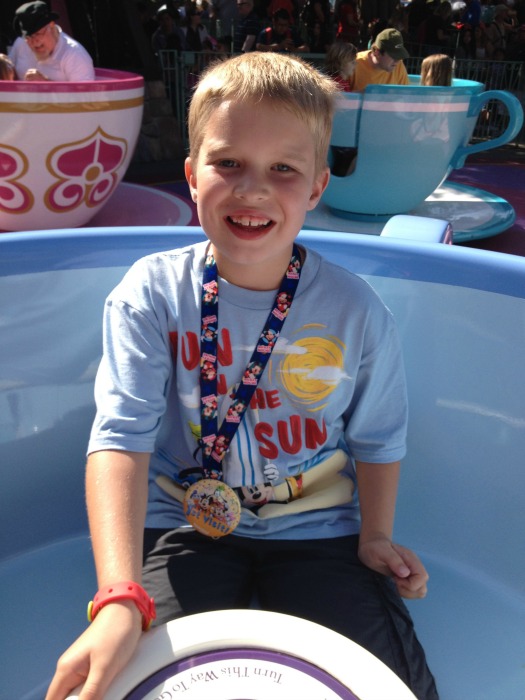 Later this month, we'll begin seeing a psychologist that specializes in Tourette Syndrome and tic disorders. I don't know what we will get out of these visits, but if there are ways to help Tyler's anxieties about his tics or help him realize that he's not alone, then I will do whatever it takes. We'll also be seeking out support groups for kids with Tourette's. We think that having Tyler meet and hang out with other kids who also share his condition will help him to feel less self conscious. We're not at all interested in medicating him at this point. His tics are not severe enough to risk the side effects of the medications. Even his neurologist said that she wouldn't recommend it until it does start to affect him a great deal.
If you have every wanted to learn more about TS, one of the best resources I found was this book.
It is a true story about two completely different men with Tourette Syndrome. Their paths crossed by chance and they became lifelong friends. One of them had tics so severe that he was virtually bedridden (as much as one could be in his condition) and had, what was at that point in time, an experimental brain surgery called Deep Brain Stimulation. It translates to him having a pacemaker of sorts put into his brain to deliver shocks to relieve his tics. I don't want to give away the whole book, because it really is a great read. Even if you don't know anyone with Tourette's, I encourage you to read it.
I also purchased this book, written by a 9 year old boy with Tourette's. When I read it with the boys, I think Tyler felt some comfort knowing he wasn't the only kid out there with Tourette's. Garrett, our 6 year old, could care less at this point. His brother's vocal tics get on his nerves sometimes, but he knows that Tyler can't help it and loves him regardless. He says he will always stick up for his brother and will never let kids make fun of his tics. I couldn't be prouder of him for that.
Tomorrow marks the start of Tourette Syndrome Awareness month. It is from May 15th to June 15th. I am trying to bring awareness to this condition, not to make you feel bad for my son, but to help people better understand what Tourette's really is. It's not a bunch of people running around shouting profanities. It's real people who would give anything for a moment of stillness. It's people who suffer daily with pain and fatigue. It's kids who wish they could just be normal. I would give anything to help Tyler feel "normal." For now, all I can do is try to help others better understand what he and many others go through and to help him realize that it's okay to be different and unique.
Here are two videos that are very helpful in understanding what Tourette's is and what it looks like. Like a snowflake, no two people are the same. Some have very severe tics, while others have milder ones. As guilty as I feel for thinking it, I am so thankful that Tyler's are not severe. Socially and academically he is doing very well. There are many others who are not as lucky. The second video features children with the most severe forms. It is emotional and not easy to watch, but it definitely gave me perspective.
I Have Tourette's, But Tourette's Doesn't Have Me
The Darker Side of Tourette's: A Documentary
Thank you for bearing with me throughout this lengthy post. Like I said, I don't plan to post like this often. My goal with this is to educate others and bring awareness to this often misunderstood condition. It's not a joke. It's not something that people can really control. But like we tell Tyler, it's okay. God makes everyone unique in their own way.
Katie
{This post contains affiliate links. The opinions about these items are strictly my own}
Linking up at these parties: