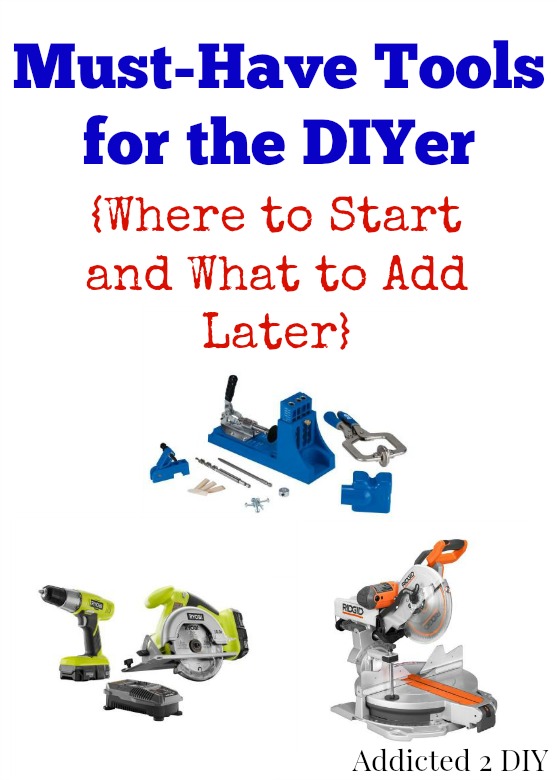 I absolutely love being able to work on DIY projects. The ability to save money and know that I did it myself are things that I find so gratifying. Having the proper tools for the job makes these projects go so much smoother. A friend of mine has been bitten by the DIY bug and has been asking what tools I would recommend that she start with, so I thought it would be the perfect time to share with all of you what tools we have in our garage. While every tool has a purpose, there are some that I use on virtually every single project. These tools are what I would highly recommend for someone who is just getting started. Others are tools that we have that you don't necessarily need right away, but they are amazing tools to put on your "want" list. Just click on each of the pictures to take you directly to the website where you can gather more information or purchase them. I am an affiliate for some of these companies, but these are tools that I truly love and that are in my garage right now.
Safety should always come first when working with tools, so a pair of safety glasses and hearing protection are a must! My favorite ear plugs are these from 3M. They're extremely comfortably, and when I pull them out of my ears, they just hang around my neck for the next time I need them. For me, safety glasses not only have to be comfortable, but they have to stay on my head. There is nothing more frustrating than bending over to work on something and your glasses constantly fall off! My safety glasses are also made by 3M, but I couldn't find the exact style to share a picture. These are very close to what I have though.
You don't necessarily have to get a huge miter saw when you're just starting out, but we love our RIDGID 12″ compound sliding miter saw. When you shop for wood at the home improvement store, the employees can cut your it down for you, but sometimes that is not an option. There are times when things need to be cut to fit, which means you can't cut them at the store ahead of time. Other times, the cuts you end up with may not be precisely the same, which can also throw a wrench into your project. We love this saw and use it almost daily!
A couple of years ago, my husband got me the Kreg Jig K4 Master System for Mother's Day. It may sound like an odd gift choice, but it was what I had been begging for, and I was jumping for joy when he gave it to me. I've lost count on how many projects were completed with this tool, but it is definitely a tool that you can't live without if you are planning to start building furniture or other projects.
A couple of Christmases ago, I got my husband the Kreg Rip-Cut. It was one of those selfish gifts where I knew he would like it, but I also really wanted it too. It's such an awesome tool for ripping down plywood. I purchased it on its own, but Kreg now has a really cool DIY kit that includes the Rip-Cut, the shelf pin jig, and the R3 pocket hole jig. Not only that, but it comes with 10 free sets of plans that you can build using all of these tools. When we built our media console, I bought the shelf pin jig to help us mount our shelves. It worked so perfectly and we were able to quickly drill the holes exactly where we needed them. The R3 pocket hole jig is perfect for when you are wanting to get started with pocket joinery, but don't have the budget for a K4 or K5 system just yet.
When it comes to drills and drivers, we have both these RYOBI and RIDGID sets. We figure we can never have too many drills, and we use the RIDGID impact driver to screw all of our pocket hole screws into our projects. The RYOBI circular saw was something I had been wanting for when I'm using my Rip-Cut. I hated using our corded circular saw and having the cord get caught on the end of the wood all of the time.
A brad nailer is also a great tool to have on hand. We have a pneumatic nail gun, but dragging the hose around all of the time gets to be a bit frustrating. I recently got the RYOBI 18v brad nailer and I love it! I've used it on so many projects, and it made replacing the baseboards in my bedroom so much nicer. I didn't have to worry about dragging our dirty air hose through the house and inevitably having it come up short. I also have the RYOBI Narrow Crown stapler, which is perfect for outdoor trim projects, crates, upholstery, etc.
Your wood projects are going to need to be sanded down when finishing, so a sander is imperative. I use this RYOBI 5″ random orbit sander for most of my projects. Sometimes a project calls for a belt sander, but most times I use this guy.
We don't use it all of the time, but our planer has been extremely useful when we've needed to plane down wood for our furniture projects. It's compact enough that we can store it in our garage cabinets and not too terribly heavy, so I'm able to lift it myself onto our work bench. While this isn't necessarily in the "must-have" category, it is definitely something that we are glad we have.
A table saw is another great tool to have on your list when building your collection. This is the tablesaw that we currently have. It's a great starter saw, and when we bought rough lumber to build our media console, it got the job done when we needed to rip down all of the various sized boards. We've definitely outgrown it though and we're waiting for the day we can afford our dream saw.
The HomeRight Finish Max and Finish Max Pro are my new favorite tools when it comes to painting and staining. I have saved countless hours using these sprayers over brushing on paint or stain. I get a professional looking finish without the annoying brush strokes. Depending on your budget either of these sprayers would be an extremely useful and valuable tool. PSST! I'm currently hosting a giveaway for a HomeRight Finish Max Pro! You can enter for that here.
Some of the tools we've acquired weren't things we necessarily needed at the time, but they were deals that were too good to pass up. My husband was browsing Craigslist one morning and happened upon this amazing find. An older gentleman was selling off all of his woodworking tools and he had a Jet dust collector and belt sander like the ones pictured for sale for only $500! It seems like a lot of money, but when you consider the fact that you'd spend over $1500 for both of these machines, it was a deal we couldn't pass up. It was a 2 hour drive to pick them up, but well worth it. They were in pristine condition and we actually use them more often than I thought.
Other important tools for DIY projects:
Tape measure
Level
Various sizes of clamps and bar clamps (you can never have too many)
Carpenter's square
You don't have to purchase all of these tools at once in order to get started with DIY projects. Slowly building on your collection when your budget allows is a great way to do it. It's what we've been doing over the past few years and we're still doing it. There are always tools that we are looking to get. Some of them we won't be ready for until our workshop is built, but if we randomly come across another insane Craigslist deal, we'll figure out a way to make room in the garage:)
I hope you found this list helpful and if you have any questions about what tools to get, where to buy them, etc., I'm always happy to answer to the best of my abilities. With Christmas coming up soon, this is a great list to pin now and save for later when you're shopping the Black Friday deals.
DISCLOSURE: This post contains affiliate links. If you purchase a product from one of these links, I will receive a small commission at no extra cost to you. All opinions of these products are 100% my own.