Building your own pool is possible. Read these tips to learn how you can build your own pool and save thousands in the process.
Believe it or not, you CAN build your own swimming pool. Having a pool was never on our radar; however, we decided a couple of years ago that maybe we could entertain the idea. The problem was that we were hit with severe sticker shock when we met with a few of the big pool companies and got quotes. A few friends had subbed out their own pools and hearing the numbers they paid, it made that route so much more enticing and we decided to go for it. Today I'm going to break the whole process down for you and share what we learned, saved, and whether or not I'd recommend it. I'll forewarn you that this post is a little long, but there's a lot of information that I think can be really valuable for anyone else thinking of doing this.
With so many requests for the contractors we used, I've included the document with the contact information. Please keep in mind that these contractors are local only to Arizona.
Design
Take some time to really think about what you want your pool to be like. If your friends and family have pools, ask them what they like or wish they had done differently with their pools. Look online at pictures for inspiration. For us, we wanted a huge baja shelf. Not only is it a perfect place for the adults to relax and watch the kids play, but it's also a perfect place for younger kids to hang out if they can't swim. It was something we certainly loved when our boys were little and we swam at a friend's house. We also wanted our grotto cave to be deep. Some friends bought a house with a pool and their grotto is pretty shallow, so the waterfall constantly splashing your face while you sit in it. Ours is not only deep, but it's tall (I can stand up in there) and the contractor put a bench on the back so you can even sit out of the water when you're in there.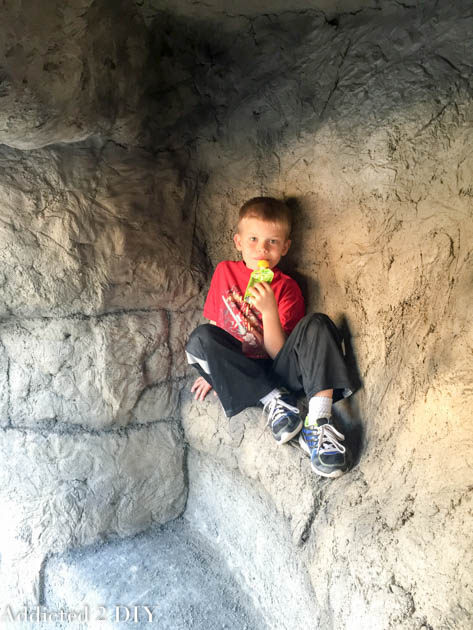 Hire someone to help you out.
If, like us, you have no clue where to start, it's a very good idea to hire someone to help you out. A friend of a friend helped us out with our pool and it made the entire process go so much smoother. He helped us to design our dream pool, get the plans drawn up, and file the permits. He had a list of trusted contractors that he'd used in the past and we combined that with a list of contractors that we'd been given from other sources.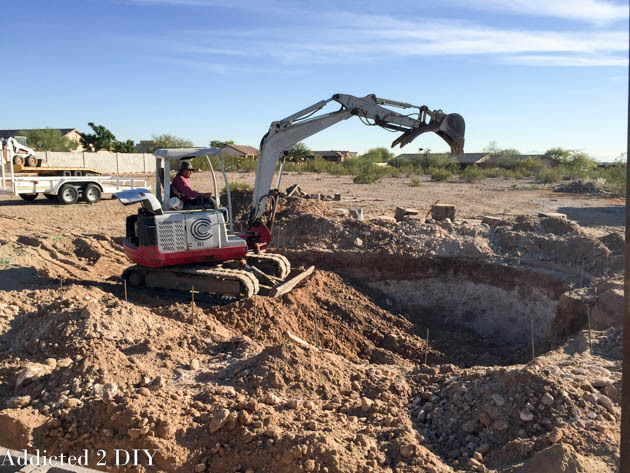 Get written contracts, not just verbal bids.
When the day came for us to finally break ground, the excavator showed up bright and early in the morning with absolutely no clue what he was supposed to be doing. He apparently didn't have a copy of the pool plans anymore and didn't even remember what he quoted us. I told him there was a spray painted outline in our yard and provided him with a drawing of the pool, then called our pool consultant and my husband in a panic as we tried to figure out why this guy had no idea what he was doing. Not a good start to the day. Our pool consultant said he thought he remembered the excavator quoting a certain price for a hard dig and just see what he came back with when he gave us a new estimate. He actually came back with a lower price that he'd originally quoted us, so I told him to go ahead and start. A written estimate/contract would have saved me a lot of headache and tears, even if we did end up paying $200 less.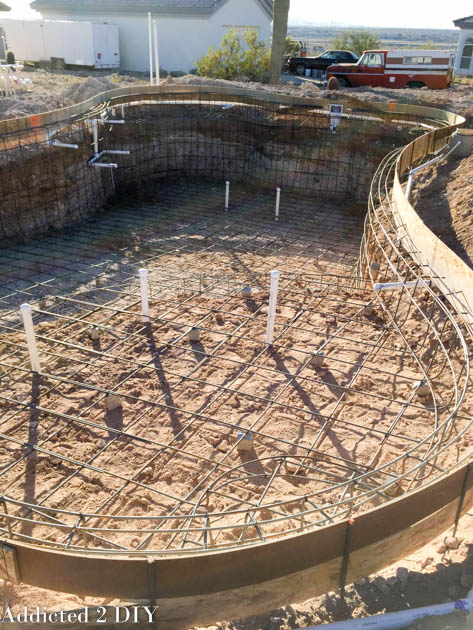 When scheduling work, make sure everyone is clear on EXACTLY what is to be done and what materials they are bringing.
When the hole was dug, it was the plumber's turn. The fact that the plumber worked for the same company as the excavator should have been our first clue that this wouldn't go well. He said we were supposed to provide certain materials for them to do their job, which we found is not normally the case. We learned that it's pretty important to make sure that everyone is on the same page.
Don't be afraid to fire a contractor after they've started working.
The plumber had barely gotten started on his work when our pool consultant called the company and fired him. He wasn't happy with the guy trying to charge more for little details and telling us we needed to provide some of the supplies. We ended up using another plumber who not only supplied the materials the other company didn't, but he was also cheaper and did much better work!
If the deal seems shady, you probably don't want to work with those people.
Again with the plumber. The guy we fired tried to pull a fast one on his boss and tried to get us to just hire him directly, since he'd already started his work. He quoted me the same price, but would throw in the extras we were going to be charged more for. I told him that we already had someone else coming to bid the job and he said he would match whatever their bid was. My gut said to get this guy off of my property as soon as possible. I wasn't interested in negotiating with him.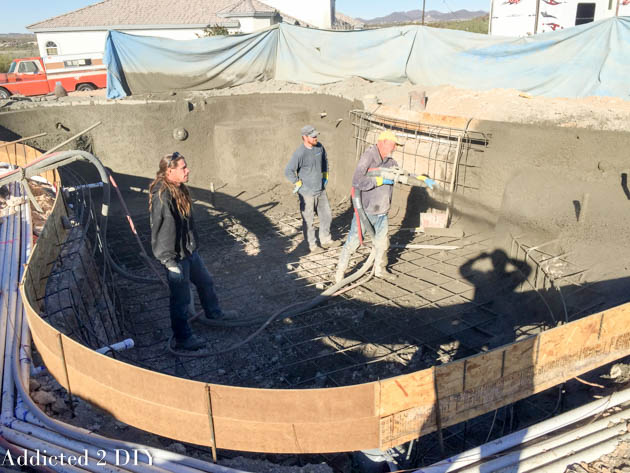 Getting bids.
Some of the contractors we used came recommended by our pool consultant. Others we had to find ourselves. We asked around and got several great names from friends and others we actually got from the other contractors. The company that poured our pool deck was recommended by one of the plaster companies we talked to. Some companies do several different jobs as well, so make sure to ask them for bids on multiple steps.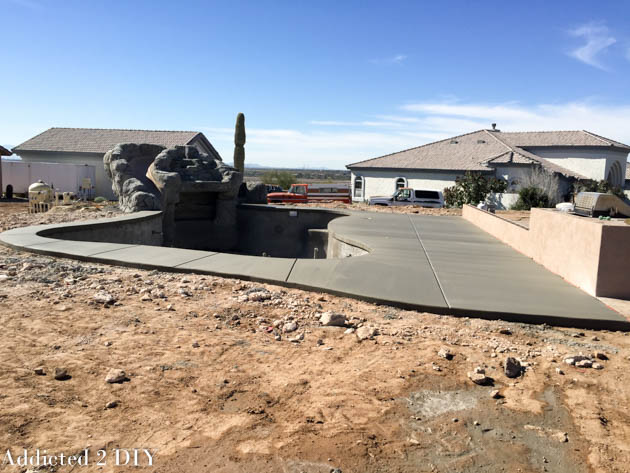 Go with your gut.
I tried to make sure my husband was home whenever I scheduled someone to come out for a bid, but he wasn't able to be home when I got the second bid for our water feature. I was in a rush to leave the house to pick my boys up from school, so our conversation was very short. That being said, his ideas and vision for the grotto and water slide combined with his price had me hiring him on the spot. My husband was a bit taken aback, but I told him he needed to just trust me on this one. Our grotto turned out beautifully and even bigger than we'd imagined! Plus this contractor stuck by his estimated price, which was a refreshing change. He actually told us if he were to do it again he would have charged us an extra $1,000. It came out even bigger than he was expecting. The fact that he didn't showed his true character and integrity.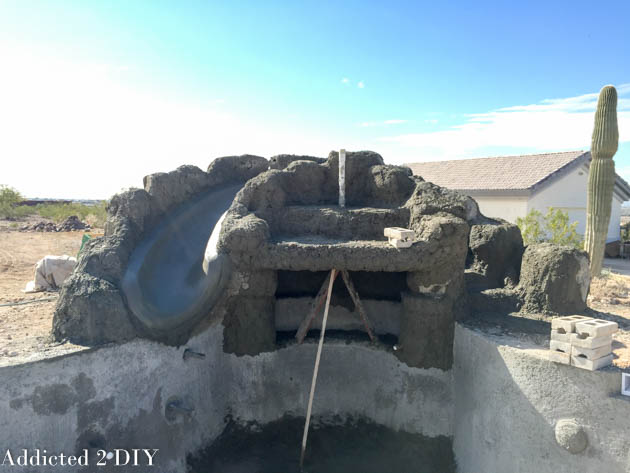 Not everything has to be done at once.
We learned during the process that we could stop the construction of the pool at certain points. Sometimes you need to take a step back and think about different options. Other times, you need to save up a little more money. Or, in our case, you have to stop construction until the wall around your property is built because you put it on the same permit.
Try to be flexible with design ideas and options.
You may have an idea in your head of the ultimate dream pool, but try to be open to change. There are tons of options for pools that you may not know about and when you're spending a large amount of money, you want to make sure you're happy with it. There were a few things during the construction process that we were really unsure about, but in the end it all came out beautifully.
Be prepared for estimates to change.
Most contractors, with the exception of our grotto contractor, will give you an open checkbook price. Basically, they'll give you a minimum estimate but say it could be higher. Our gunnite ended up costing us $600 more than we'd originally been bid.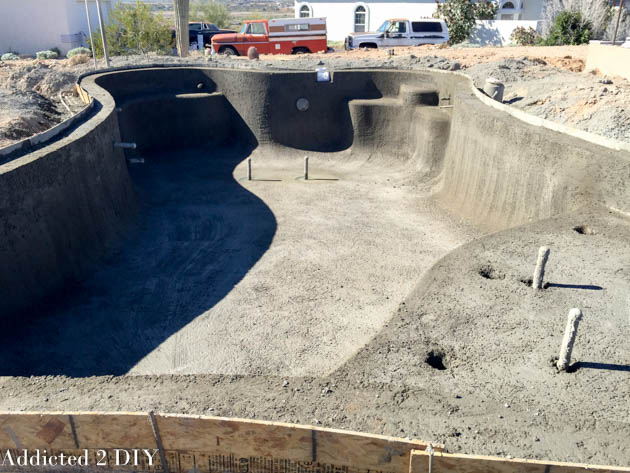 Cleanup.
When you use a large pool company to build your pool, they typically have a cleanup crew that does all of the cleanup work that the contractors leave behind. We didn't realize that until my husband asked the grotto contractor about it. He said he would clean up after his work was done, but there was still a lot that we had to do ourselves. It wasn't a big deal, but definitely something to make sure to ask the contractors about when they're doing work.
Keep a record of all contractors, phone numbers, and receipts.
Sometimes you have to call contractors back to fix things. Other times, you have to call them back because there's work they didn't complete. In our case, we had to call the electricians back because somehow they forgot to mention that they didn't install both lights in the pool. We're still trying to figure out how that happened. Supposedly they brought the wrong light and forgot to tell us that they needed to come back to install the correct one. These were put in pre-gunnite, so they were capped to protect them from the concrete. This meant we didn't actually find out the light was missing until almost 2 months later when the plaster company came to prep the pool for the pebble finish and they popped the cap off to find an empty hole. The electricians were called and came out the next day to fix their mistake.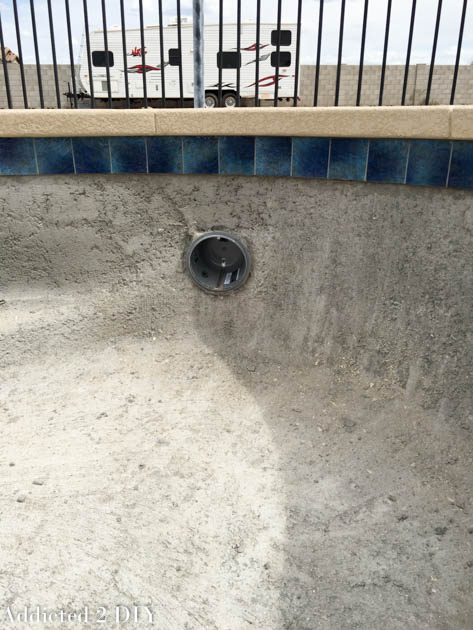 Try not to let the process get you down.
It's a headache, but the amount of money you save subcontracting it yourself definitely makes the entire process worthwhile. I was the one who dealt with the contractors the majority of the time and it sucked. I felt like I was a prisoner in my home because I had to make sure I could answer their questions and pay them when they completed their work. I hated making the really tough decisions, like where to put the umbrella sleeves, or what color tile to use. Those things are kind of permanent, so it's hard to just redo them.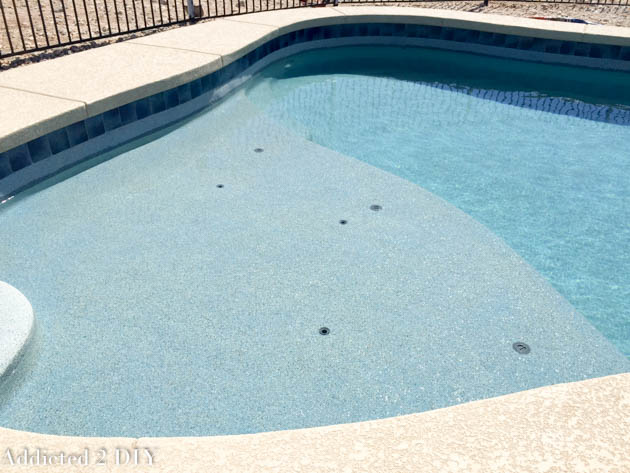 Choosing options.
We found ourselves going a bit over budget with the pool when it came to options. However, we didn't want to regret our choices later on. The grotto/water slide was definitely the most expensive upgrade, but we wanted to have an awesome pool for our kids to invite their friends over and play. The lighting was another expensive upgrade. We chose to put lights at each end of the pool so the entire pool would be lit up at night. We also chose the color changing LED lights. At $750 each, you can see why we were so mad when the electricians "forgot" one. The tile was a slight upgrade, but we also ordered some mosaic tiles too. Our youngest only cared about having a starfish, so we ordered a few of those. My husband wanted a "Nemo" so I also ordered a clownfish mosaic. We found them on eBay at a pretty reasonable price. The pebble finish has glass beads in it as well as crushed abalone shells. The pool literally glitters when the sun hits it and we LOVE how it looks! We hated to go over budget, but we decided that these options were well worth it in the end.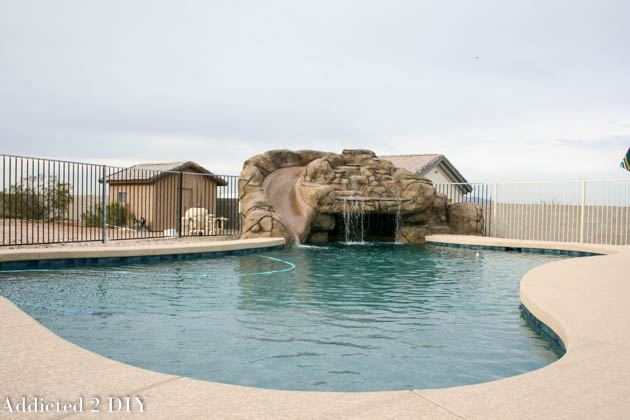 In a nutshell.
The entire process of building our pool was quite an experience. It was pretty stressful at times, but now that it is done, we wouldn't have done it any other way. We were given some pretty steep quotes from the big pool builders and it definitely gave us sticker shock. Our finished pool is actually bigger and with more options than those pool companies had designed for us. Given that our pool consultant used to work for those big pool companies, he felt pretty confident in how much we would have spent had we gone with one of them. He estimated we'd have probably spent around $80,000 on our pool, which is insane! So how much did we spend? Well, here's the breakdown.
Permit fees – $1,042
Consultant fees – $2,000
Excavation – $3,800
Plumbing – $1,680
Rebar – $1,100
Electrical – $$3,327
Shotcrete – $4,225
Tile – $812.91
Deck – $4,590
Pool equpment (pumps) – $2,290
Pebble finish – $4,400
Grotto/waterslide – $7,300
Mosaic tiles – $155.52
Pool cleaning equpment – $240
Pool fencing – $1,400
Water truck – $553
Grand total: $38,915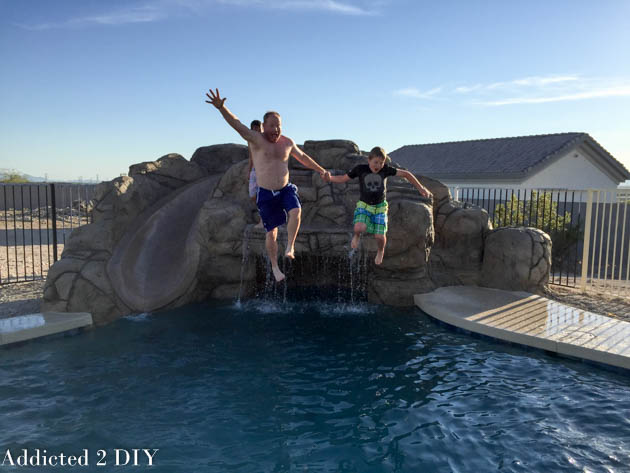 Was this a lot of money? Yes! Was it what we were expecting to spend? Not at all. Could we have saved money in areas? Yes. But just like the Visa commercials, having a pool our family can enjoy for many years to come: Priceless.
While it is a lot of work, I would definitely explore the option of building your own pool. Not only are you able to have a hand in the entire process, but you also stand to save thousands of dollars. We only have two regrets. We wish we had gone with a deeper pool (8' rather than 6') and we wish we had included an aerator. While the waterfall does aerate the pool, it takes far more energy to run that pump that it would an aerator.
SaveSave
SaveSave