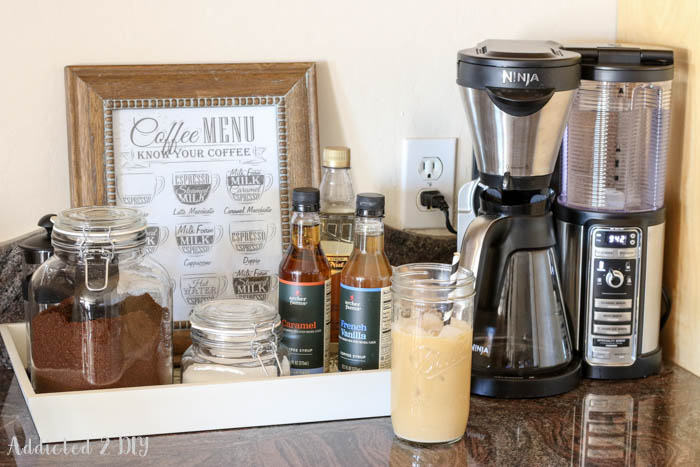 Hey there friends! It's no secret that I am a coffeeaholic. When I wake up in the morning, making a pot of coffee is one of the first things I do. It doesn't matter if it's 100+ degrees outside. I just love the taste of a hot cup of coffee. I've always wanted a little coffee bar set up in my kitchen and the addition of my new Ninja Coffee Bar finally made me want to put one together!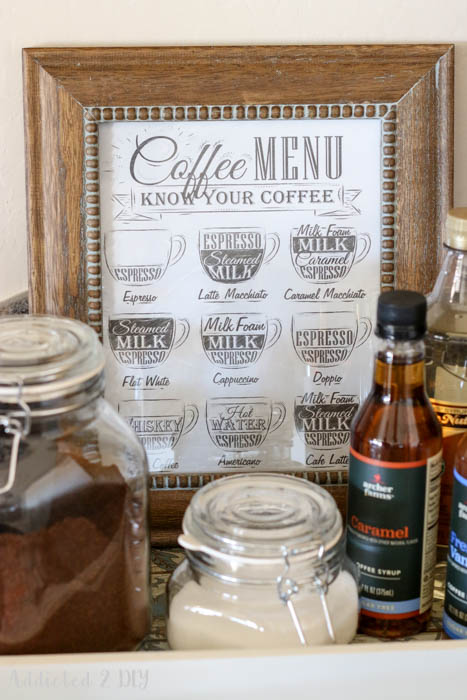 I found a cute tray at Michaels and also got some canisters from World Market to hold coffee and sugar. Since the Ninja Coffee Bar can make cappuccinos and lattes, I also got some coffee syrup in a few different flavors. I framed this super cute printable that I found on Creative Market. It comes in three different color backgrounds, which makes it so easy to fit in with whatever your color palette is. I had a really tough time choosing between this greyish background or the chalkboard background, so I enlisted the help of my 7 year old. He had me switch them back and forth a few times and decided the grey background worked best.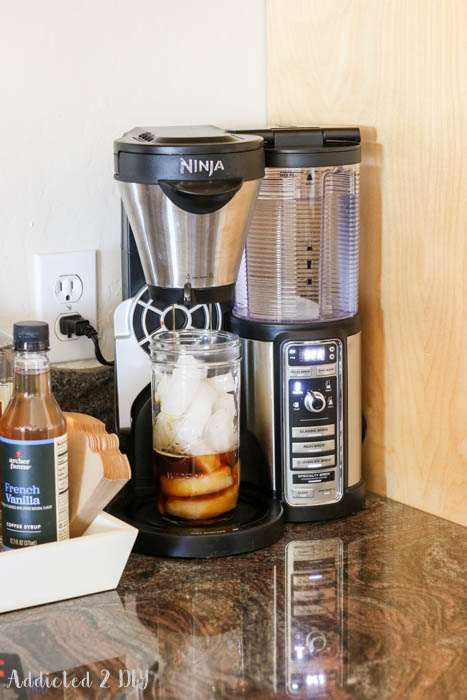 My favorite part of the entire coffee station is definitely the Ninja Coffee Bar. We have this Ninja Blender, which we love, so I knew the Coffee Bar would be a winner! I can make my usual pot of coffee every morning, but I can also make a quick glass of iced coffee or other coffee recipes any time I like. It's like coffee on demand! I am pretty simple when it comes to coffee. I just like a little skim milk added, but I do like to indulge in a flavored latte or cappuccino every once in a while. This gives me the chance to be my own barista!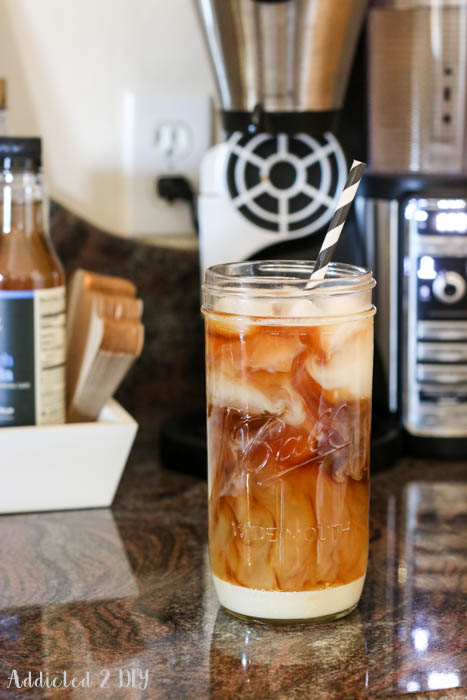 I love an iced coffee in the afternoon, but the cold brew method I was using made so much and was just a hassle. This makes it so simple to just have that one glass I was wanting. My favorite iced coffee recipe has sweetened condensed milk and skim milk added in, but I can also skip the condensed milk and add in any of the coffee syrup flavors.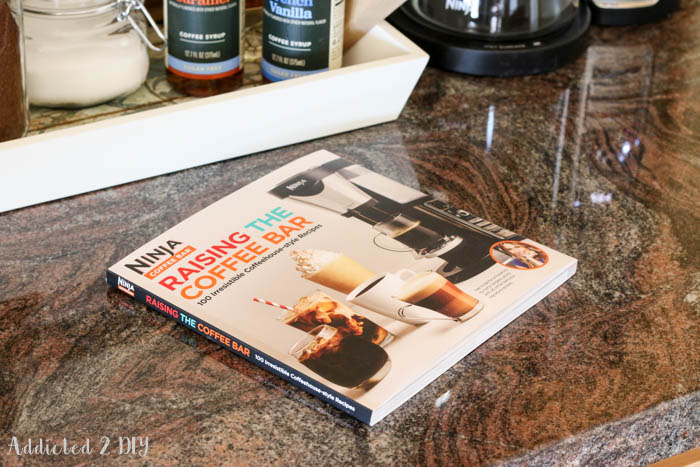 If you're lacking coffee recipe inspiration, the Ninja Coffee Bar comes with a book chock full of recipes for hot and cold coffees, but also cocktails and baked goods! I can't wait to try more of these recipes out!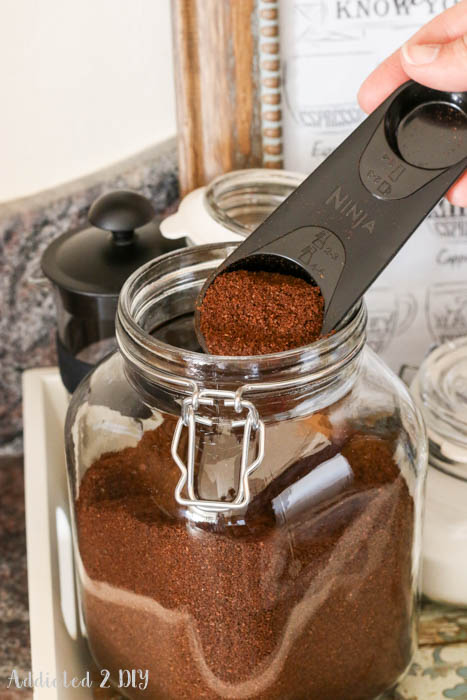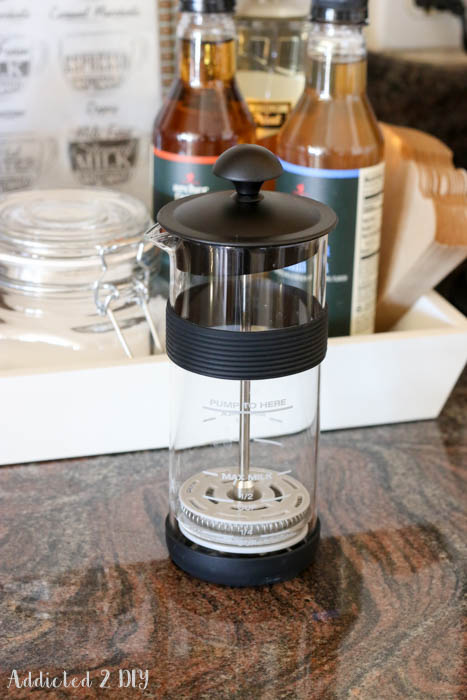 The Coffee Bar also comes with a measuring spoon that allows me to measure out the perfect amount of coffee for a carafe or a single serving, so there's no guess work. There's nothing worse than when I accidentally make my coffee too week or too strong. I can add more milk to strong coffee, but weak coffee just makes me sad. There is also a milk frother included and I was so excited to use it to make a cappuccino. I'd never used one before, so it was really cool to see how well it worked. I just need to work on my decorative foam skills:)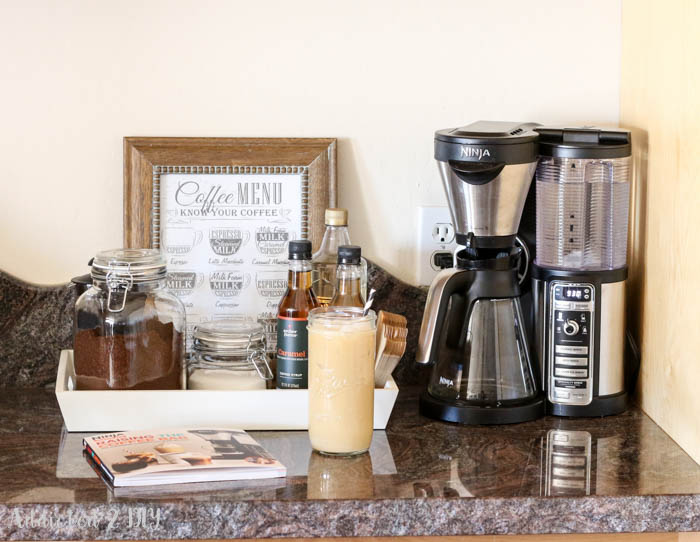 I honestly can't wait to have guests stay over again and show them how to make their own custom coffees! Like I said, I have wanted a coffee station like this for a long time, but just never got around to it until I got my new Ninja Coffee Bar. I love my simple coffee station now and having everything in one place. The canisters are way prettier than my giant Dunkin' Donuts coffee bag. Do you have a coffee station at home? What's included in yours?
DISCLOSURE: I was provided compensation and/or product for this post. All opinions and ideas are 100% my own. This post contains affiliate links. If you purchase from these links, I'll receive a small commission at no extra cost to you. Please read my disclosure statement for more information.