Spice cabinet organization that won't break the bank and is so easy! Learn how to organize a spice cabinet with these simple steps.
Raise your hand if your spice cabinet is currently OUT. OF. CONTROL. Mine, as you can clearly see, was very much in a state of chaos and I was starting to lose my mind every time I tried to search for spices and seasonings. Not only that, I never knew what I had or didn't have. This lead to quite a bit of frustration and, inevitably, duplication.
After browsing through Amazon one day, I found an organizer that looked like the answer to my prayers and now I've got a neatly organized cabinet and I can see EVERYTHING in it!
*I've included affiliate links in this post to products that I recommend. Should you purchase anything from one of these links, I may receive a small commission at absolutely no extra cost to you.
How To Organize A Spice Cabinet
First things first. To organize a spice cabinet, you need to first clean it out.
To take stock of what I had, I cleaned out the cabinet completely. I was shocked at how much was in there. And so many duplicates!
I rarely use bay leaves, but had two tins of them. But it gets better.
I also had a giant container of them! I couldn't figure out why until I shared this on my Instagram Stories and a friend reminded me that the turkey rub and brine recipe that I use take a lot of crushed bay leaves. At least that mystery was solved.
But on top of this, I had three tins of ground ginger, 4 bottles of ground cinnamon, 3 bottles and tins of paprika, 3 tins of cream of tartar, and 2 bottles of onion powder. I'm sure there are more duplicates that I'm forgetting about, but this is crazy! And this is EXACTLY why I needed some spice cabinet organization.
How Long Do Spices Last?
Ground spices are at their freshest for 6 months after opening them. That's not to say that they won't be fine longer, but they may not be as potent. Whole spices (think peppercorns, whole cloves, etc.) can last up to 5 years.
I'm pretty sure this nearly EIGHT years expired bottle of ground coriander is WAY beyond its freshness point.
When cleaning out your spice cabinet, definitely check all of the expiration dates. Toss out the expired spices and any that seem to have lost their potency (do a smell test). Write down the spices you tossed out so you can decide later if you need to just restock all or some of them that you commonly use.
My New Favorite Spice Cabinet Organizer
This stackable spice cabinet organizer popped up as a suggestion on Amazon one day while I was browsing other organization items. It seemed to me like the perfect solution to my problem.
Lazy Susans are great, but smaller spices can get lost in the mix. Tiered or stair step organizers are also great, but still things manage to get lost behind taller spices and I always ended up knocking the spices over while reaching for one in the back.
The horseshoe shape of this organizer looked like just the thing to check all of the boxes when I thought about the perfect spice organization solution.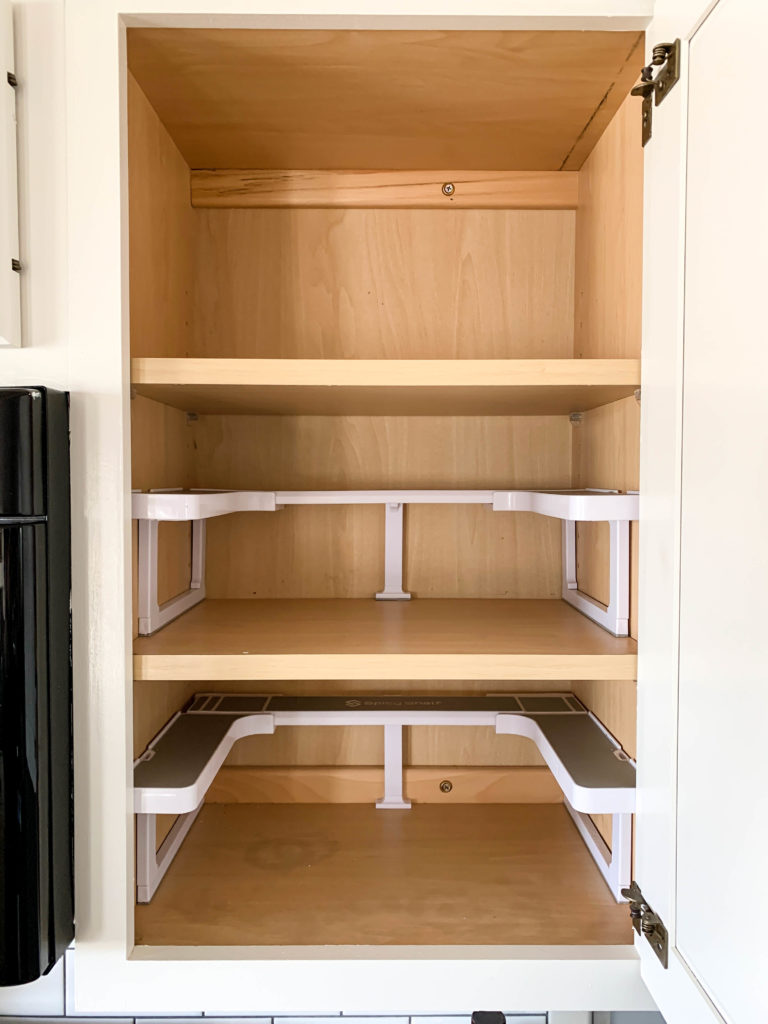 The organizer comes with two shelves that can stand alone or be attached together. It is also customizable with height and width to fit in almost any cabinet.
The problem with this, though, was that my taller spices weren't able to fit very well.
I ended up taking out the middle shelf and attaching the two shelves together to see if I liked this layout better. Lucky for me, I did.
A Place For Everything and Everything In Its Place
With the shelves in place, I loaded them up with the remaining (unexpired) spices. You can see a few places where the duplicates are doubled up. There happened to be enough room for me to do that. You can also see that I managed to still find a use for my Lazy Susan on the top shelf. I'm not the tallest, so having the Lazy Susan up there to rotate things is super helpful.
I love now being able to see exactly what I have and also being able to quickly grab spices and seasonings without knocking half of them over or the containers spilling out of the cabinet, onto the kitchen counter.
I know it seems as if I started to put things in alphabetical order and then quit. If this is making you twitch, my apologies;) I absolutely love my new spice cabinet organization. We have another cabinet in our kitchen that we use as a medicine cabinet and I am going to order another one of these organizers to use in there as well.
Do you have any big or small organization projects on your list? I'd love to hear about them!