A Tailgate Bench is an instant conversation starter and a fun furniture project to build. Learn how to build a Rustic Tailgate Bench with this simple to follow tutorial, including the detailed build instructions.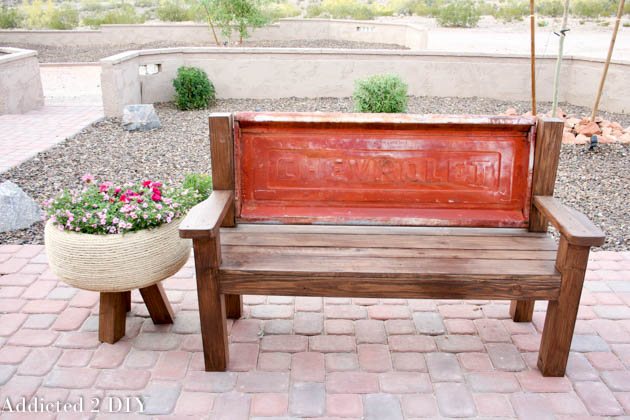 Happy Saturday! Today I'm finally sharing the tutorial for this awesome tailgate bench I've been teasing you with for the past several weeks. I actually got the idea to build this bench about a year and a half ago. I mentioned something to my mom about it and the next day she and her boyfriend showed up with a tailgate they'd picked up at a swap meet. It was perfectly rusty and had such a gorgeous patina. Unfortunately, I just wasn't feeling inspired enough to build it just yet. Then came the challenge of building this tire planter and suddenly it just wouldn't look right if it didn't have an awesome tailgate bench next to it.
Here's what you'll need to get started:
Keep in mind this is for the tailgate I had, which was 50 3/4″ x 19 1/2″. If yours is bigger or smaller, adjust the length of the bench accordingly.
Supply list:
2 – 4×4 @ 8′ long
2 – 2×4 @ 8′ long
3 – 1×6 @ 6′ long
1 – 1×4 @ 6′ long
2×6 @ 8′ long
kreg jig
2 1/2″ pocket screws
brad nailer
1 1/2″ brad nails
wood glue
2 1/2″ deck screws
miter saw
jigsaw
2″ lag bolts
washers
2″ angle brackets
Tailgate
Cut list:
2 – 4×4 @ 37.5″ (back legs)
2 – 4×4 @ 23 1/4″ (front legs)
2 – 2 – 2×4 @ 13.5″ (side rails)
2 – 2×4 @ 50 3/4″ (front and back braces)
2 – 2×4 @ 17 1/2″ (center supports)
3 – 1×6 boards @ 57 3/4″ (bench seat)
1 – 1×4 @ 57 3/4″ (bench seat)
2 – 2×6 @ 18″ (armrests)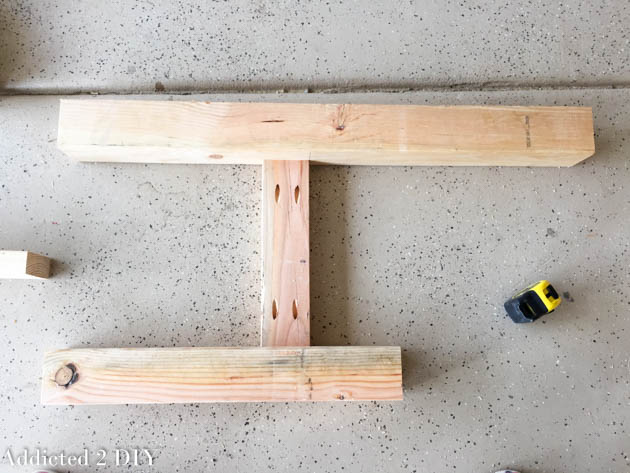 Drill 1 1/2″ pocket holes into side rails, front and back braces and center supports. Mark the front and bag legs 17 1/4″ from the bottom of the legs. Clamp and attach the side rails with the bottom of the rail on that mark using wood glue and 2 1/2″ pocket screws. Do the same for the other side.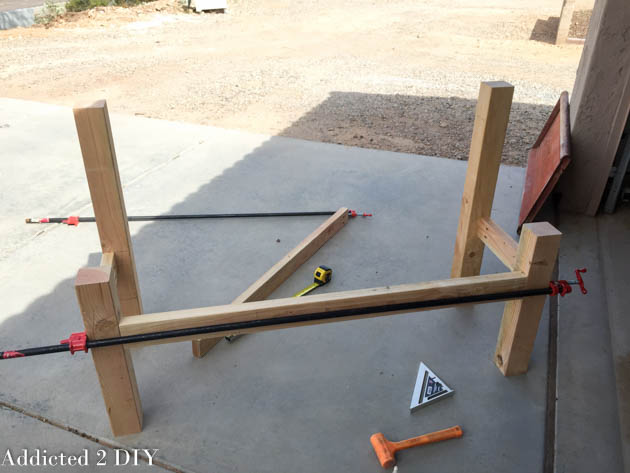 Like the side rails, mark the front and back legs again at 17″ from the bottom of the leg and attach to the front and back legs with wood glue and 2 1/2″ pocket screws.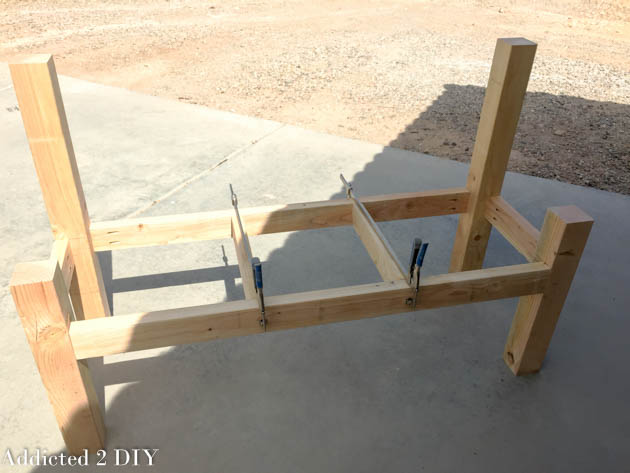 Measure 16″ in from each leg and attach the center supports with 2 1/2″ pocket screws.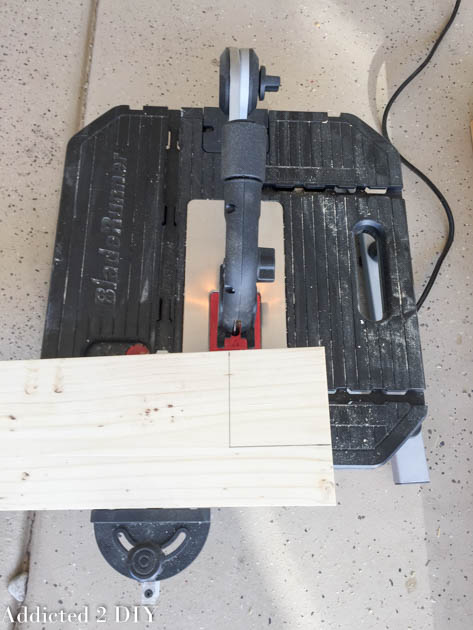 For the seat, notch out the front 1×6 and the back 1×6 on each end to fit around the 4×4 legs. This can be done with a jigsaw. I love using my Blade Runner
for these types of cuts. (affiliate link)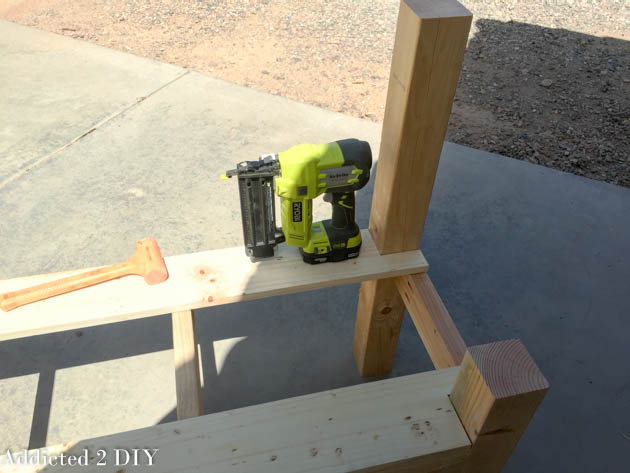 I attached the front and back 1×6 boards using wood glue and 1 1/2″ brad nails.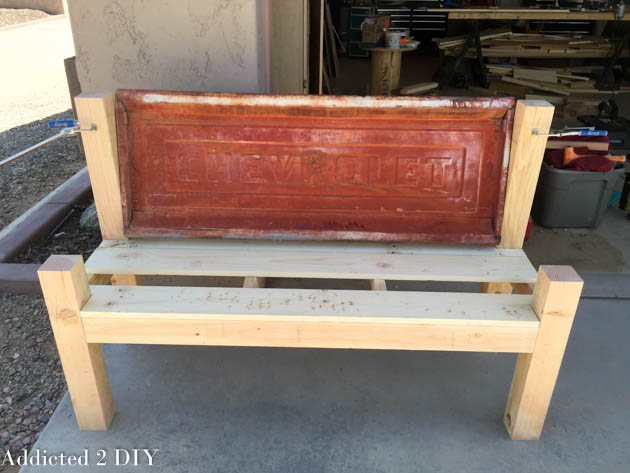 I evenly spaced out the 1×6 and 1×4 boards between the front and back boards and also glued and nailed them down with 1 1/2″ brad nails.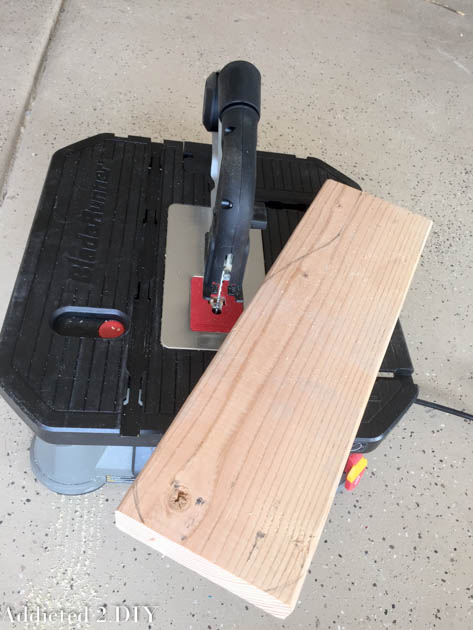 I cut the arms and free-hand drew the shape I wanted them to be. I traced that same shape onto the second arm and then used my Blade Runner to shape them.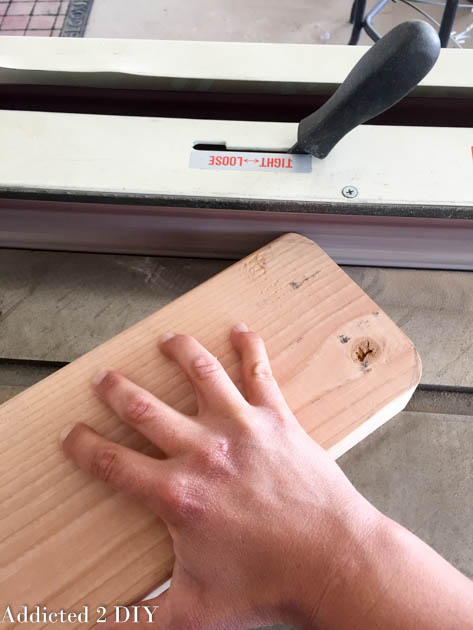 I sanded the corners down on my belt sander and then also finished shaping the narrow part of the armrest on the belt sander. If you do not have a belt sander, then you can cut the corners on your jigsaw or Blade Runner and then sand them with an orbital sander. I rounded the edges off with my orbital sander.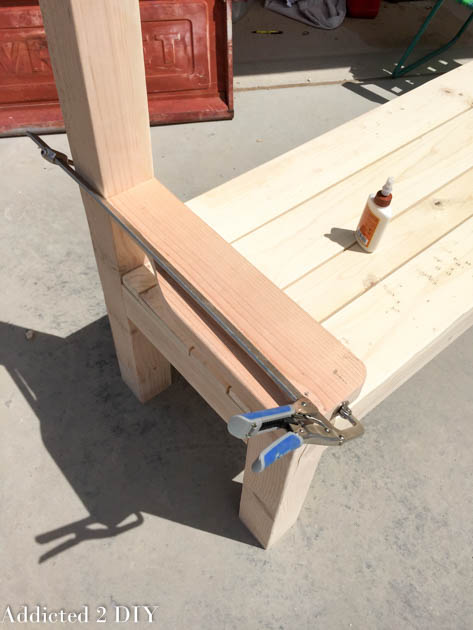 To attach the armrests, I drilled 1 1/2″ pocket holes into the side that attaches to the back legs and used 2 1/2″ pocket screws to attach them. Then I drilled 2 1/2″ deck screws down into the top of the armrest to attach to the front legs.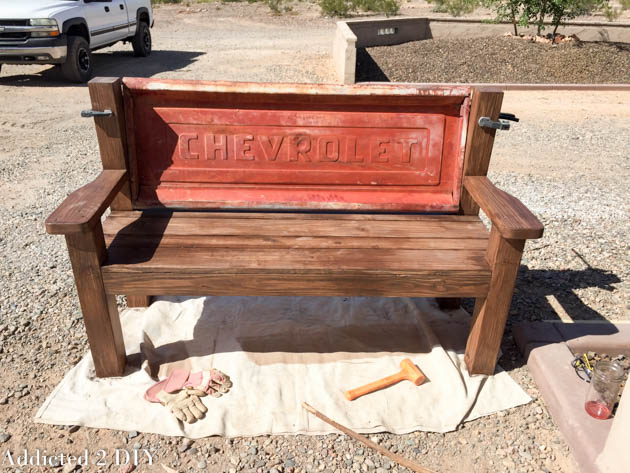 I stained the bench with Behr semi-transparent weatherproofing wood stain. I was able to do it with just a couple of sample-sized cans.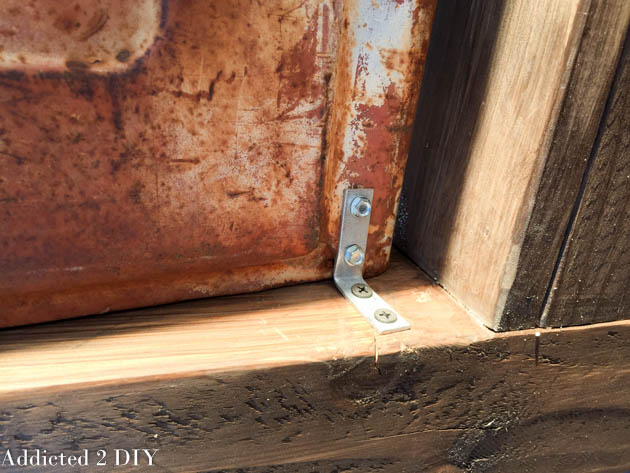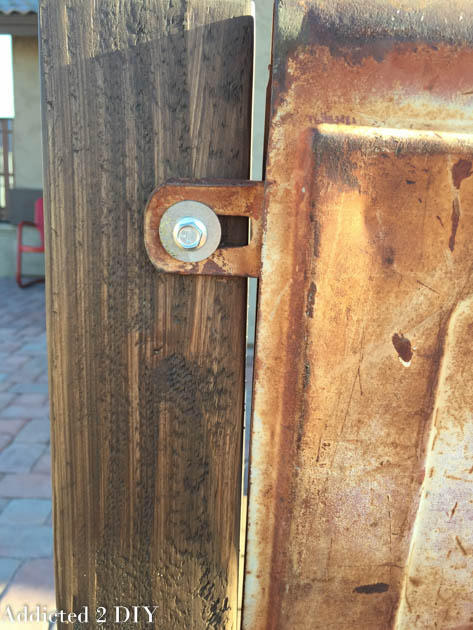 To attach the tailgate to the bench, I used 2″ lag bolts at the top of the tailgate and 1 1/2″ corner braces. I know it wasn't ideal to have to drill holes into the bottom of the tailgate, but I couldn't find any other way to attach it. Hopefully all of the classic car/truck enthusiasts can forgive me.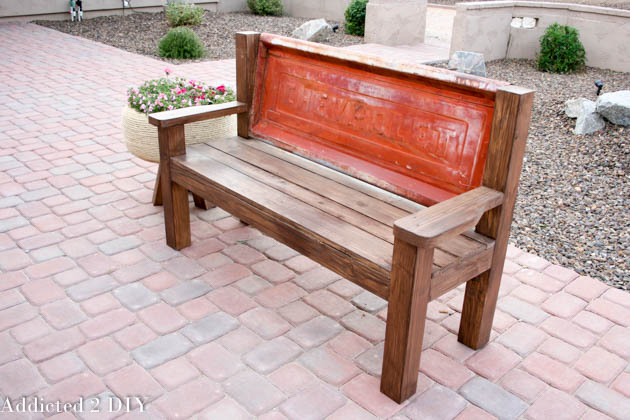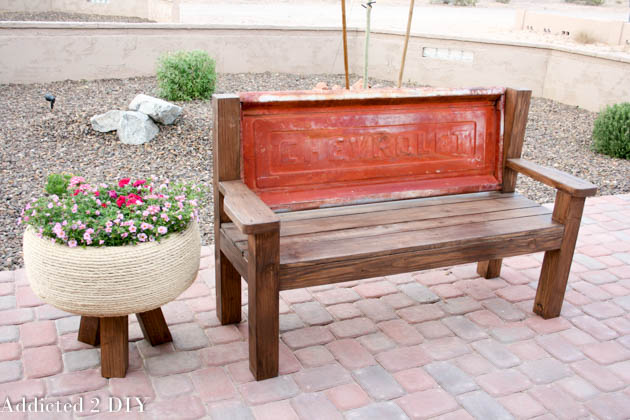 The finished bench turned out so awesome. I love the rustic look of it and I am kicking myself for taking so long to build it. It is a great conversation piece and it could also be a perfect gift idea for the motorheads in your life. Father's day is coming up and I think I may find a Ford tailgate and make another one of these for my dad.
DISCLOSURE: This post contains affiliate links. If you purchase an item from one of these links, I will receive a small commission at no extra cost to you.