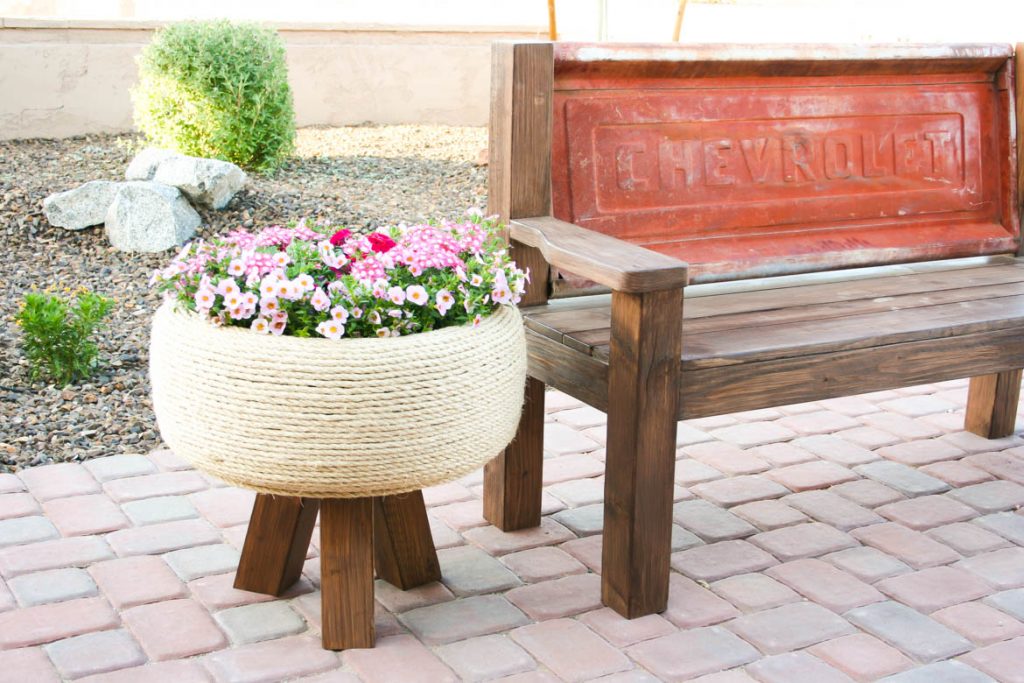 This is a sponsored post written by me on behalf of Discount Tire for Find Your Influence. All opinions and ideas are 100% mine. #oldtiresturnnew #mydiscounttire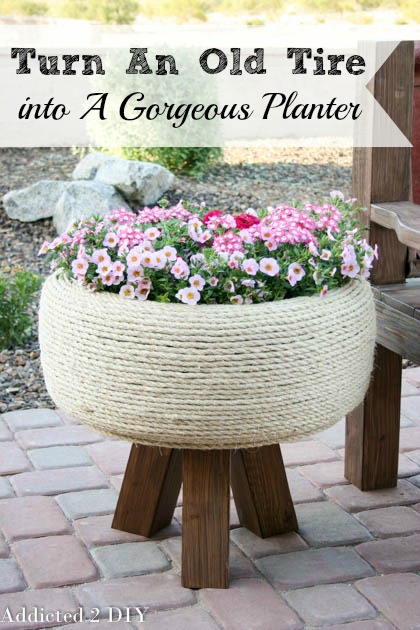 Hey there everyone! Earth day is coming up on April 22nd, which means it's the time of year when people start thinking of ways to reduce, reuse, and recycle. I love the challenge of coming up with ways to reduce waste. If you don't believe me, you should see my scrap wood pile. I hate the idea of throwing it away when there could be a great project just begging to be built! Luckily, I was able to use some of that scrap wood for this awesome project!
I teamed up with my local Discount Tire to figure out a creative way to make good use of old tires. I love that I have a location close to me. We've been loyal customers for as long as I can remember, so I was pretty excited to work with them. I stopped by the shop to pick out an old tire and found one that felt like it would be perfect for my project! I also apparently just missed seeing one of my friends who also popped in to grab some tires for an upcycling project she was working on too! So you can already tell it's easy to stop in and get your own tire for this project.
Here's what you'll need to make this planter:
1 old tire
1 – 4×4 board cut to 3 – 12″ long pieces with 15 degree angles at each end. The long side and short side of the angles should measure 12″.
approx 200′ of 3/8″ sisal rope (or less if you have a bigger diameter)
weatherproof stain
2″ pocket hole screws
Kreg Jig or angle brackets
2″ bolts and nuts
3/4″ plywood or end of wood spool
jigsaw with scroll blade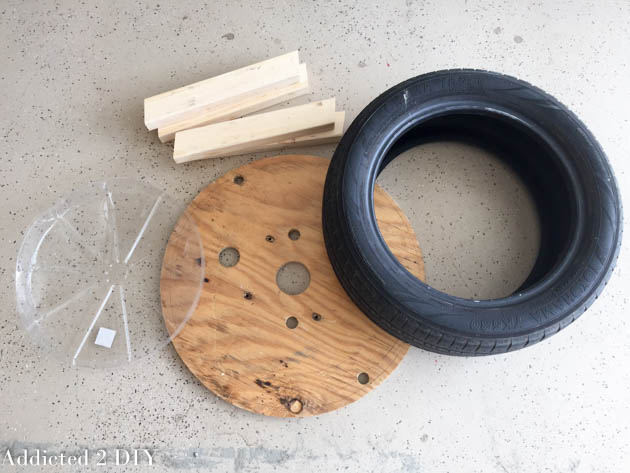 I grabbed all of my materials to figure out how I was going to build the planter. I started to use 1×3 wood for the legs, but they just didn't have enough substance to them, so I grabbed a 4×4 from my scrap pile and cut three legs from it. I happened to have some wooden spools leftover from another project, so I stole the end off of one of them to make the base for my planter. I also bought a plastic planter tray to keep the wood from being wet constantly from the flowers.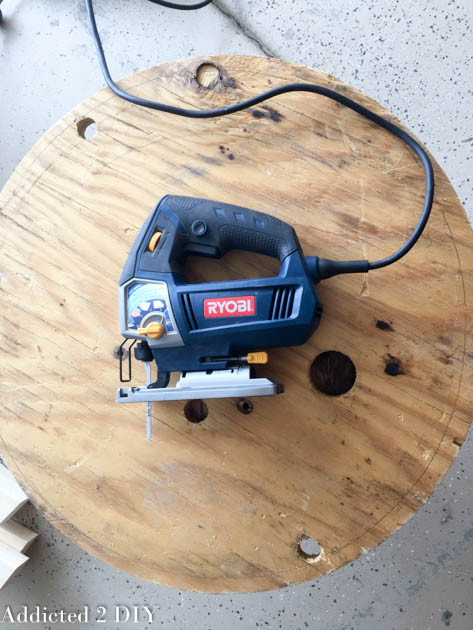 I lined up my spool on my tire and traced around the tire to get the proper diameter for the base. I wanted the diameter to be about an inch smaller than the tire all of the way around. If you don't have a wood spool, you can easily do this with a piece of plywood.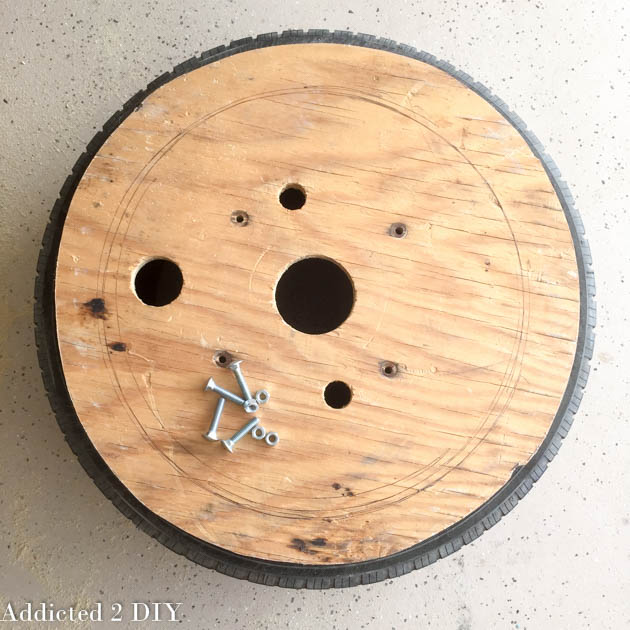 I grabbed some nuts and bolts from our hardware stash and figured out where I wanted to drill my holes.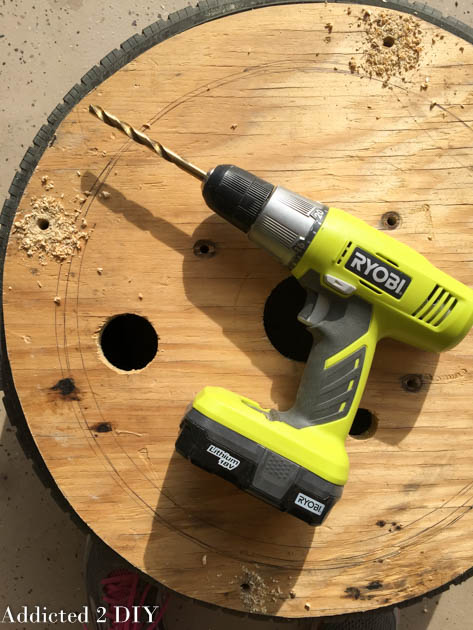 Using a 3/8″ drill bit, I drilled four holes through the plywood and into the sidewall of the tire. I pushed my bolts through and flipped the tire.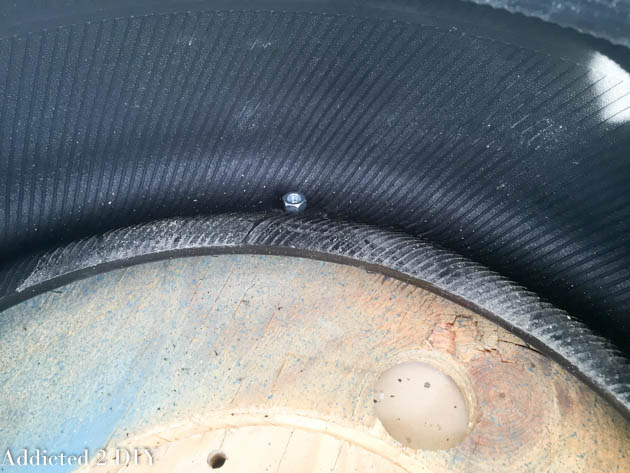 It was a little tough to get to the bolts to attach the nuts, but I found that standing on the inside of the sidewall pushed the end of the bolt through enough.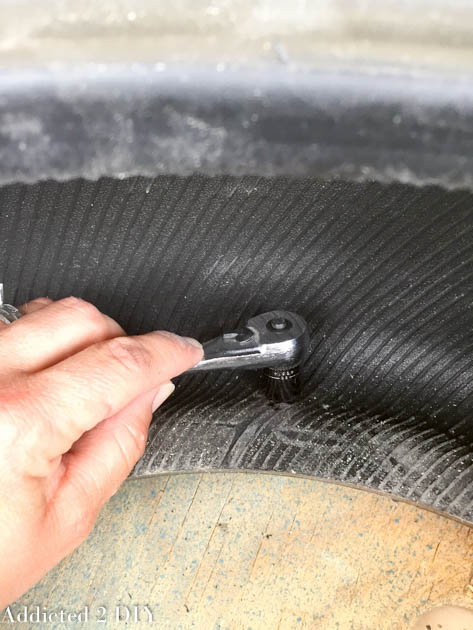 Then I ratcheted all of them tight.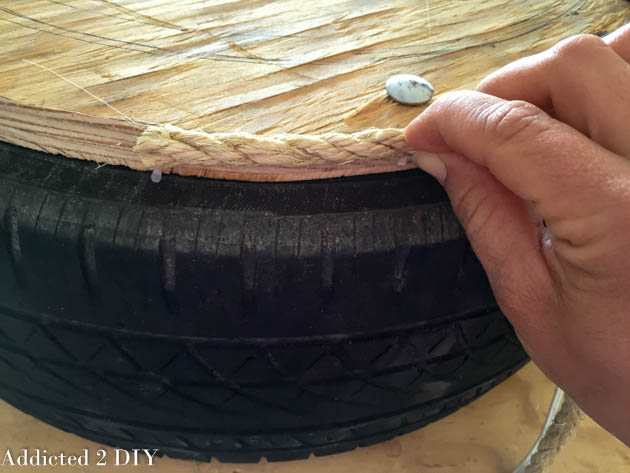 Next it was time to attach the rope. I used my hot glue gun and started gluing the rope on from the bottom edge of the wood base.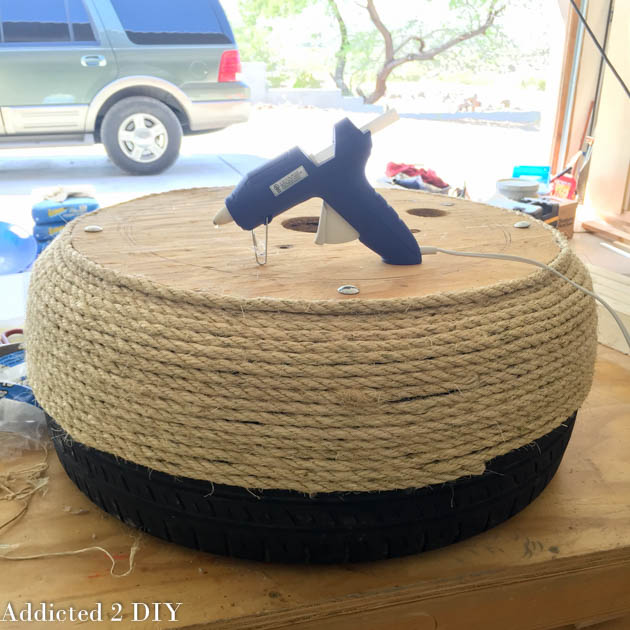 I kept working my way around the tire, trying to keep the rope tightly wrapped. This is a good step to take in the house and watch TV to pass the time.
UPDATE: After a few weeks in the hot AZ sun, the hot glue isn't holding as well in a few areas. If you live in a hot climate, I'd recommend super glue or another strong adhesive to hold the rope on.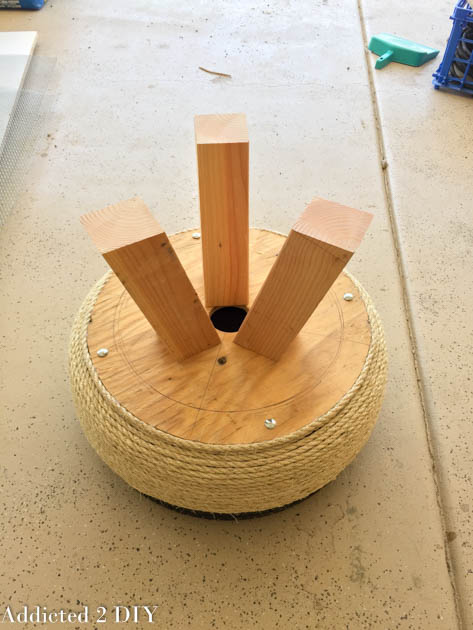 Figuring out where to attach the legs was tricky. I'd never built anything with only three legs before. I ended up finding the center point and positioning the legs in a triangle at the center, then marking the positions with a pen so I could place them after drilling holes.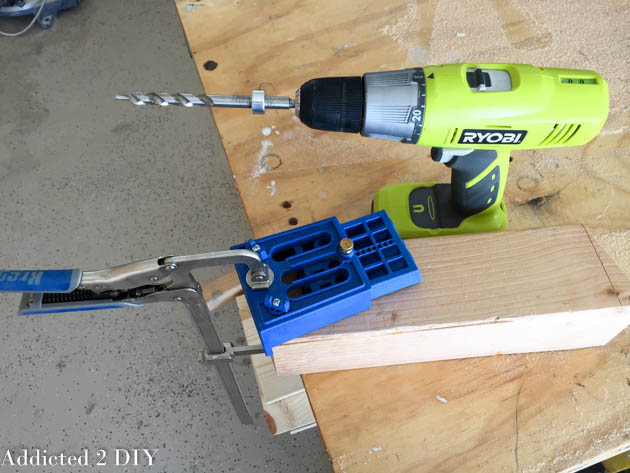 I needed this base to be really strong to hold the weight of the tire and the flowers I put in it. I drilled 1 1/2″ pocket holes into two sides of my 4×4 legs.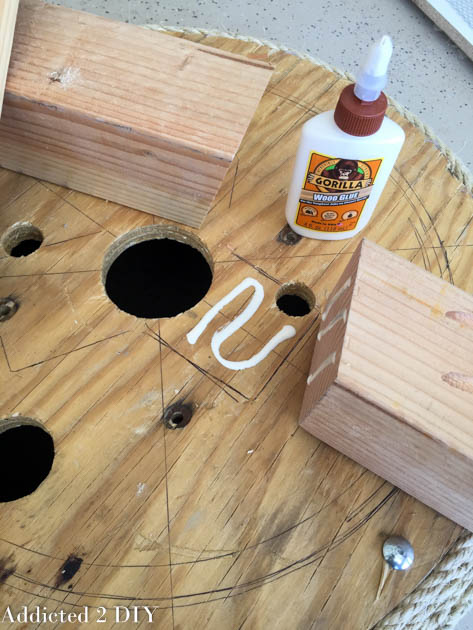 I glued up the legs and then attached them to the wood bottom using 2″ pocket screws. If you don't have a Kreg Jig, you can also use angle braces.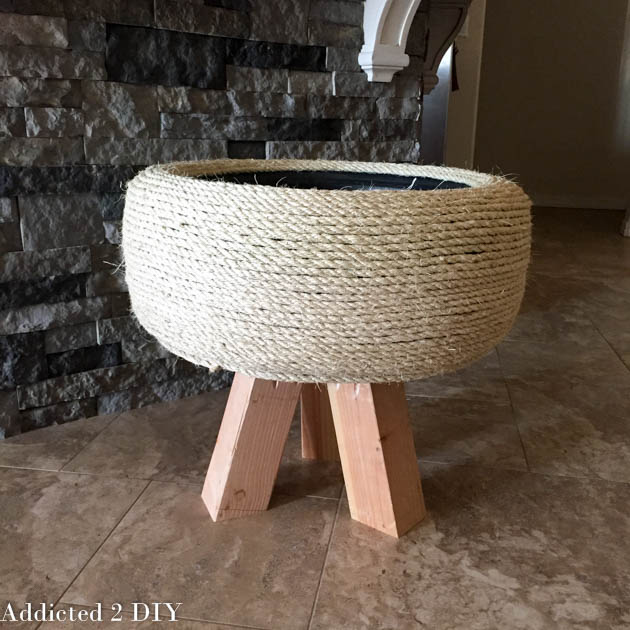 Once the legs were attached and all of the rope was glued on, I sanded the legs and applied weatherproofing stain. I didn't take a picture of this step, but I used Behr tintable weatherproofing stain in Padre Brown. A sample sized can is really all you need.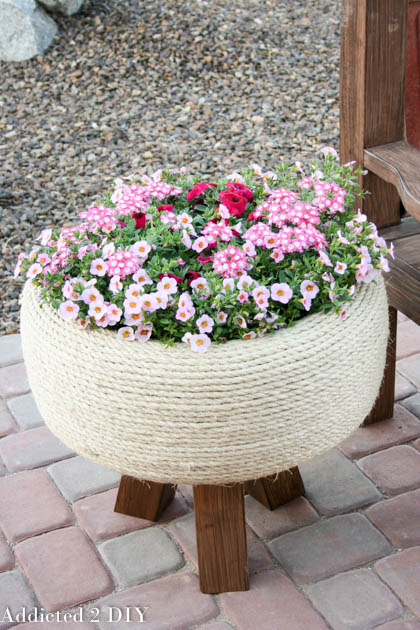 I bought a pot of mixed flowers from Lowes and it fit perfectly inside the tire. I love the idea of flowers, but I've also thought about making more for fresh herbs or strawberries! The height is perfect to keep the bunnies around our house from eating everything.
I absolutely love how the planter turned out! I had struggled with different ways to build this for weeks, but the rope idea finally popped into my head and it came out better than I could have imagined. Truth be told, my husband hated the idea of me doing a project with a tire, but once he saw the finished planter he really likes it! To keep up with the upcycling spirit, I also finally got around to building a tailgate bench using an old '55 Chevy tailgate that I've had sitting on the side of our house for the past two years. I knew it would be the perfect compliment to the tire planter! I'll be sharing that tutorial in a few days.
Have you ever created any projects from recycled tires? I'd love it if you shared them! It's always fun to see what others can come up with. If you're looking to build this project or others with tires, definitely head to your local Discount Tire. They'd be happy to help you turn old tires into new creations!

Linking up to these parties: