Thanks to the partnership I have with Discount Tire on this post, I am sharing my recycled tire DIY project for holiday decor and gift inspiration.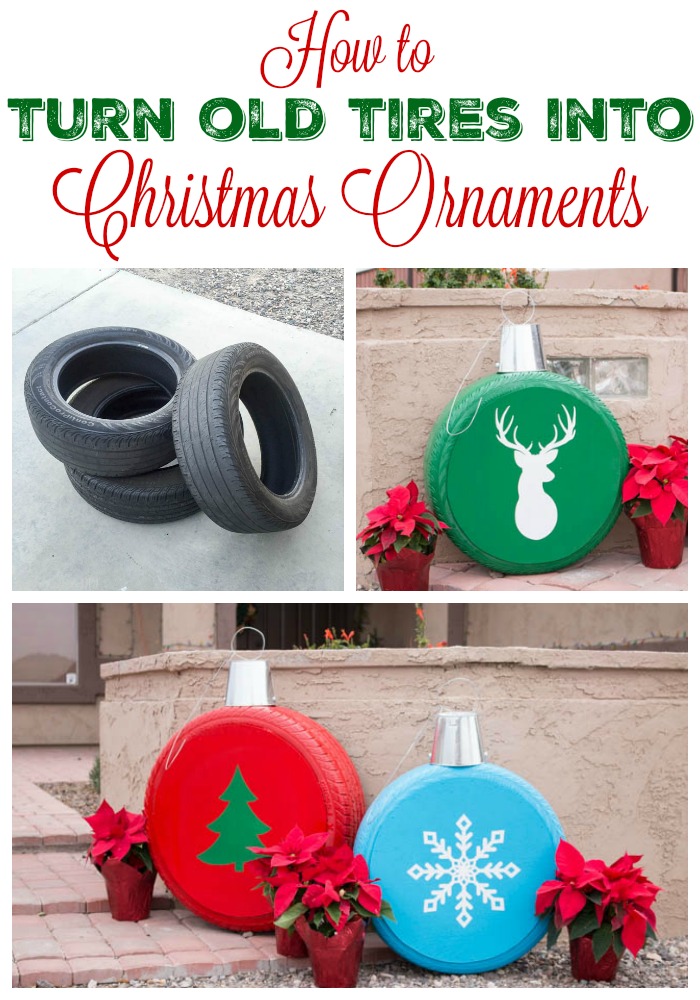 Hey everyone! I'm so, so excited to be partnering once again with Discount Tire to share with you a Christmas DIY project that can be made using your old tires! You might remember earlier this year when I teamed up with them to create a gorgeous planter from an old tire. This time I created some fun Christmas decor that you can either keep for yourself, or give as a gift to a friend or neighbor!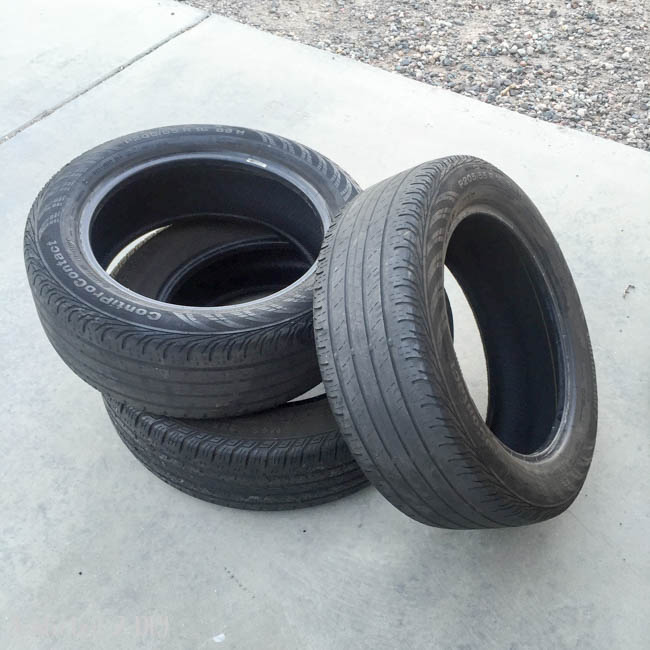 Creating a tire project for Christmas is a challenge. I actually enlisted the help of my two boys (ages 7 and 9) to help me brainstorm ideas. I was really quite surprised at the ideas they came up with. We finally agreed and settled on making giant Christmas ornaments. I love when a challenge like this really makes me think outside the box!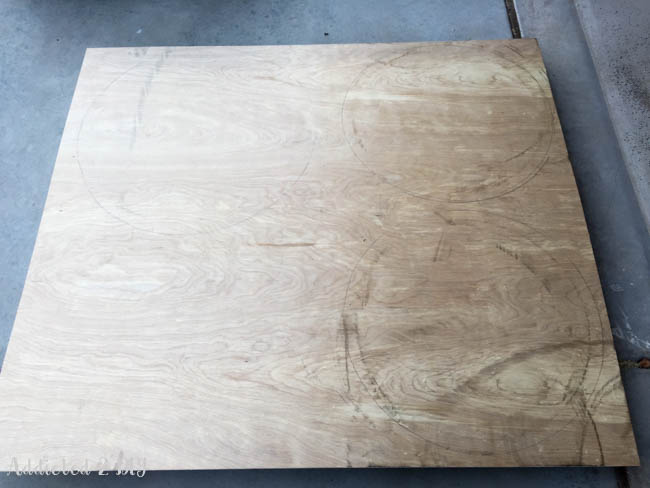 I wanted to cover the fronts of the tires, so I grabbed some scrap 1/4″ plywood and traced the tires with a pencil. I then drew a smaller circle inside of that to make the size I needed for the fronts of the tires. I then cut the circles out with my jigsaw.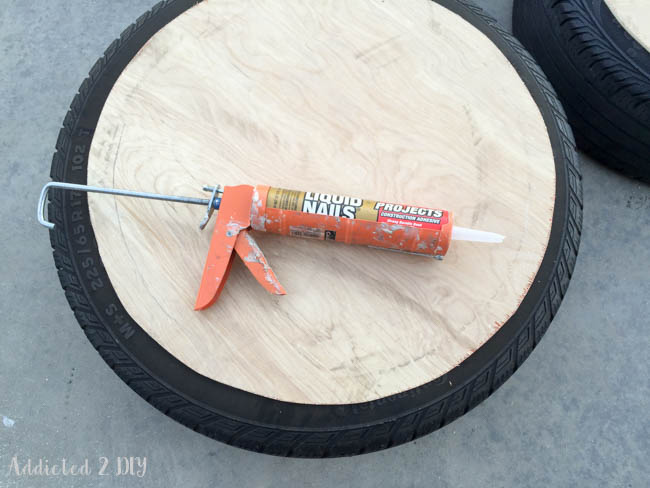 I applied a bead of Liquid Nails along the edge of the circle and stuck it down on the tire.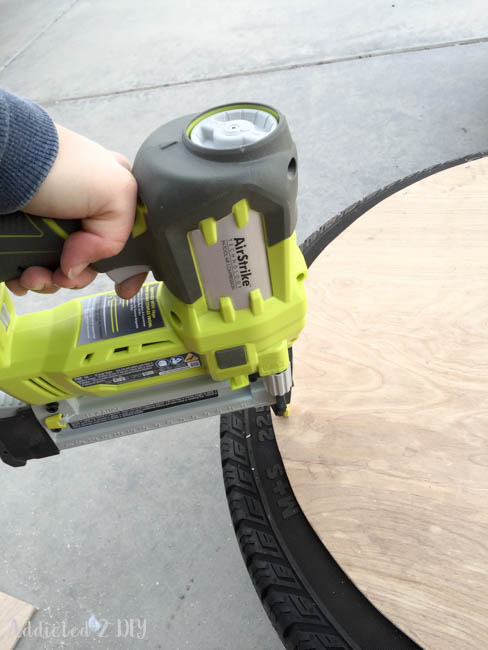 I used my staple gun and 1″ staples and stapled around the edge of the plywood into the tire.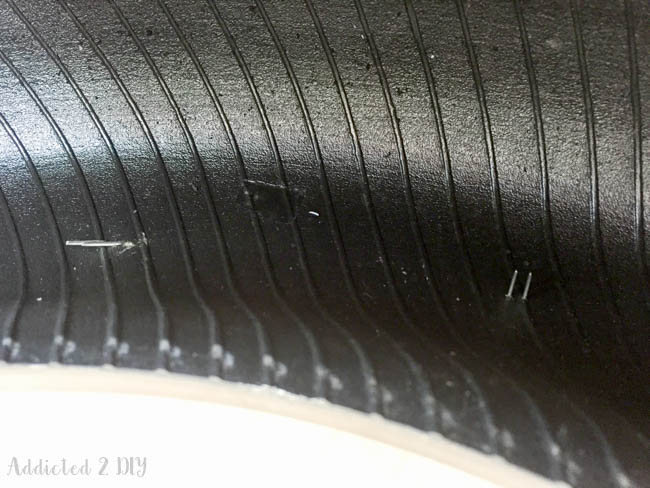 I wanted to make sure that nobody poked their fingers on the insides of the tires, so I hammered down the staples, which also prevents them from being pulled out.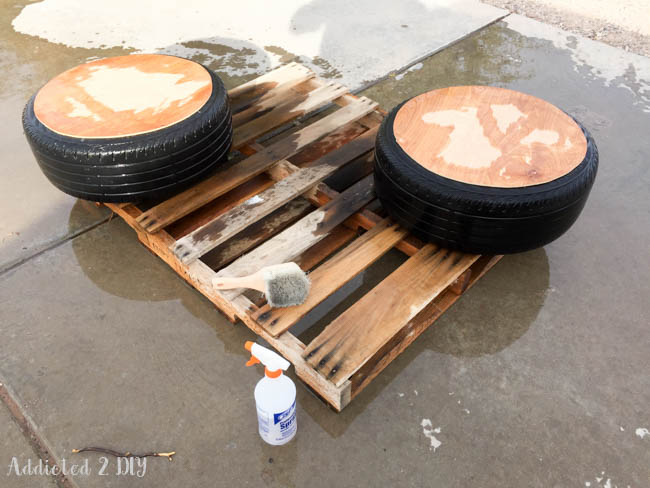 The tires needed to be cleaned before I painted them. Ideally, I would have done this before attaching the plywood, but sometimes I work ahead of myself. I used an all-purpose cleaner and a brush to scrub them, then I rinsed them with water and let them dry.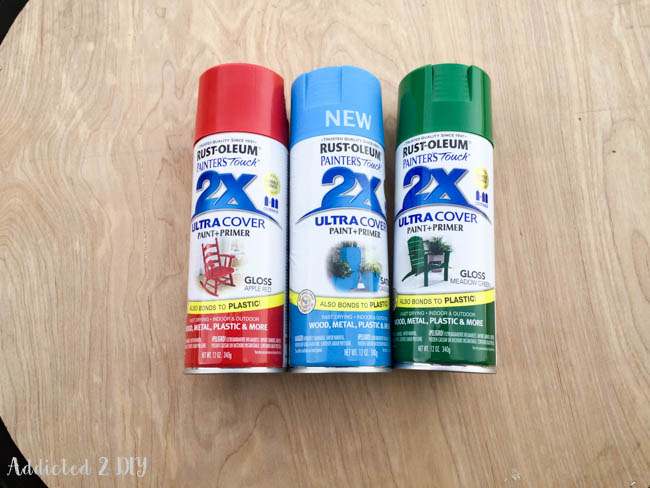 I wanted the "ornaments" to be different colors, so I bought some red, blue and green spray paint. One thing I noticed and feel it's worth mentioning is that the blue spray paint is a satin sheen and seemed to cover a lot better on the rubber vs. the gloss spray paint. That being said, they all still looked great in the end. It just took a few more coats with the gloss.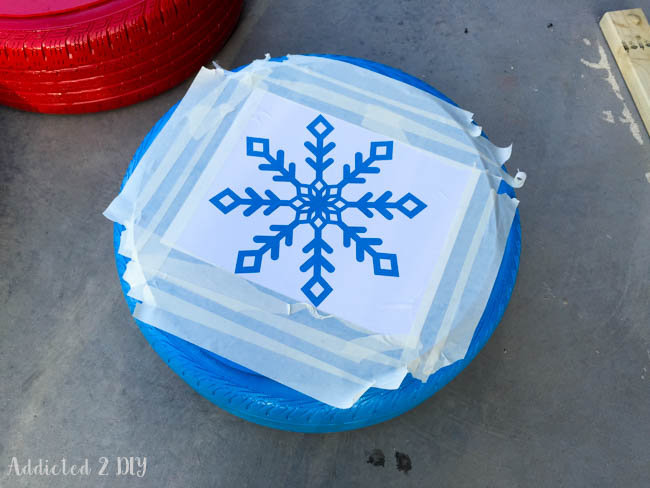 To complete the look of the ornaments, I cut out some vinyl stencils on my Silhouette CAMEO (affiliate link). I found all of the designs in the Silhouette Design Store.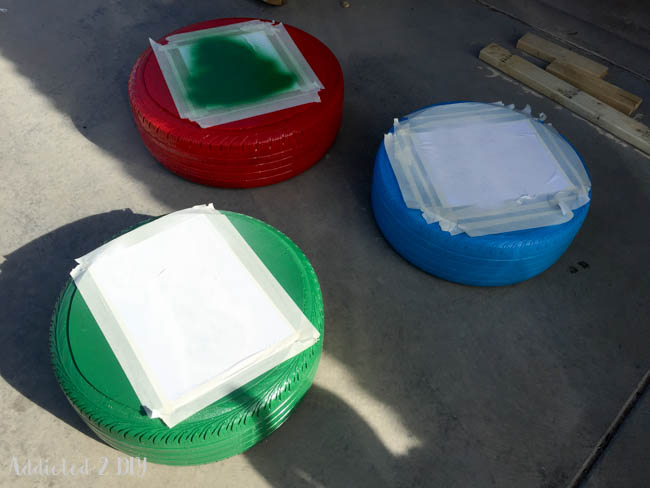 I cut out three different stencil designs for the "ornaments." I sprayed two with white spray paint and then the Christmas tree design was sprayed with green spray paint and then green glitter spray. I was planning to add lights to these, but once they were all finished, I really loved the look of just the painted designs.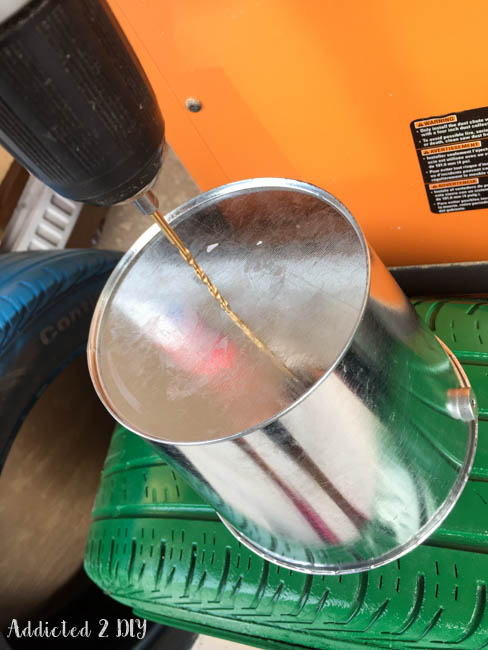 To top these ornaments off, I bought galvanized buckets from Michaels. I took the handle off of them and then drilled two small holes into the bottom of the buckets to run wire through for the loops.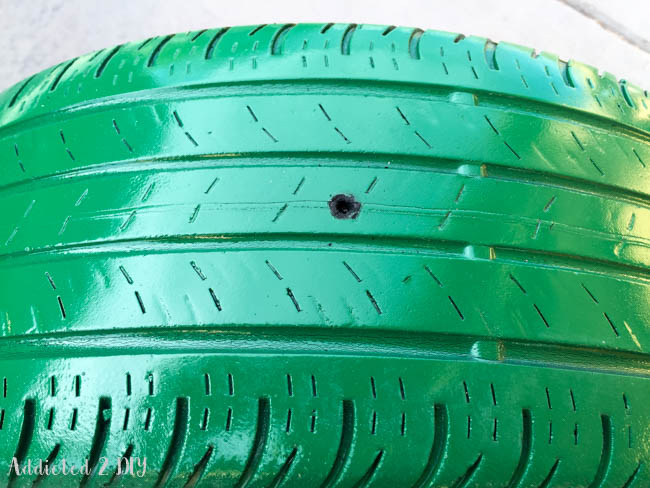 I also drilled a 1/4″ hole into the center of the tires for the wire to run through.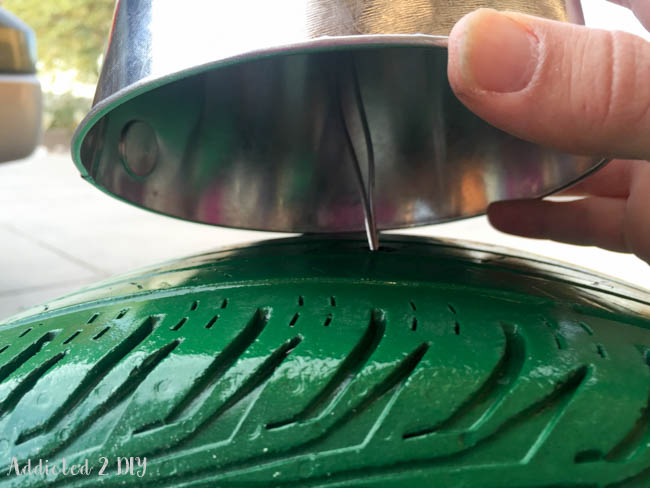 I cut some baling wire to form a loop at the top (or bottom depending on how you look at it) of the bucket. I ran the wire through the hole in the tire and then twisted and secured it into place against the inside wall of the tire.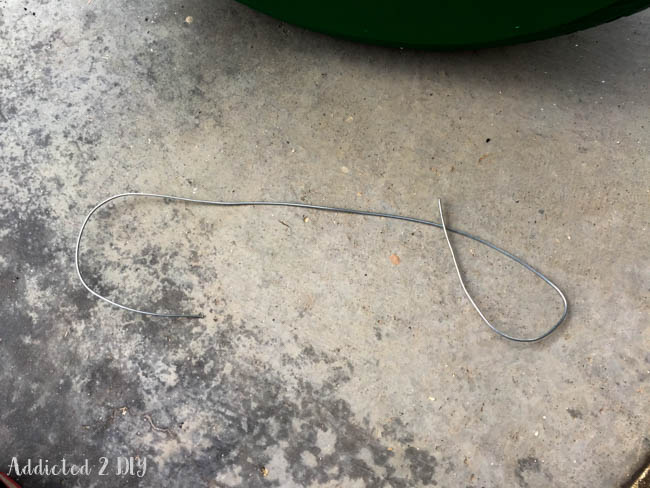 My 7 year old happened to be outside with me while I was making these and offered up his 2 cents A LOT on how they should look. One of his ideas was that each of the ornaments needed an ornament hook. You know, in case you wanted to hang them from a tree. I wouldn't recommend trying that as these hooks won't hold the weight of the tire, but I did like the authentic look it gave them. Now that I think about it, though, these would look so neat hanging from a great big tree decked out with Christmas lights. You'd have to do some figuring on how to hang them, but how cool would that be!?
I am seriously in love with how these turned out! I was loving the idea in my head, but still felt nervous about whether or not the idea would come to fruition. Since I've finished these, I've gotten loads of comments about how cool they look! Imagine how fun these would be to give as a gift at your next ornament exchange! They would definitely be a hit and they're a perfect way to recycle your old tires when it's time for a new set from Discount Tire.

Have you ever thought of or made a DIY project with recycled tires? I'd love to see it! Just tag me on Instagram or Facebook with @addicted2diy or use the hashtag #addicted2diy. I'd love to feature your project!