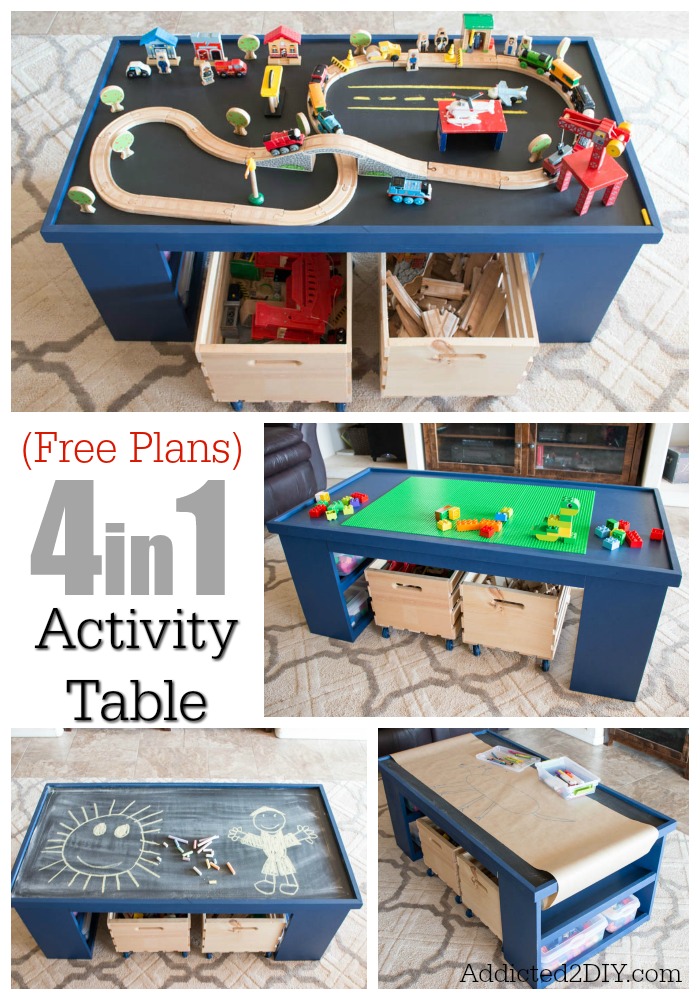 Hey there, everyone! School is out for summer in our house and I know it won't be long before all of us would give our right arm for great ideas to keep the kiddos busy and not at each other's throats during the long, hot months of summer. My boys barely wait to get in the car on the last day of school before I have to pull on my striped jersey and play referree. The struggle is real, people. If you're one of those parents looking for a way to keep the kiddos occupied for hours, I've got just the project! The best part is that it is actually a super fast project that you can have done in a weekend! Last November, I shared the plans for this 4-in-1 activity table over on RYOBI Nation, and today I'm sharing it here on my blog! I built this for my three nephews as a late birthday/early Christmas present. It was a huge hit and my brother said it keeps them busy for hours. To get the materials and cut list, make sure you download the free printable building plans for this fun project!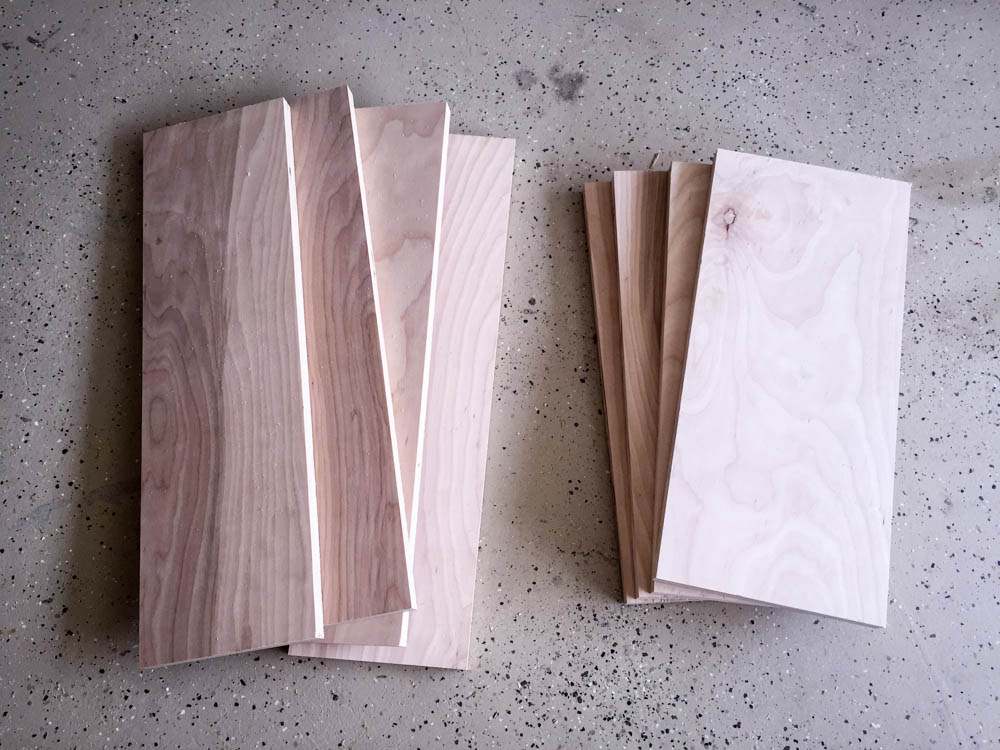 I started by cutting the plywood pieces for the base. I used 3/4″ birch veneer plywood from Home Depot.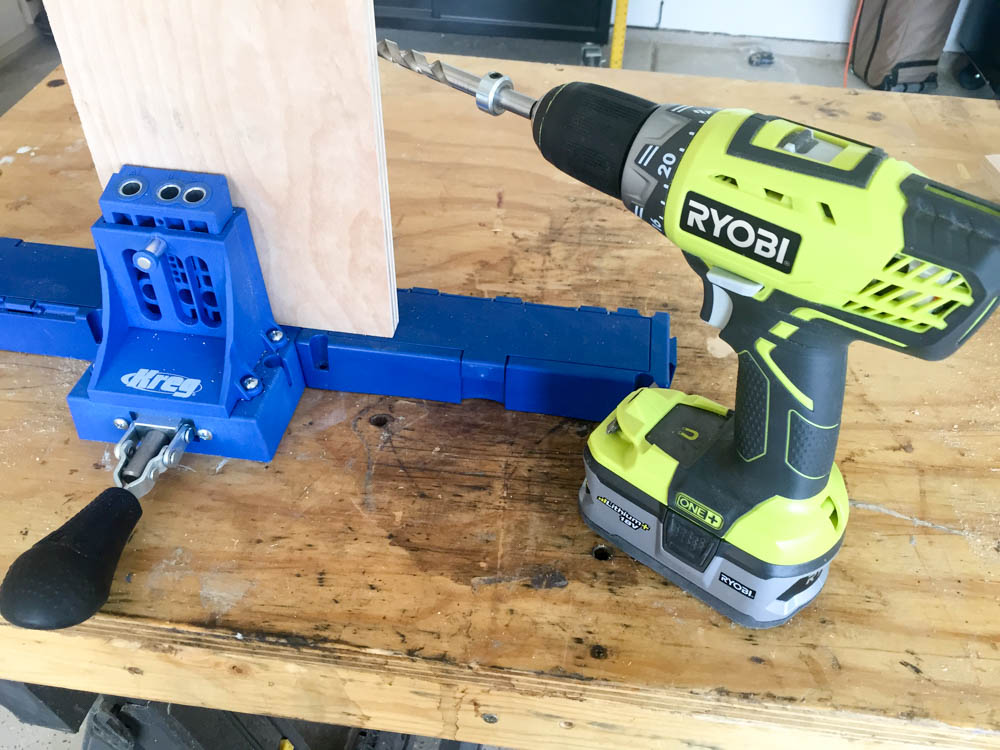 I used my Kreg Jig and drilled 3/4″ pocket holes into each end of the bottom and middle shelves.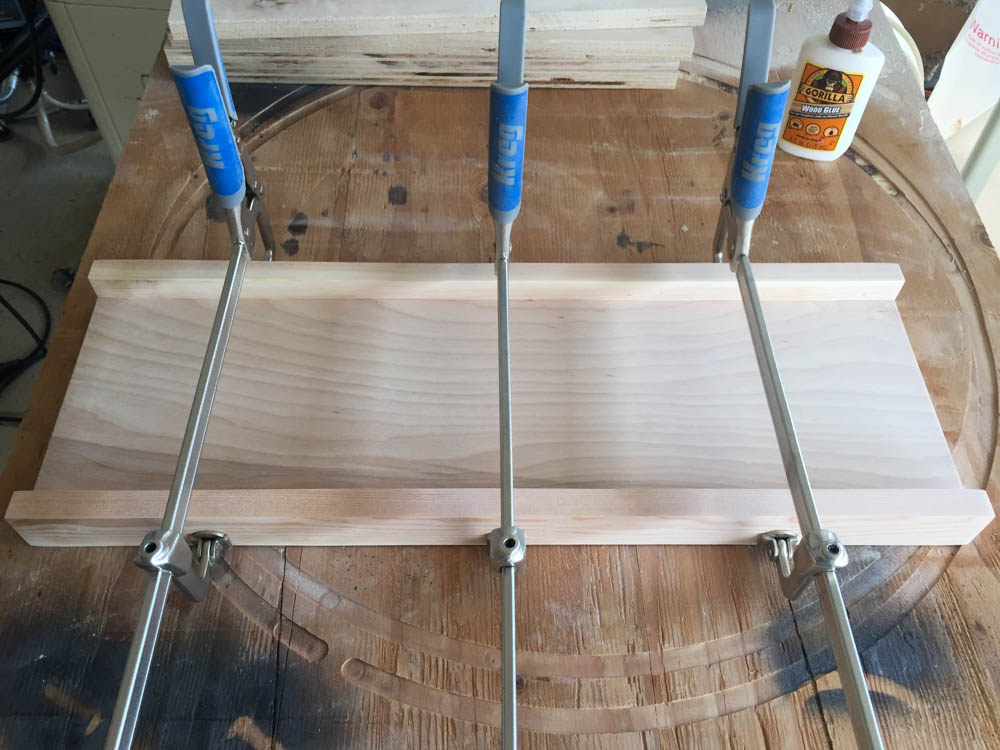 Glue and clamp the 1×2 pieces flush with the bottom of the shelves and attach with 1 1/4″ brad nails.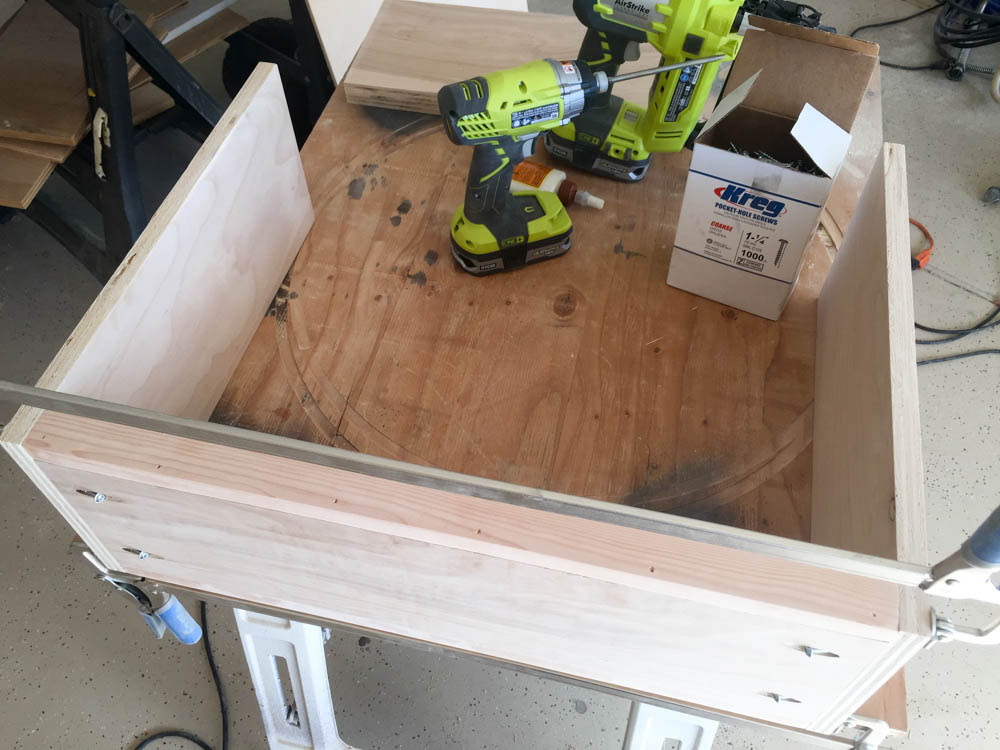 Attach the front and back vertical pieces to the shelves with wood glue and 1 1/4″ pocket screws.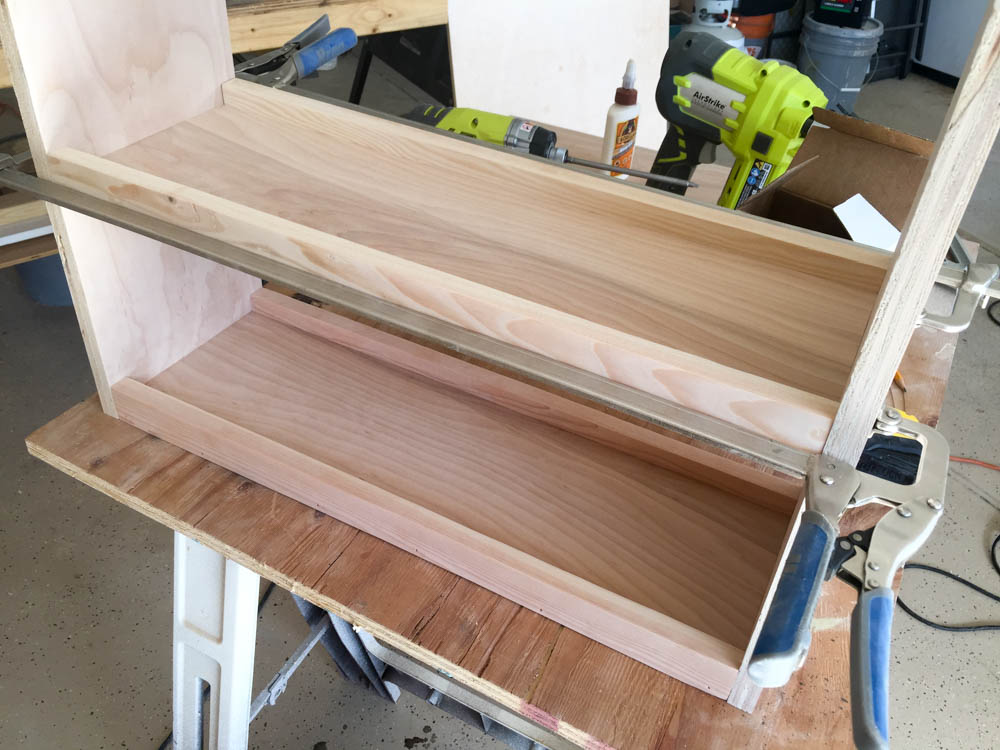 Attach the middle shelf in the same way as the bottom shelf. There should be 7 1/4″ between the bottom of the middle shelf and the top of the 1×2 on the bottom shelf. Check for square when working on these steps.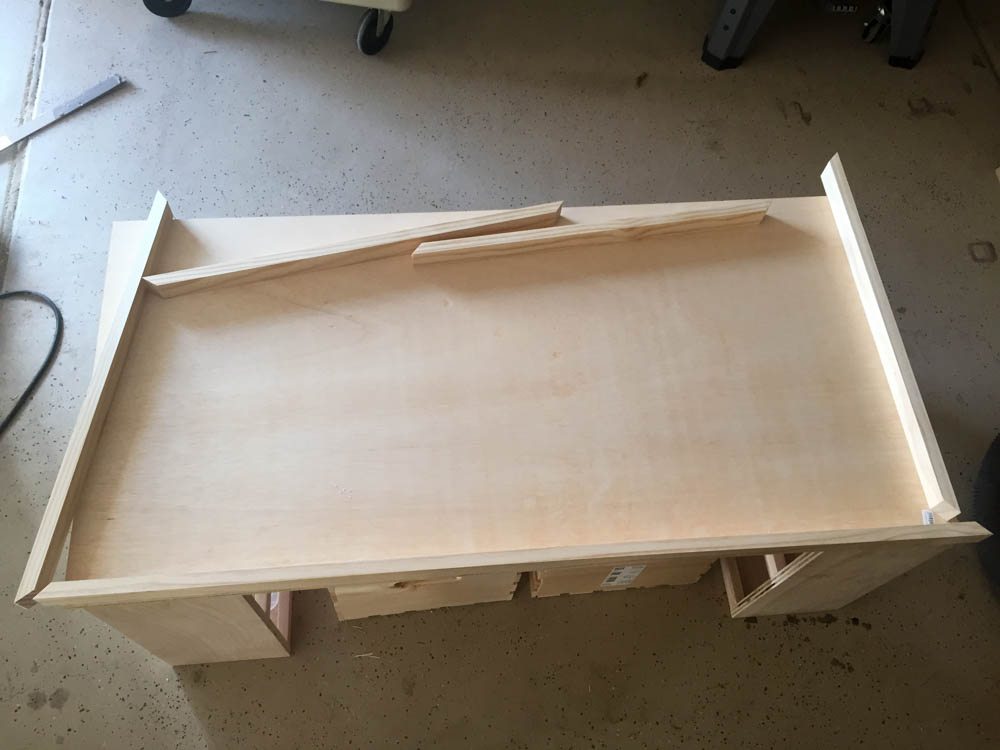 Attach the 1×3 stretchers flush with the top of the base pieces using 1 1/4″ pocket screws. DO NOT glue these pieces. This way it is easy to disassemble the base if it needs to be moved around or, in my brother's case, fit into the back of their SUV to take home to Nebraska.
Once the stetchers are in place, center the 2′ x 4′ sheet of plywood over the base and cut the 1×2 trim to size. Glue and attach with 1 1/4″ brad nails.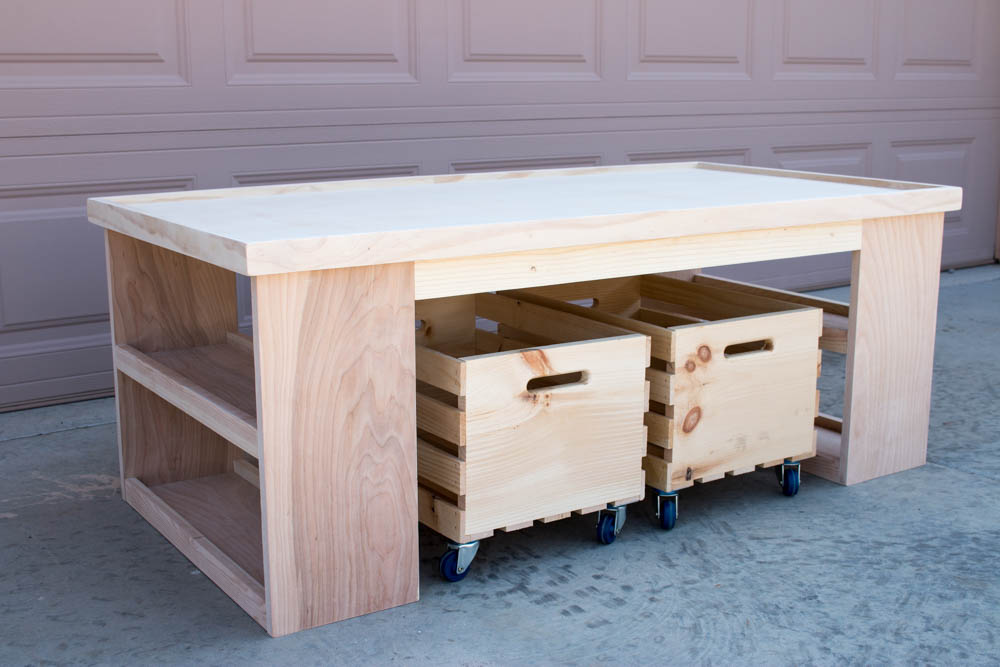 Once the entire table was built, I applied iron-on veneer edge banding onto any exposed edges of the plywood and sanded the entire table down. For more storage, I purchased crates from Home Depot and added casters to the bottoms of them. They're perfect for storing train tracks or whatever else you need. I painted the entire table, then painted one side with chalk board paint.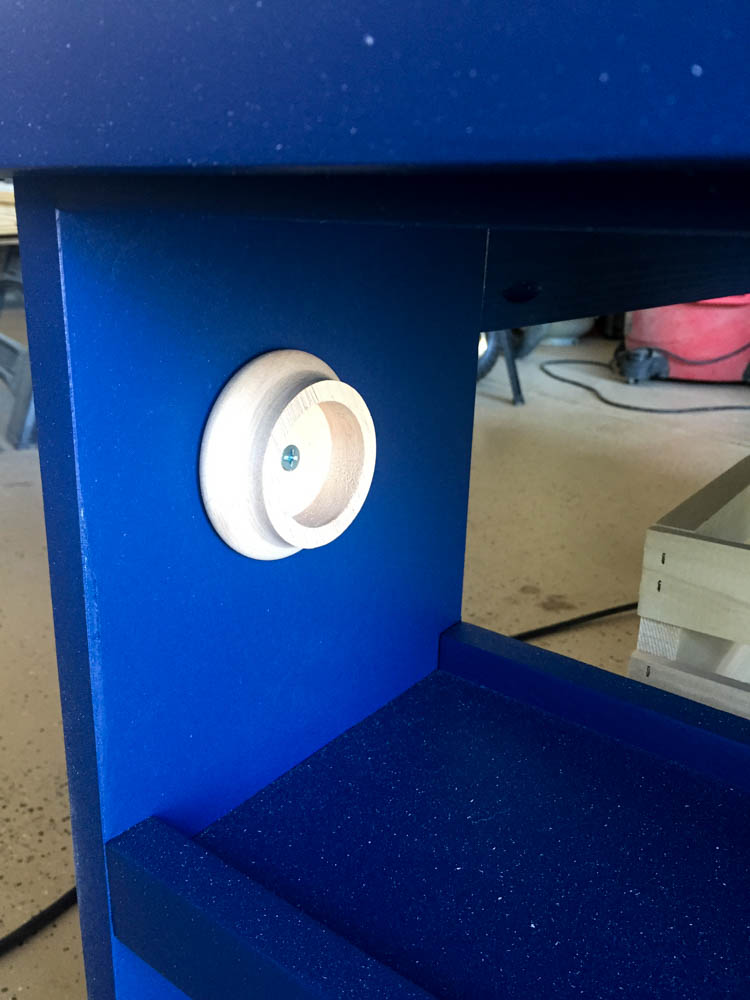 To hold a roll of drawing paper, I installed closet rod sockets on one end of the table and bought a roll of paper and used a 3/4″ dowel to hold it. I bought them after painting it, so I had to finish them by hand.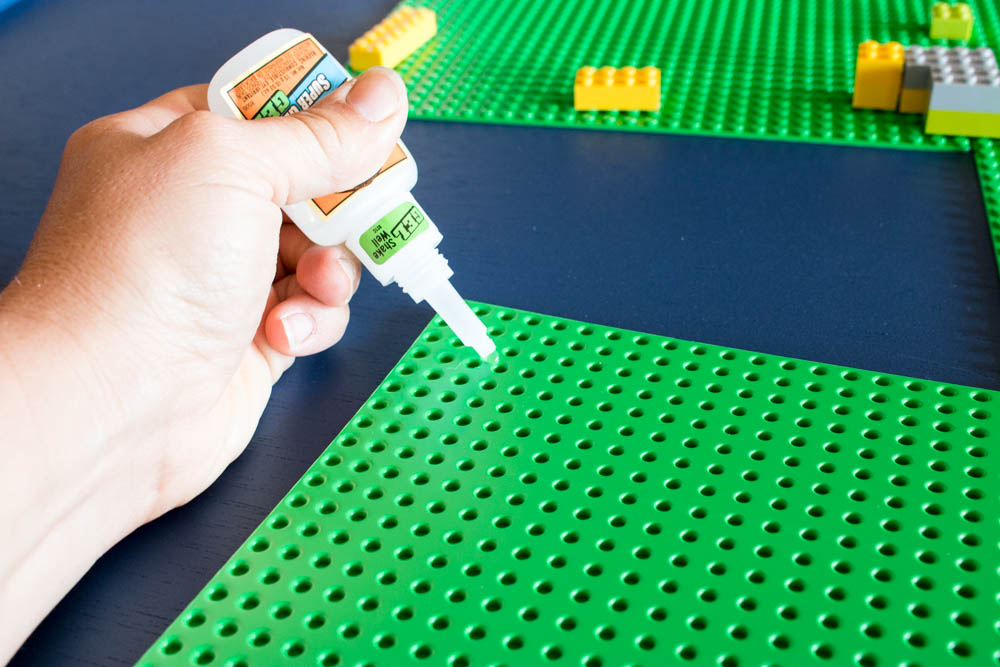 On the opposite side of the chalk board, I glued down six Lego base plates. One trick we learned when gluing base plates next to each other is to snap Lego bricks onto two at a time and then glue them down (see top of the above photo). If you glue the base plates down flush against each other, the spacing is actually too close and it's hard to snap the bricks down on them.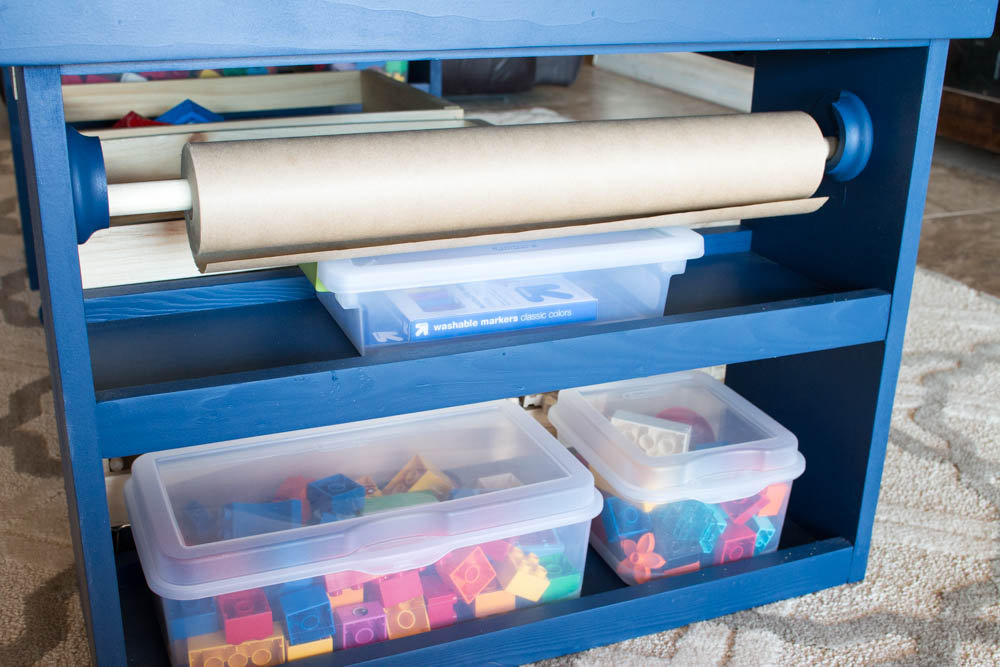 One side has a shelf to hold Lego bricks, paper and crayons. The other side has more storage for Lego bricks or other toys.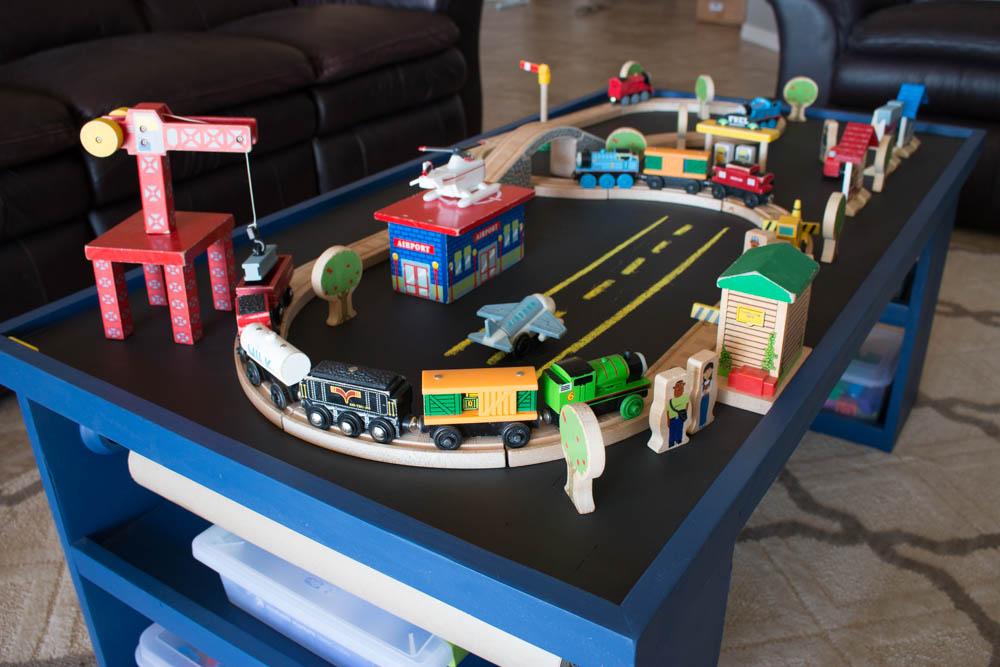 The chalkboard side is perfect for setting up creative train tracks and the kids can draw roads, trees, or whatever they like!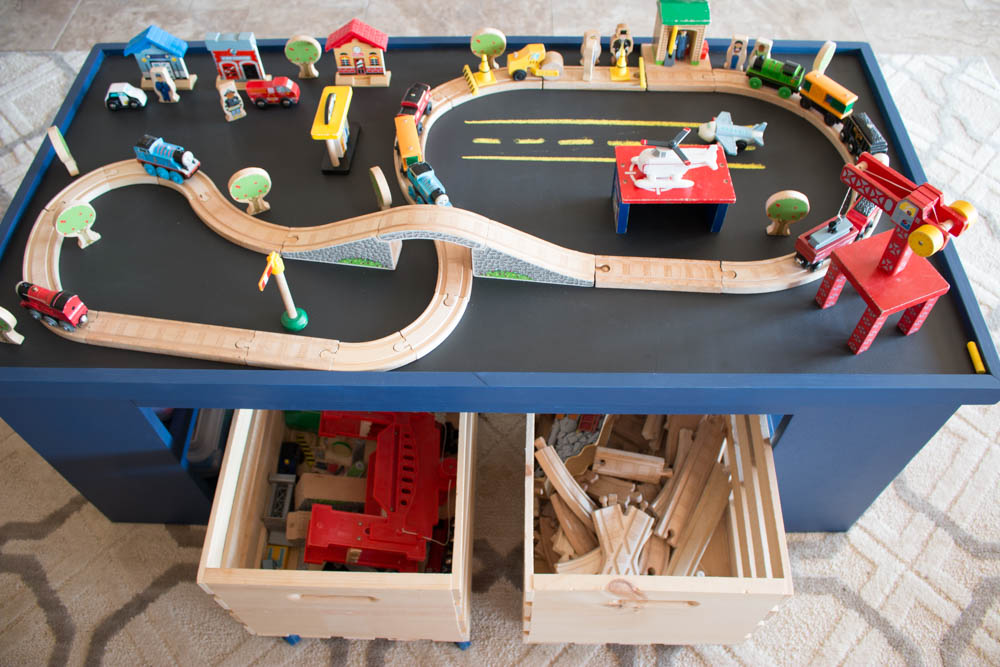 The crates underneath have plenty of room to hold large amounts of train tracks and cars.
This table is jam packed with ways to for the kids to keep busy and enjoy themselves. The tabletop is light enough that it can be easily flipped over for the fun to continue! Even my boys who were 7 and 9 when I built it spent hours playing with it. The fact that it can be taken apart means that it can be easily moved around or put away when the extra space is needed. It's such a quick project to build and definitely a great way to keep the kiddos busy over the summer months. Don't forget to download the FREE plans to build your own!
If you build one, I'd love to see it! Make sure you tag me on social media or email pics and you could be featured in my reader spotlight! Happy building!
DISCLOSURE: This post contains affiliate links for your convenience. If you purchase an item from one of these links, I will earn a small commission at not extra cost to you. Please see my disclosure statement for more information.