Lately, I'm on a plant kick. Last month, we planted 20 (yes TWENTY) trees in our backyard, plus we also have a whole slew of potted outdoor plants. I feel like we've fairly well tackled the outside, so I wanted to start getting plants for inside the house. Being a DIYer, I couldn't just buy basic pots and leave them be. I decided to make my own DIY wooden plant stands on my X-Carve. I'm partnering with Inventables today to share my latest YouTube video with you all and also inviting you to join in on a fun contest where you could win your very own X-Carve CNC machine!


Learn To Make A DIY Wooden Plant Stand
In my latest YouTube video, I'm sharing how to make these DIY wooden plant stands using the X-Carve from Inventables. I designed the template in the free Easel design software on Inventables.com, then resized the width to fit the potted plants, as well as alternated the height to change things up a bit.
Carving each of the plant stands took less than an hour from start to finish and they are a great way to add a little more character to your basic potted plants. I carved the plant stands out of both walnut and maple, but you can use any species of wood that you like. These would also make great stands for hurricane lamps, and hey even a fishbowl if you're feeling really crazy. These plant stands are not only great as home decor for yourself, but they would make great gifts for holidays, housewarmings, or any other occasion where a handmade gift would be appreciated.
Now for the contest! Inventables is holding an Easel Power Hour contest where makers can challenge themselves to create a carving file that takes an hour or less to carve on an X-Carve. The beauty of this challenge is that you DO NOT need an X-Carve to participate! Makers can create a project within Easel and submit it to win! A panel of 12 judges, including myself, will each pick one favorite design. Of the 12 finalists, 11 will win a $100 Inventables gift card. The grand prize winner will receive a $1500 to Inventables to purchase your very own X-Carve (or a whole lot of supplies if you own one already).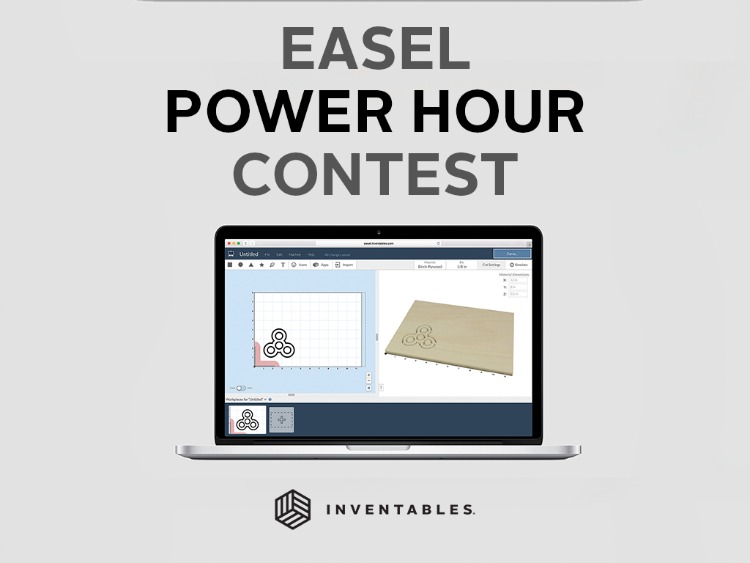 Be sure to visit the Easel Power Hour Contest page on Inventables.com to get the full rules and entry instructions. I can't wait to see what everyone makes! Make sure to screenshot your creation and tag me in Instagram so I can see your creations!
Don't forget to check out my YouTube video for all of the details on how to make these plant stands. Be sure to pin this image for later inspiration as well!
Check Out My Other X-Carve Projects
Valentine's Day Cupcake Toppers
DISCLOSURE: I was provided product and/or compensation for this project. All opinions and ideas are 100% my own. For more information, please read my full disclosure policy.
SaveSave
SaveSave
SaveSave
SaveSave
SaveSave
SaveSave
SaveSave
SaveSave
SaveSave