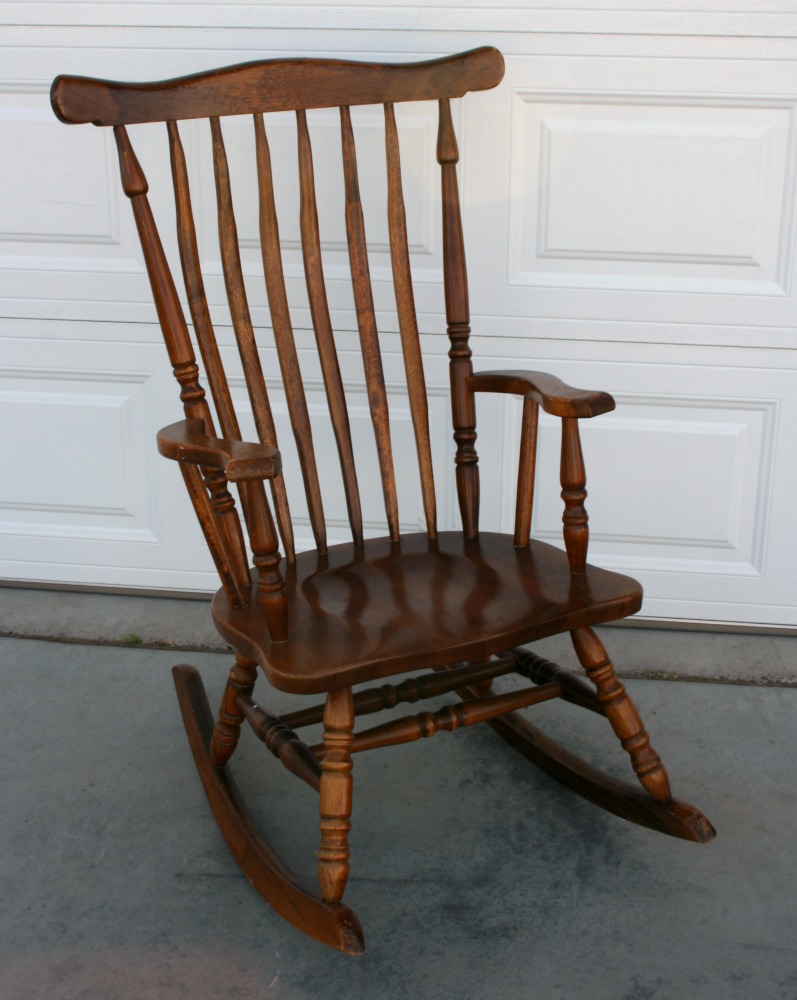 Raise your hand if you love yard sales! I love yard sales, but I don't get out to too many. It's hard to fit it into our busy schedule and, frankly, it's hot out there! Last year, though, I discovered my new love…Swip Swap! It's a local yard sale group on Facebook. When I say local, I mean a particular area of town or a large neighborhood. There are several of them in the Phoenix area, and it's kind of like craigslist, but a narrower scope. I got lucky one day last year and scooped up this rocking chair for about $20. It had some scuffs and scrapes, but it was sturdy.
I've included links to the products I used in this post for your convenience. Some of these links are affiliate links. If you purchase an item from one of these links, I'll receive a small commission at no extra cost to you.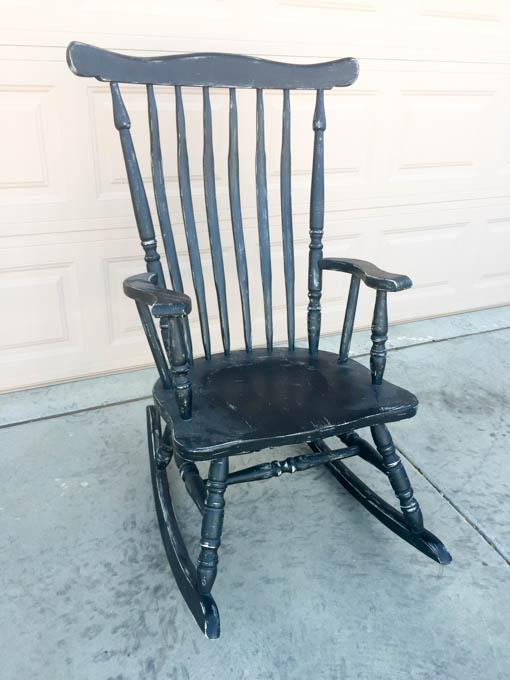 I decided to give it a makeover and painted it using chalky finish paint. It was one of those experiences that I never want to relive! It was before I had discovered HomeRight and all of their amazing products, which means I painted it by hand. In two colors! I wanted a shabby chic look, so I started off with white and then covered it with black and distressed it. It took DAYS! All of those spindles were torture. The end result was okay, but I just wasn't in love with it. At the time, though, I just wasn't sure what colors I really wanted to have in our house. I've since been experimenting a bit with color and I've gotten bolder.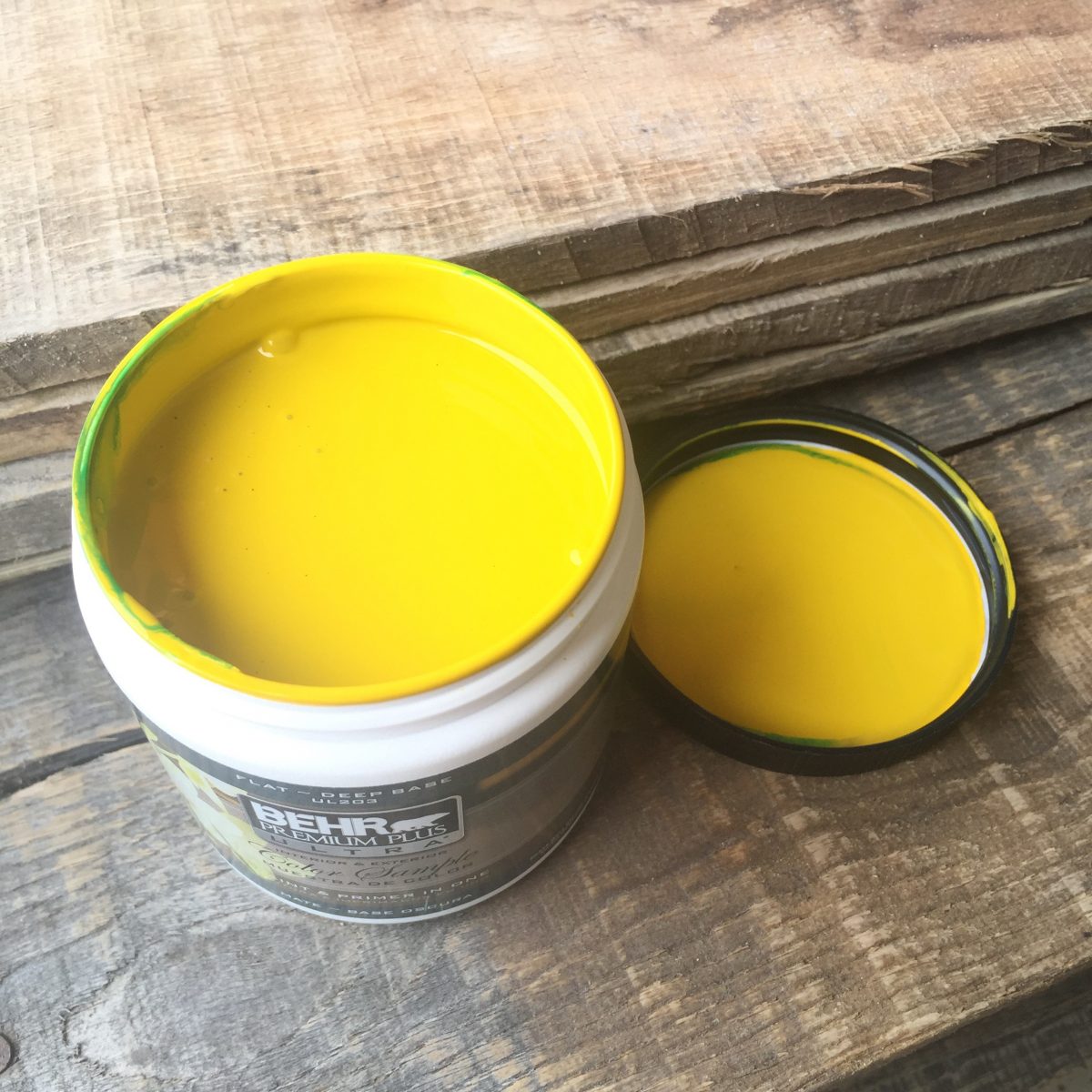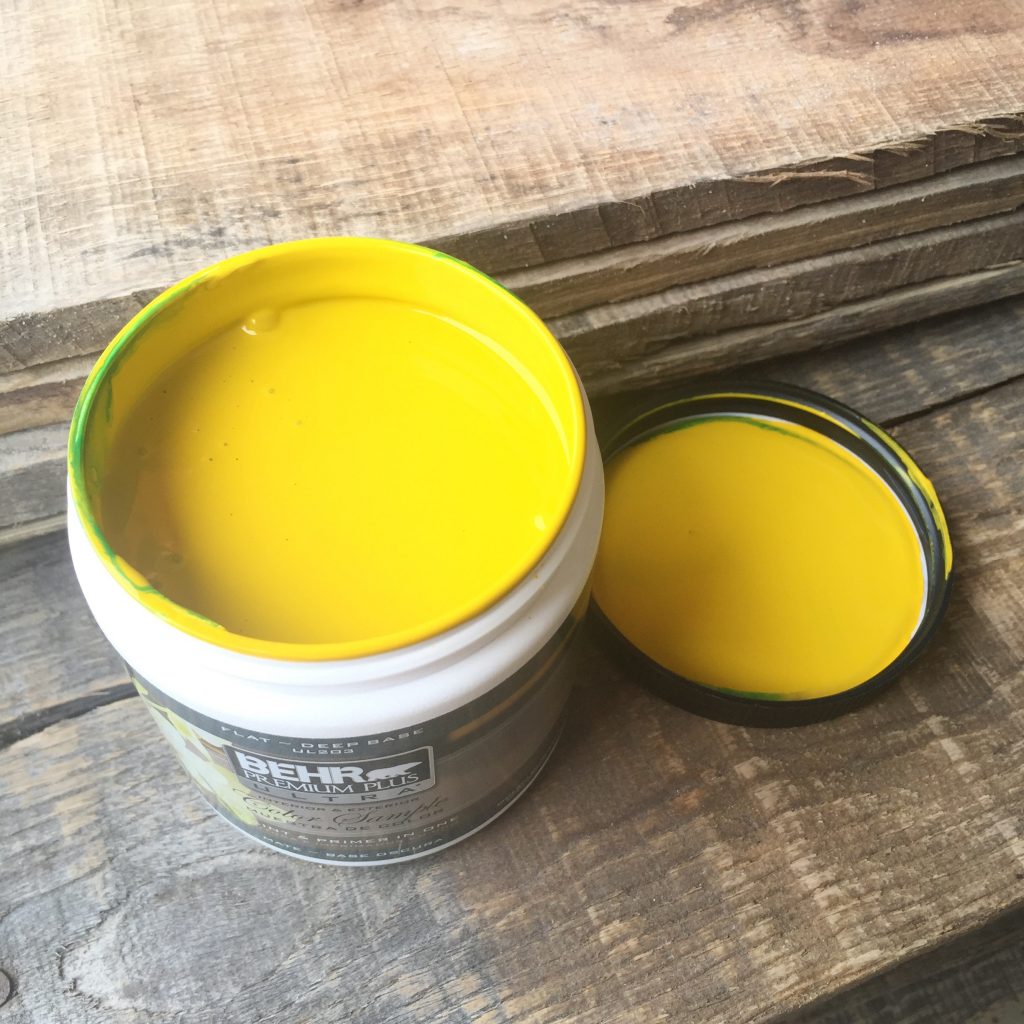 I was looking through the Behr 2016 color trends booklet at Home Depot and this Citronne color seemed like such a fun color. The color palette they used with it already had colors that were similar to what were in my bedroom, so I thought this would be a great color choice!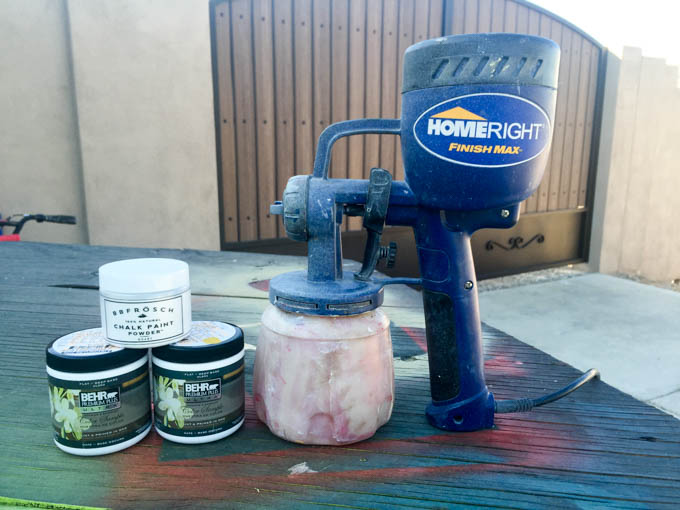 I bought a couple of sample sized jars of the paint and mixed it up with some BB Frosch chalk paint powder to make my own homemade chalk paint and then thinned it with some water to use in my HomeRight Finish Max
. I happen to be giving one of these bad boys away at the end of this post, so stick around!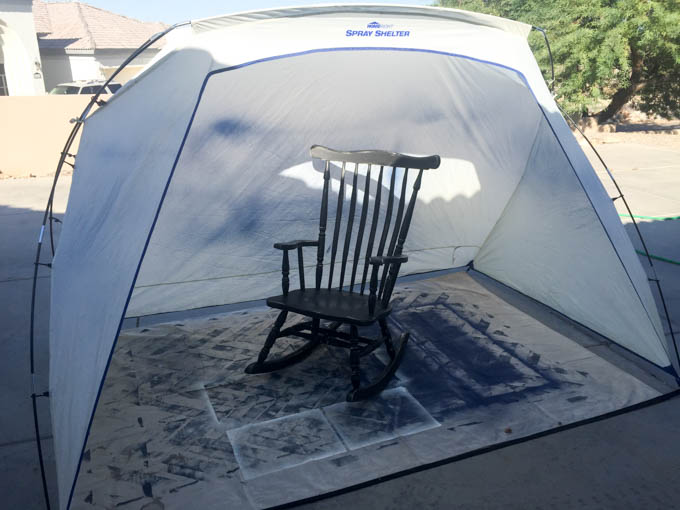 I set up my spray shelter
and drop cloth and got to work. I sprayed it with two coats of the chalk paint and then let it dry completely.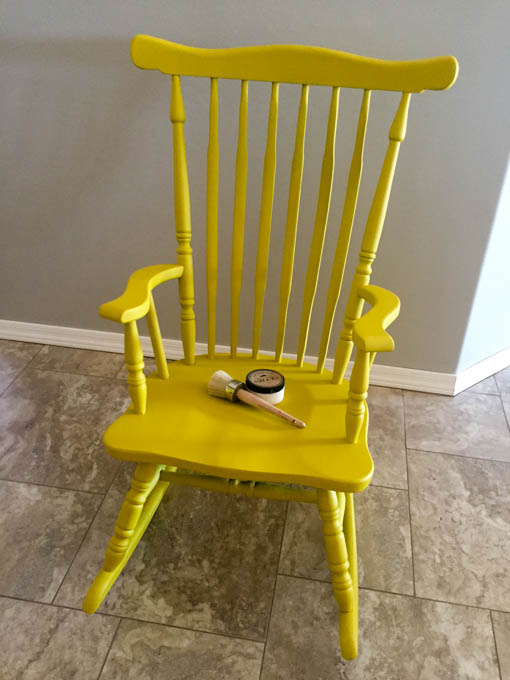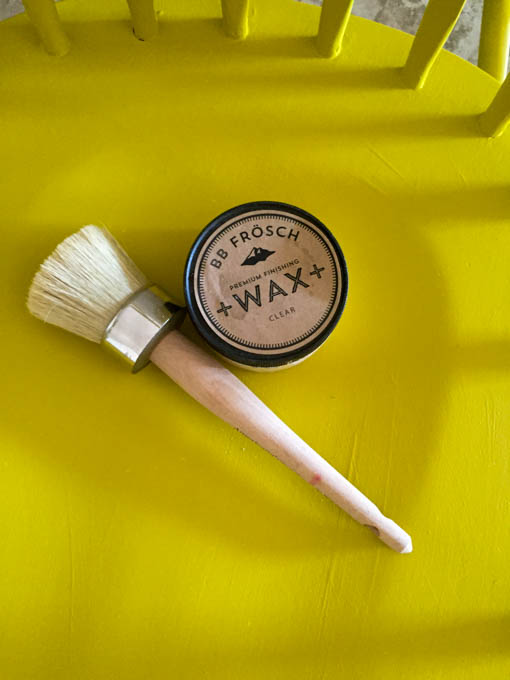 Once the paint was dry, it was time to give it a coat of wax. You can see the old brush strokes left over from the previous paint job. This is precisely the reason I love my finish max so much. It gives you a gorgeous, flawless finish. No more pesky brush strokes!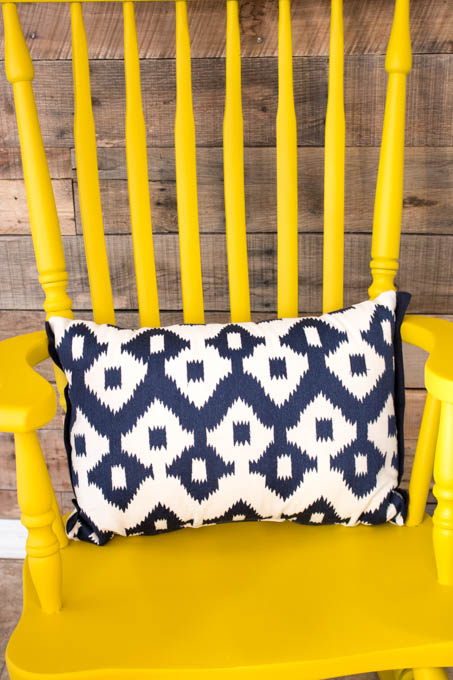 One of the colors in the color palette I was looking at was a dark navy color. I happened to find this gorgeous ikat pillow at Target and it went perfectly with the mustardy color of the chair. Sadly I can't find the link to this pillow or I'd happily share it with you.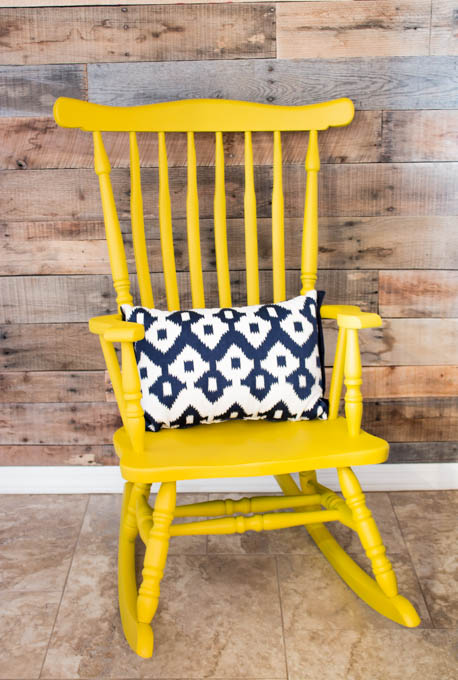 I am still always amazed at how much something like a simple paint job can completely transform a piece of furniture. This rocking chair was so boring before, but I love the beautiful color it is now! It will be going back into my bedroom, but I really loved how it looked against the new pallet wall I installed in one of our hallways.
As promised, I'm giving away a HomeRight Finish Max to one lucky reader! To enter, follow the Rafflecopter instructions below. All entrants must be 18 or over and live in the continental U.S. Void in Alaska and Hawaii. Entrants must follow HomeRight on at least one platform of social media. Winner will be chosen at random and notified via email. Winner must respond within 48 hours or a new winner will be chosen. Good luck!
Here's some more thrifted items from my fellow bloggers that are sure to inspire you!
(Click the pictures to be taken to the tutorials)
DISCLOSURE: I am a HomeRight brand ambassador. I received product and/or compensation for this post. All opinions and ideas about and using HomeRight products are 100% my own.