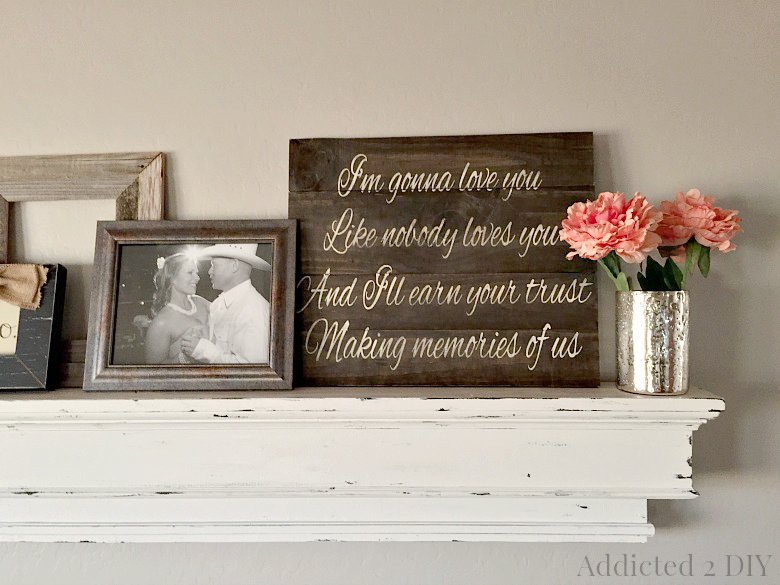 Hey everyone! Today I've got a simple, sentimental, and virtually free gift idea. It's a great gift idea for anniversaries or for Christmas and doesn't really require any special tools.
This past Thursday, my husband and I celebrated our 9th wedding anniversary. It's been an amazing 9 years, and we have tons of incredible memories and two beautiful little boys to show for it. No marriage is perfect, but I like to think that ours is pretty amazing. We always exchange cards on our anniversary, but we don't often give each other actual gifts. This year, though, I wanted to make him something special. I thought a painted wood sign would be perfect for over our bed. There are tons of great quotes out there about love and marriage, but our wedding song so perfectly describes our relationship. It's "Memories of Us" by Kieth Urban, and when I first heard it, it almost felt like the songwriters had followed us around and wrote it specifically about us. I know that didn't really happen, but it's crazy how sometimes a song can so perfectly mirror your life.
Here's how I made the sign.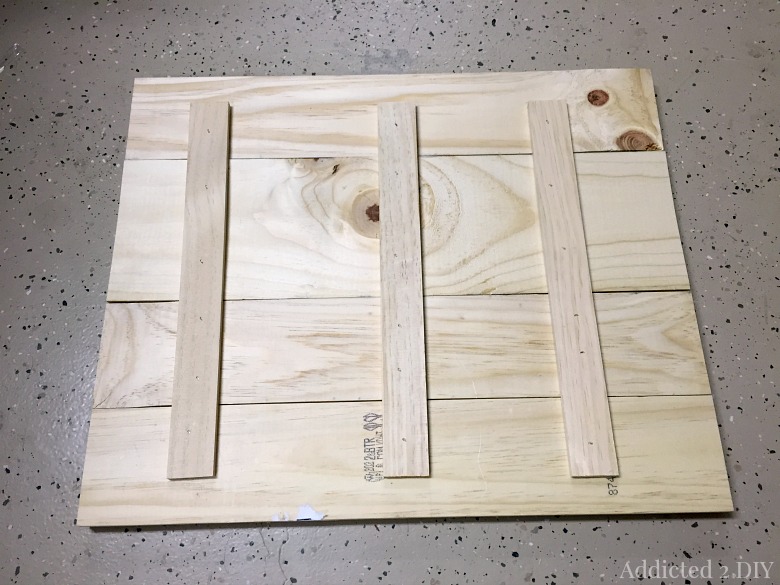 I started by cutting some scrap pieces of wood we had in the garage. The finished size ended up being about 19″ wide and 16″ tall. I cut some 5 gallon paint sticks to size and glued and nailed them to the back of the wood. I stained the wood with Minwax stain in espresso and let it dry for 24 hours.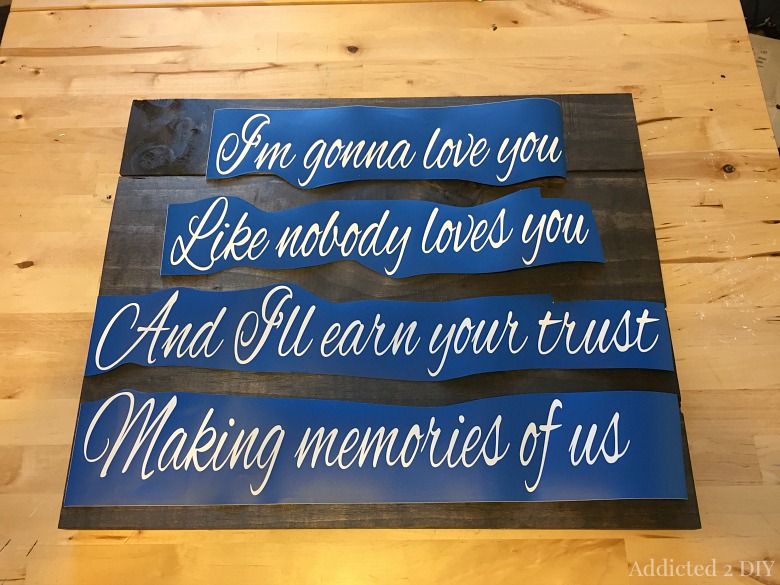 I spent some time trying to size the lettering just perfect for the song verse to fit on the wood. I used the Alex Brush font for this project. Since my Silhouette CAMEO only cuts 12″ wide, I had to squeeze everything together in order to cut it. What's cool though, is I was able to cut my vinyl for the first time without a mat. I was a little nervous that I would screw something up, but it cut perfectly! I used a craft knife to cut the strips of the song verse out and then laid them out on the wood to figure out the proper placement.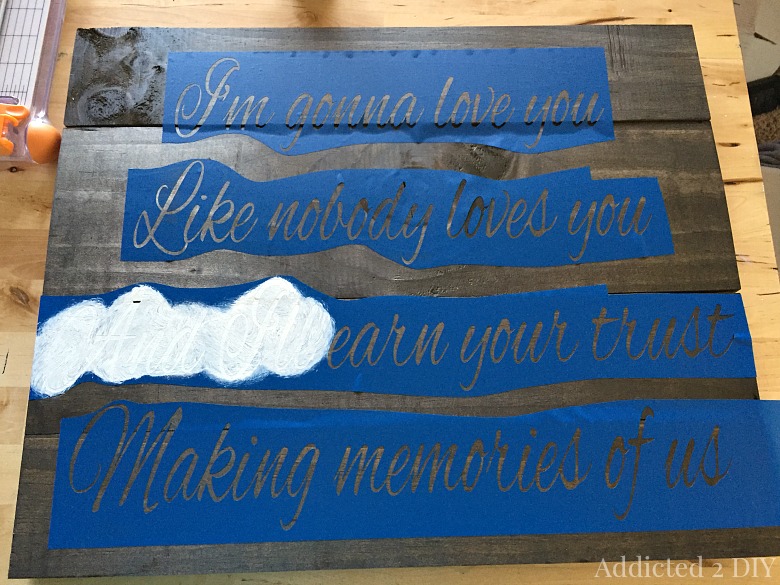 I used transfer paper to stick the vinyl onto the wood, then I stenciled the letters using Americana Decor Chalky Finish Paint in Lace color. Once the paint dried, I sanded the entire piece to distress it a bit. Then I tucked it away to hide it from my husband. My 8 year old almost gave away the surprise when he mentioned to my husband that I had made him something. His response was "I didn't tell him WHAT you made." Boys are such stinkers sometimes!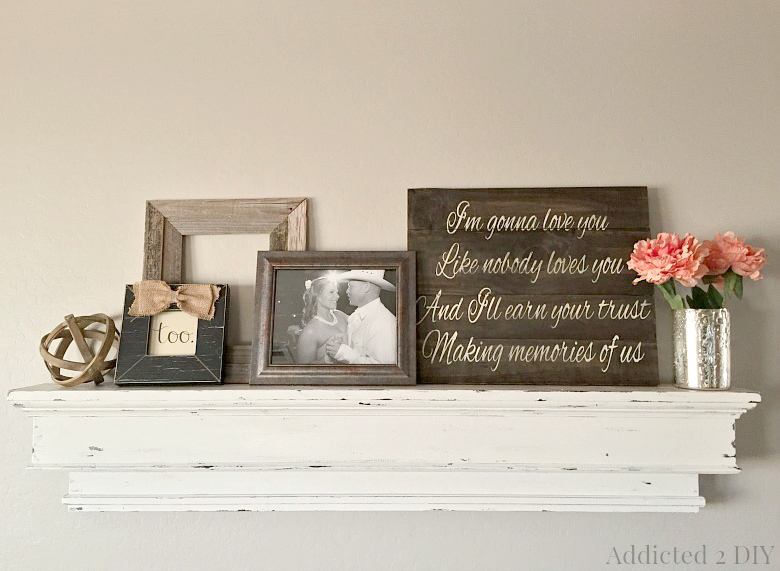 I had been wanting to build a shelf for over our bed for months and the need for a place to put this sign finally gave me the push to get it built. I'll be sharing the tutorial with you all soon. My husband really liked the gift, although he's convinced that I'm trying to kill him by setting a heavy piece of wood on a shelf above his head;) I've had to remind him that it has been several days and neither of us have had anything fall down on our heads, so he can rest easy.
To finish off the shelf, I had a picture printed of us from my best friend's wedding two years ago. Her anniversary happens to be three days before ours. I love this picture and since I had requested our song to be played, I would bet anything that this picture was taken while we were dancing to it. The frame with "too" in it is another little sentimental detail. It started when we were dating and we would text each other with "I love you" or "I miss you" and one of us would always reply with "too." We still do the same today. I bought that frame, the wooden sphere, the open back frame, and the mercury glass vase at Hobby Lobby. The frame with the picture in it is from Target. The pink peonies are from Michaels.