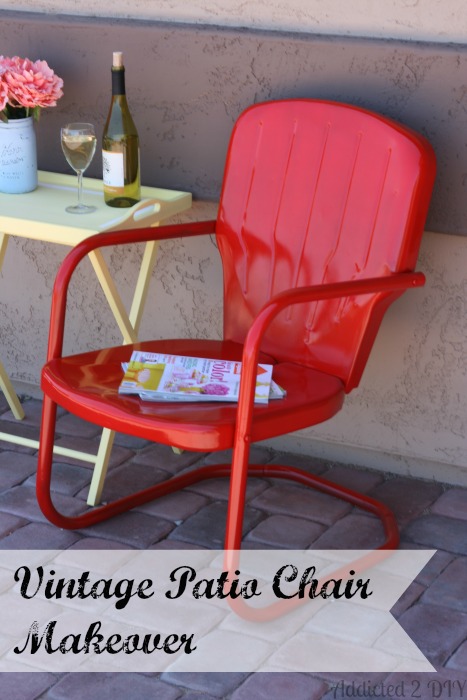 Hey everyone! Today I'm going to share with you how I gave a new life to a rusty, forgotten old chair. On Monday I shared 10 Inspiring Outdoor Ideas with you all. One of those ideas was How to Paint Plastic Outdoor Chairs from Tiny Sidekick. It inspired me to give some sprucing up to an old chair that my mom gave me, plus an old plastic chair we had around the house.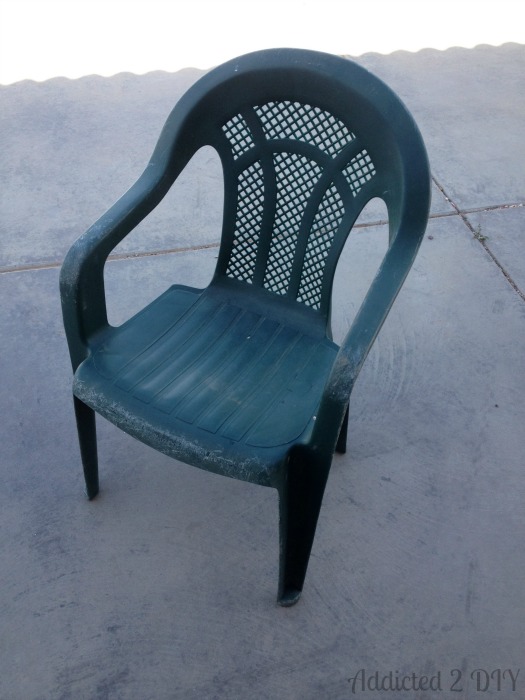 I started with the plastic chair first as my spray painting techniques have not always been the greatest. I have been known to leave quite a few drip lines in spray paint, so if this chair didn't work out I wasn't going to feel too bad. Prepping the chair was really easy. I just hosed the bird poop and dirt off of it and gave it a bit of a scrub, then set it out to dry.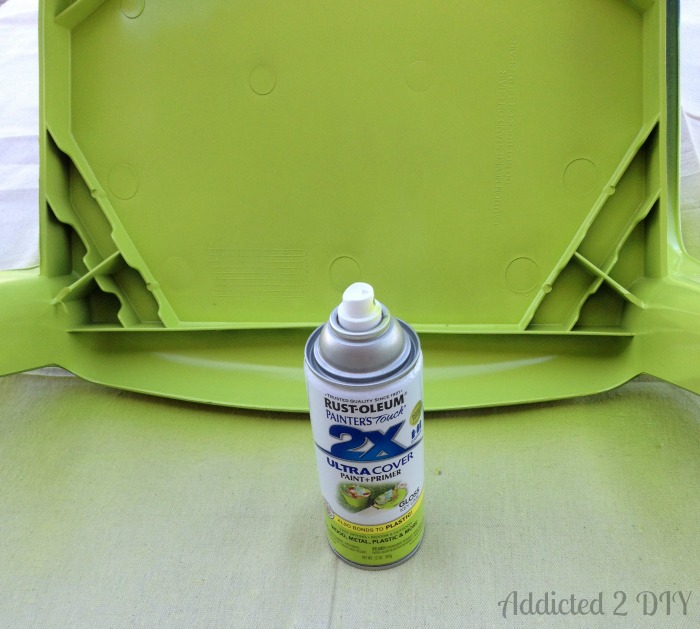 I purchased two cans of Rust-Oleum Painter's Touch 2X spray paint in this fun key lime color. It pretty much screams spring. I sprayed two coats of paint over the entire chair. I was super proud of myself for not causing any runs in the paint, which built up my confidence to give the old metal chair a new look!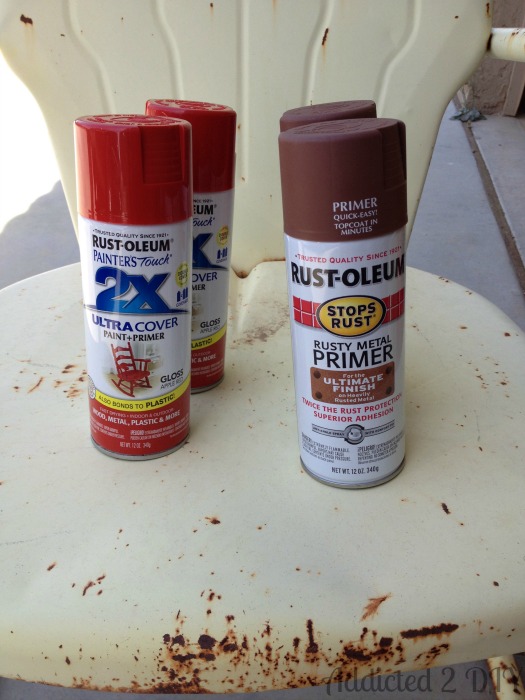 This metal chair has been in my family forever. I remember it being on our back porch when I was a little girl. My mom said it belonged to her grandparents. I believe my aunt has this chair's mate. I've seen newer versions of these chairs at several places, so I'm guessing this vintage style is making a comeback. This particular chair has been sitting in the side yard of my mom's house for 15+ years. It didn't deserve to die a rusty death, so I decided it was time to make it new again. This chair had been sandblasted and refinished in the past (back in the 80s) after the outlaw of lead-based paint, so I felt comfortable with giving it a light sanding in areas that had a few chips. That being said, I still worked outside and wore a mask.
I popped in to my local Home Depot and once again bought Rust-Oleum Painter's Touch 2X spray paint in Apple Red as well as Rust-Oleum Rusty Metal Primer.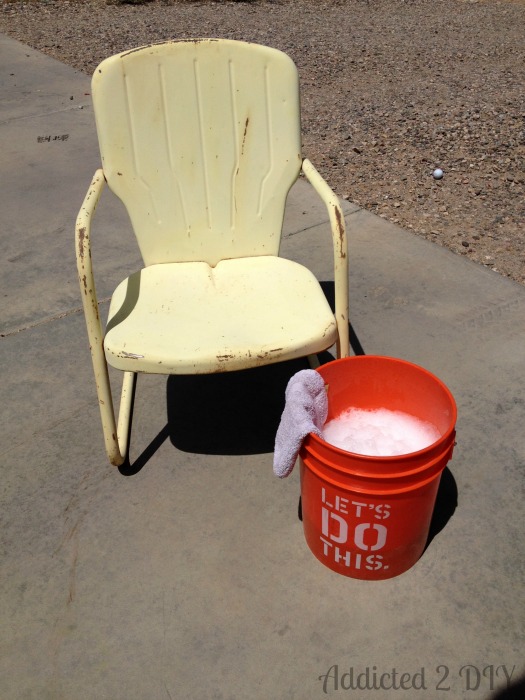 Before I did any painting, I grabbed a bucket of soapy water and wiped the entire chair down. Just like the plastic chair, I hosed it off and let it dry in the sun. Which takes about 5 seconds here.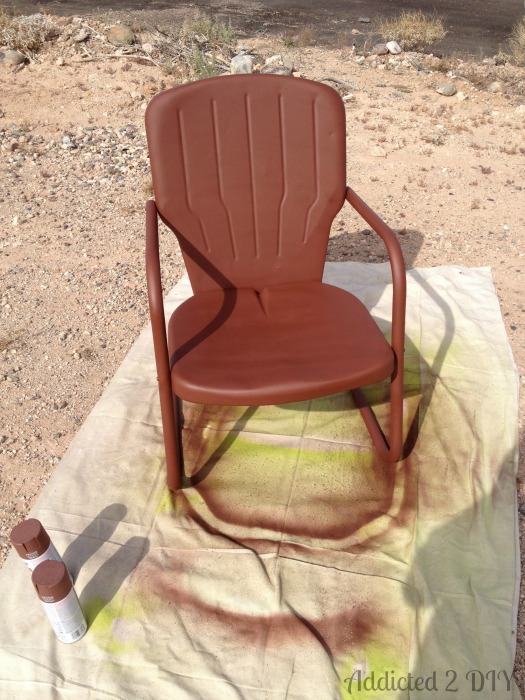 I sprayed two coats of the rusty metal primer over the entire chair. This primer is designed to stop the rust process by forming a protective barrier over the rust, which blocks out any air or moisture. True to its name, it's also a lovely rust color:)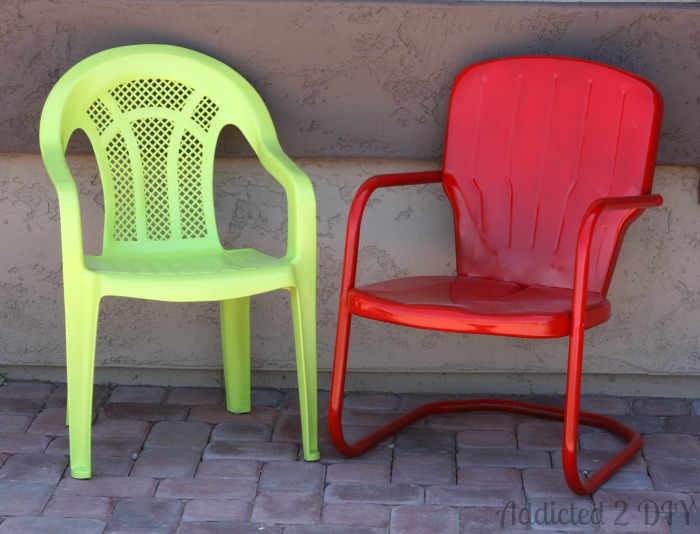 Once the primer was dry, I sprayed the entire chair with three coats of the apple red spray paint. I probably could have done it with two, but the wind started kicking up and the paint wasn't covering as well. Next time, I'll be setting up a paint area in the garage.
Other than the annoying wind, I loved the coverage of this paint. I was also doing a happy dance for completing my first spray painting project that didn't have any drip lines! It's the little things that get me excited.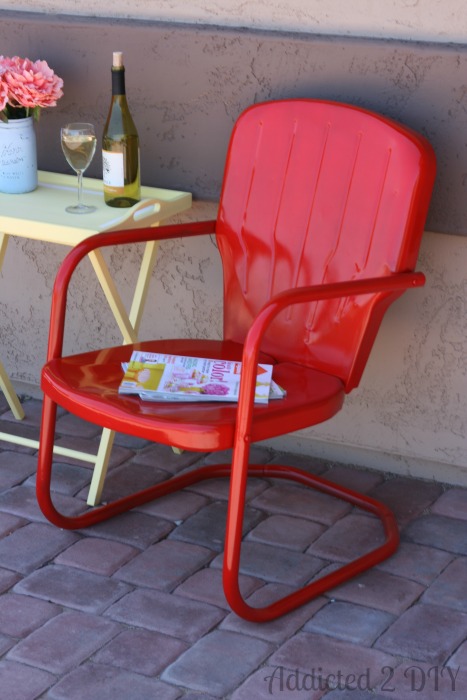 I am so loving the bright cheerful color of this chair. I'm looking forward to many evenings in it with a glass of wine and a magazine while watching my boys play. Now that I've had two successful projects that didn't look like a 5 year old was turned loose with a paint can, I'm ready to tackle more projects! I can't wait to get to work on them. If this stupid wind would ever calm down. My weather app says it's 20mph winds, but I'm calling shenanigans on that one.
Do you have some spray painting triumphs or horror stories? I'd love to hear them!
~Katie
Linking up over at these blogs:
Lil' Luna, Remodelaholic, Little Miss Celebration, Whipperberry, Play. Party. Pin., The Pin Junkie, Dolen Diaries, The Happy Housie