There are a lot of tools in my shop that get used almost every single day and I consider them really important tools to have. But then there are tools that maybe only get used a few times a year, but I consider them just as important as those daily use tools, and I'd be up a creek if I didn't have them. I'm partnering with my friends from The Home Depot to talk with you about a few of these tools.
*this post contains affiliate links. Should you purchase an item from one of these links, I will receive a small commission at no extra cost to you.
The RIDGID Octane Brushless 18V Hand Planer is an awesome little tool that has a few handy uses that I personally find valuable. For starters, it's cordless. That means you won't have to worry about your cord catching on anything, or trying to find extension cords. The RIDGID OCTANE batteries make it 2.5X more powerful than a corded hand planer.
The RIDGID OCTANE hand planer has an easy adjustment knob to adjust the depth of pass for your planing needs and with the industries only adjustable chamfer depth, you can even use this for fine finish work.
The handy edge guide allows you to maintain your tool path when working on narrow edges such as doors or studs, or if you're adding rabbets to your wood.
I build a lot with knotty alder and use epoxy to fill the knots in the wood. I love using a hand planer to help knock down the epoxy prior to sanding to make the whole process a lot faster. I'm excited to now have this RIDGID OCTANE hand planer to assist me in that process. It's powerful, cordless, and so easy to use.
Next up is the RIDGID OCTANE One-Handed Reciprocating Saw. Much like all of the other OCTANE tools, they all take the same 18V batteries, which makes this a handy tool to have because it's as easy as popping a battery out of one tool and into this one.
This one-handed reciprocating saw comes with a saw blade, but I also discovered it fits all of my other reciprocating saw blades as well, so it expands the versatility depending on what materials you are planning on cutting. The RIDGID one-handed reciprocating saw also has a switch on the side to allow you to switch from orbital action to non-orbital action. This allows you to easily cut wood (orbital) or metal (non-orbital) with ease.
What I really love about this one-handed reciprocating saw is that it's pretty lightweight, and there's very little vibration. This makes it really easy to use with one hand when you're needing to hold your cut piece steady or work overhead.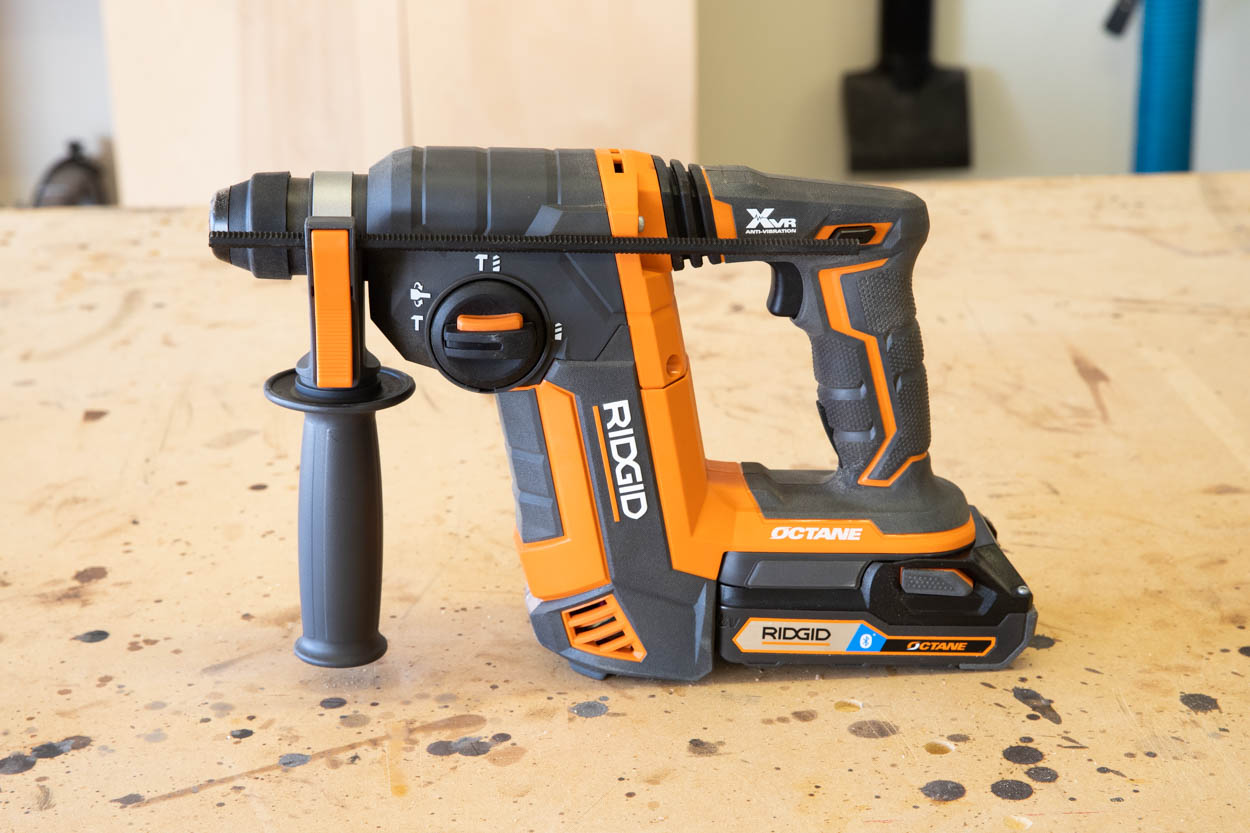 The RIDGID OCTANE Rotary Hammer drill is a handy tool to have around when needing to either chip up small amount of concrete, or masonry drilling. Definitely one of those tools you won't use every day at home, but you'll be glad you have one when you need it. I just recently used it to drill holes in our foundation to install the threshold transition in between our laminate and tile flooring.
The knob on the side easily lets you transition between hammer, hammer drill, or drilling. The auxiliary handle provides more control while drilling or hammering and rotates around to different positions with the simple twist of the handle to loosen.
The depth stop is one of my favorite accessories on this rotary hammer drill, because it prevents you from drilling too deep. This really came in handy when drilling the holes for the anchors I used when installing the threshold in my bedroom.
I really couldn't be happier with how all of these tools performed and you really can't beat the ease of all of these tools being powered by the same batteries. I have several other RIDGID cordless tools, so having so many tools under the same battery platform is definitely nice. If you'd like to get more information on all of these tools, make sure that you visit The Home Depot website. There you can order online, check store availability, and/or have them delivered right to your home.
DISCLOSURE: I acknowledge that The Home Depot is partnering with me to participate in the promotional program described above (the "Program"). As part of the Program, I am receiving compensation in the form of products and services, for the purpose of promoting The Home Depot. All expressed opinions and experiences are my own words. My post complies with the Word Of Mouth Marketing Association (WOMMA) Ethics Code and applicable Federal Trade Commission guidelines.