Learn about the Husky 270 Piece Mechanic's Tool Set and the Husky Dual Direction Extraction Socket Sets in this comprehensive tool review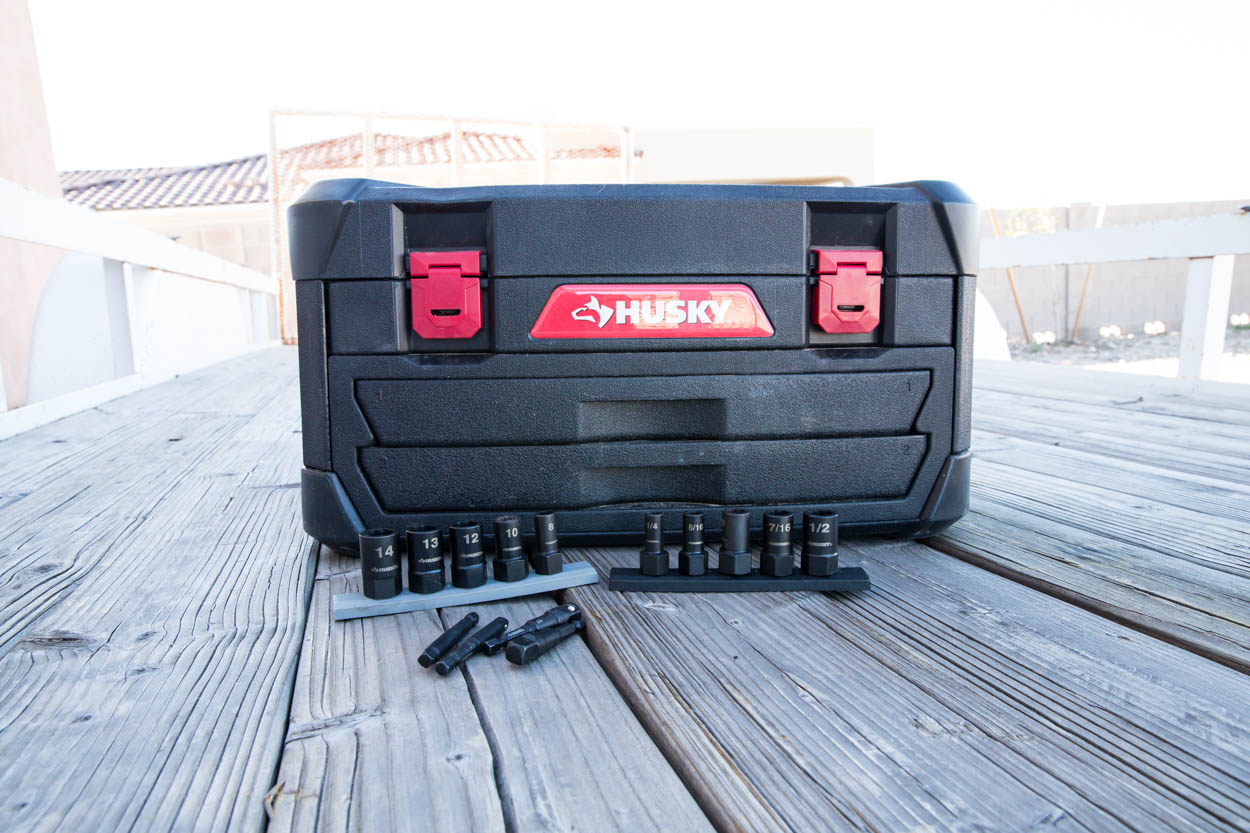 I'll be honest. I'm no mechanic. My husband is the one who works on the vehicles, quads, etc. I know about enough to get myself into trouble, but that doesn't mean I'm not always willing and striving to learn. After all, my website is called Addicted 2 DIY. And DIY definitely includes mechanical and electrical work.
I'm partnering with The Home Depot to share my thoughts on this Husky Tools 270 Piece Mechanic's Tool Set as well as the Dual Direction Extraction Socket sets in both SAE and Metric. I use Husky brand tools quite a bit in my wood shop, so I was super stoked to add even more to my collection. I've always been happy with the quality of the tools and the durability. These are definitely no different.

Husky 270 Piece Mechanic's Tool Set
I'll start first the with the mechanic's tool set. It has just about everything you need, all in one easy to carry tool box. We go camping several times a year and on most of those trips we take our quads and side by side. While we do our best to maintain everything in the controlled environment of our garage, things do occasionally need to be worked on.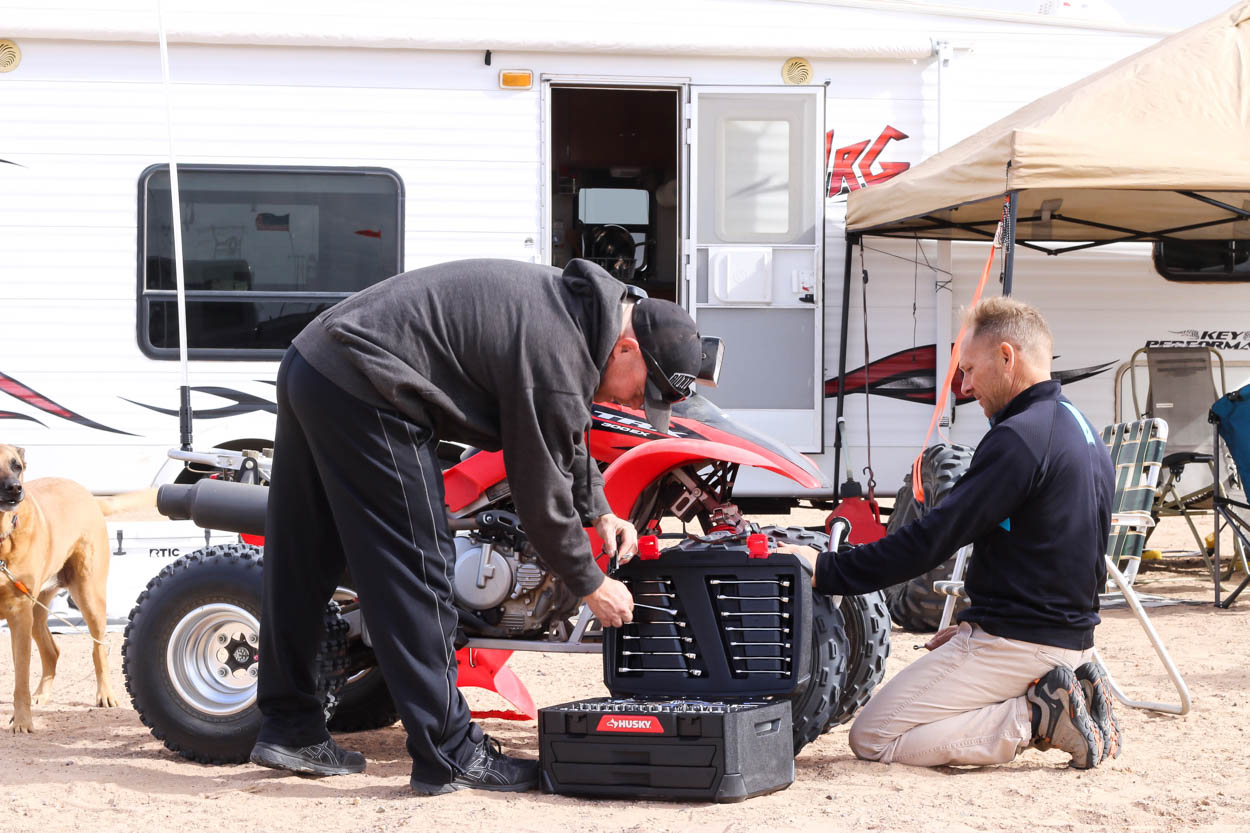 We've always taken a good amount of tools with us, but they were all over the place. Some would be in a tool box in the trailer. Some would be in the tool box in our side by side. It was like a scavenger hunt to find the proper wrench or socket. The 270 piece tool set has just about everything we need, which saves us a ton of time when we don't have to search around for the proper tool.
My cousin, who is absolutely NOT helpful when I'm trying to take photos, used to be a mechanic. He's now a nurse, so we jokingly call him Nurse Ratchet. Ironically, the thing he commented on the most was the quality of the ratchets. I'm pretty sure that had we not kept a close eye on the tool set, he'd have snuck it into his trailer at the sand dunes that weekend.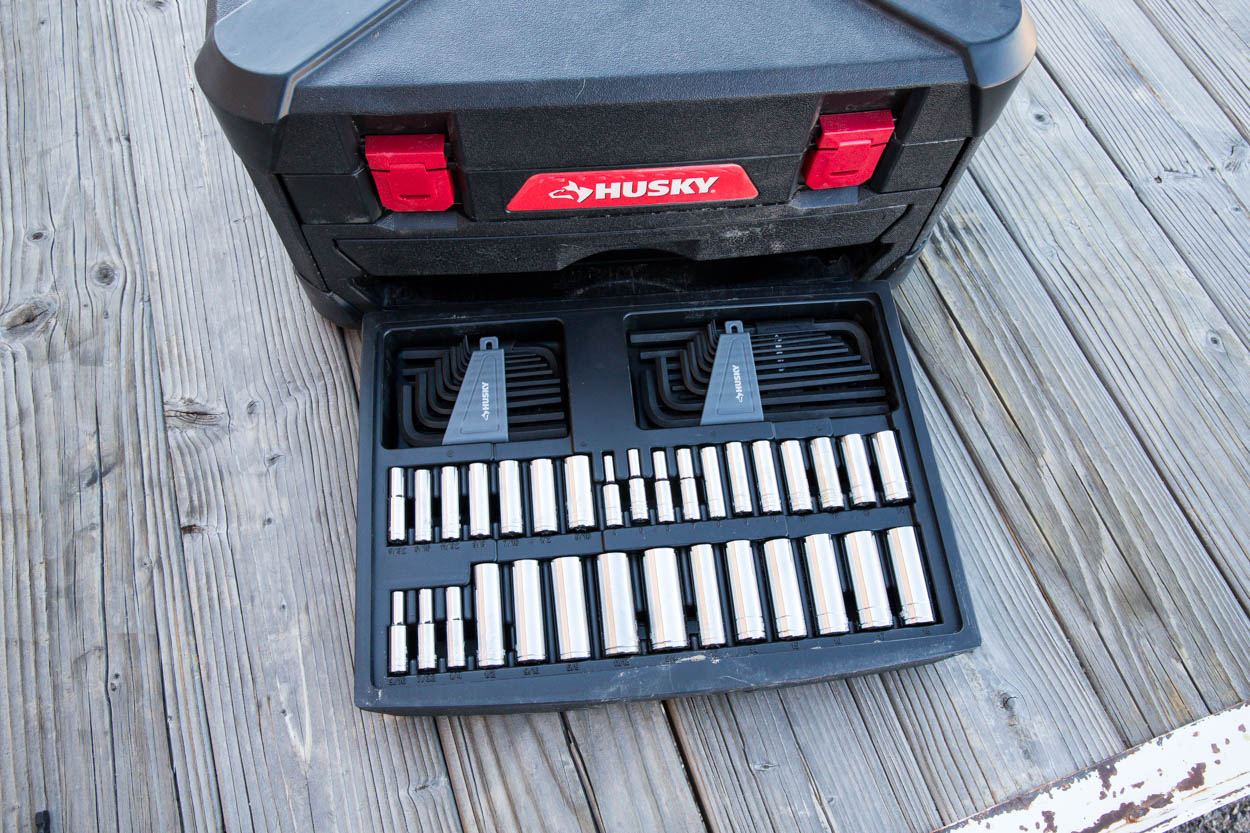 With 148 sockets to choose from in different sizes and depths, as well as 14 different wrenches and over 100 other accessories, this tool set has just about everything we need. It's perfect for novice and experienced mechanics alike and the compact storage of all of it makes it so easy for us to take along on our camping trips.
Husky Dual Direction Extraction Socket Sets
The Husky Dual Direction Extraction Socket sets come in both SAE and Metric. These socket sets are dual directional, which means you can loosen or tighten bolts that are rusted or stripped with ease. They also come with the socket bits needed so you can use these with power tools, but they also work with ratchets. The hex head on them also allows you to use them with wrenches, should the bolt you need to loosen be in a tight space.
Our toy hauler is now 13 years old, which means that things are starting to show their age. A new trailer isn't on the horizon any time soon, so we're doing our best to keep it maintained. The brackets holding our brake lights in place needed some attention as the brackets were starting to pull past the heads of the tech bolts holding them on.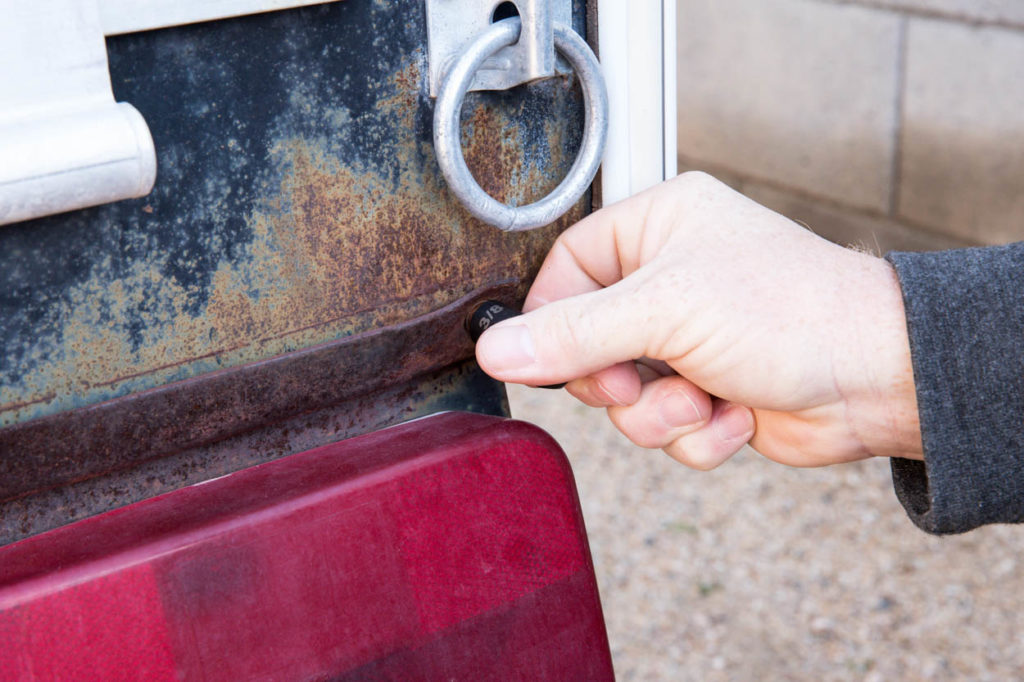 We found the proper sized bit and fit it to the bit. Using our impact driver, it got this rusty tech bolt out with out stripping it and with ease.
The bolt did get a little stuck in the bit, but pliers easily got it out. Thankfully the threads weren't stripped, and we were able to finish taking out the remaining bolts and make repairs without any issues.
Given that the threads were still intact on the bolts, we were able to add washers to them and reattach everything. Given that these sockets are dual direction, it meant we were able to reuse the same bolts and didn't strip out the heads when driving them back in.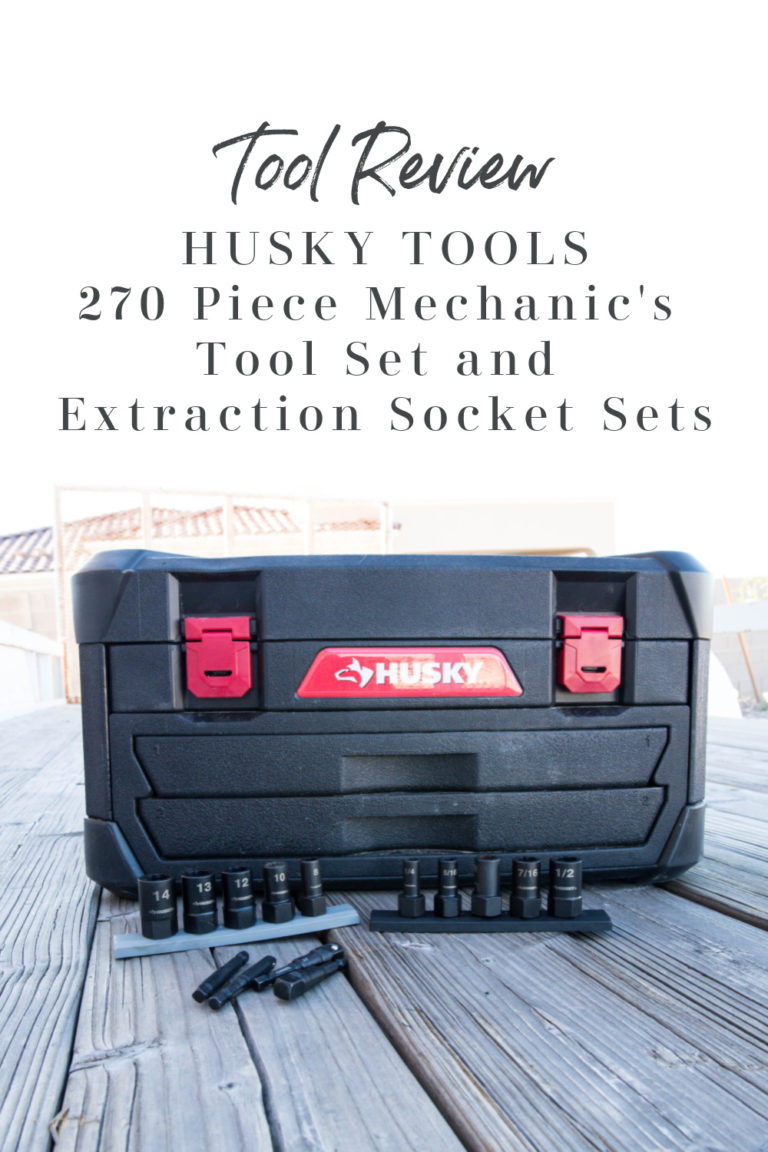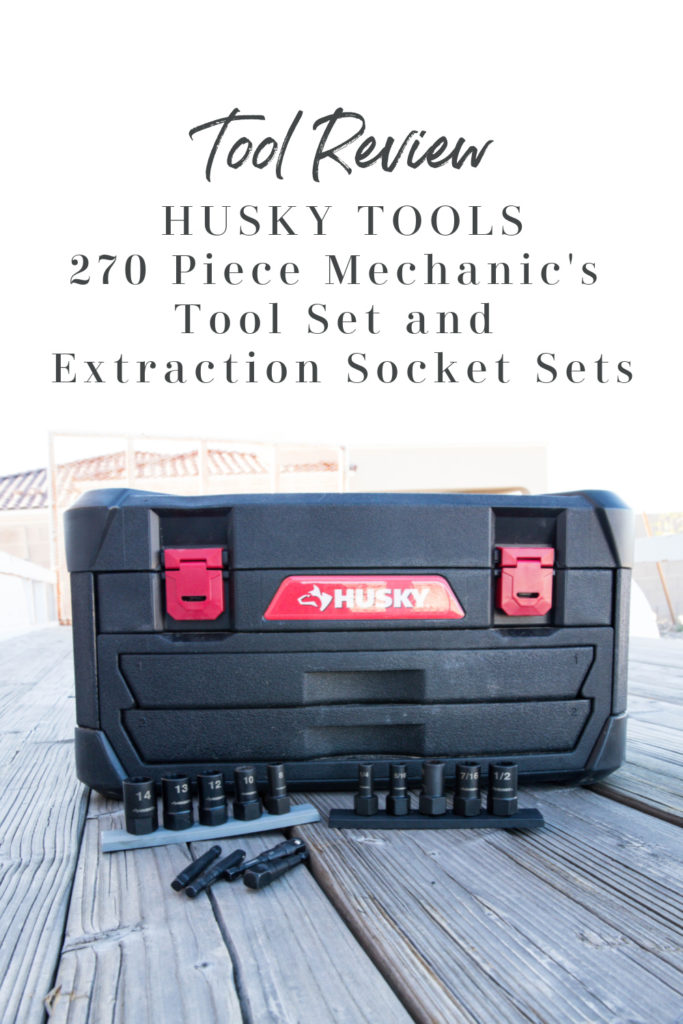 To find out more about the Husky 270 piece mechanic's tool set as well as the Husky Dual Direction Extraction Socket Sets, be sure to check them out on The Home Depot website!
DISCLOSURE: I acknowledge that The Home Depot is partnering with me to participate in the promotional program described above (the "Program"). As part of the Program, I am receiving compensation in the form of products and services, for the purpose of promoting The Home Depot. All expressed opinions and experiences are my own words. My post complies with the Word Of Mouth Marketing Association (WOMMA) Ethics Code and applicable Federal Trade Commission guidelines.