My Husband and I are right smack in the middle of landscaping our front yard (finally!). We've lived in our house for just over three years and spent a ton of time and money remodeling the inside of the house. Once that was all done, we thought we could start on the outside of the house. The problem was that every time we'd think we could get the landscaping started, something inside the house would break and we'd end up not having enough time or money to work outside again. Not to mention the fact that summers here feel like we're living on the surface of the sun. We finally put our proverbial foot down and we began landscaping this past weekend. Between that, sick kids, and then half days at school last week, it's been tough for me to find any time to work on my list of projects. I thought I would start sharing with you some of the updates we've made to our house since we bought it. I'm starting with our tiny guest bathroom. I say this post is Part 1, because we've still got more that we would like to do in there.
Here is a before picture of the guest bathroom. I took this while we were still in the purchasing process and doing the home inspection.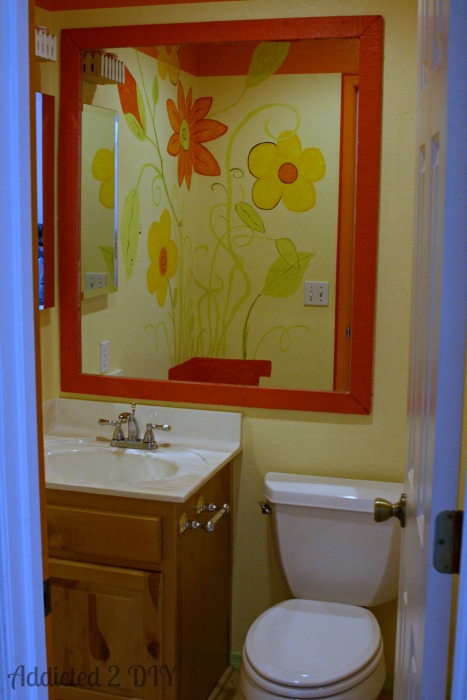 Lovely, isn't it? Yellow walls, bright orange trim, and pastel green baseboards. I wish I had taken more pictures of the bathroom, because it doesn't stop there. The problem is that it is literally so tiny, that I couldn't get a picture behind the door. Believe it or not, there is actually a full bath and shower on the other side of that door. We still wonder how they squeezed a full bathtub in there, because the doorway for this bathroom is only 24″ wide. The bathroom door is actually meant to be a coat closet door. You may remember last month in my DIY Laundry Pedestal post that our house has some oddities about it. This is just a small taste of what we found when we first walked into the house when we were searching for a new home. I don't want to knock the previous homeowners. They are nice people, this was their home, and they built it themselves. The color choices and flooring just weren't our cup of tea, but we are slowly making it our own.
Because this bathroom is so tiny, we wanted to figure out a way to make it feel less claustrophobic. One of the things we want to do is rip out the shower and bath and put in a smaller corner shower with clear glass doors to make the space feel more open. We don't have the budget for that project right now, so we immediately started with the vanity. The old vanity felt like it took up half of the bathroom. My husband wanted to get a pedestal sink, but (another oddity) we don't have a single coat or linen closet in our house. I knew we would want some sort of storage in there.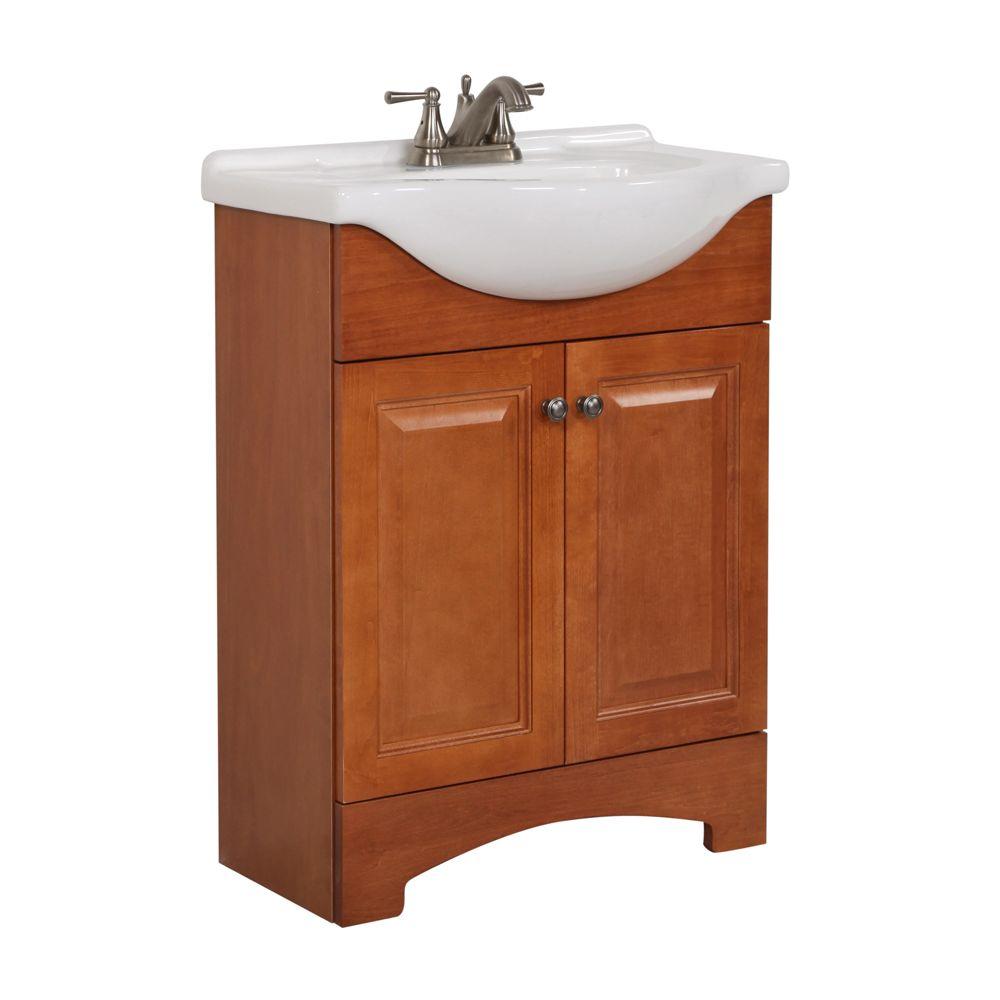 Enter Home Depot's selection of bathroom vanities. We saw a vanity similar to this at a friend's house and realized that it was the solution we both wanted! The sink sticks out farther to give the look of a pedestal sink, and the shallow cabinets underneath still give us storage for extra towels, toiletries, etc. The best part? It was only $99! We actually bought three of them. Two to go in my boys' bathroom, but that's another post for another day. The price has since gone up to $149, but this vanity was exactly what we needed! I splurged for the guest bathroom and also purchased the matching mirror.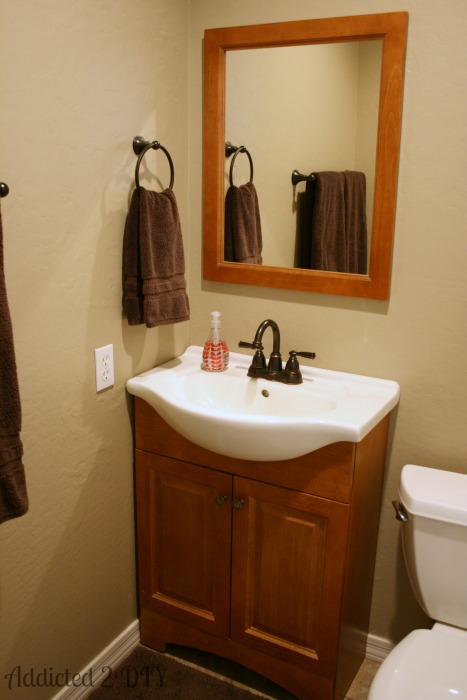 You can see what a difference it makes in the bathroom as far as opening it up. It is hard to see from the before picture, but there was also a medicine cabinet on the wall next to the vanity. My husband decided to rip that out of the wall and make it a solid wall. That also made the space feel less claustrophobic.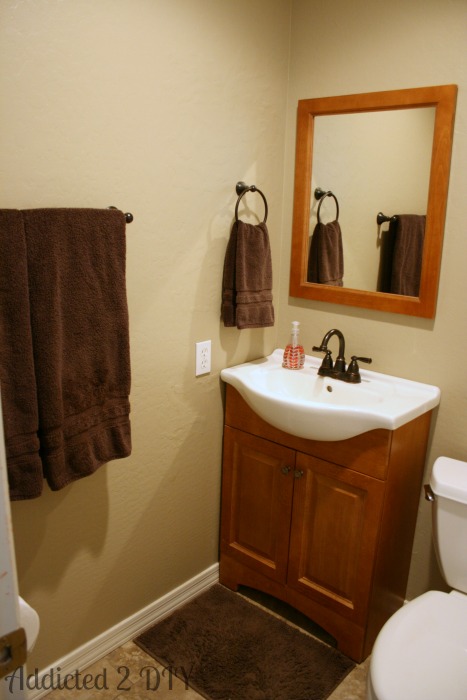 In our old house, we used Ralph Lauren paint for the entire interior (we had a lot more money and no kids back then). The main color of the house was their Sisal color. We were on a tighter budget this time around and the friendly paint pro at Home Depot told us they could match the color using their Glidden paint. We were sold! We also ripped out the old 2″ baseboards and installed new 3″ baseboards. We plan to do this to the rest of the house eventually.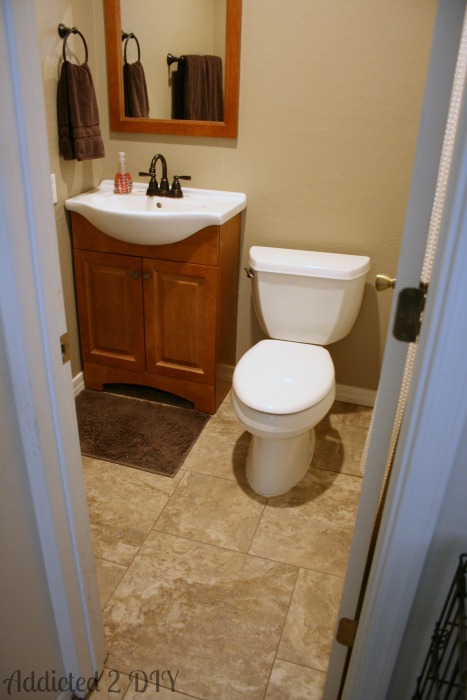 The old flooring (not really shown in the before picture) was a blonde laminate wood. That and the green carpet in other parts of the house were the first things to go. We decided to purchase 13″ and 20″ tiles and lay them in a pinwheel pattern. It's hard to see the entire pattern in the bathroom, but with our wide open floorplan we wanted to break of the monotony of single-sized tile.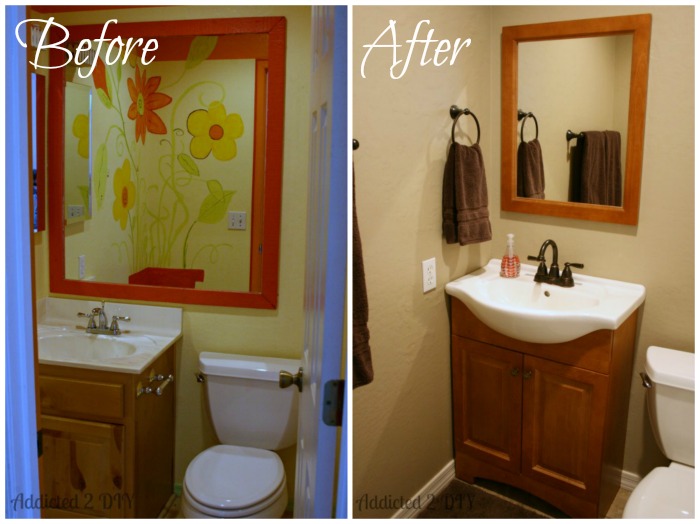 Here's the side by side comparison of the before and after. We are definitely happy with the extra space in there now. I've still got more work to do in there and I recently sprung the idea on my husband of repainting the vanity and the mirror with black chalk paint and distressing it. He looked at me like I had a screw loose, but I think he'll like the end result;) All in all, we were able to update this bathroom for a pretty low cost and not a whole lot of work. I can't wait to eventually share the rest of the house!
~Katie