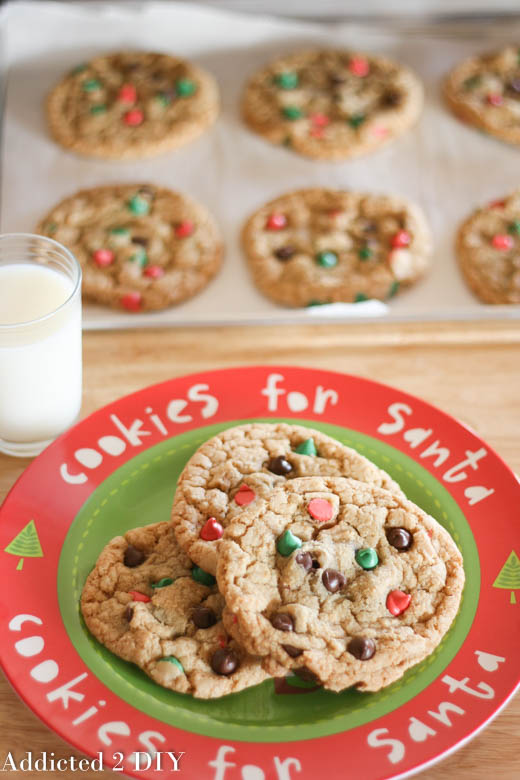 Every year, my boys leave out a few different types of cookies for Santa. One of them is my grandma's amazing sugar cookie recipe (which I'll be sharing this week) and these amazing thick & chewy chocolate chip cookies. I got this recipe from a coworker about 12 or so years ago. He brought some in to work and they were the most amazing chocolate chip cookies I'd ever eaten! They were the kind that you expect to find in a fancy bakery, not from a home kitchen.
If you're in search of a cookie recipe that will make Santa swoon, you've got to try these cookies! This year I used Christmas chocolate chips, but I also sometimes sub in the Christmas M&Ms. Whatever you like, you've got to give these a try! It might get you back on the nice list if you've been questionable this year;)
Thick & Chewy Chocolate Chip Cookies
These are the best homemade chocolate chip cookies ever! Theyr'e so thick and chewy and perfect for Santa!
Ingredients
2 cups, plus 2 tbsp all-purpose flour
1/2 tsp baking soda
1/2 tsp salt
12 tbsp (1 1/2 sticks) unsalted butter, melted and cooled until just warm
1 cup packed brown sugar
1/2 cup granulated sugar
1 large egg plus 1 egg yolk
2 tsp vanilla extract
1 to 1 1/2 cups semisweet chocolate chips
Instructions
Adjust oven racks to upper and middle positions and heat oven to 325 degrees
Line two cookie sheets with parchment paper
Whisk together flour, baking soda, and salt in a medium bowl; set aside.
Either by hand or with an electric mixer, mix butter and sugars until thoroughly blended. Beat in egg, yolk, and vanilla until combined. Add dry ingredients and beat at low speed just until combined. Stir in chips to taste
Using a 1/4 cup ice cream scoop, scoop balls of dough onto cookie sheet. Be sure to leave 2 1/2 inches of space between cookie dough and do not flatten them out.
Bake for a total of 15 to 18 minutes. After 7 or 8 minutes, rotate cookie sheets and alternate sheets on baking racks. Bake until cookies are light golden brown and outer edges start to harden, yet centers are still soft and puffy.
Cool cookies on cookie sheets.