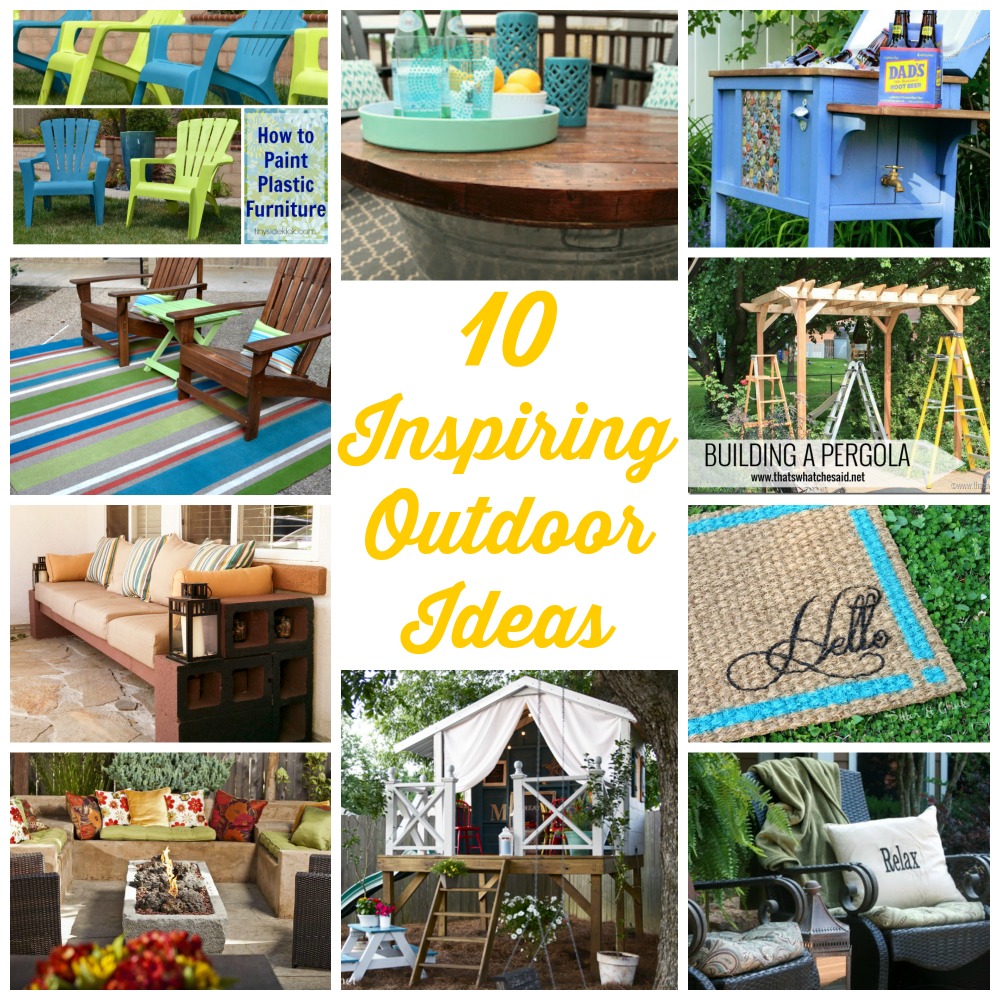 With warm weather upon us (or always in my case), it's the time of year when everyone gets motivated to do some outdoor projects. My husband and I are no different. After three years of living in our house, we are finally landscaping! I know some of you may wonder what took so long, but a few things stood in our way of tackling this project. The biggest hurdle was money. We live on an acre. In the desert. No pretty natural landscaping. It's dirt, a few random, wild bushes, and a saguaro.
Since we're knee-deep in landscaping right now, I thought it would be a great time to put together some inspiring outdoor ideas that I've found. You can click on the images to find out more about these projects.
DIY Outdoor Coffee Table
I pinned this DIY outdoor coffee table from A Place to Nest ages ago. I loved the look of the galvanized tub and rustic wood top together, and the fact that it doubles as storage is a huge bonus.
Awesome DIY Block Bench
This DIY block bench from Be Happy Be Me is so cool. It is definitely a great way to add affordable yet stylish seating outside. I'm thinking this would look great on our patio extension.
Upcycled Plastic Furniture
I love the idea of giving a new life to old furniture and these painted chairs from Tiny Sidekick look amazing! Corey has actually inspired me to spray paint some old chairs here at my house. I'll be sharing those this week!
DIY Cooler Stand
Birds and Soap shares this tutorial for an awesome DIY cooler stand. I think this would look so cool on our new back patio.
Building a Pergola
With the lack of shade at our house, we have been wanting to put up a pergola. The price of an aluminum or vinyl pergola is WAY outside of our budget, so I was excited to find this tutorial from That's What Che Said.
Painted Outdoor Rug
I love everything about this painted outdoor rug from Addicted 2 Decorating! The colors are great and the price of the rug is even better!
A Handmade Hideaway
My kids would probably never want to come in the house again if they had their own private clubhouse like this one from The Handmade Home. I would so love to build this for them!
Backyard Paradise
I could definitely see myself spending a lot of time in a backyard like this one from Top This Top That.
PB Inspired Welcome Mat
I'm loving the look of this PB knockoff welcome mat from Pitter and Glink. Especially the awesome pricetag!
Awesome Fire Pit Design
A fire pit is on the list of items going in with the patio extension. This fire pit from DIY Network is such a cool design.
These projects definitely have me in the mood to get to work outside. Once our patio extension is finished, it's time to start making it our own outdoor paradise. I especially can't wait to share it all with you! What are your outdoor plans this spring? Are any of these inspiring you to tackle some outdoor DIY projects?
~Katie