Hey everyone! I hope you've been fairing well during these dog days of summer. By the way, do any of you know what the dog days of summer even means? I had to look it up. I've heard it so many times, but never actually knew what it meant. The technical definition is that it is when the Sirius constellation rises at the same time as the sun. It's also just flat out that miserable time of summer where it's so hot, you don't even want to move or go outdoors. It is considered to start on July 3rd and ends on August 11th. Who knew!? All I can say is that it's been a hot one in the workshop this summer and during our streak of 120+ degree temps in June, I thought I was going to die out there.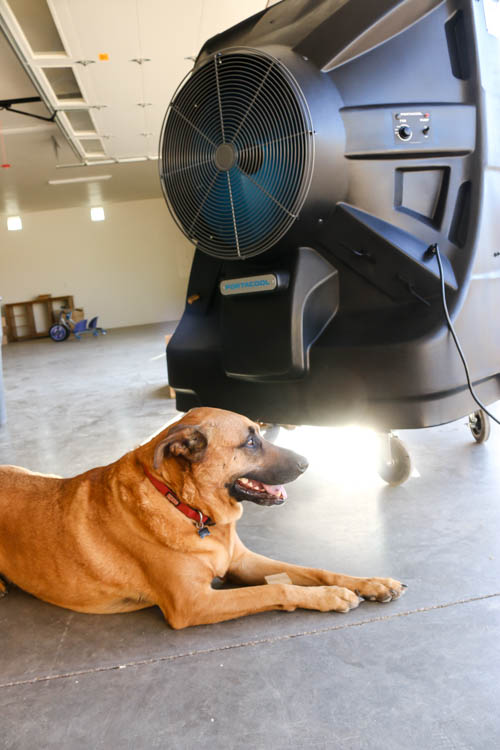 Insert this massive beauty. No, I'm not talking about Dakota, though she is pretty, too. I'm talking about this angel on wheels…the Portacool! After seeing me post a photo on Instagram of my workshop hitting 113 degrees and beyond, the awesome folks at Portacool reached out and asked if I would like to try out their Jetstream line of evaporative coolers. Of course, I said yes immediately! I was on the verge of spontaneous combustion! Of the models, I chose the Jetstream 250, which a monster of a machine and transformed my sweltering shop into a much more comfortable place to work. Ironically, my new Portacool arrived on July 3rd, which is considered the start of the "dog days of summer." I'm not sure they could have planned that any better if they tried!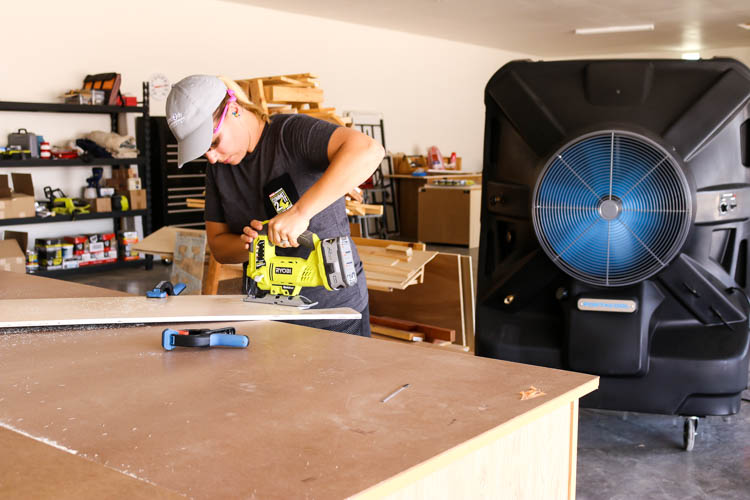 The Jetstream 250 is quite the beast, but not so big that you can't move it around easily. Even when the 55 gallon reservoir is full of water, we're still able to quickly and easily move it around the shop to wherever we're working. The locking casters keep it positioned exactly where we want it. The variable speed means that when I'm working on my side of the shop, I can turn it down to a lower speed and still feel cool, but not have a hurricane of sawdust blowing all over the place. It's evaporative cooling technology means that you get a constant stream of cool air. It's kind of the feeling you get when you get out of the pool and the breeze is blowing and cooling you off.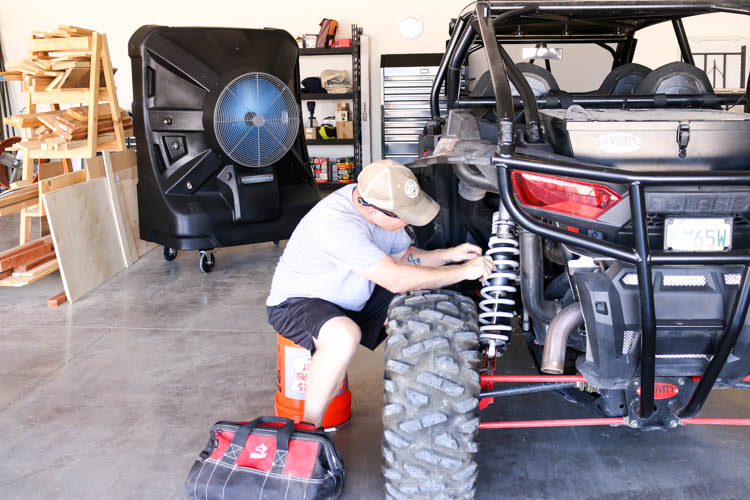 My husband recently moved all of his mechanical tools out to the shop to work on our vehicles and "toys." It was always the plan for him to use part of the shop for working on the vehicles. In fact, HE was the one who always wanted a workshop. Somehow along the way, I ended up taking most of it from him, but that's neither here nor there. He's fine with it. Especially now that he has a much cooler place to work. Unfortunately, when we're working out there together, it leads to a bit of a tug of war over who gets the Portacool pointed towards their side.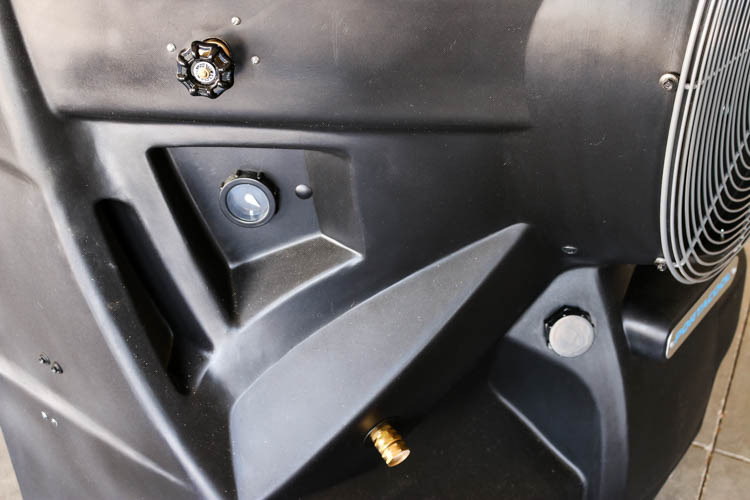 Some of the key features that make this such a great piece of equipment are the two fill ports. The brass hose fitting allows you to hook your hose up and keep it on a constant fill while you're using it. It has a shutoff float inside when the reservoir is filled. It's ideal when you're keeping it in one area and aren't moving it around a lot. The manual fill allows you to fill the reservoir and then move the hose out of the way. The water gauge is pretty self explanatory, but so nice to be able to keep track of where your water level is at. Especially when you're using the manual fill to keep it filled up. The pump has an auto shutoff feature which means that you won't have to worry about it failing to work if you happen to run out of water.
The water flow valve allows you to set just how much moisture you want on the media when you have the pump turned on. Depending on the weather, size of your work area, and how high you have the fan blowing, you can really dial things in when you're working. There's also a drain in the bottom which allows you to easily drain the water for regular maintenance.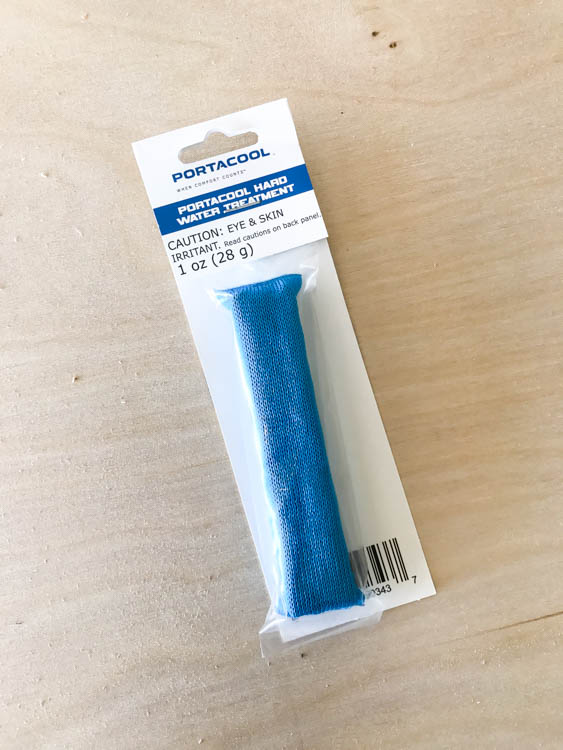 If you have hard water (ours is horrible), they also have hard water treatments that you can toss in to the manual fill spout to help keep your Portacool running more efficiently and prevent calcium/scale buildup.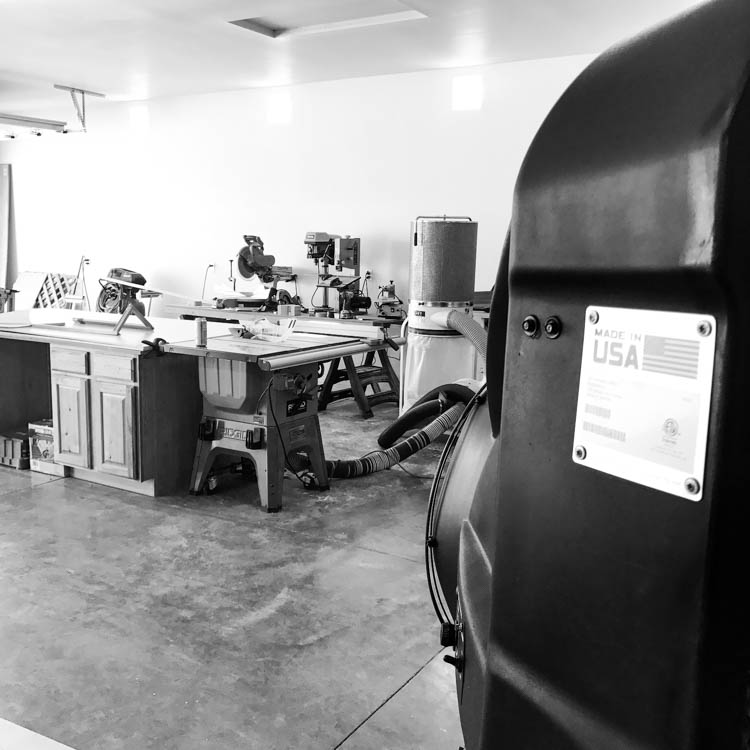 Needless to say, our new Portacool has made a drastic difference in the temperature of our shop this summer. Rather than a regular fan feeling like a hair dryer blowing on us, we have constant, cool air keeping us from overheating and making out days out there so much better. One of the surprising but welcome affects it has had is that our kids have spent a lot more time out in there with us. They always avoided being out there because of the heat, but they have joined us almost daily because of how much cooler it is with the Portacool running. I'm pretty sure their favorite feature was that the box has now become the perfect fort.
If you're looking at getting one for yourself, you can get the Jetstream 250 as well as other versions/sizes of the Jetstream models at Napa Autoparts and other various retailers. Just head over to the Portacool website to get the specs and see what size works best for you then see which closest retailer has it in stock!
DISCLOSURE: I was provided product and/or compensation for this post. All opinions are 100% my own.