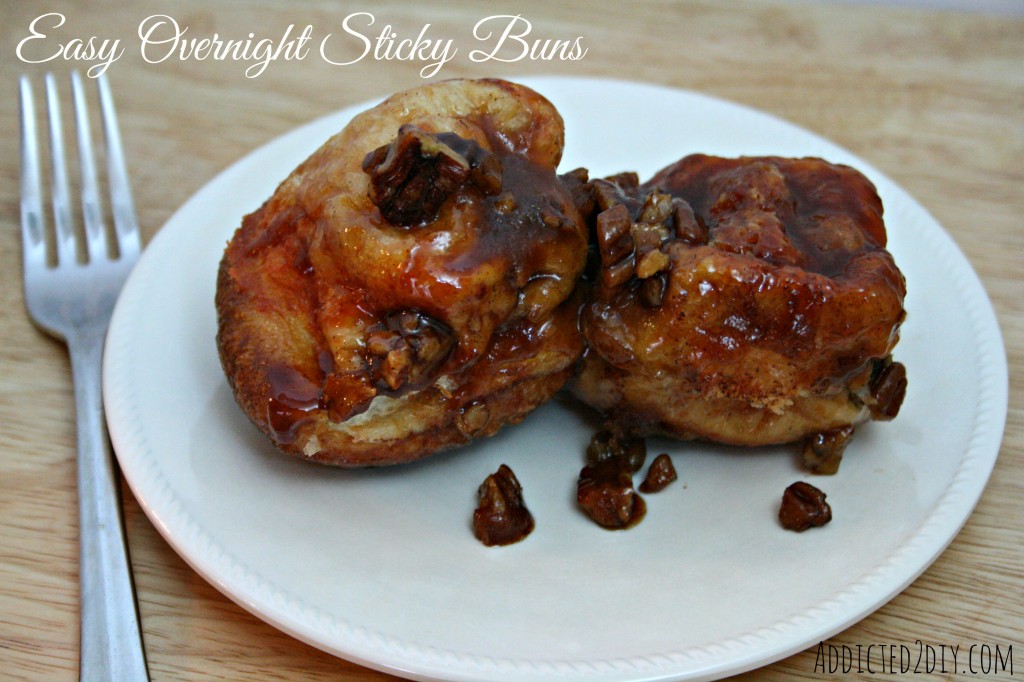 Happy Monday! Can you believe Thanksgiving is just a few days away? I'm still trying to figure out where October went, let alone start gearing up for Christmas.
Today, I want to share with you a recipe that has been a part of my family for as long as I can remember. These sticky buns are so amazing and delicious and they're one of my favorite breakfast treats. As a little girl, I remember my mom making these for breakfast on Christmas morning. She carried that tradition on every year until my brother and I moved out of the house. Now I share that tradition with my own family. What makes this recipe so great is that you put it all together the night before and just let it set out for the dough to rise. It literally takes just a few minutes of prep. On Christmas morning when my kids wake up, I just pop them in the oven. Then I can enjoy opening gifts with my husband and boys and I don't have to worry about making anything when they finish with their gifts and suddenly realize that they're hungry.
Here's the recipe. I hope you give it a try! I always love to hear your comments and I'd love for you to share this with your friends!
Easy Overnight Sticky Buns
2013-11-23 22:55:55
Serves 24
Nutrition Facts
Amount Per Serving
* Percent Daily Values are based on a 2,000 calorie diet. Your Daily Values may be higher or lower depending on your calorie needs.
Ingredients
2 dozen Rhodes Frozen Dinner Rolls
1 package Jello cook and serve butterscotch pudding mix
cinnamon (just eyeball it)
1 1/2 cups packed brown sugar
1 stick butter or margarine (melted)
1 cup chopped pecans or walnuts
Instructions
Using cooking spray, grease a 9x13 inch baking dish. Place frozen dinner rolls in baking dish in 6 x 4 rows. Sprinkle the butterscotch pudding mix evenly over all of the rolls. Then sprinkle cinnamon over each of the rolls. Mix together melted butter or margarine with brown sugar. Spoon dollops of brown sugar mixture over each roll. Top with chopped nuts and then cover with a towel to rise overnight. In the morning, preheat oven to 350 degrees. Place baking dish in a large cookie sheet to catch any drippings from the dish. Bake for 30 minutes. When done, remove from the oven and immediately cover the dish with a platter or cookie sheet and flip the rolls out. Let cool for a few minutes. Serve warm.
Notes
We've never measured the exact amount of cinnamon to use. We just eyeball it and sprinkle some on each of the rolls. You don't need to coat them with cinnamon. Just enough to give it some flavor:)
Addicted 2 DIY https://addicted2diy.com/