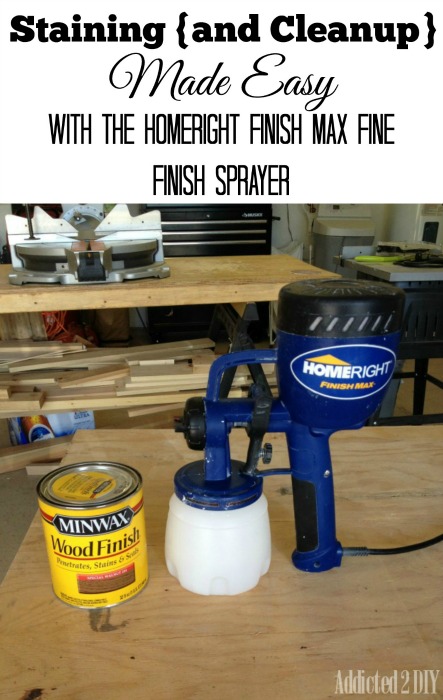 Hey there, everyone! On Friday I shared with you how I built this Pegboard Organizer with Magnetic Chalkboard. I love how they turned out (I built two), but I also love how easy it was to do the finishing work on them. Several weeks ago, I got this HomeRight Finish Max Fine Finish Sprayer. I love it! It has made my painting projects so much easier. The great thing is that it doesn't have to stop at paint projects. You can stain with it too! That's huge for me as I do a lot of staining on my furniture projects.
To stain with the Finish Max, you don't have to do much prep work. I sanded and wiped down the wood frames for the pegboards and then wiped some wood conditioner on them. While paint needs to be diluted to use the Finish Max, you can just pour the stain right in and get to work. Since the stain is so runny, you'll want to keep a foam paint brush nearby to collect any drips that may happen as a result of getting too much stain in one area.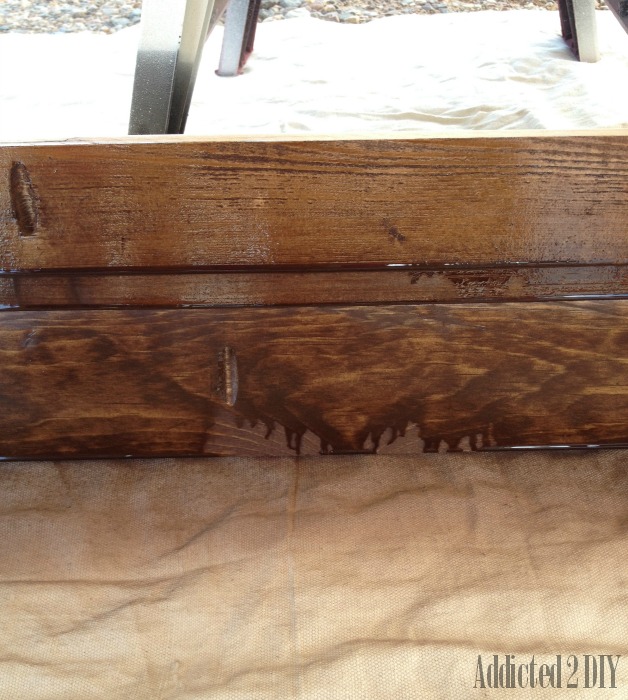 You can see here on my very first few passes with the sprayer that I had some drips. I dialed the trigger control knob to the minimum setting and after that it gave me amazing results. I also held the sprayer about 12″ from the wood. This also kept the stain from running. Any drips that occurred were quickly cleaned up with a few strokes of my foam paint brush. Simple as that!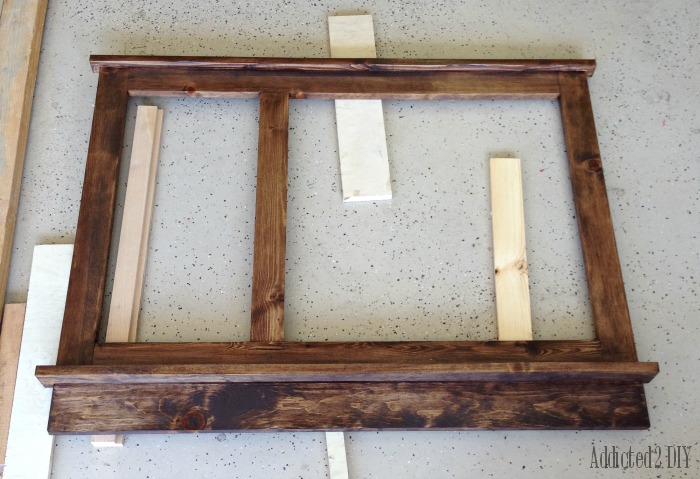 I had both of my pegboard frames stained in minutes rather than hours. I've said many times before that anything that saves me time ranks high on my list of favorite things. The HomeRight Finish Max Fine Finish Sprayer is right up towards the top!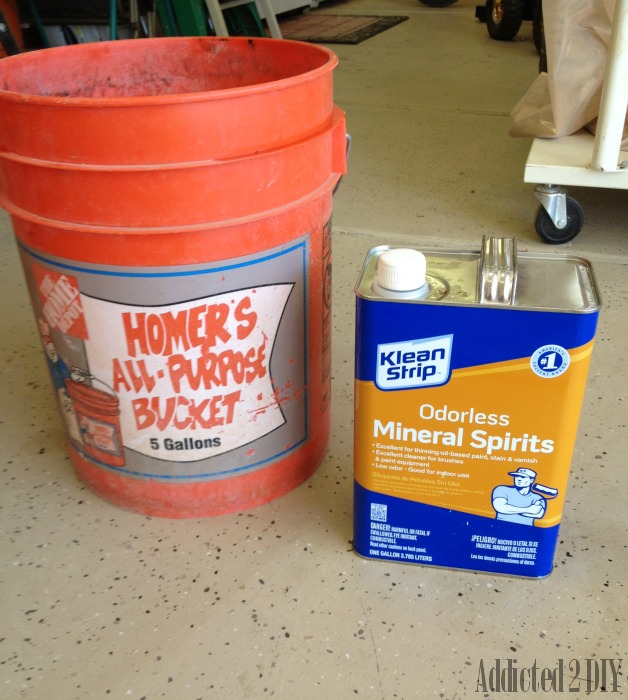 What you may not realize is how easy it is to clean after a staining project. All I needed was a handy Homer Bucket and a can of mineral spirits.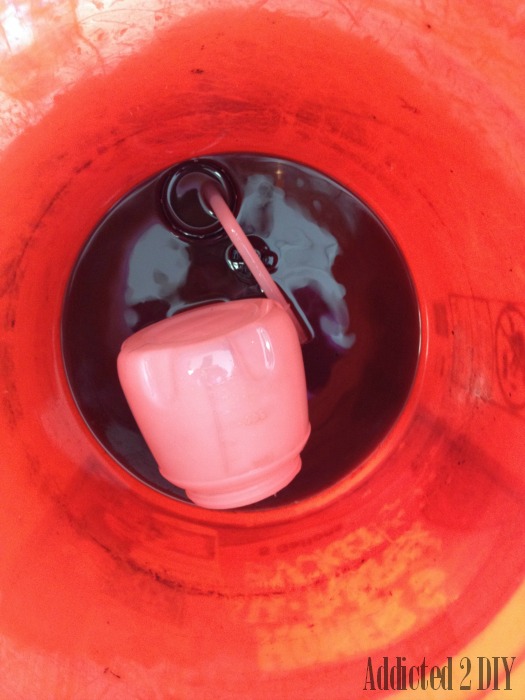 I poured about an inch or two of mineral spirits into the bottom of the bucket to clean the sprayer parts. I stared by rinsing out the paint container first, then filling it halfway with mineral spirits. I plugged my Finish Max in and sprayed the mineral spirits into the bucket to clean out the internal parts.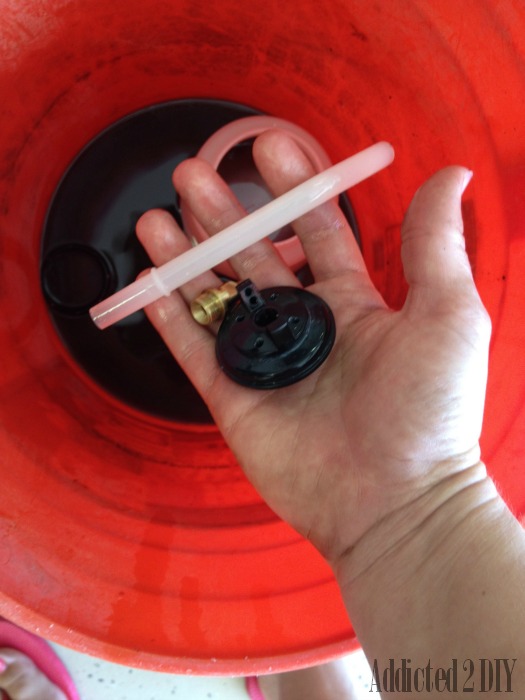 After I finished spraying the mineral spirits through the sprayer, I disassembled the sprayer parts and swished them around in the mineral spirits. The stain came right off of everything with pretty much zero effort. I grabbed everything out of the bucket and gave it a quick rinse with water and then let it dry.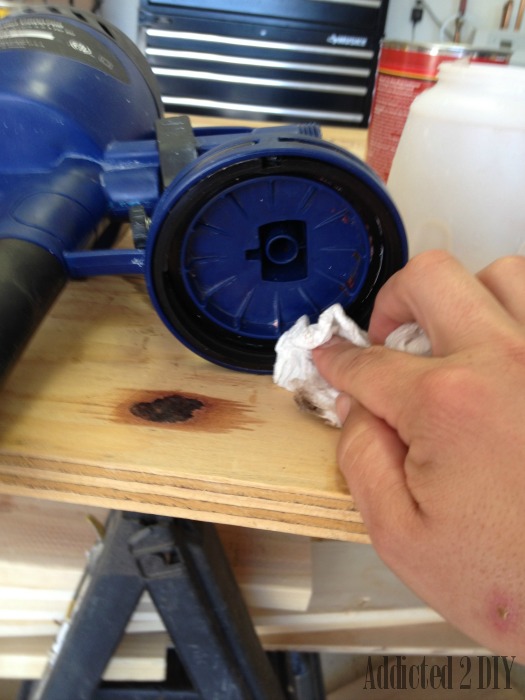 For the body of the sprayer, I took a paper towel soaked in mineral spirits and gave it a quick wipe down. I didn't photograph this, but the Finish Max comes with a cleaning brush that I also dipped in mineral spirits to wipe any internal parts that couldn't be reached with the paper towel.
The entire cleanup process only took a few minutes and was so simple. It's definitely not something to be intimidated by. After this project was finished, it was pretty easy for me to decide that my HomeRight Finish Max would be my go-to tool for my staining projects from now on.