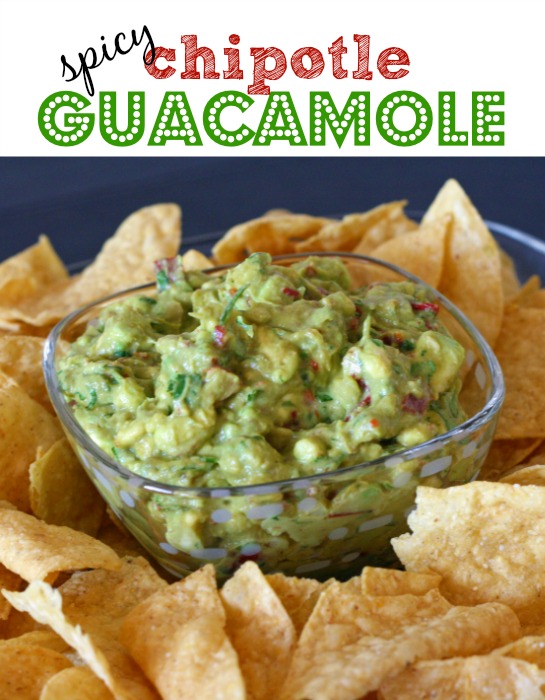 Are you ready for the Super Bowl? I can't wait! I love watching the game, but I also love the food that comes along with it. You don't see many Super Bowl parties that don't have guacamole at them. This guacamole gets rave reviews every time I make it. I can't take all of the credit for the recipe though. It sort of came about by accident. A little over a year ago, I was helping my best friend work on things for her wedding and she was helping me make my first ever batch of guacamole. I had almost everything diced and ready to go, but I had completely forgotten to buy jalapenos. I was devastated until she asked if I had a can of chipotle peppers. We subbed those in and it ended up being the best guacamole I'd ever tasted! Everyone at the party later on loved it too! You can make it as spicy or as mild as you like. Just alter the amount of chipotle peppers you put in. I like mine on the spicy side, but I usually opt for medium heat since I'm not the only person eating it.
Here's the printable recipe for your enjoyment!
Spicy Chipotle Guacamole
2014-01-28 09:38:59
Serves 12
Nutrition Facts
Amount Per Serving
* Percent Daily Values are based on a 2,000 calorie diet. Your Daily Values may be higher or lower depending on your calorie needs.
Ingredients
8 medium avocados
1/2 cup chopped onion
1 clove garlic, minced
1/2 cup chopped cilantro
Juice of 1 lime
2 Roma tomatoes, diced
1/4 cup diced chipotle peppers
1 tsp kosher salt
Instructions
Slice avocados and scoop into a large bowl. Add remaining ingredients and stir together. Adjust heat and salt to desired flavor. Enjoy!
Addicted 2 DIY https://addicted2diy.com/
You can find me over at these link parties:
Persia Lou, Just A Girl and Her Blog, Place of My Taste, Living Well Spending Less