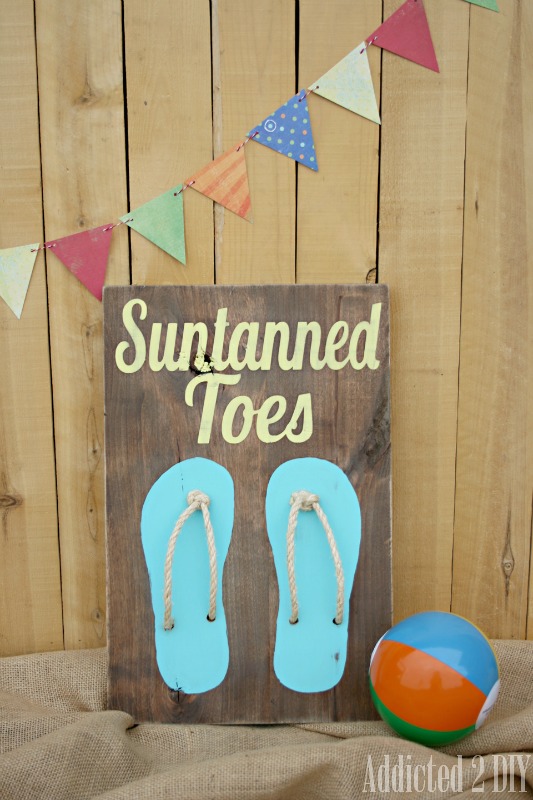 Summer is still in full swing, and isn't showing any signs of going anywhere for a while. In fact, my husband and I are even looking at the possibility of trying to build a pool before the end of the season. It's a bit crazy, but sometimes that's how we like to roll:)
I originally made this sign as a guest post for the Hello Summer series on I Heart Naptime. I was inspired to make this summer art because it isn't often that you won't find me in flip flops. Even when I'm not wearing flip flops, my tan lines look like I am. Raise your hand if you can relate! Today, I'm going to share with you how I made this fun little sign. Hopefully I'll get to hang it on the wall next to our new pool soon:)
1 – 1×12″ board cut to 18″ long
1/4″ sisal rope
1″ foam paint brushes
Stain color of your choice (I used Minwax
Special Walnut)
Acrylic paint in color of your choice (I
used Americana paint in Pineapple and Bahama Blue)
Adhesive vinyl (for cutting the stencil)
Some flip flops (for tracing)
Drill with 3/8″ drill bit
220 grit sandpaper
Hot glue gun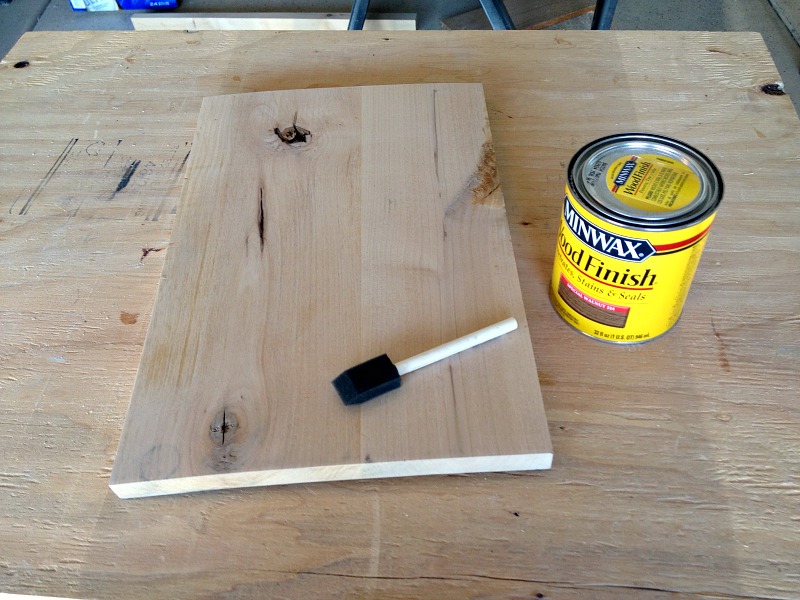 I happened to have some scrap wood lying around that was virtually the same size as a 1×12″ board, so I cut it down to 18″ long. If you don't have the ability to cut your wood down to size, the friendly employees at your local home improvement store can do it for you. I stained my wood using Minwax stain in Special Walnut and let it dry for a good 12 hours or so.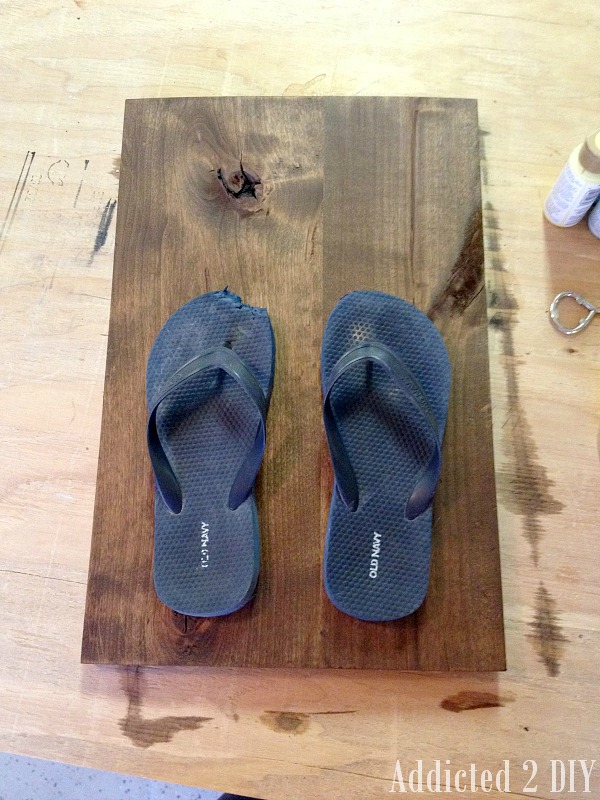 I grabbed a pair of flip flops to trace the outline. Mine were too big, so I grabbed my 8 year old's, which were just right. If yours happen to have a chunk missing out of them from your darling pooch, you can improvise like I did and fill in that part. Or you could trace them exactly and make it look like a shark took a bite out of them:)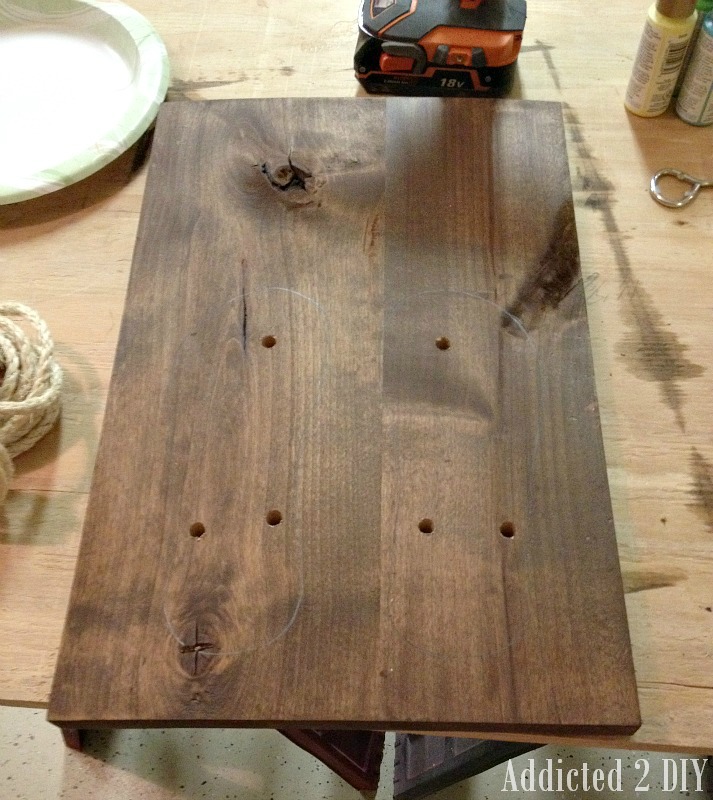 Once I traced the outline in pencil, I marked where the straps are held on the bottom of the flip flops. I grabbed my drill and 3/8″ drill bit and drilled the holes where I had marked them for the straps.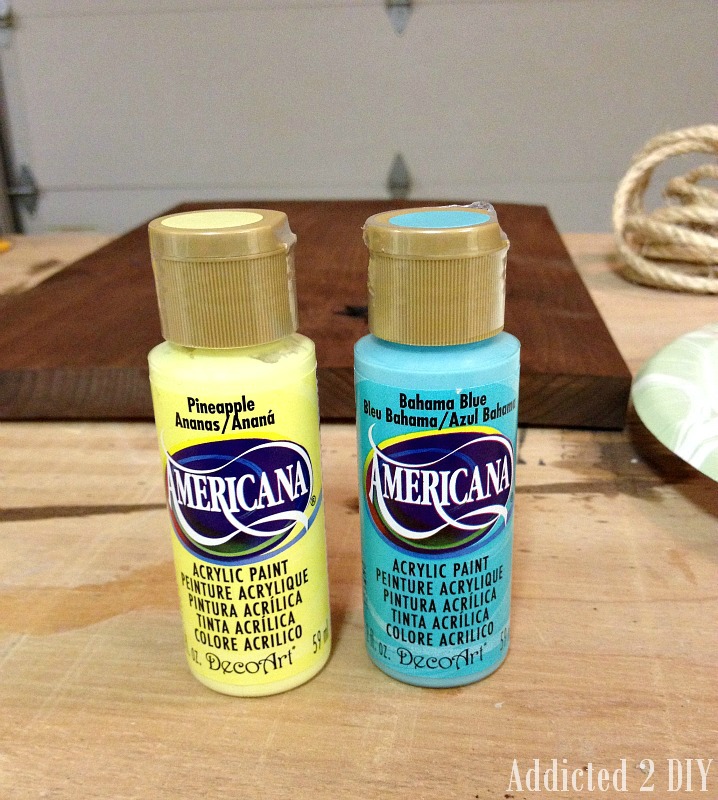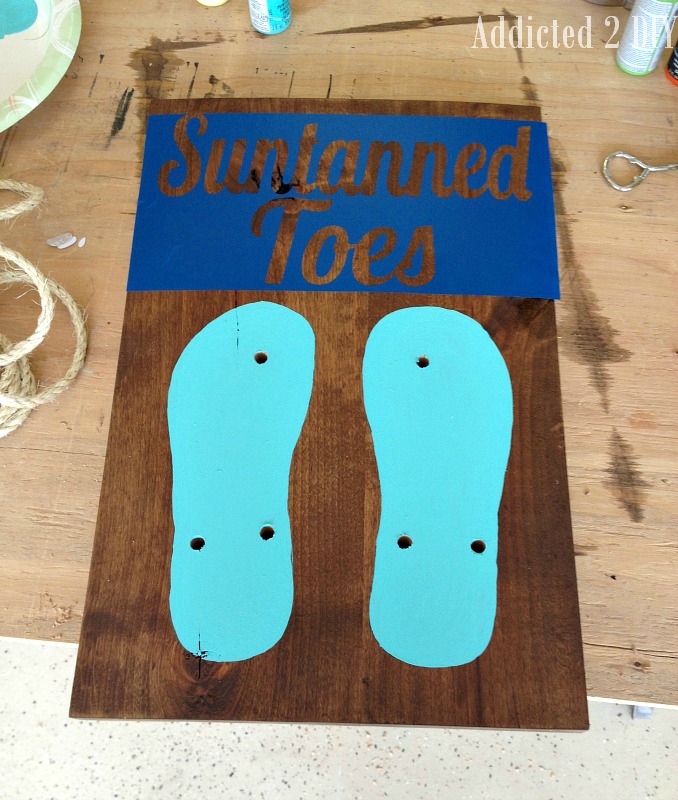 Next, it was time to paint. I painted the flip flops in Americana acrylic paint in Bahama Blue. I cut the stencil for the title out of a scrap piece of vinyl on my Cricut. I used the Lobster 1.4 font. I sized and stretched the font to fit the empty space (11″x6″).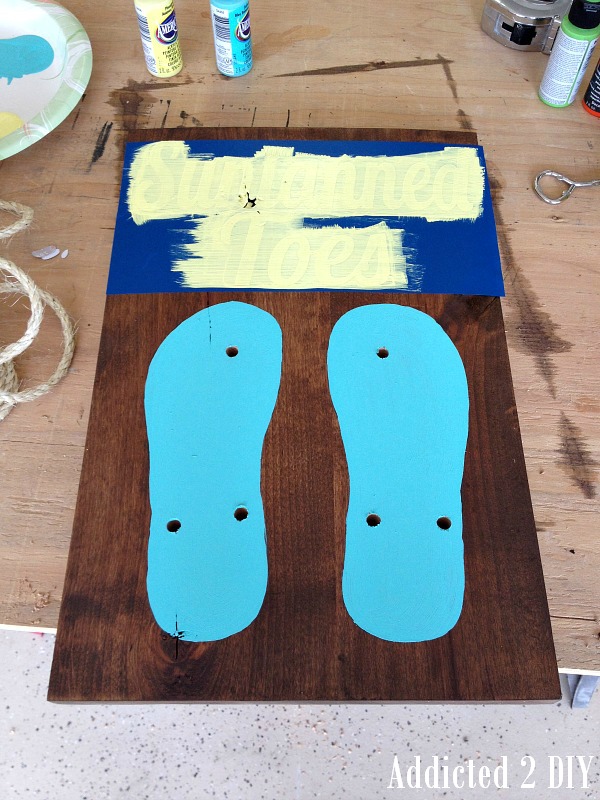 I used the pineapple color for the letters. Aren't these such fun color names for a summertime project? Once my paint was dry, I sanded the entire surface with 220 grit sandpaper to distress it a bit.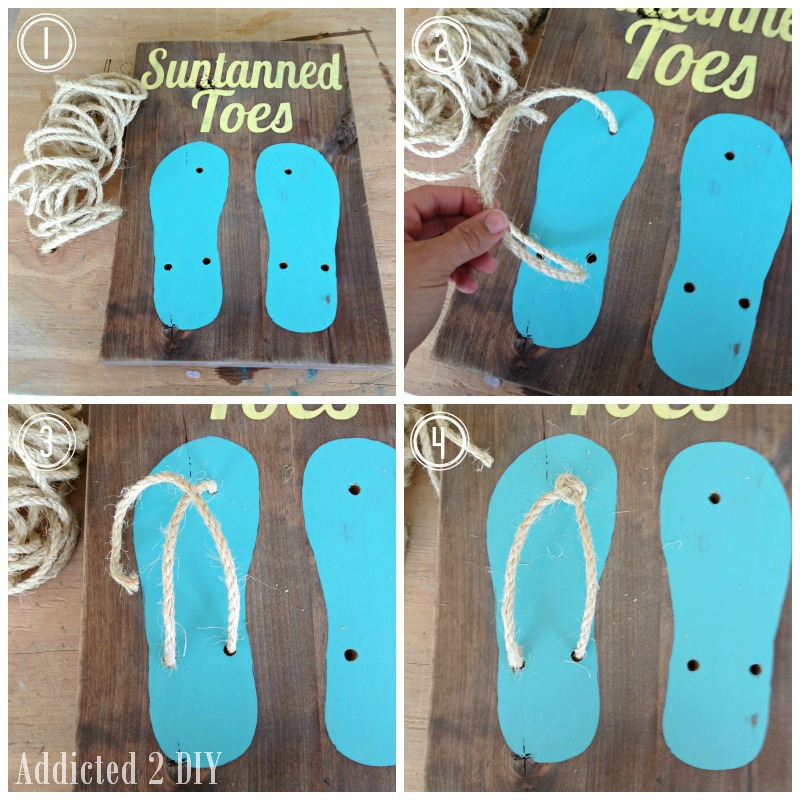 Now to add the rope to make the flip flops. I fed the rope through the top hole, starting from the back, then threaded it through one of the bottom holes and back out the front of the board again. I tied a knot to secure the rope and then trimmed the tail off of the knot.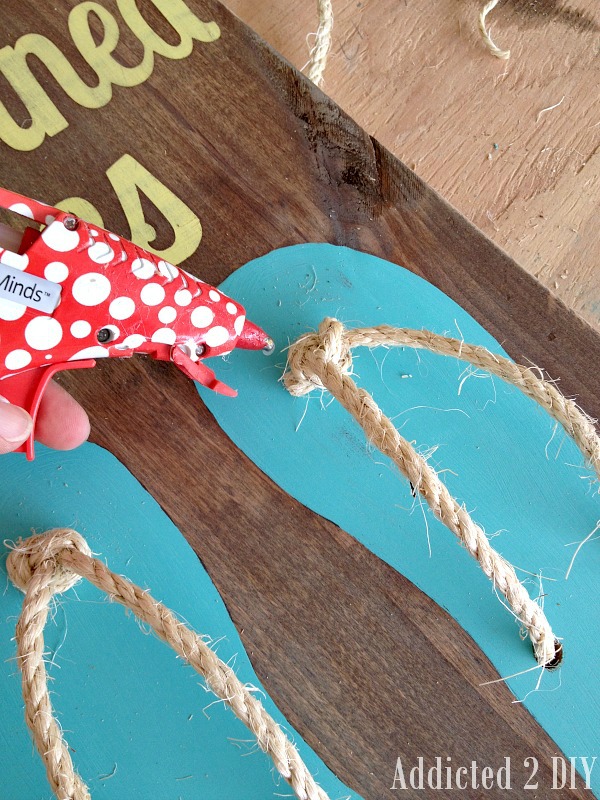 I did the same for the other flip flop, and then secured my knots in place with hot glue.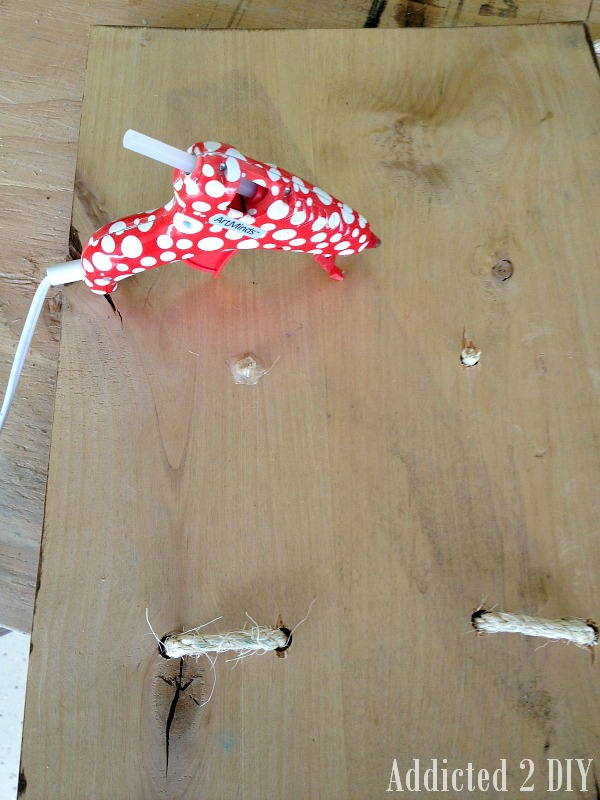 On the back of the board, I cut the rope off as close to the board as I could, and secured those ends with hot glue. Sisal rope can get a bit straggly, so I flipped the board back over and gave some of the stray pieces a trim. That's it!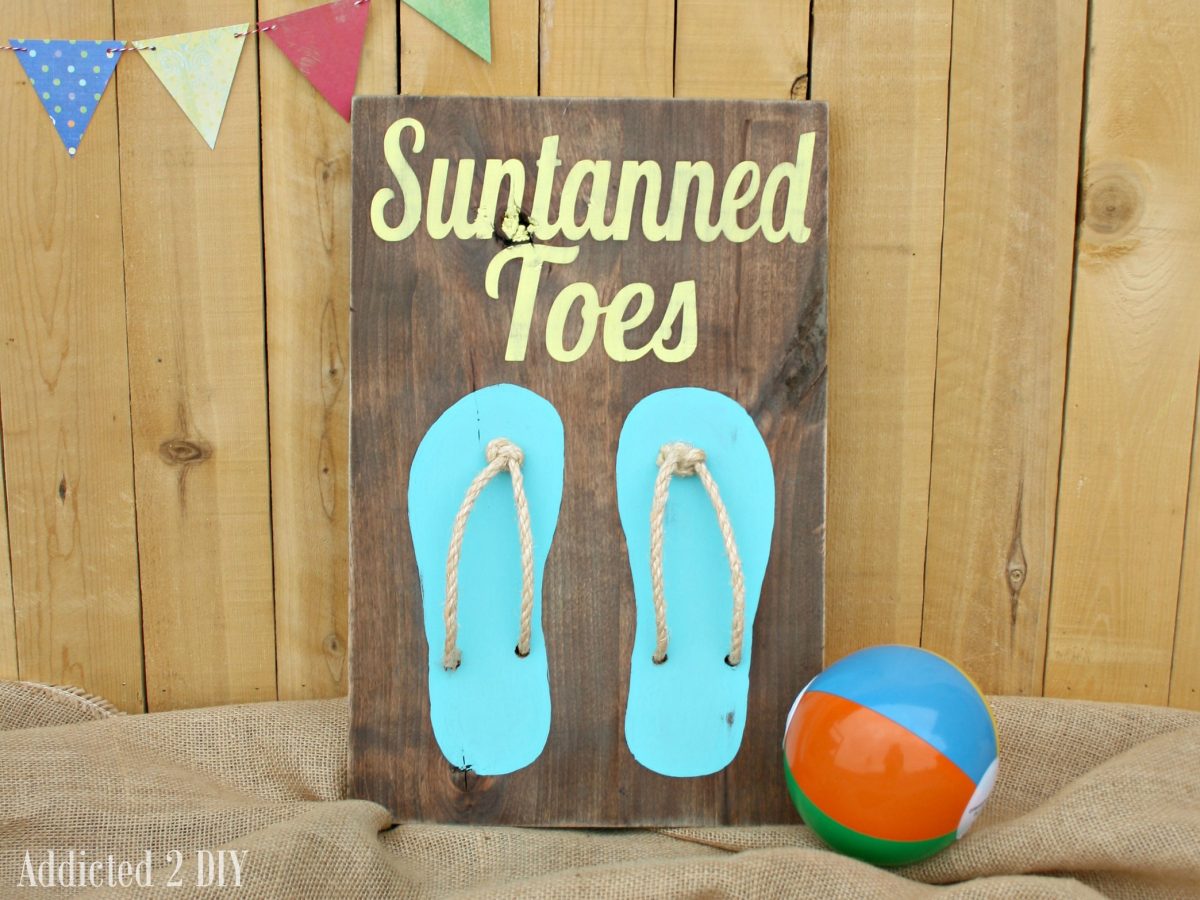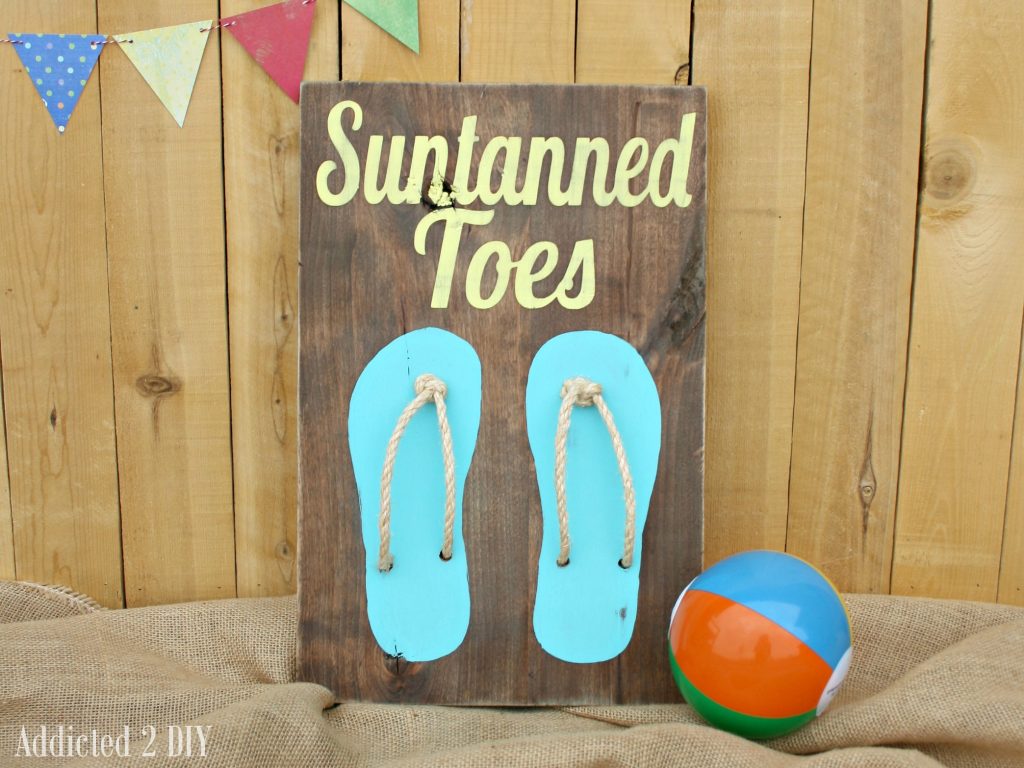 So what do you think? I think it will be perfect on our patio near our new pool. We'll just have to see if that happens this year or if it will end up being finished by next summer. Either way, I can hardly wait!