Learn all about the new RIDGID 18-volt Octane Brushless Impact Wrench and the RYOBI 18-volt ONE+ Impact Wrench in this helpful and comprehensive review.
I recently was asked to review the RIDGID 18-volt Octane 4-mode impact wrench as well as the RYOBI 18-volt ONE+ 3/8" impact wrench as part of The Home Depot ProSpective tool review program. It just so happened that both of these wrenches couldn't have come at a better time! Today, I'll be sharing with you the features of both and what we use them for around the house and beyond.
RIDGID 18v Octane 4-mode Impact Driver
Let's first start with the RIDGID 18-volt Octane 4-mode impact wrench. This driver packs a huge punch with 485ft. lbs of fastening torque and 620ft. lbs of breakaway torque. The auto mode it offers will automatically shut the driver off when the tool impacts to prevent over-tightening. This is a HUGE benefit when tightening lug-nuts on old vehicles. Rusty lugs can snap off or strip out and the auto mode helps to prevent that.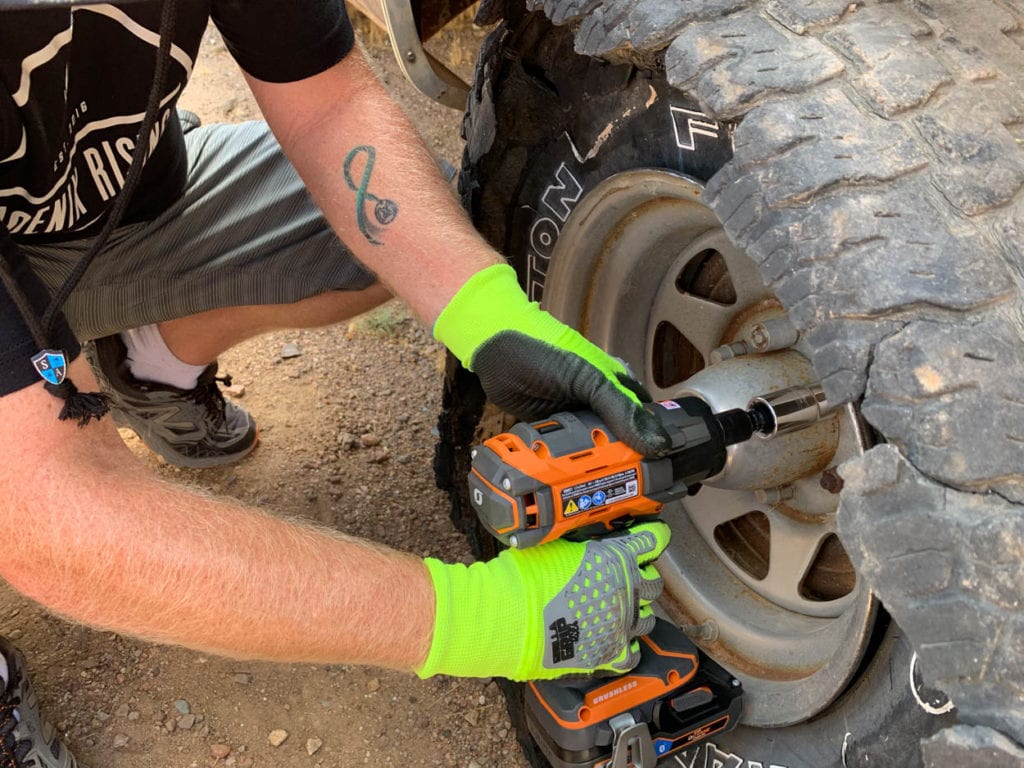 My brother-in-law recently acquired a free 1979 GMC Jimmy from a friend. Awesome deal, right? The downside is that it doesn't have a motor, they had to drive an hour and a half to get it, and the tires were completely rotted. My husband grabbed his tools and headed out with his brother to pick it up, which involved changing the tires and wenching it onto a trailer.
The RIDGID 18v impact wrench made short work of the rusty lug-nuts and they were able to easily remove all of the tires and replace them in order to load the truck onto the trailer. I wish I could say it offered any help with the loading, but that just took a ton of patience and time given the lack of a motor. This impact driver is definitely going to be our go-to tool from now on for tire changes and will be in our tool kit when we travel.
RYOBI 18-volt ONE+ 3/8" Impact Wrench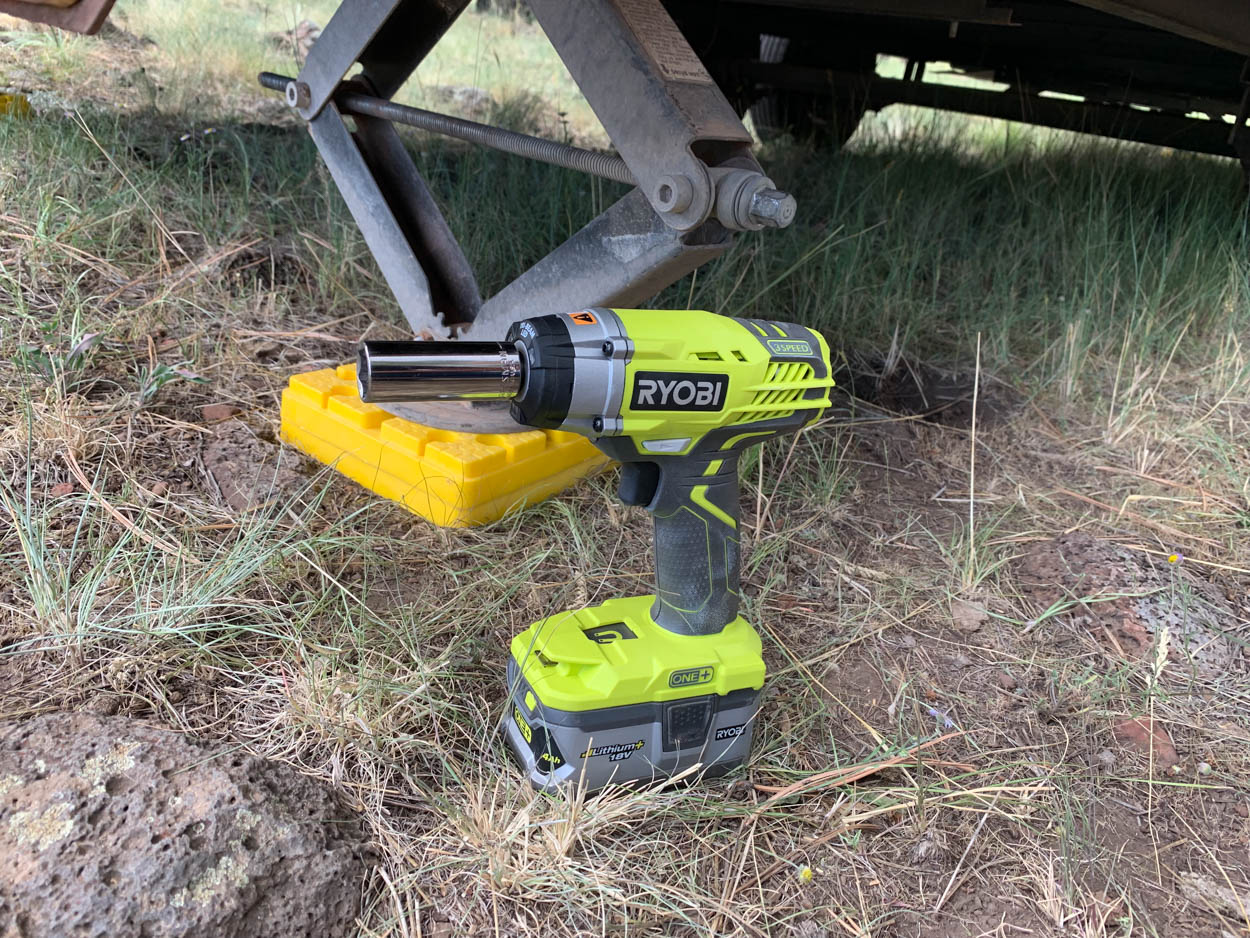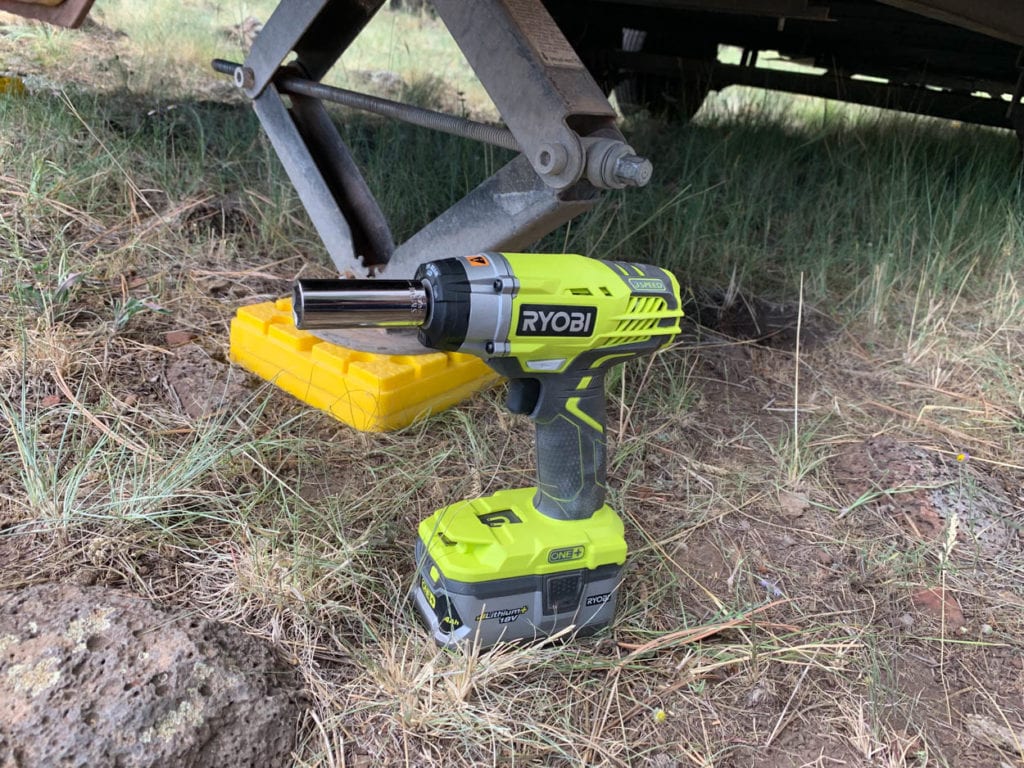 We go camping quite a bit and always take a bunch of our RYOBI tools with us. Given that all of the ONE+ tools take the same batteries, The RYOBI 18-volt ONE+ 3/8" Impact Wrench was an easy addition to our trailer tool kit. With 150ft lbs of torque, it's a great wrench for replacing tires on our quads and UTV, but also for helping to raise and lower the stabilizer jacks on our toy hauler.
We made the setup and takedown of our camp a family affair. The boys know their jobs well and our oldest was definitely happy to have the impact wrench help him raise and lower the stabilizer jacks on our trailer. Prior to that, he had to manually crank them and it took forever. The RYOBI impact wrench cut this step in half, if not more.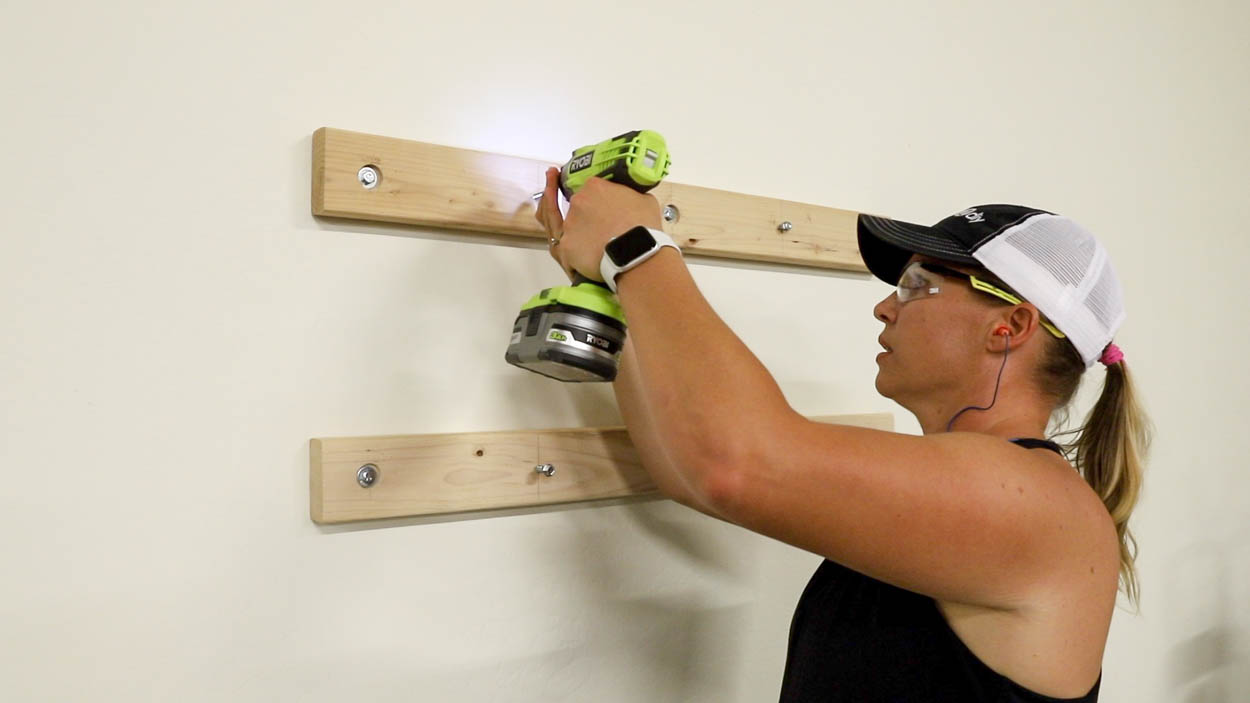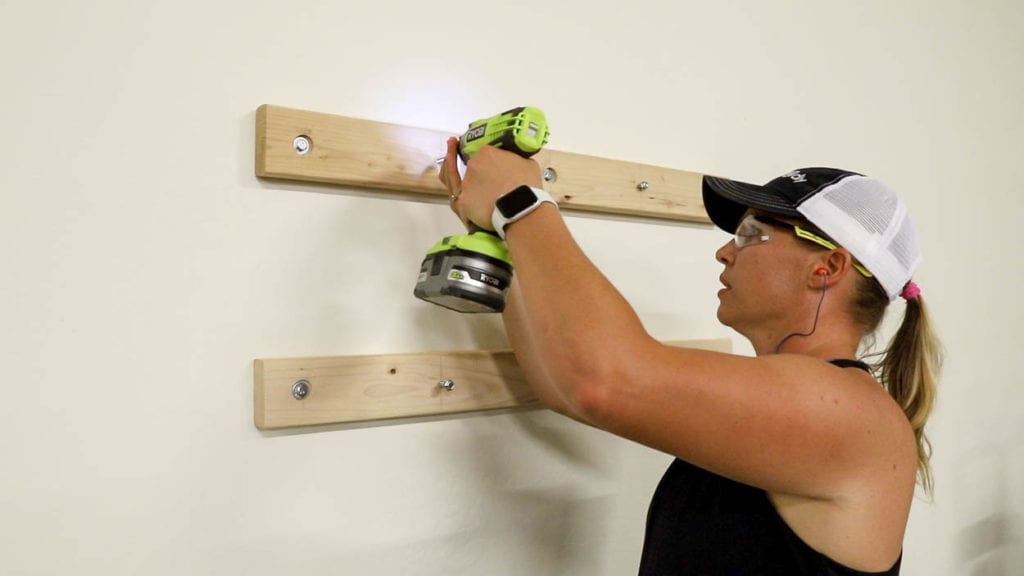 While this impact wrench will likely spend a lot of time in our trailer, I did grab it to help me install my new dust collection system and it worked great for driving the 5/16" lag bolts into the studs in the wall of my workshop. I was able to drive the bolts in and still maintain control of the speed to ensure I didn't strip the wood while doing so and it made the whole job so much faster than ratcheting everything by hand.
Which Impact Wrench Is Right For You?
While these two wrenches are not created equal, we were very happy with the performance of both and know they will both be handy tools to have around. The RIDGID impact wrench definitely has more power, so if you'll be spending a lot of time on heavy duty jobs, like changing tires, it's a perfect tool. If you think most of your time will be on lighter duty jobs and occasionally changing a tire or two, the RYOBI is definitely perfect.
If you have a whole collection of either tool and batteries, then the decision is even easier. Go with the brand that you have the most batteries for and you won't be disappointed. If you're interested in learning more about the RYOBI and RIDGID impact drivers, you can visit The Home Depot's website, or check them out in store!
DISCLOSURE: I acknowledge that The Home Depot is partnering with me to participate in the promotional program described above (the "Program"). As part of the Program, I am receiving compensation in the form of products and services, for the purpose of promoting The Home Depot. All expressed opinions and experiences are my own words. My post complies with the Word Of Mouth Marketing Association (WOMMA) Ethics Code and applicable Federal Trade Commission guidelines.