Have you ever tried Sopapilla Cheesecake? It has become a high ranking party dessert in our house. Everyone loves it and it is so easy! I always thought it would be fun to modify the recipe a bit with different flavors and I finally experimented with pumpkin. I absolutely love the results and I hope you will too. It's the perfect Thanksgiving dessert if you aren't much of a baker and don't want to buy a pie from the store. I originally found the Sopapilla Cheesecake recipe on Pillsbury's website HERE. Below is my recipe for the Pumpkin Sopapilla Cheesecake. I hope you give it a try!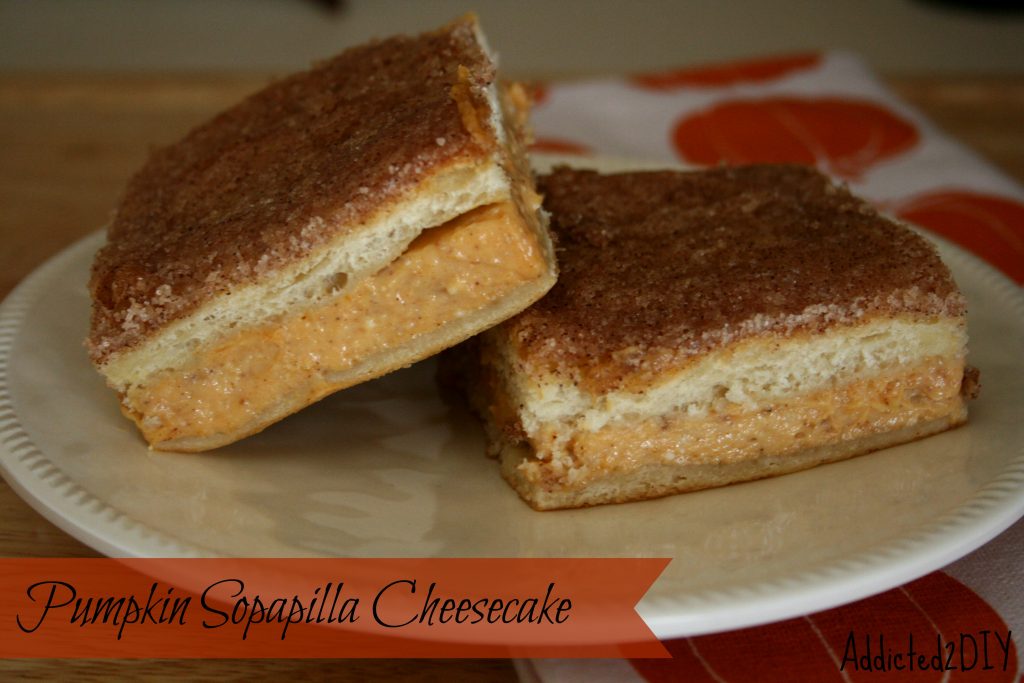 Pumpkin Sopapilla Cheesecake
2013-11-10 23:52:34
An easy and delicious fall dessert that everyone will love
Nutrition Facts
Amount Per Serving
* Percent Daily Values are based on a 2,000 calorie diet. Your Daily Values may be higher or lower depending on your calorie needs.
Ingredients
2 cans Pillsbury crescent sheets
2 - 8 oz blocks cream cheese
1 cup granulated sugar
1 cup pumpkin puree
1 tsp pure vanilla extract
1/2 tsp ground cinnamon
1/4 tsp ground ginger
1/8 tsp ground cloves
1/2 cup cinnamon sugar
Instructions
Preheat your oven to 350 degrees. Grease a 9x13 inch baking dish or cake pan. In a large bowl, mix together cream cheese, sugar, pumpkin puree, vanilla, cinnamon, ginger, and cloves. Unroll one crescent sheet and, using your fingers, press it evenly throughout the bottom of the baking dish. Spread the cream cheese mixture evenly over the crescent layer. Unroll the second crescent sheet and carefully stretch it with your hands prior to layering it on top of the cream cheese mixture. Lay it carefully on top of the cream cheese mixture and gently pull the sides towards the edges of the baking dish. Pour the melted butter over the to crescent layer and then use a pastry brush to evenly spread the butter all around. Sprinkle the cinnamon sugar evenly over the top. Bake for 30 minutes. Let cool completely then cut into 2 inch pieces. Store in the refrigerator.
Notes
Note: I like to use 1/3 less fat cream cheese. It makes me feel a little better about myself when I go in for a second piece:) If you cannot find crescent sheets, you can use regular crescent rolls. Just be careful not to pull it all apart when you unroll the crescent rolls.
Adapted from Pillsbury Sopapilla Cheesecake
Addicted 2 DIY https://addicted2diy.com/
You can find me at these parties:
HOME STORIES A TO Z