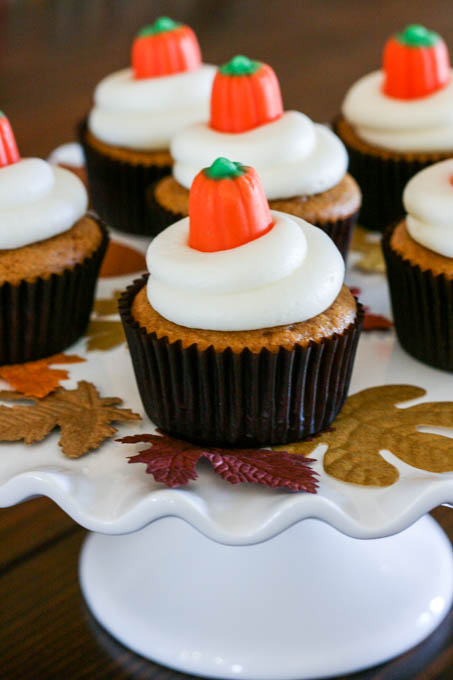 Today I'm going to share the recipe for these amazing pumpkin cupcakes with cream cheese frosting. They are so moist and delicious and they just scream fall. They are also easy to make and the candy pumpkins on top are a quick and easy decoration. This recipe was adapted from pumpkin cake with caramel cream cheese frosting from Food and Wine magazine. The cream cheese frosting is a recipe that I made up and have been using for years.
Pumpkin Cupcakes
2 cups all-purpose flour
2 1/4 tsp baking powder
1 tsp salt
1 tsp cinnamon
1 tsp ground ginger
3/4 tsp baking soda
1/4 tsp ground cloves
1 1/4 cups packed brown sugar
4 large eggs
3/4 cup canola oil
1 – 15 oz. can pumpkin puree
1/2 cup whole milk
Preheat the oven to 350 degrees. Line muffin tins with cupcake liners. In a large bowl, sift together the flour, baking powder, salt, cinnamon, ginger, baking soda, and cloves.
In a stand mixer with a paddle attachment, beat the brown sugar and eggs at medium speed until fluffy, about 3 minutes. Beat in the oil and pumpkin puree and mix until combined. Alternately add the dry ingredients and the milk in two batches, beating well and scraping the sides of the bowl.
Fill cupcake liners 2/3 full (I use a 1/4 cup ice cream scoop) and bake for about 16 minutes or until a toothpick inserted into the center comes out clean. Let cool and then frost with cream cheese frosting.
Cream Cheese Frosting
1 stick unsalted butter, softened
4 oz. cream cheese, softened
1 pound powdered sugar
2-3 tbsp milk
Candy pumpkins (optional)
In your mixer, combine the butter and cream cheese. Gradually add the powdered sugar, making sure to scrape the sides of the bowl. Add milk 1 tbsp at a time in between adding the powdered sugar. Once at desired consistency, beat for a few extra seconds until frosting is smooth. Frost cupcakes immediately, or refrigerate for up to 1 week. Top cupcakes with candy pumpkins and enjoy!
I'll share a secret with you. These cupcakes are absolutely amazing straight from the fridge with a cup of coffee in the morning:)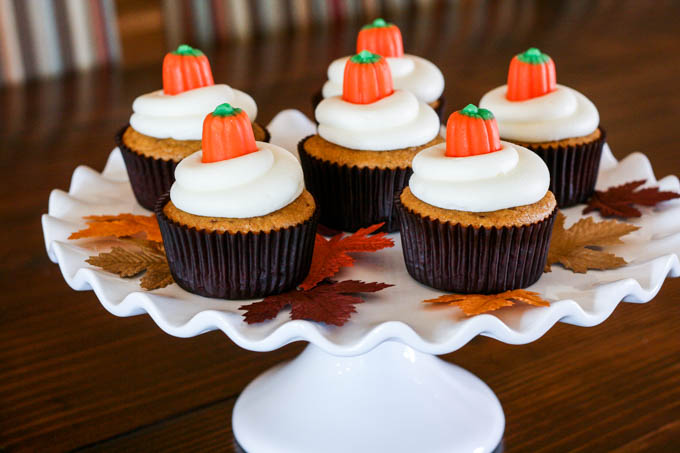 Give these cupcakes a try this weekend or for your next Halloween party. I promise you won't be disappointed and you will be everyone's favorite person! I'd love it if you comment and pin this post. Thanks!
~Katie