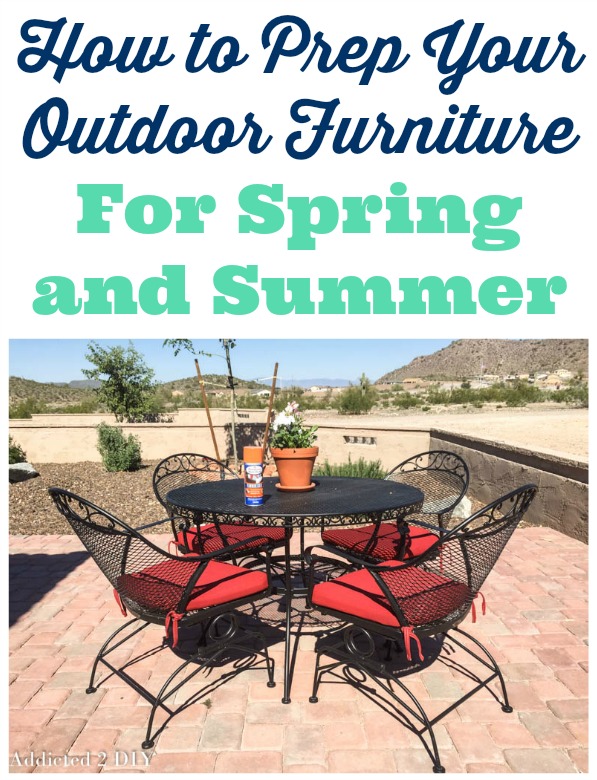 This week, I decided it would be the perfect time to get our outdoor furniture ready for the spring and summer months. I know many of you probably can't even see your outdoor furniture under the mounds of snow, but here in AZ, we had our one week of winter at the end of December and the temps have been climbing ever since. You can laugh at us in July when it's 115 degrees out;)
With the long, holiday weekend, my boys wanted to spend some time sprucing up our courtyard with spring flowers. It was a great opportunity to get them outside in the gorgeous weather and I always love working outside. I decided that while they were busy planting flowers, I would finally prep our outdoor furniture for the spring and summer months.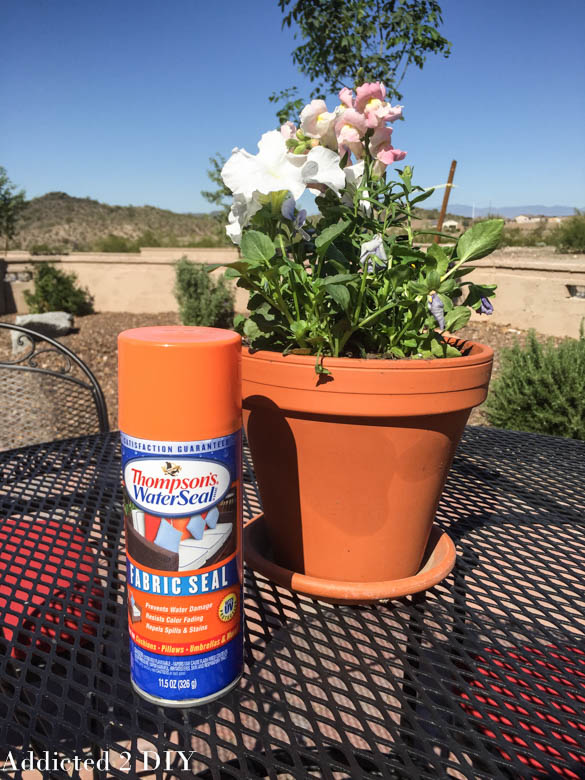 Last year, while at the Haven blogging conference in Atlanta, I spoke with the friendly reps from Thompson's WaterSeal. They had so many great products that I didn't even know about but was excited to try. One of them was this fabric seal that not only helps your outdoor cushions and pillows resist water, but it has UV protection! Here in the Valley of the Sun, that is something that is always a plus. Their rep was kind enough to give me some to try out. I never got around to using it last year, so I definitely wanted to get everything protected this year. Our outdoor furniture is all less than a year old and I want it to last longer than one more season.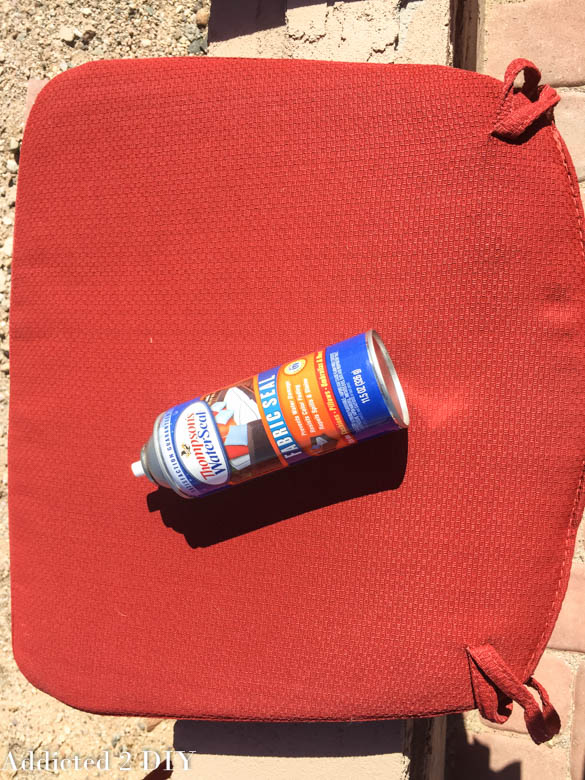 I read the instructions on the can, took all of the cushions off of our furniture sets out front and back, then set to spraying. I sprayed the tops and bottoms of my cushions with two coats of the fabric seal, but I really could have just sprayed the tops.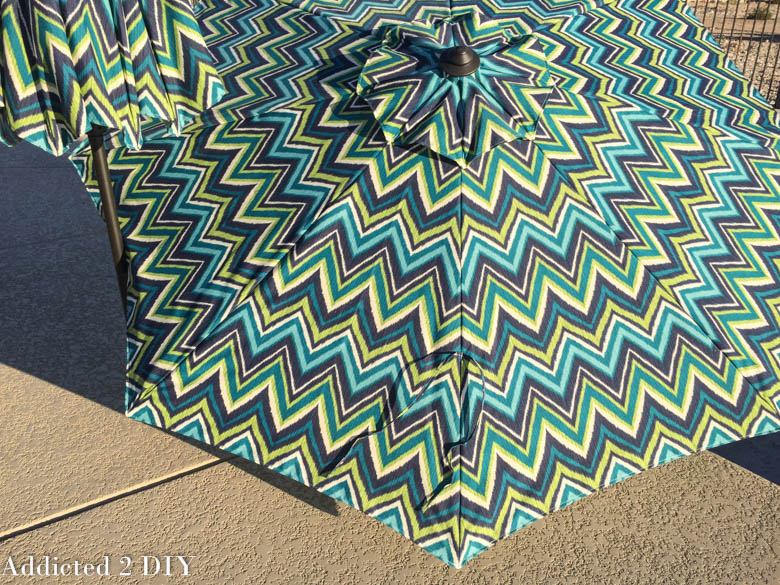 I bought these gorgeous new umbrellas at Lowes last week to put next to our new pool. At $42 each, it was such a bargain that I definitely didn't hesitate to buy two! I wanted to make sure they stayed pretty for a long time to come, so I also sprayed them with two coats of the fabric seal.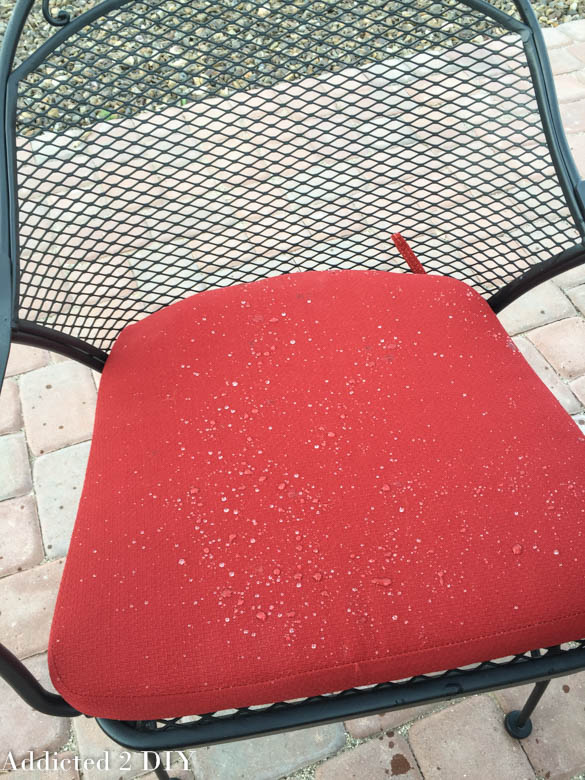 As funny as it sounds, I couldn't wait for everything to dry so I could do a water test on them. I sprinkled some water and was so excited to see it bead up and then just run off the surface of the cushions when I tilted them. I can't wait to see how they hold up over the summer. Our cushions on the chairs in the backyard definitely faded last year and I don't want them to get any worse.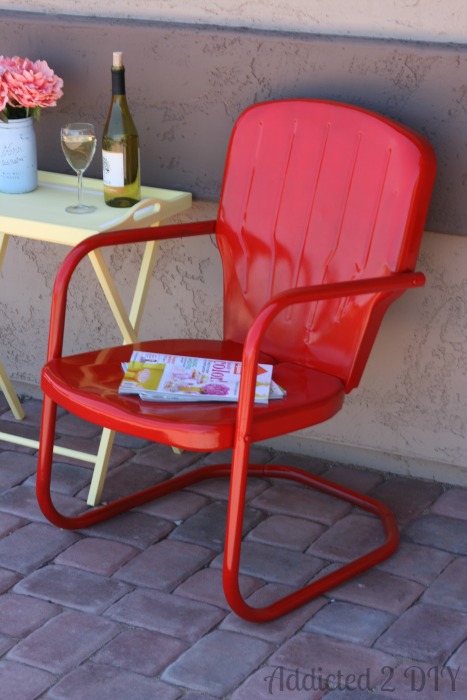 If prepping your outdoor furniture also includes painting it, check out my post on how I updated this vintage patio chair that belonged to my great grandparents. It was in pretty bad shape after just sitting in the sun for the past 10+ years and I didn't want to see it ruined completely. I absolutely love how it looks now and that it has a new lease on life!