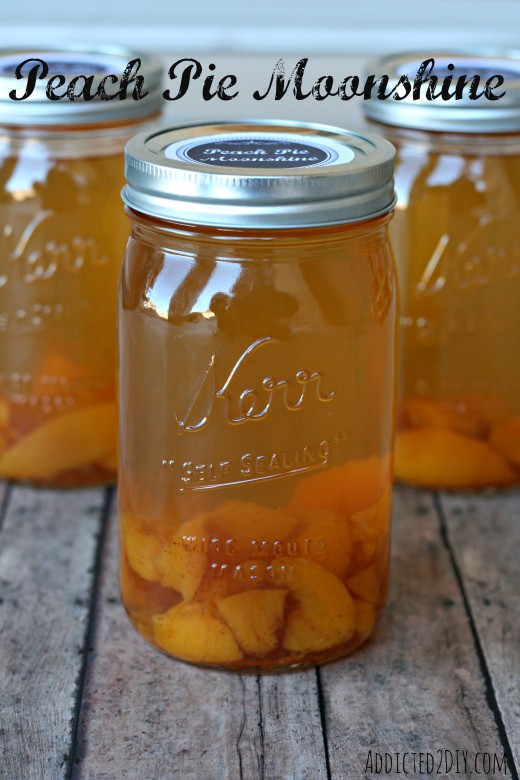 Moonshine has become hugely popular lately. Between the TV show Moonshiners, to Florida Georgia Line's song "Get Your Shine On," everyone seems to be drinking it. I'll admit that I'm not a huge fan of straight "white lightining," but I do enjoy the flavored shines out there. I bought a couple of jars last year as Christmas gifts, but at $25 a jar, it was a little too pricey for me to buy very many jars. This year I decided to make my own and give it out as gifts for friends and family. Between the cost of all of the ingredients and the mason jars
, it breaks down to about $6 per jar. That's something that I can get excited about!
A friend had made some peach pie moonshine for our New Year's Eve party last year and I absolutely loved it, so I decided that was what I would make! I made my first batch this weekend and it was amazing. I adapted this recipe from one I had found online. I then made up my own little jar labels
in Pic Monkey and cut them out with one of my circle cutters in my scrapbooking stash. The recipe yields about 7 quarts, so a good amount to give away and keep some for yourself:) This isn't technically moonshine, because it is made with everclear. If you are lucky enough to get your hands on some real moonshine (not the lower proof store-bought kind), then that would make this even more authentic!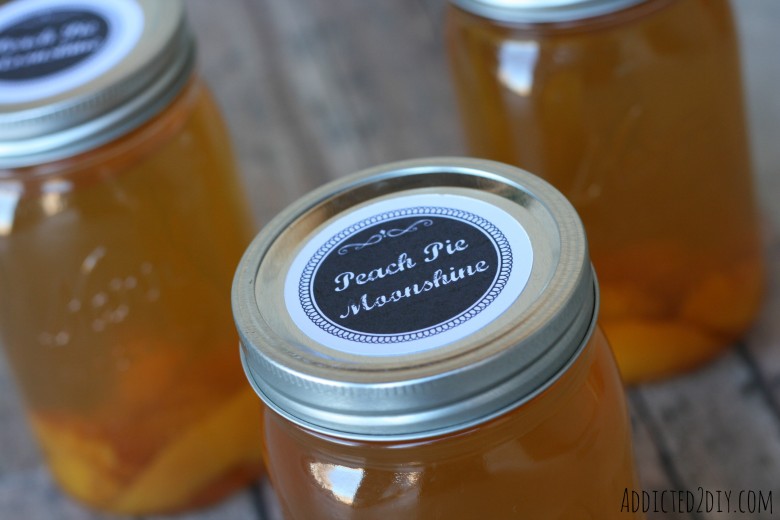 Here's the yummy recipe below. I hope you enjoy it and that whomever you gift it to loves it as well! Remember to also drink responsibly.
~Katie
p.s. You can now find my recipes for Apple Pie Moonshine here, and my Cherry Pie Moonshine here.
Peach Pie Moonshine
Ingredients
2 – 64 oz bottles white grape peach juice
2 – 15 oz cans sliced peaches in heavy syrup
2 1/2 – 3 cups granulated sugar
6 – 7 cinnamon sticks
1 750 ml bottle everclear
1 750 ml bottle peach schnapps
Instructions
In a large pot, bring juice, peaches w/ syrup, sugar, and cinnamon sticks to a boil. Reduce heat and simmer for 30 minutes to 1 hour. Take out the cinnamon sticks Let cool to room temperature, then add the peach schnapps and everclear. Stir well, then pour through a strainer layered with a cheesecloth to strain out the peaches and any bits of the cinnamon sticks. Ladle into jars. Peaches can be divided between the jars. Yields 12-14 pint-sized jars and 6-7 quart-sized jars.
*This post contains some affiliate links for your convenience. Click to read my full disclosure policy.