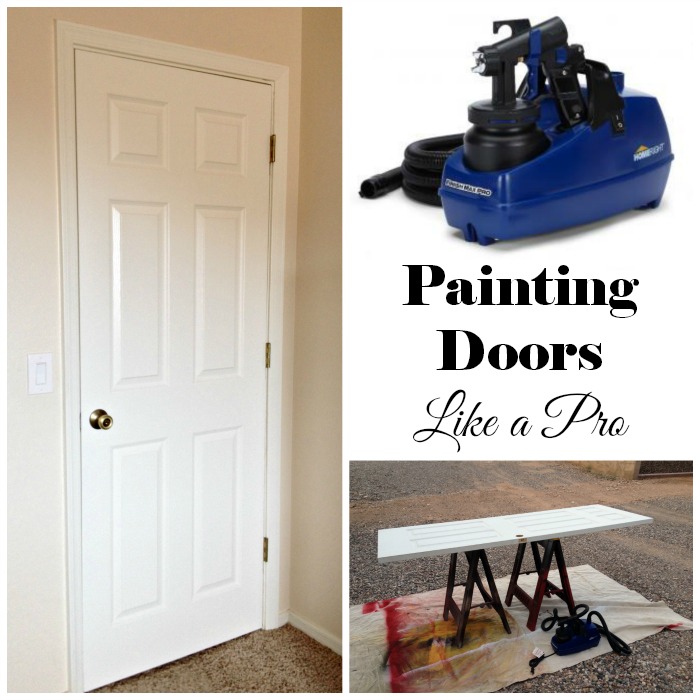 I'm back with another painting project to share with you all! It's not a gorgeous furniture upcycle or anything like that. It's one of those tedious projects that I've been avoiding for a while, and by "a while," I mean 3 1/2 years. When we bought our house, we had to replace three bedroom doors thanks to a few holes in them. We painted every square inch of wall and trim space in the house before we moved in, but two of the three doors took a little longer to come in. That meant they didn't get painted with the fancy professional paint sprayer that my brother-in-law used on the rest of the house. We'd been planning to paint them but I hated the idea of spending hours painting them only to have those dreaded brush strokes, and I didn't want to bother my brother-in-law to come back out with his paint sprayer for two measly doors. So they were hung with just primer on them.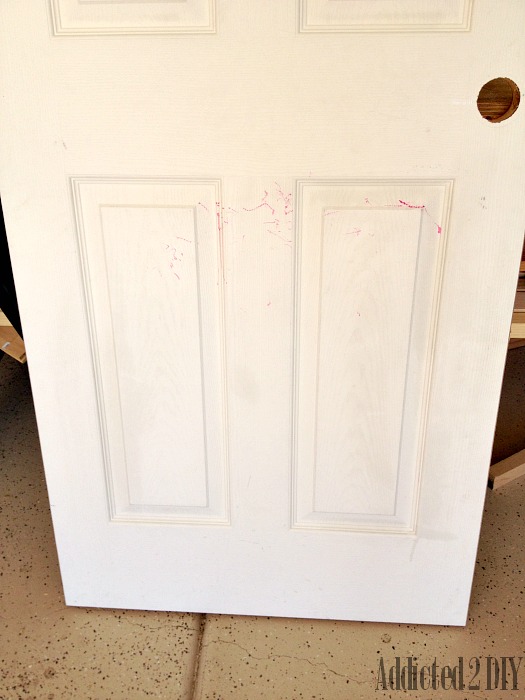 Do you like the red marker my now 6 year old added? He had a huge tantrum when he was 3 and happened to have a marker in his hand during said tantrum. He's very lucky that he's adorable;)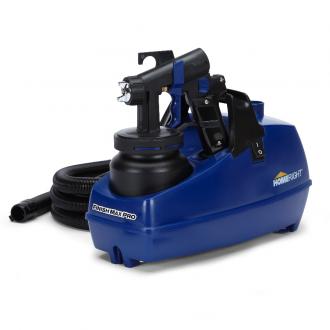 You may remember when I tried out the HomeRight Finish Max paint sprayer on a project for my oldest son's bedroom. If you didn't see it, you can check that out here. This time, I was lucky enough to take the Finish Max Pro for a spin. The Finish Max Pro is a step up from the Finish Max and gives you the ability to tackle bigger projects. It's regulator allows you to change your spray settings from 1″ to 6″ while also allowing you to change your spray pattern from vertical to horizontal. This sprayer also is connected to the turbine motor with a 15 foot hose. The hose was a perfect length to allow me to walk around my doors to paint them. In a nutshell, it's an amazing sprayer that gives a beautiful, professional-looking finish. Oh, and another awesome feature? It comes with an extra paint canister and lid. That way you can have two canisters ready for your larger projects and swap them out without much interruption to your work.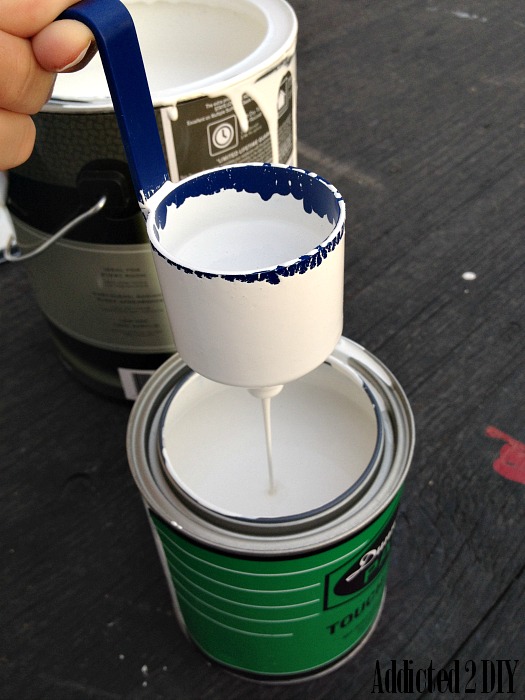 Like the HomeRight Finish Max, the Finish Max Pro comes with all of the tools you need for a successful painting experience. The viscosity cup helps you determine the perfect viscosity for whatever medium you use with the sprayer. That's right, it's not just for paint! You can use these for stain, polyurethane, etc.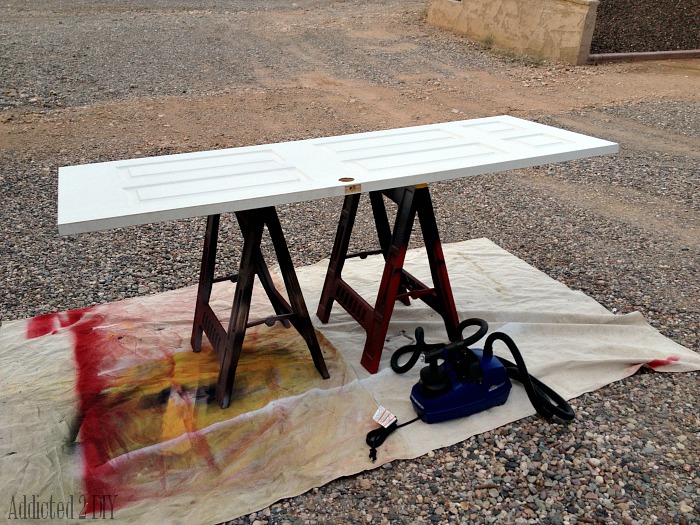 I don't have a paint booth set up in my garage, so I set up my paint station in my gravel driveway. For the doors, I just wiped them down a bit to get off any dust and dirt.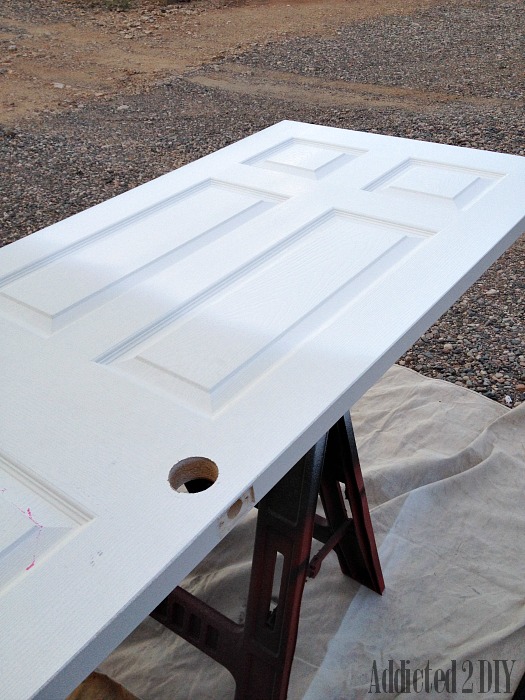 The doors were super quick to paint. Rather than spending hours with a brush, I had each side painted in about 5 or so minutes. When one side of a door was done, my husband and I carried it to the garage to dry and then I painted the other door. Since it was evening when I painted these, I let them dry overnight and then painted the other sides the next morning.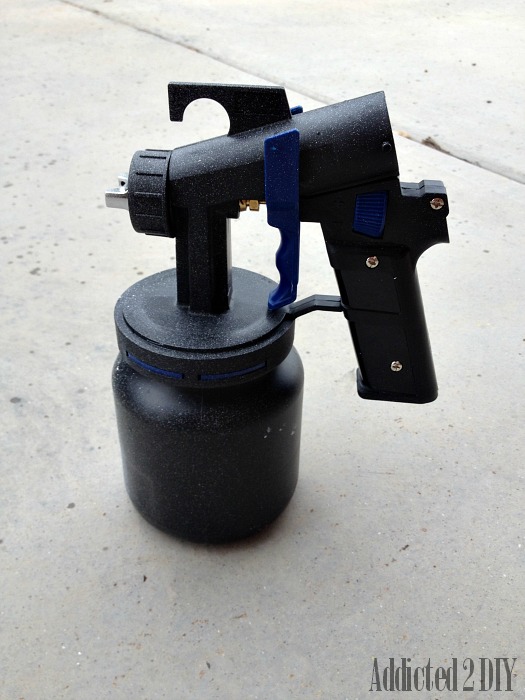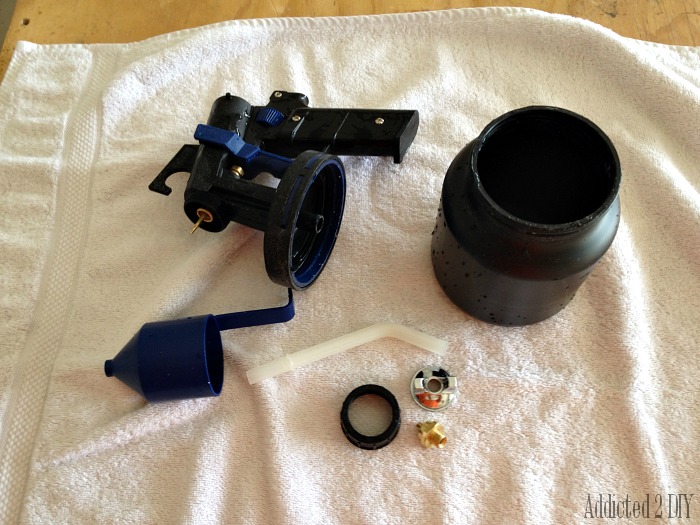 Once my doors were finished, cleanup was a breeze. I disconnected the hose and then cleaned the sprayer based on the instructions in the manual. In this case, it was simply just warm, soapy water. I took the sprayer apart, used the included brush and had it cleaned in no time flat.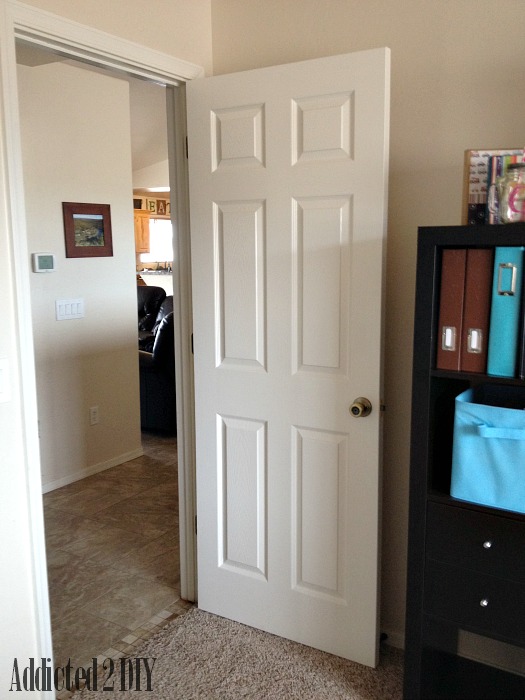 Once the doors were dry, we hung them back up and I breathed a sigh of relief. I now have beautifully painted doors and I no longer feel embarrassed about how they look. I loved using the HomeRight Finish Max Pro sprayer and I can't wait to start on my next project! If you think you'd love one of these sprayers as much as I love mine, you're in luck! I've teamed up with HomeRight to give away a Finish Max sprayer to one lucky winner! You can choose between the Finish Max or the Finish Max Pro. Just enter using the Rafflecopter widget below. This giveaway has ended.
DISCLOSURE: I was provided products and/or compensation for this post; however, all opinions for this product are entirely my own. Please see my disclosure statement for more info.