Hey everyone! Today, I'm so excited to share with you some progress in our kitchen! If you remember, earlier this year we found a roof leak which caused a MASSIVE delay in our remodeling plans for the kitchen. We finally made all of the necessary repairs and got the kitchen put back together, only for me to tear it all apart again. I must be a glutton for punishment. Today, I'm going to show you how we painted our kitchen cabinets. While there are oodles of tutorials out there on how to paint kitchen cabinets, this one is specifically about how to paint kitchen cabinets with knots.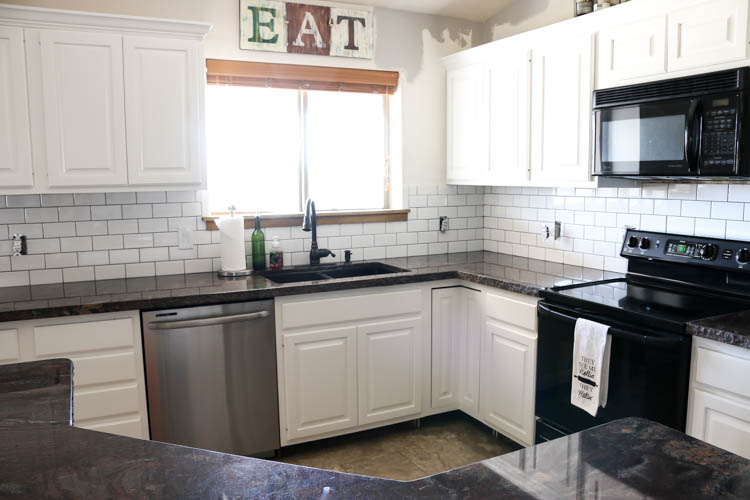 I've partnered with DAP to show you how to fill all of those knots in your cabinet doors in order to give them a beautiful smooth finish for painting. It's a bit tedious depending on how many and how deep your knots are, but it is so worth it if you are looking for ways to upgrade your kitchen cabinets on a budget. There are also a few affiliate links that I've included to products I used while working on the kitchen. If you purchase anything from these links, I receive a small commission at no extra cost to you.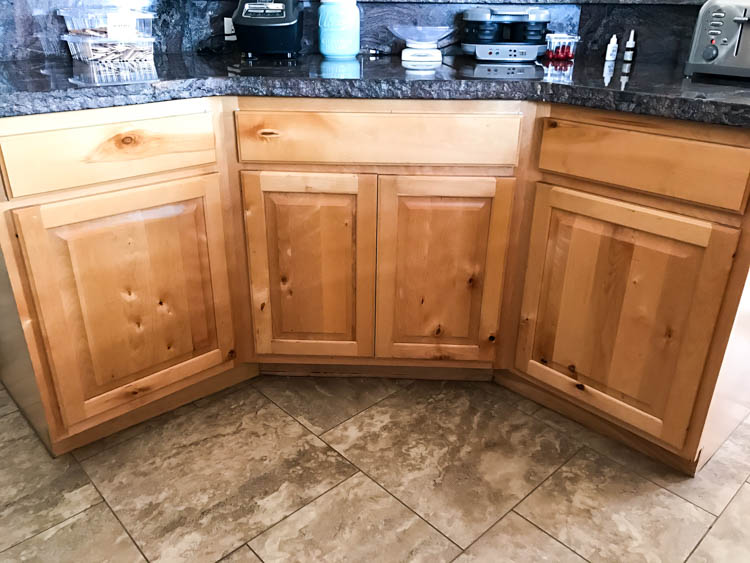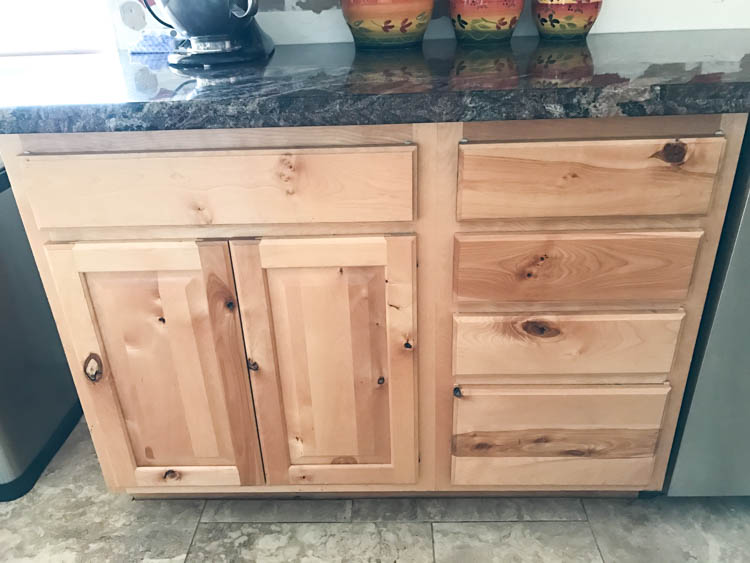 Here's how our kitchen cabinets looked before we painted them. We aren't entirely sure of the species of wood, but we're leaning towards them being knotty alder. They were nice, but I wanted to be able to brighten up the house and the natural color of the wood paired with the dark granite seemed to just absorb all of the light, making the kitchen feel so dark and closed in.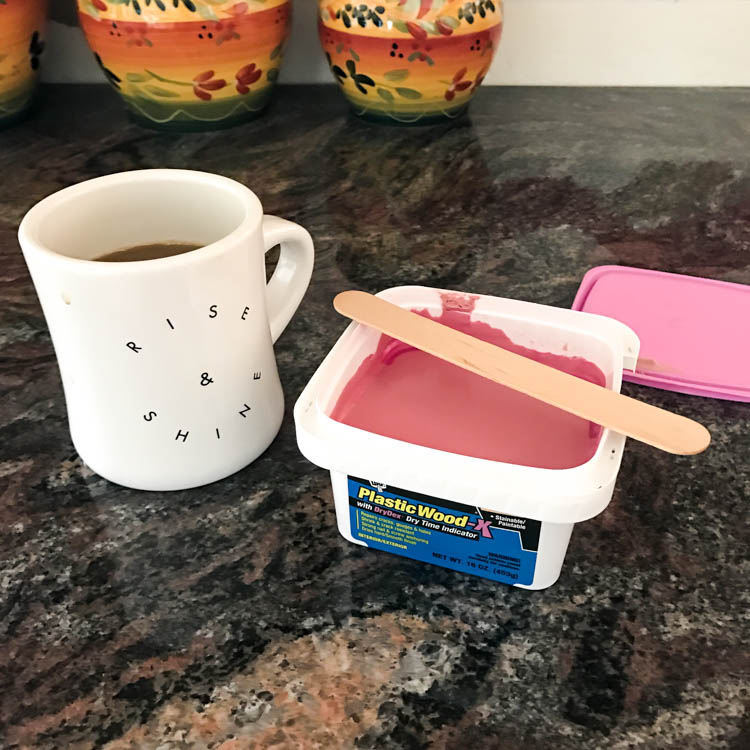 I got started with a fresh tub of DAP PlasticWood-X wood filler and a pot of coffee to keep me going. You can use a putty knife to apply the wood filler; however, I like to steal my kids' craft sticks in order to apply it. My husband, on the other hand, prefers to just use his fingers. Whatever method you choose is entirely up to you.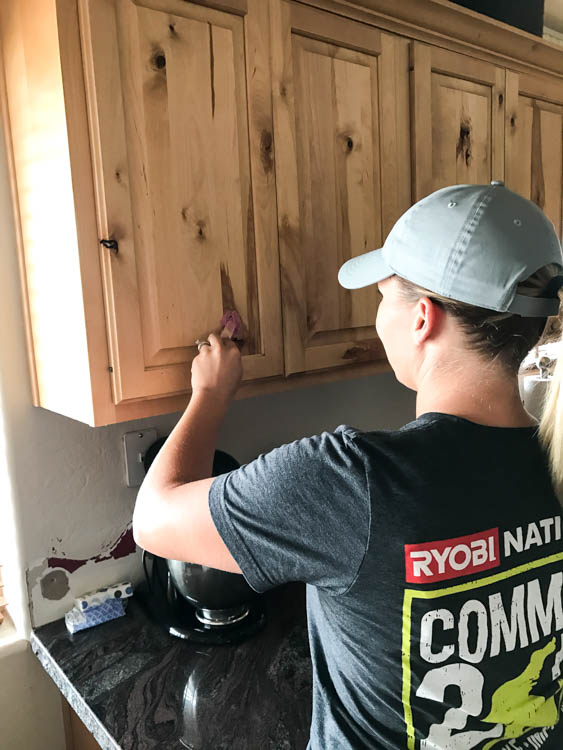 I left the doors in place as I filled the knots, because it was just easier than taking ALL of them down to do it.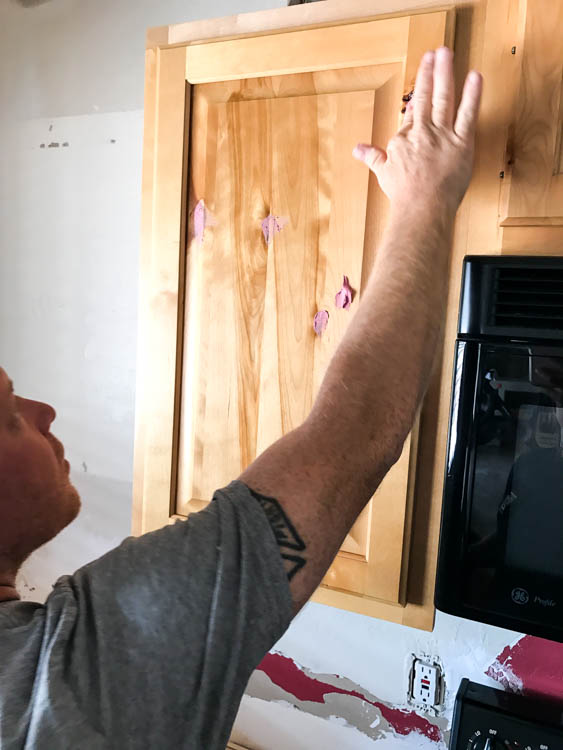 You'll notice that the PlasticWood-X is pink when it is fresh from the tub. Once it dries, it turns a natural color, which means it's dry and time to sand.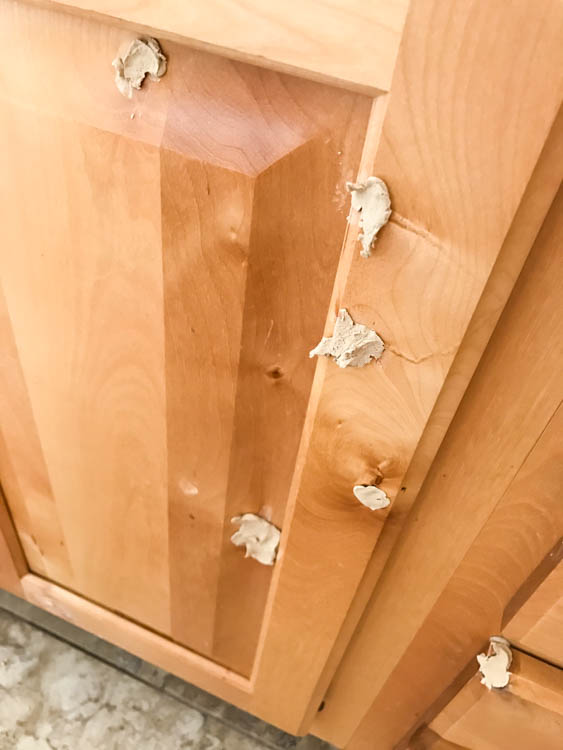 Some of the knots were really deep, and this is not a time to be stingy with the wood filler. Other areas, like the drawer in the bottom right corner needed to be filled and shaped because of the knot being in a corner. That required multiple layers of wood filler to build the area up to shape it just right with sandpaper.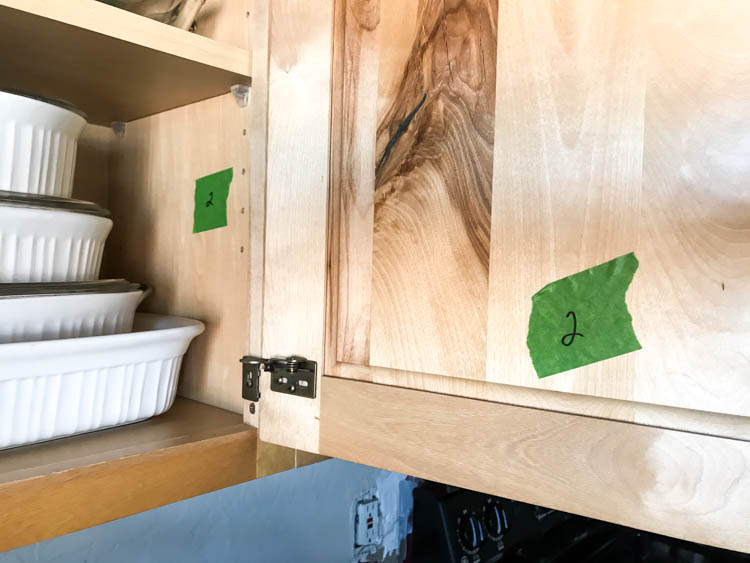 Once all of the knots were filled, we labeled the kitchen cabinets and corresponding doors so we could keep track of everything. This step is probably one of the MOST important steps when painting cabinets. You don't want to mix doors up or waste time trying to put the pieces of the puzzle back together once you've painted them.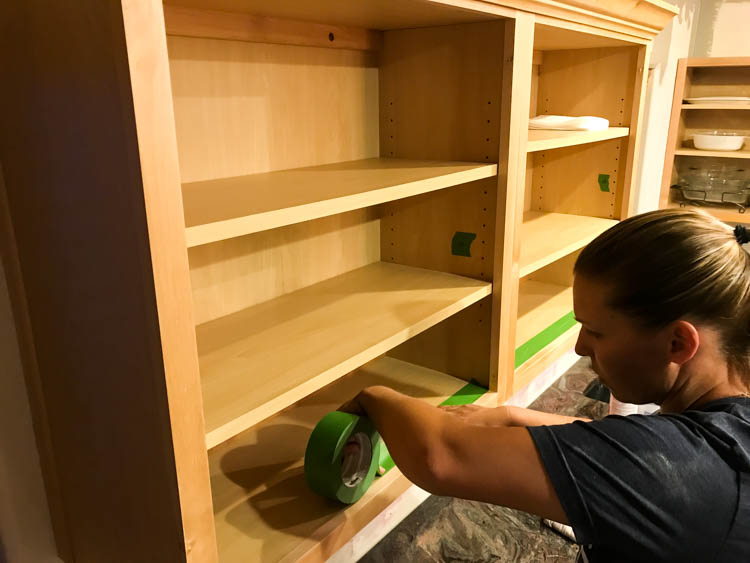 Since the insides of the cabinets weren't being painted, I taped them off so only the face frames would be painted.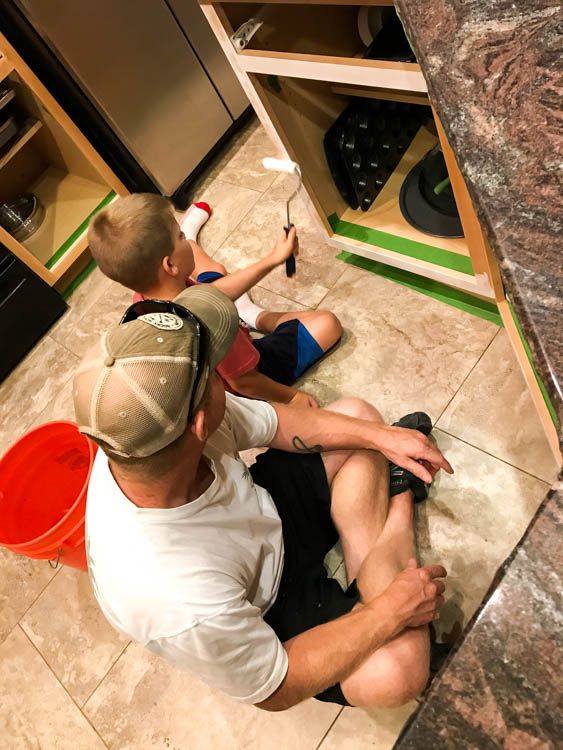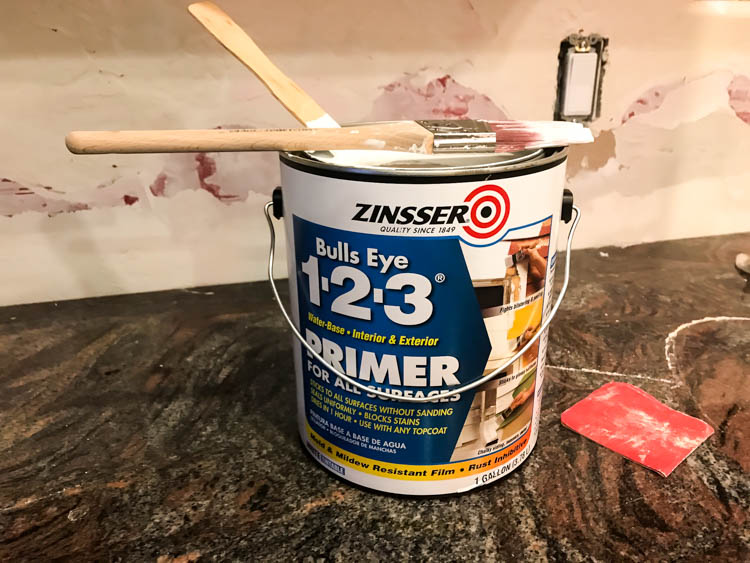 It became a bit of a family affair when it came time to paint. We primed the cabinets with two coats of Zinsser water-based primer to ensure even coverage and adhesion of the paint. You can use an oil-based primer, but the odor is pretty strong. I used oil-based on our dining room cabinets and my husband said "never again!" Cleanup is far easier with a water-based primer as well. Just soap and water, versus mineral spirits.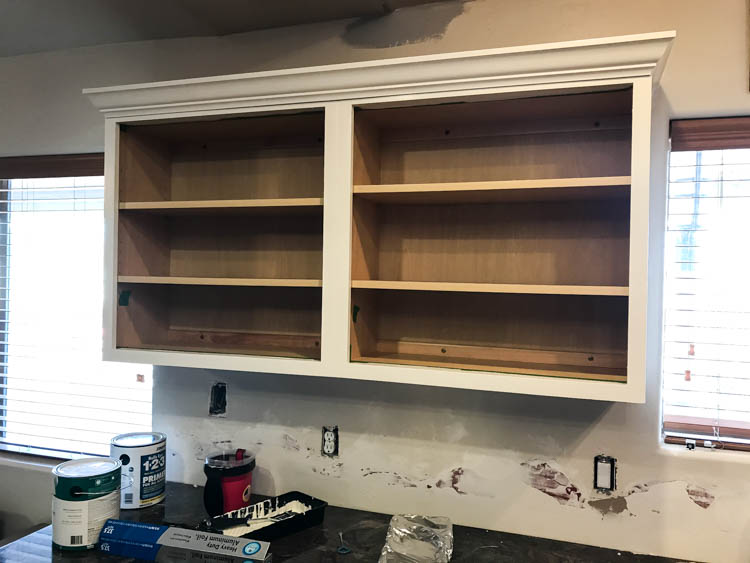 Once the cabinets were primered, we got started with painting. We painted three coats of semi-gloss paint in Swiss Coffee. It's the same color as all of the trim in our house and it's a great bright white color.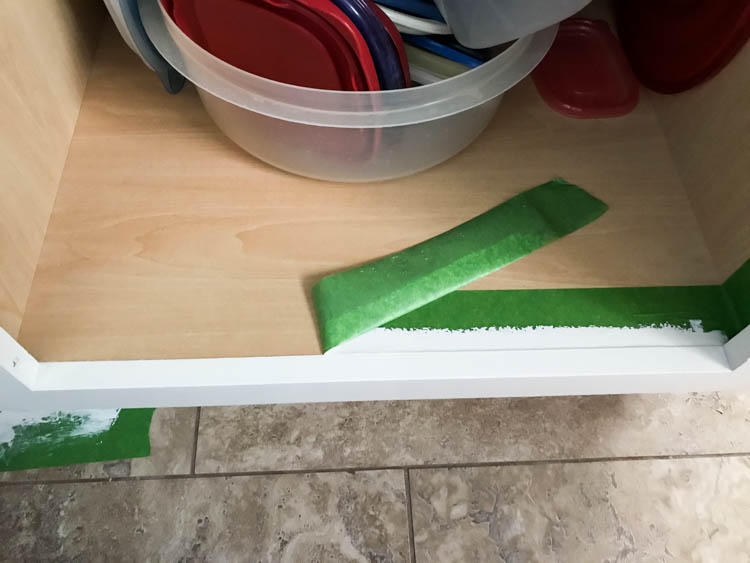 As soon as we were finished painting, we peeled up the tape on all of the cabinets. You want to make sure your paint is still wet when doing this. If it dries, it can peel the paint off of the cabinets. Paint takes over 20 days to cure. Until then, it's still pretty fragile and prone to peel if you leave the tape on too long.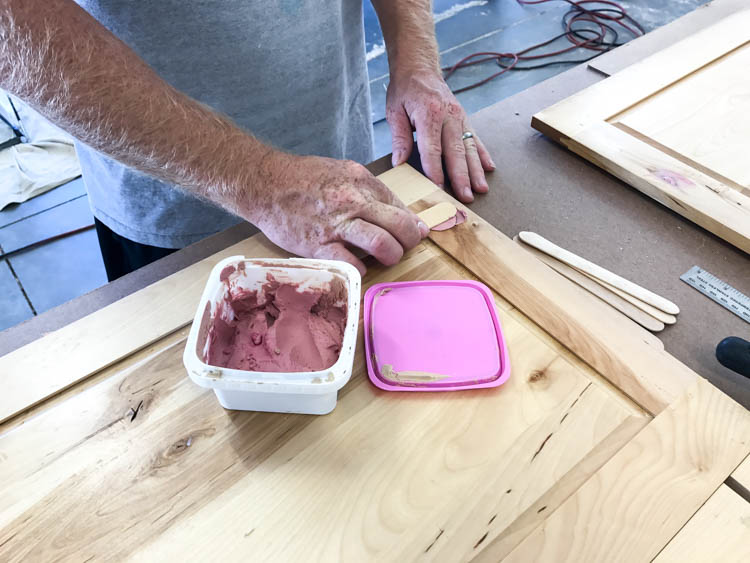 Once the cabinet boxes were painted, it was time to finish the doors. We filled the knots on the insides of the doors with more PlasticWood-X and also reapplied layers of it on some the deeper knots. All of the doors were sanded down with 220 grit sandpaper. We also cleaned them prior to paint with TSP substitute. It removes any grime and fingerprints off of the doors and allows the paint and primer to adhere without having to rinse the cleaner off.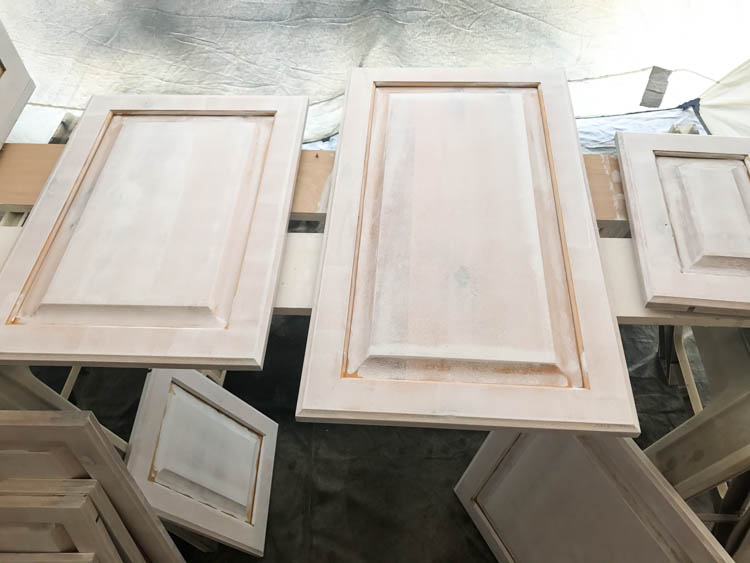 Once all of the knots were filled on the cabinets, it was time for primer. It is a process when you're painting a bunch of cabinets, but an absolutely necessary step to make sure your paint job stands the test of time. I used a roller and brush to apply the primer, then used my paint sprayer to apply three coats of paint to each side of the doors.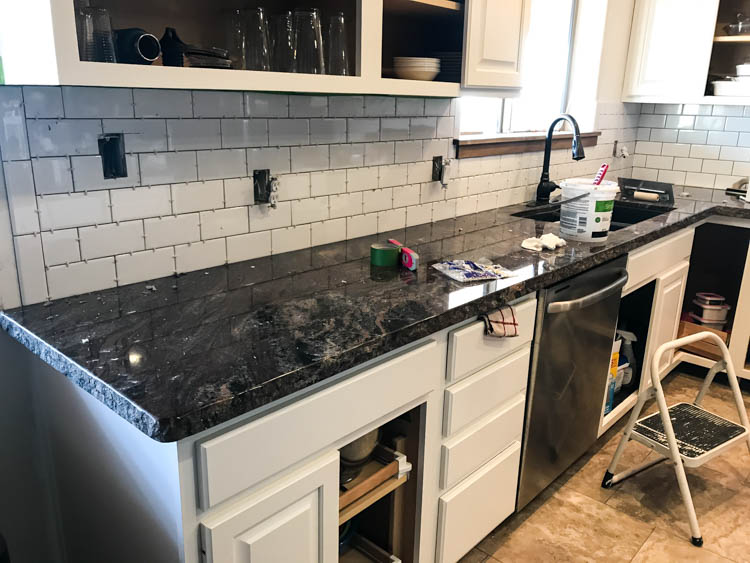 For the drawers, we decided it was easiest to paint them with a brush and roller. We did all of that in the house and immediately added felt stops to the corners to make sure they didn't stick to the fresh paint on the cabinets themselves. In between all of the painting, we also installed a white subway tile backsplash.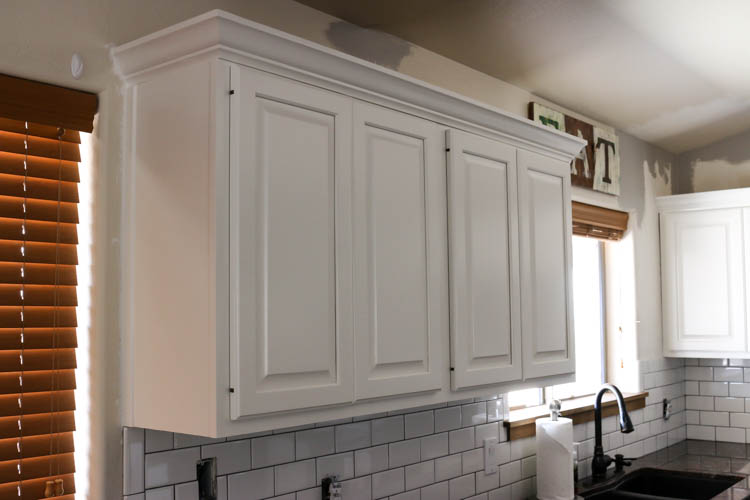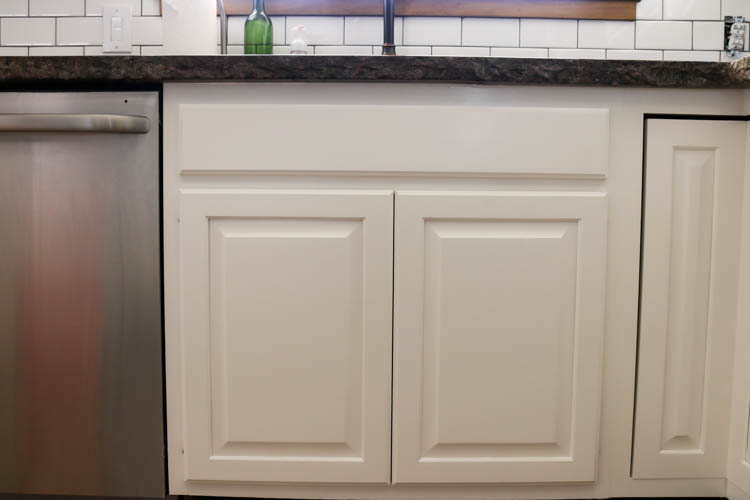 Once all of the doors were painted, we began installing them. Having the doors labeled made it so much easier to keep track of where everything went and made the process so much faster.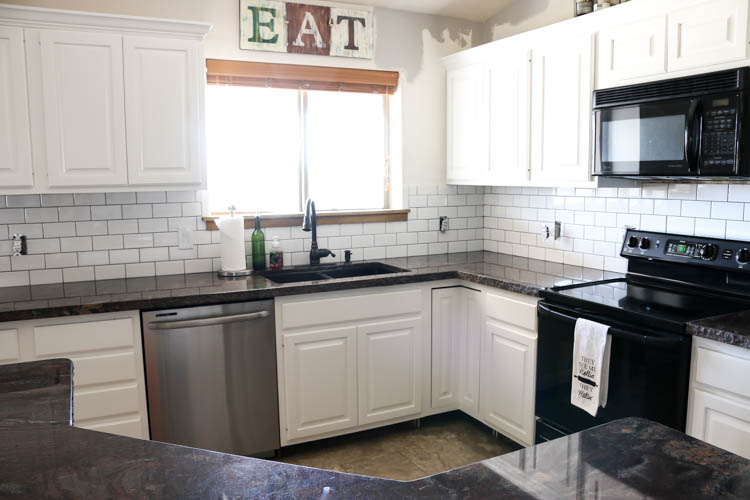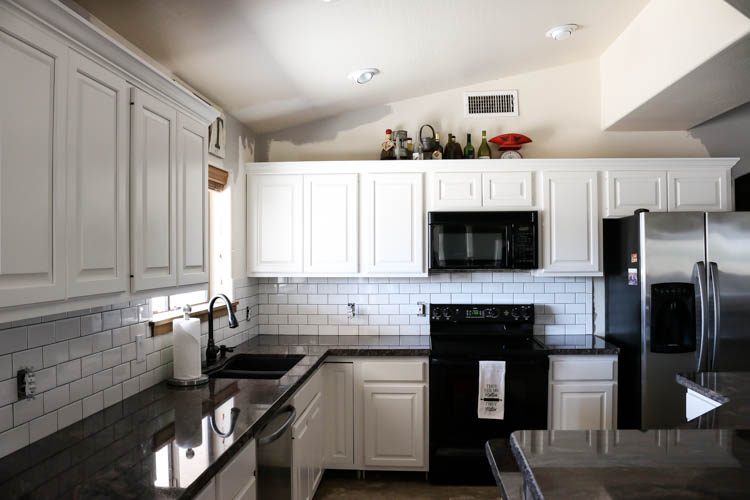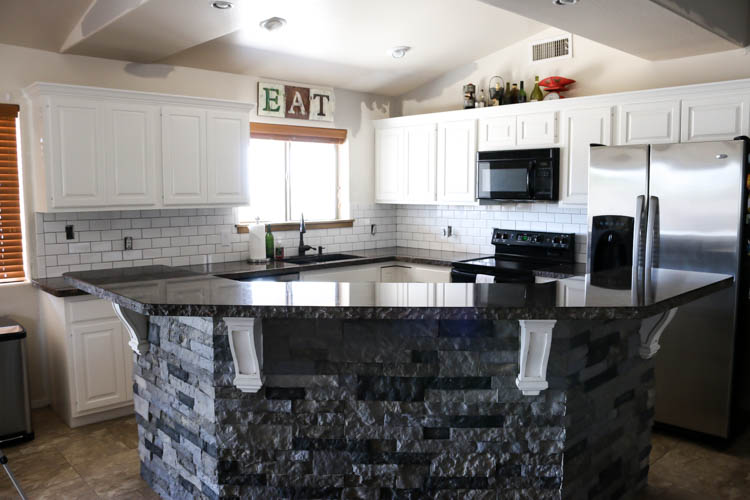 You wouldn't even know after looking at the cabinets that they were once full of huge, deep knots! The wood filler gave us a perfectly smooth surface to work with and we are so happy with how the cabinets turned out. The kitchen felt instantly brighter and bigger with the new color. As you can see, the kitchen isn't quite done yet. The walls of the kitchen are going to be painted in Mindful Grey and it will pair perfectly with the white cabinets and subway tiles. Hardware is also next to be installed so we can protect our hard work from messy little fingers. Even without the paint and hardware being finished, it is such a huge improvement to the overall feeling of the kitchen. It no longer feels dark and dingy, but bright and clean. I can't wait to get it all finished and show you the end result!
DISCLOSURE: I was provided product and/or compensation for this post. All opinions and ideas of the products used are 100% my own.
SaveSaveSaveSaveSaveSave