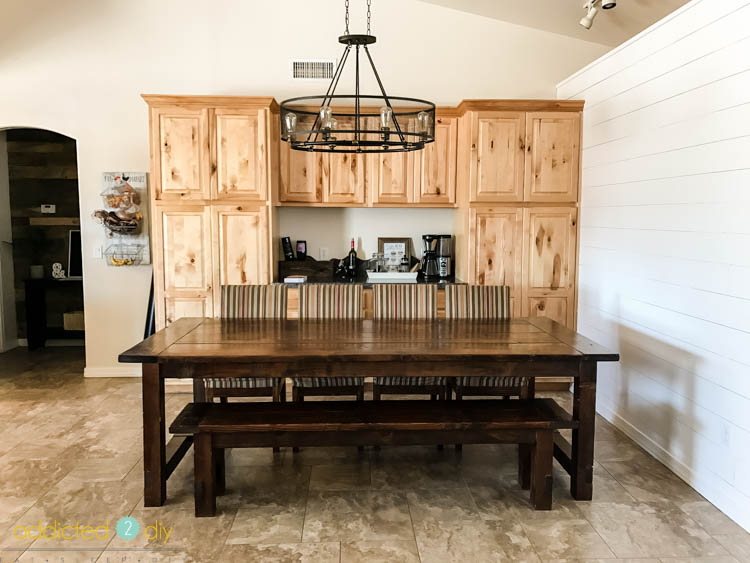 Friends, the day we've all been waiting for is finally here! After 6 weeks, it's time to finally show you the big reveal of my modern farmhouse dining room! It definitely hasn't been an easy road, though any sort of room remodel in 6 weeks is hard. Thanks to the discovery of our roof leak in the kitchen, my remodel plans stood in a holding pattern for about 2 1/2 weeks while we waited to see exactly what our insurance company would say. It forced me to switch gears and go with only my dining room for this One Room Challenge. As you can see from the "before picture," the cabinets were a natural knotty alder or pine (we still aren't sure yet), the backsplash consisted of godawful granite mountains, and the walls were still the same bland antique white that we painted the entire house when we first got the keys and remodeled it 6 years ago. Are you ready to see what it looks like now?
Drum roll, please…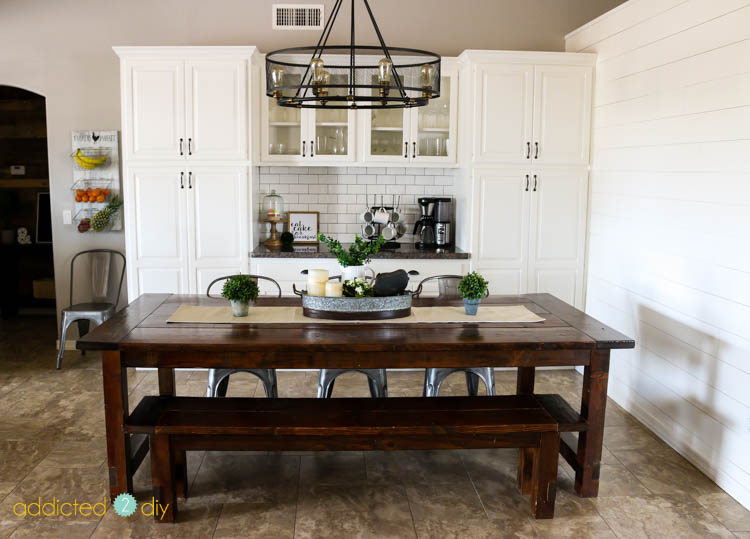 I can't believe it's even the same room! It's crazy how huge of an impact it made by painting the cabinets white. The room is a million times brighter and feels so fresh and clean.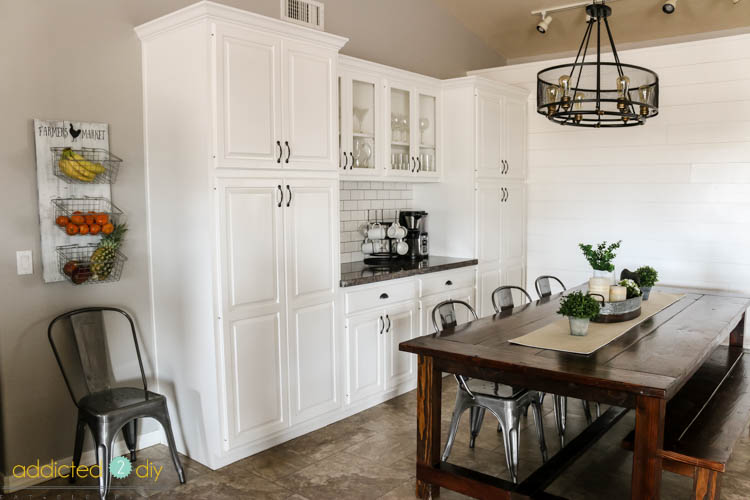 My husband was really nervous about having a white shiplap wall next to white cabinets, but I love it! The dark hardware, chandelier, add a perfect contrast to the white cabinets. The upper middle doors no longer being enclosed adds so much depth to the space, too! We're all friends here, right? Truth be told, there's no glass in those doors just yet. I was not able to get the glass in and let the silicone dry in time for me to take photos, so I just had to improvise and pretend;)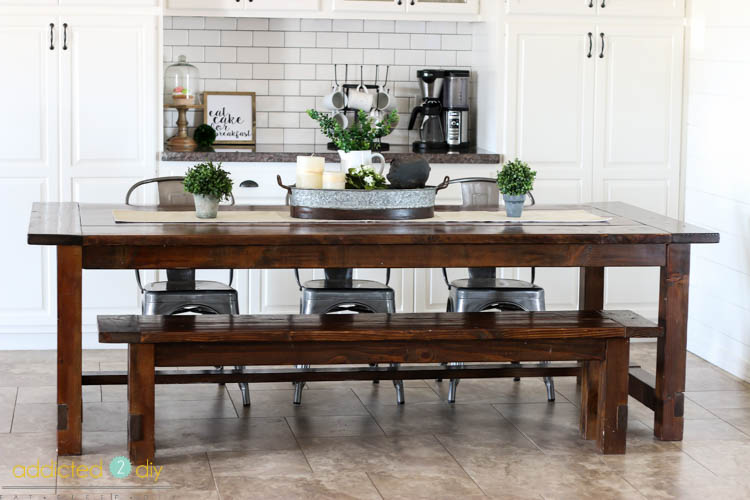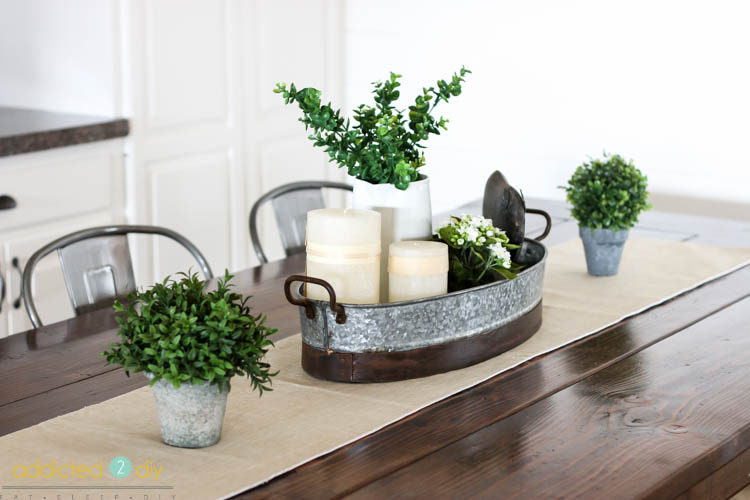 My typically barren dining table got some much needed love during all of this too, with a pretty farmhouse style centerpiece. I put together some items from a local boutique store along with some finds from Hobby Lobby and my nearby grocery store. While the plants may be fake, they make the space feel so much more welcoming, rather than stark and sterile. The dining chairs caused a bit of a conflict between myself and the rest of my family, but if you've been following along with my blog for a while, you know that is nothing new. At this point, it's just funny. Besides, by the next day, nobody cares anymore.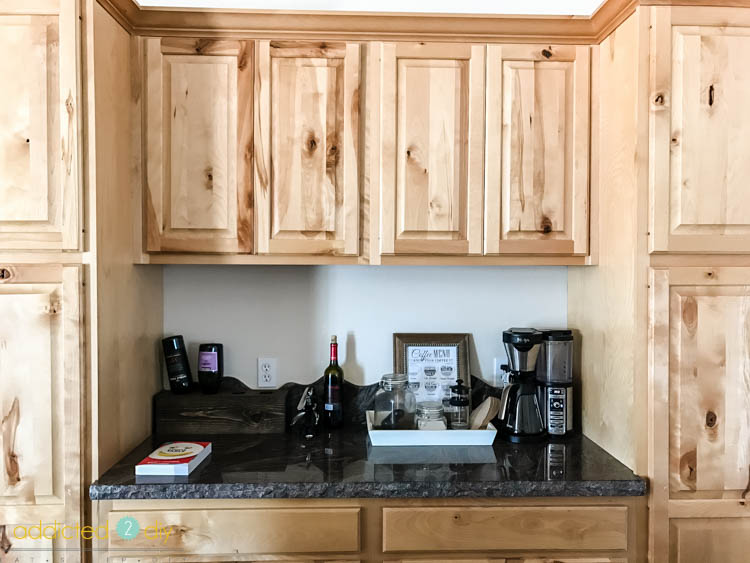 Our dining room counter lacked a lot of personality and that backsplash was such a thorn in my side.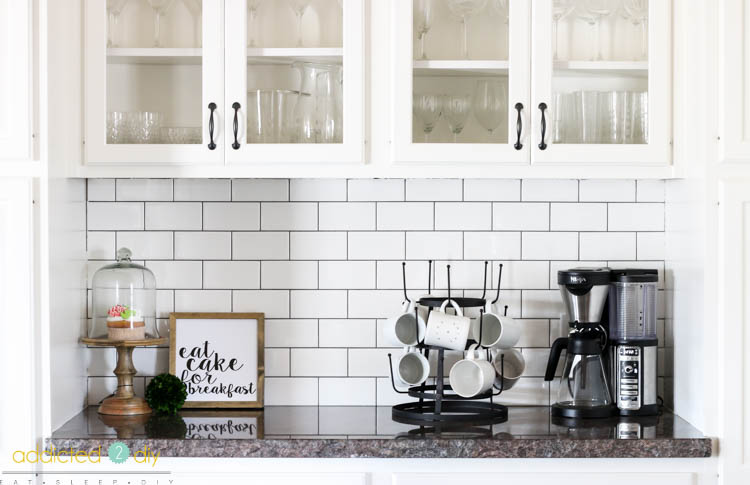 Even before painting the cabinets, the subway tiles alone made a huge impact on this little space. Now, it's bright, crisp and clean looking, vs. the cluttered feeling of the "before."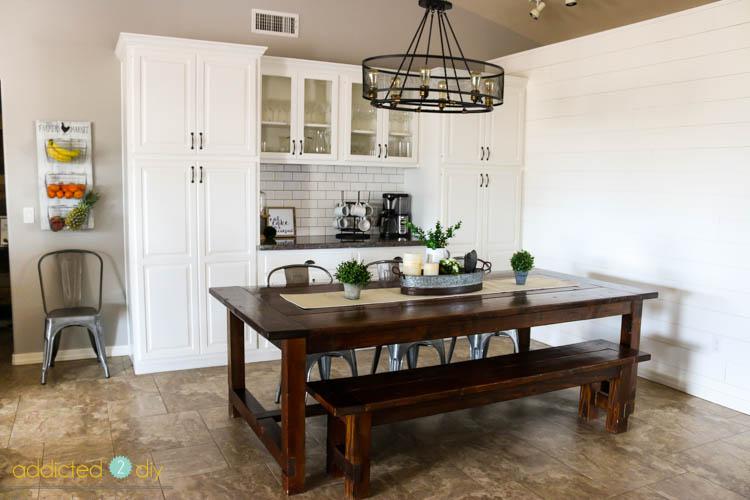 I'll be honest. I have a hard time not staring at this room and marveling at how far it's come in such a short time. It is a completely night and day difference between what it was and where it is now. It makes me so anxious to get things repaired in the kitchen…so I can tear it all apart again;)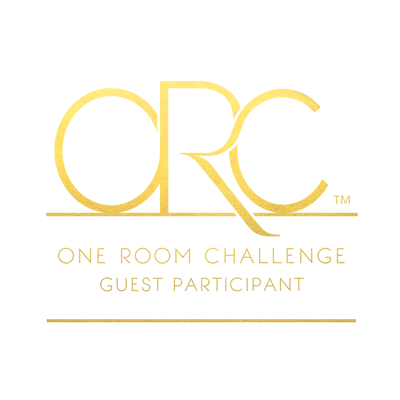 My dining room isn't the only huge transformation that you need to see. Please be sure to check out all of the other stunning room transformations in the One Room Challenge. It is truly incredible the talent these fellow bloggers possess!