You guys, I don't know if I took some crazy pills a few weeks ago or what, but I decided that I was going to participate in the Spring 2017 One Room Challenge (ORC)! This is my first time participating and to say I'm nervous would be an understatement! In the next six weeks, I'm going to be transforming my kitchen and dining room and sharing the journey with you each week.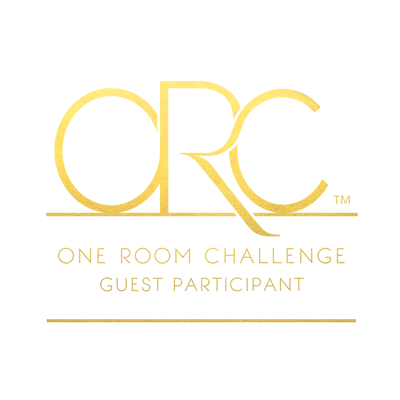 My kitchen has been on my "to-do" list for years. It has just never been my style, but I've lacked the courage and a real plan the pull the trigger and start remodeling it. This year, I finally came up with a vision of how I wanted it to look and can't wait to get started.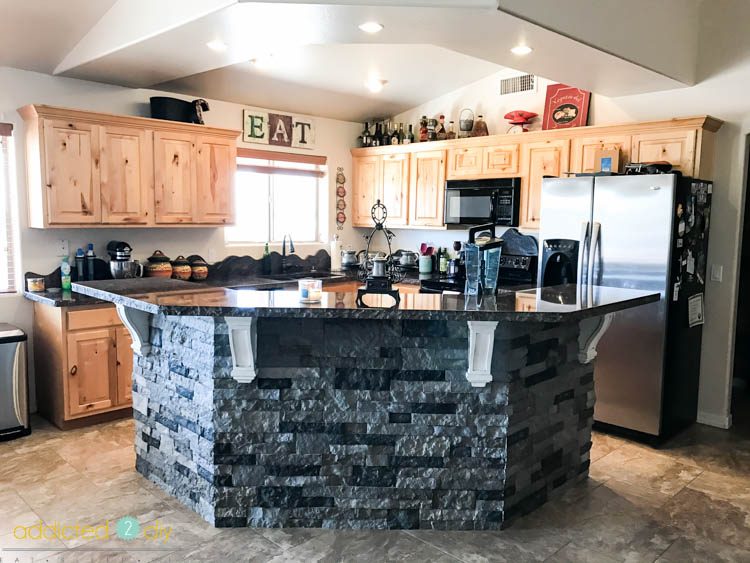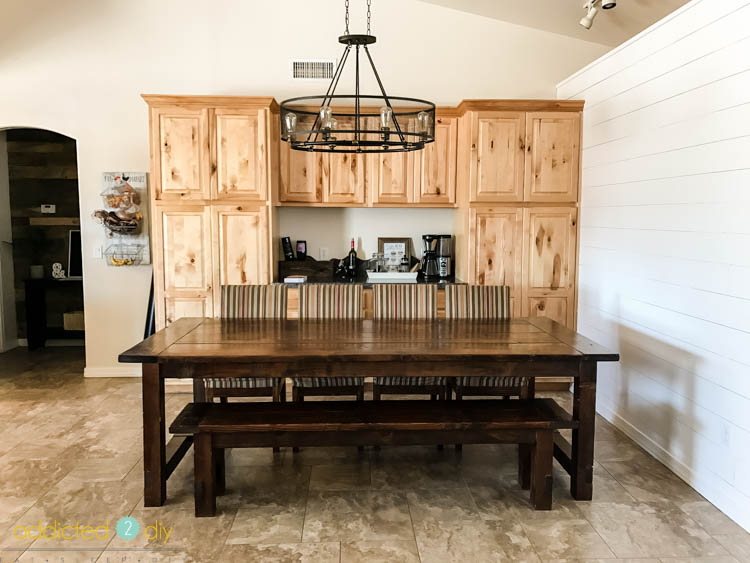 My house is an open floorplan, so our dining room is just off of our kitchen. In fact, when you walk in our house, you can see just about every room. It would be silly to not make over both rooms at the same time, so I'm increasing my workload just a bit. I've already made a couple of improvements to the room like adding faux shiplap and changing out the old chandelier, but that's about it.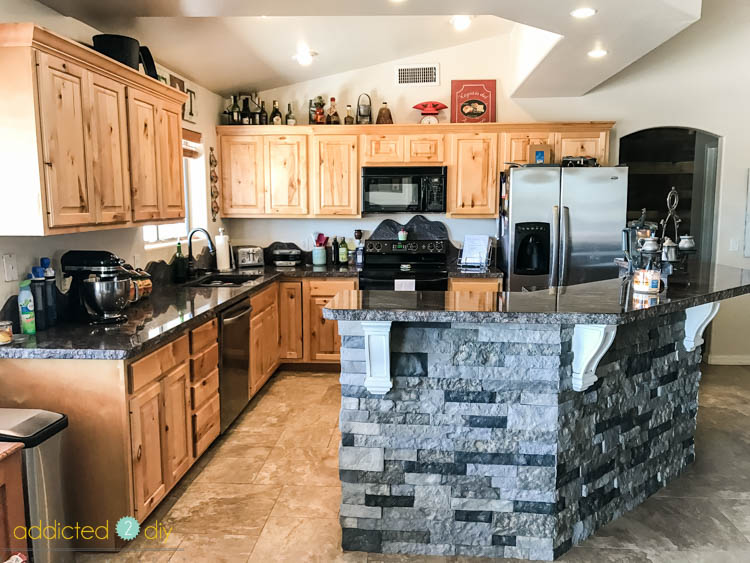 We added the stone to our kitchen island a couple of years ago, which was a huge improvement over what originally looked like a UFO landed in our kitchen. The rest of the kitchen has just sat in limbo while I tried to decide exactly what I wanted to do. It's a marathon, not a sprint, right?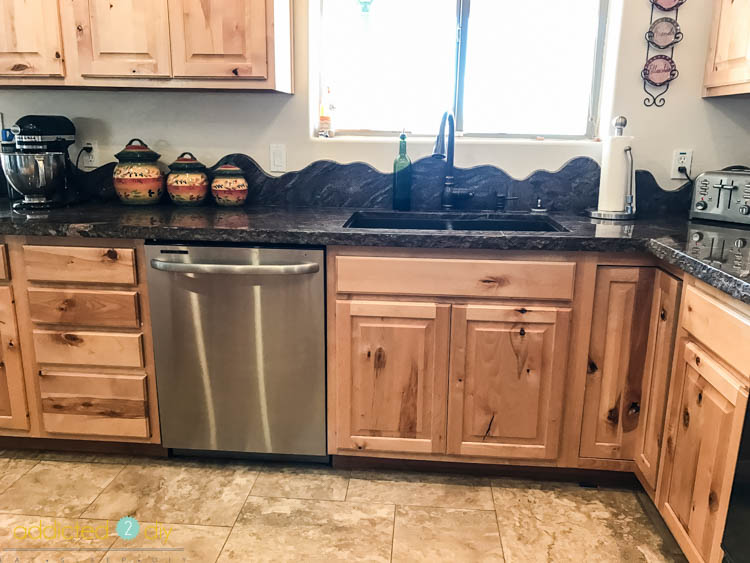 The first thing to go will be the granite mountains. I'll be honest. We said "no" to this house SO many times before we bought it. One of the reasons was the granite mountain backsplash throughout the kitchen and dining room. Nevermind the fact that there was green carpet everywhere, the kitchen also used to be red, and the now shiplap wall in the dining room was some sort of mixture of purple, with what looked like sponge painted black and silver.
The cabinets are knotty alder, which are I know makes some people cringe when they think of me painting them, but it's just not the look I love. It will be A LOT of work to fill each and every one of those knots, but I'm so looking forward to having a bright white kitchen!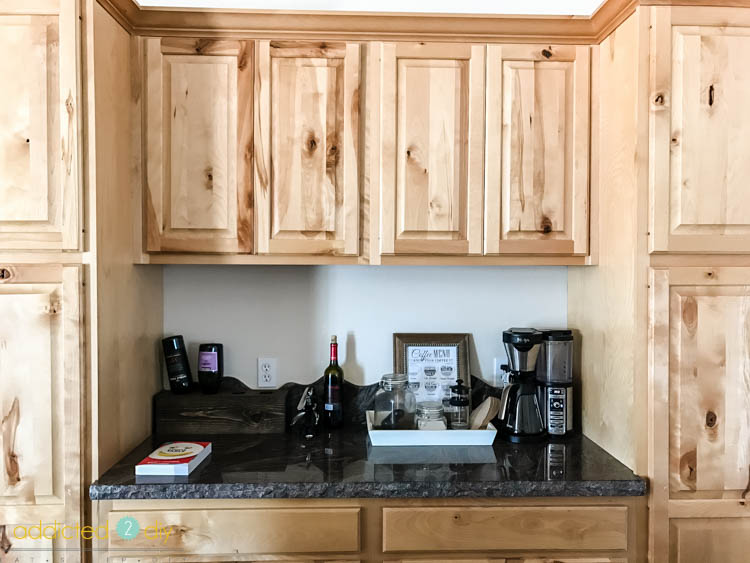 Our dining room cabinets serve as our pantry and also hold our "fancy" drinkware. The drinkware is stored in the inset upper cabinets, so I'll be replacing the faces of those with glass.
Because I love the modern farmhouse look so much, the kitchen will reflect that when I'm finished. I have been inspired by so many kitchens over the past few years and have pulled together different elements from each one. Here's a few I'm using for inspiration.
Modern Farmhouse Kitchen Makeover/ Bless'er House
Kitchen Tour/For the Love of a House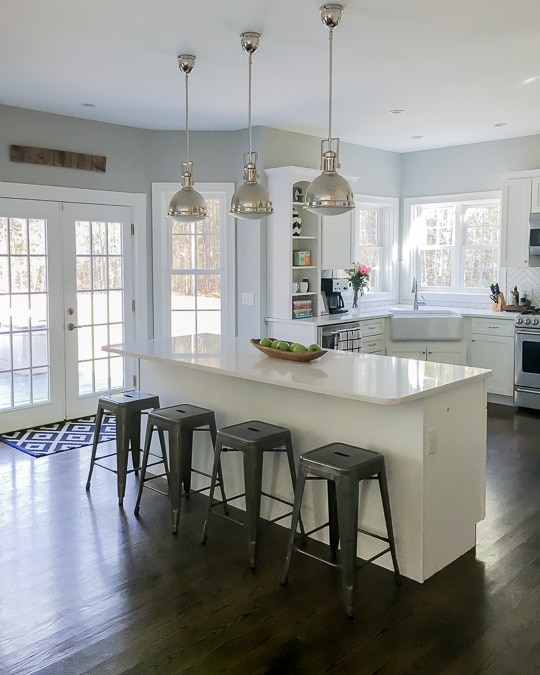 Kitchen Makeover/shared on Polished Habitat
Cottage on Tyler/Liz Marie Blog
These kitchens are so gorgeous and I am finding so much inspiration from them! Here's a breakdown of my plan.
Remove old backsplash
Install white subway tile
Fill knots and paint cabinets
Install cabinet hardware
Install pendant lights over the island
Replace cabinet fronts in dining room with glass
Cabinet/drawer hardware
Paint walls
New chairs for the dining room
I can't wait to see the transformation over the next six weeks and I hope you'll be following along with me! Make sure to follow me on Facebook (for Facebook Live videos) and YouTube where I'll also be sharing the kitchen makeover journey. Hopefully not too many bloopers! Also, be sure to check out all of the other room transformations in the One Room Challenge, over at Calling It Home!