Hey everyone! I've teamed up with 16 other super talented bloggers in a fun blog hop challenge. We were challenged to create something amazing from a 1x8x8′ board. We could use any species of wood, and elements such as hardware were allowed to be used, but that's it. Talk about a challenge!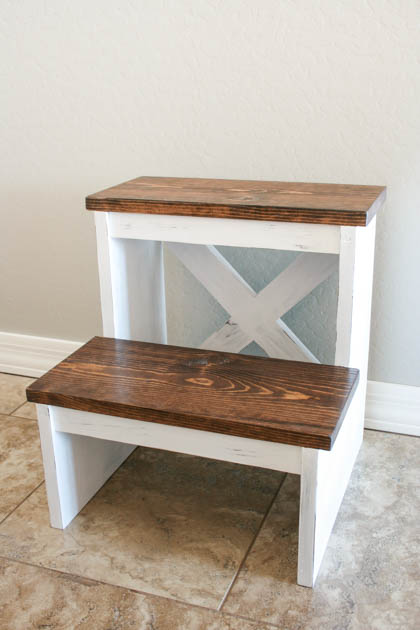 I was pretty stumped for a while, but necessity finally allowed inspiration to strike and I came up with a plan. My husband had surgery on his shoulder for a torn rotator cuff one week ago today. To say I was stressed out about leaving him to go to Atlanta would be an understatement. He assured me he and the boys would be fine, but my youngest still needs help reaching some things in the kitchen. A step stool that he could easily move around was the perfect solution and I'm sure it makes my oldest a lot happier that he doesn't have to help him with everything all of the time. I've also included the free printable plans for this simple project.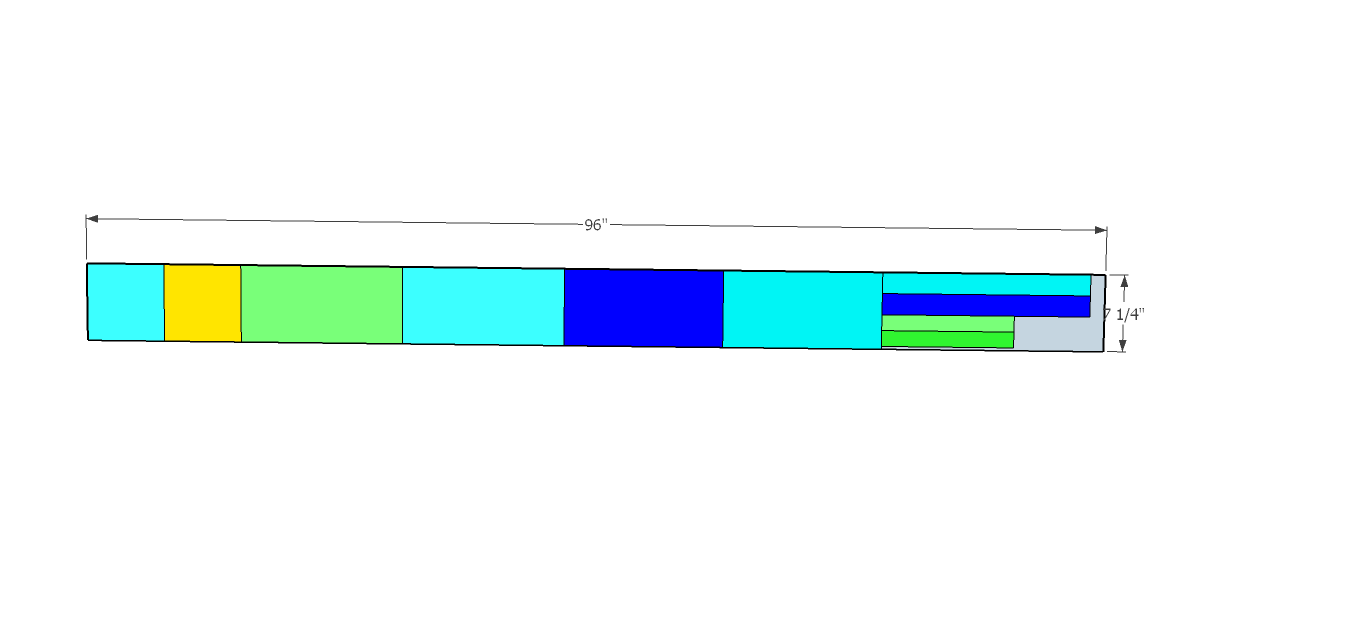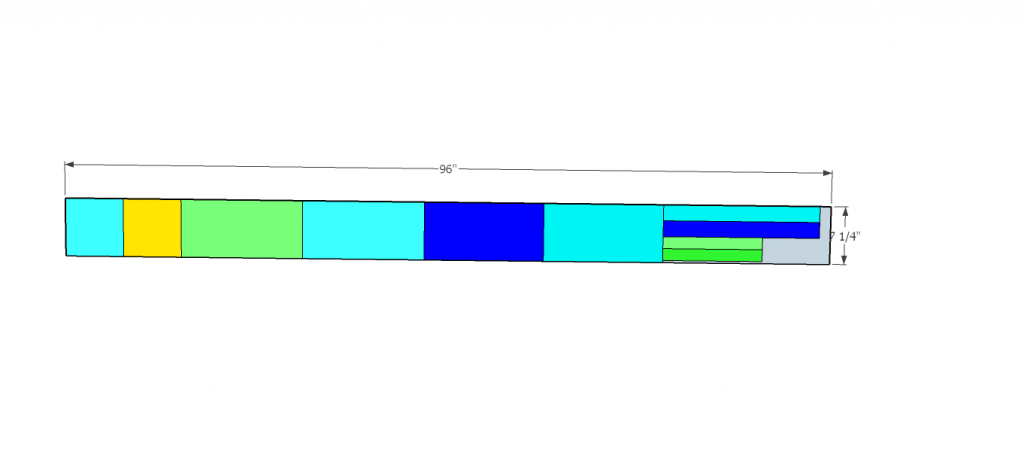 You can see from the picture above that I used just about the entire 8′ of board to make this step stool. Some pieces were ripped down on my table saw, and others were just cut with my miter saw.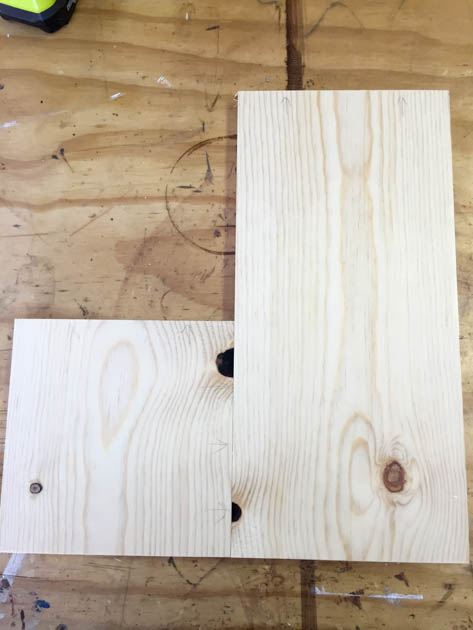 I cut my side pieces first and drilled pocket holes in them. I like to draw little arrows on the wood with a pencil notating where my pocket holes are going. It helps me to not forget any.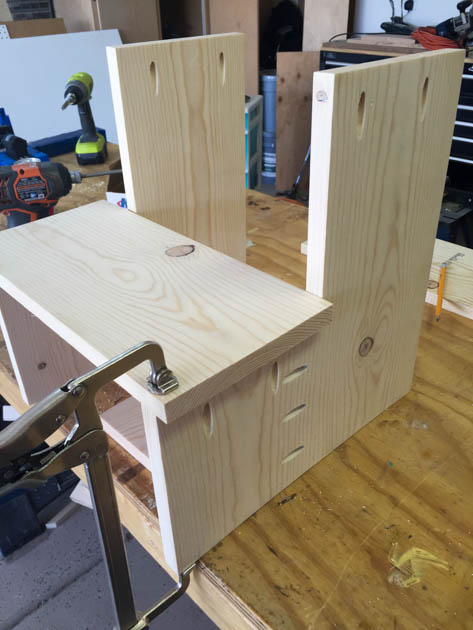 I assembled the sides and attached the steps using wood glue and 1 1/4″ pocket screws. You'll probably notice my mistake of drilling my pocket holes on the wrong side for this side piece. Luckily my plan was to paint this step stool, so it's easy to hide with wood filler. Proof that nobody's perfect.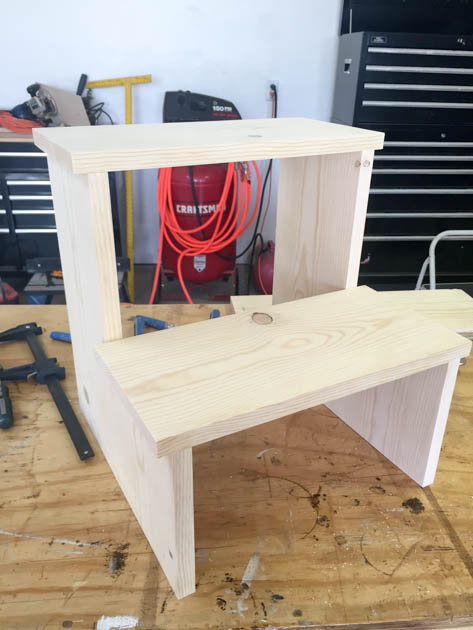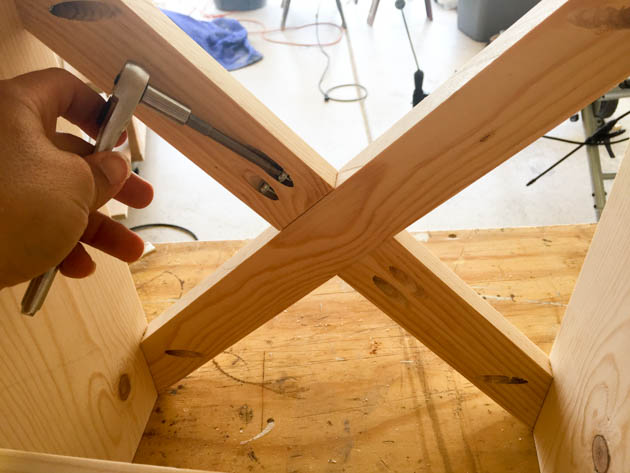 Once the sides and steps were assembled, I ripped down the pieces for the X back. To figured out where to make my cut lines for the middle of the X, I first attached my solid piece, then lined up the other piece where it would go and drew pencil lines. I attached it all with wood glue and 1 1/4″ pocket screws. It got a little tight to fit my impact driver to screw the middle screws in, but a ratchet made for a good substitute.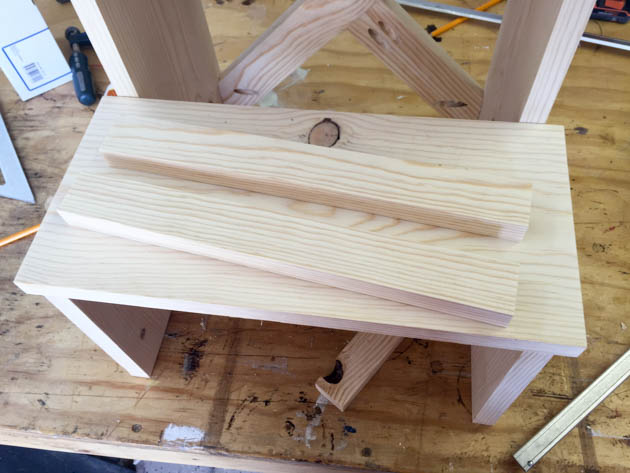 I ripped down my remaining piece of the board into two 1 1/2″ pieces and added them as trim and extra support for the stool.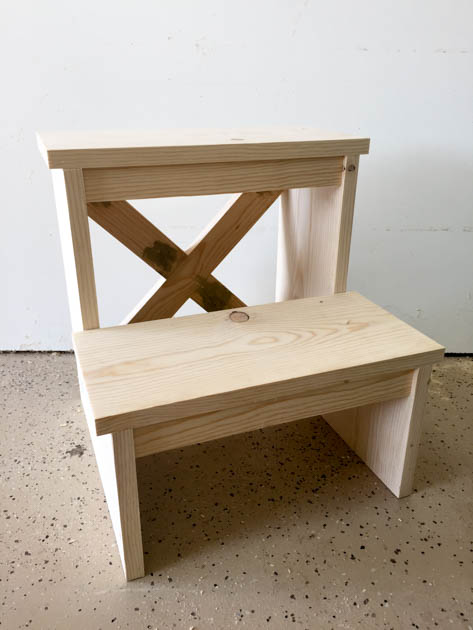 Once the entire stool was done, I filled all of the pocket holes with wood filler, let it dry, and sanded everything down.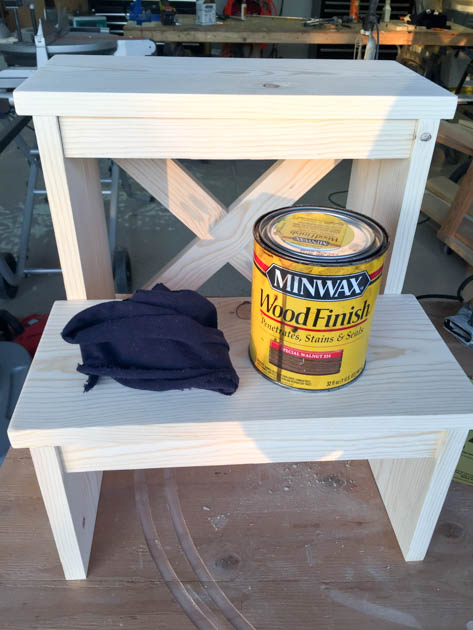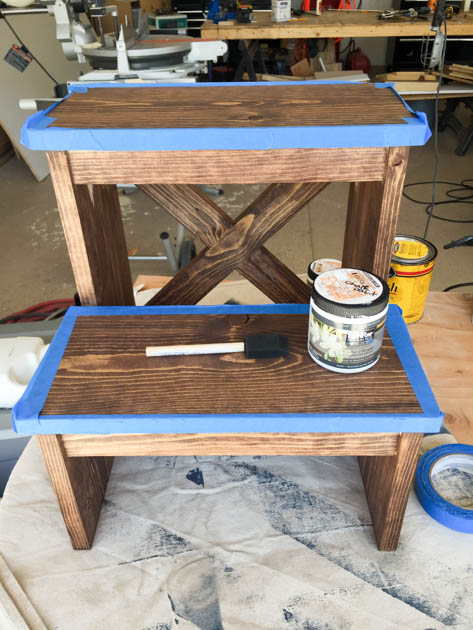 I wanted a two tone and distressed look for the finished stool, so I first stained it using Minwax stain in special walnut, then I taped off the steps and painted the body of the stool with homemade chalk paint (Behr White Dove).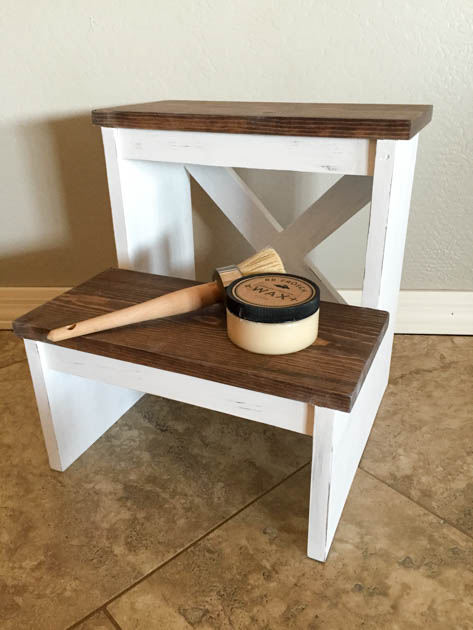 I sanded the stool down a bit to show some of the stain underneath and then gave it a coat of paste wax.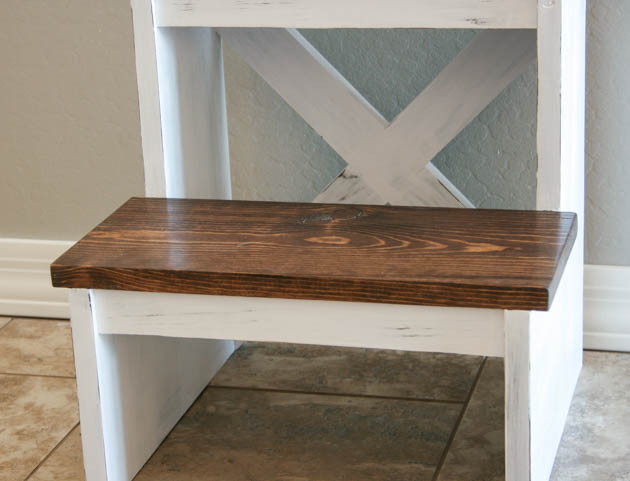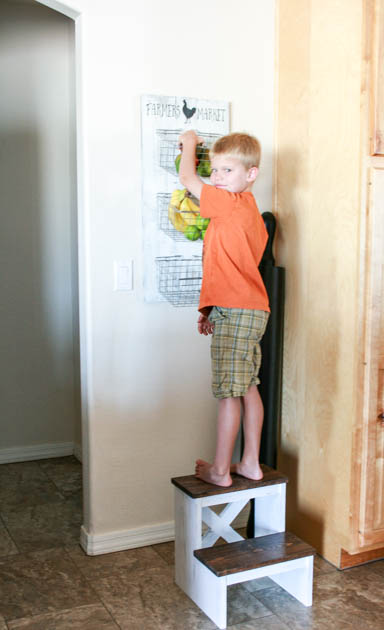 The stool was the perfect height for my 7 year old to reach fruit from the produce rack I built, the microwave, etc. He loves it and it's sturdy enough to even hold an adult!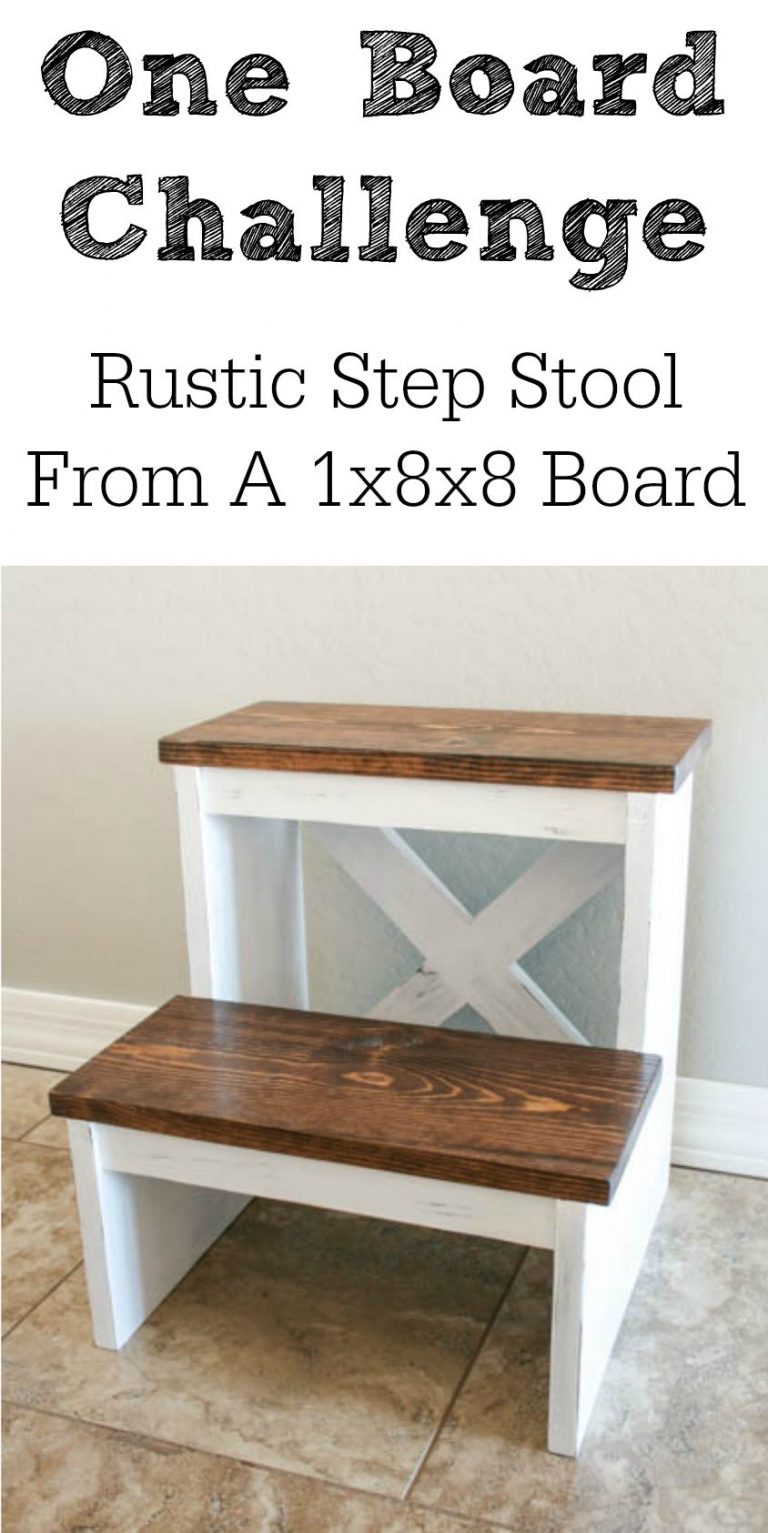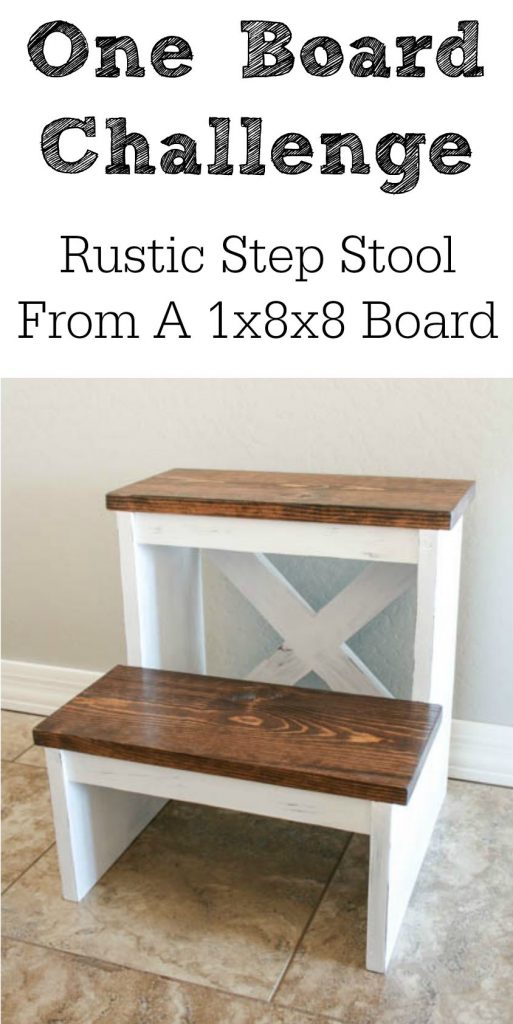 If you want to see more amazing One Board Challenge projects, make sure you visit the other bloggers in the blog hop! If you'd like to take on the challenge, just use he hashtag #oneboardchallenge. We'd love to see what our awesome readers come up with!
Here are all of the amazing bloggers participating: