Hey there everyone! I've been working away at getting my office/craft room makeover finished and today I'm sharing what we chose for the new flooring. As I said in my plans for the room, new paint and flooring were going to be happening before we built the Murphy bed. Last week, I shared how I painted the room and added new baseboards. In between the paint and baseboards, we replaced the carpet with laminate wood flooring. With the Murphy bed I'm building being so massive, it was one of those situations where we knew it was now or never.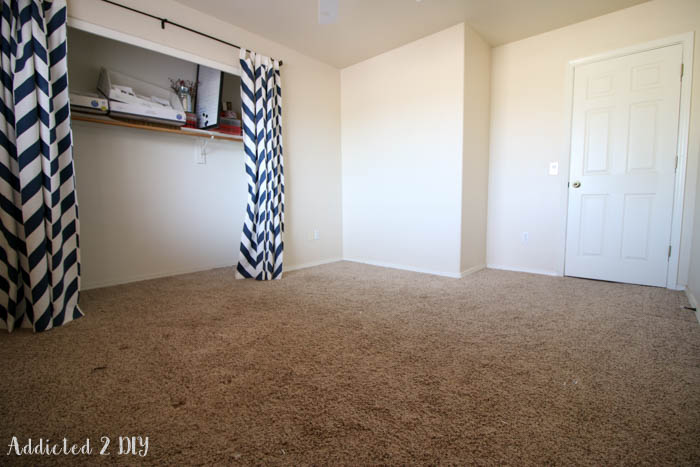 If you follow me on Instagram, you might have seen me seeking opinions on flooring options. We went back and forth between laminate and wood-look tile and finally decided laminate was best for us. I'll explain how we got to that decision in another post.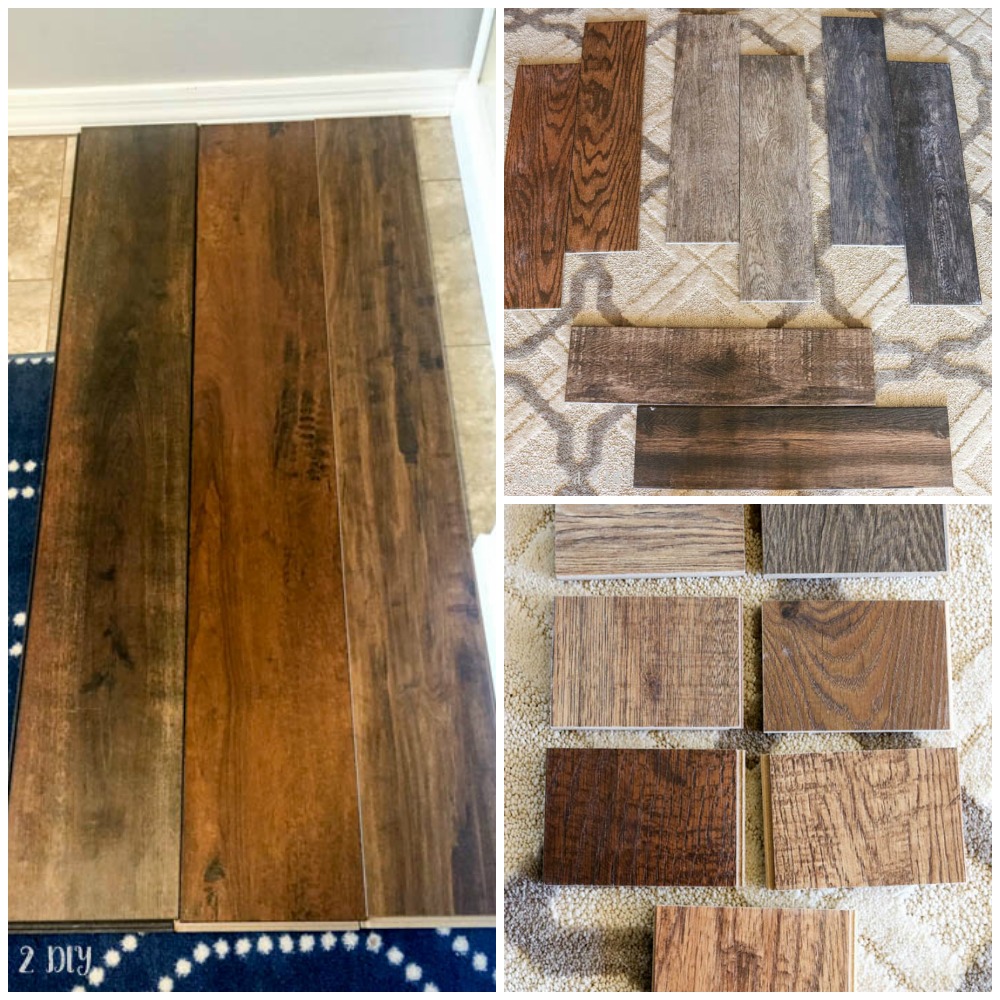 I was so thankful that everyone chimed in with their favorites. I know it's our house and we should do what we want, but sometimes an outside opinion is a great way to narrow down your choices.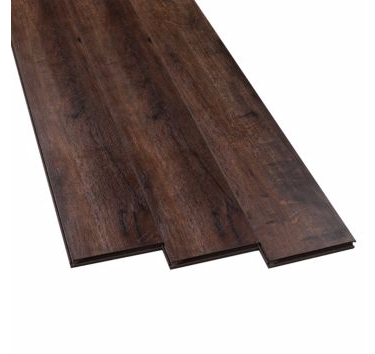 We ended up picking the flooring shown on the left side of the largest picture. It's from Floor & Decor and it's called AquaGuard. The color we chose is Cocoa. We'd never heard of this brand before, but we liked that it had the highest wear rating and that it could be wet mopped! The price was a little higher than we wanted to pay, but we knew we'd regret it if we tried to go the cheapest route. We really liked that this color was a good transition from the tile we have in the rest of the house.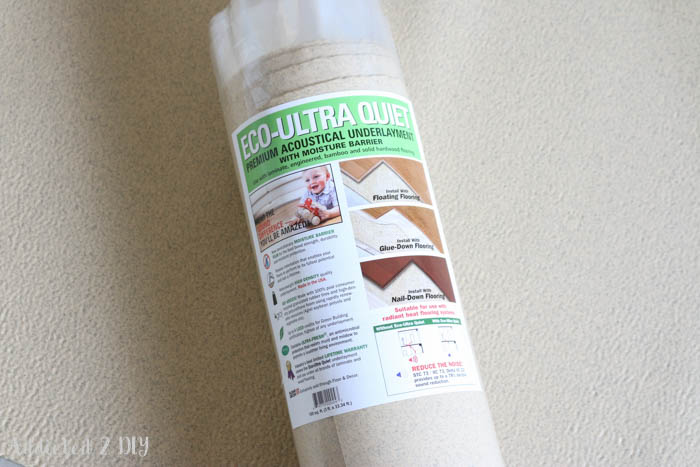 We needed to also buy underlayment material and we chose the Eco-Ultra Quiet underlayment. It also included the moisture barrier, which we needed for the concrete foundation. This was another one that was slightly more expensive ($5 more per 100 square foot roll), but they had a cool little display where you could bounce a golf ball off of the different types of underlayment and this one was by far the quietest.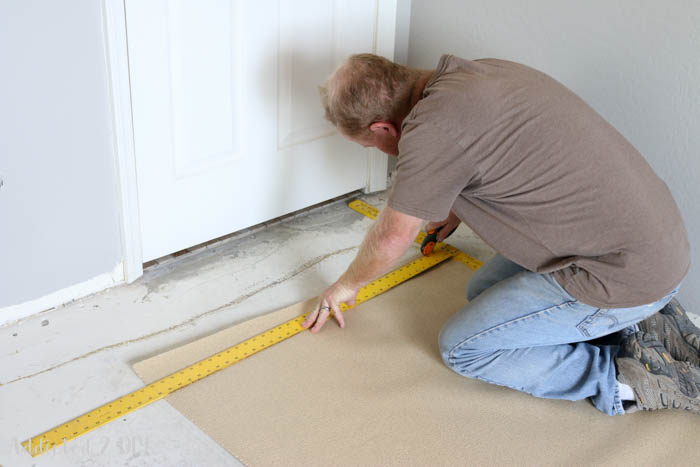 The underlayment was fairly easy to install. One edge of it was sticky, so we just peeled the backing and stuck it to the foundation. After the first row, the sticky edge then sticks to the excess moisture barrier on the non-sticky side of the underlayment. I'm fairly certain there's a better way to explain it, but hopefully you guys are still with me!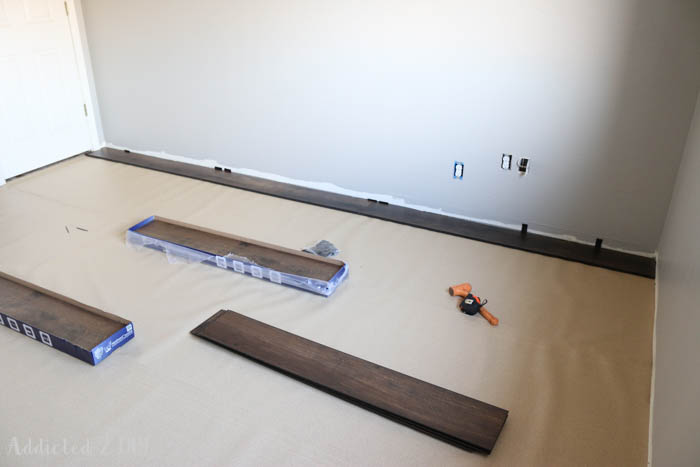 To install the flooring, we worked left to right across the room. We used 3/16″ plastic shims to give some space away from the wall for movement of the flooring. The laminate was able to fit underneath the drywall, so it actually has even more room for any movement that may occur. The flooring fits together with a tongue and groove, so it was simple to lay it all down with minimal effort.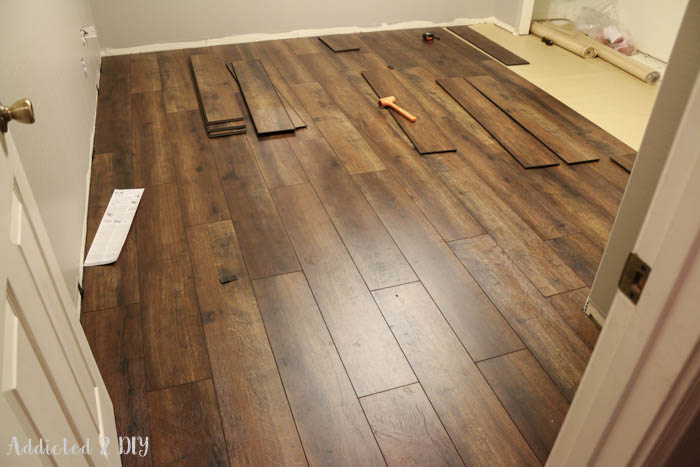 My husband and I have a tendency to be a little high strung when it comes to certain things and how they should be. Thankfully, we usually aren't this way at the same time, which is good. Usually it's me that is freaking out when a project isn't going well and he is having to calm me down. During the first two rows of laying the flooring; however, it was my husband's turn to freak out. We broke a few of the tongues while laying the boards. This had my husband thinking we bought terrible flooring and he was ready to take it all back to the store and demand a refund. Needless to say, after some choice words, a little frustration, and me threatening to kick him out of the room, we finally got a groove going and didn't break another tongue during the rest of the install. We just needed to use a little more finesse. The rest of the room went amazing. The cuts around the closet were tricky, but we got it done with minimal waste.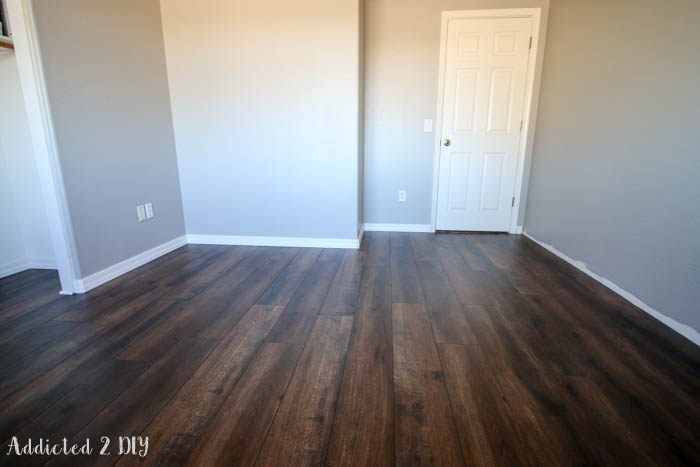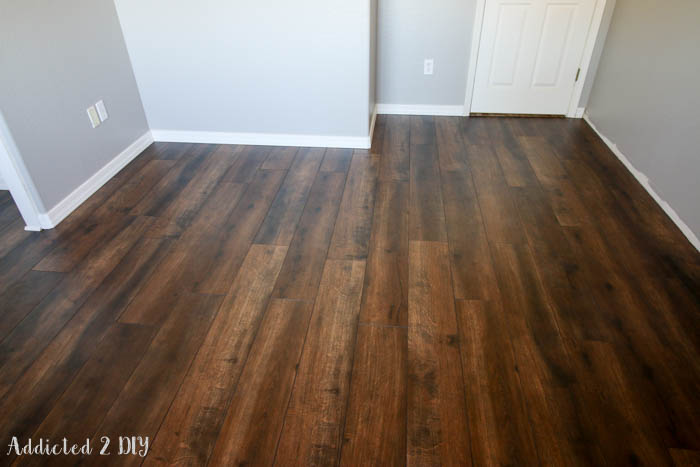 I lost track of the number of times I told my husband "I'm so glad we chose this flooring." It is absolutely gorgeous in this room! The color is so rich and it looks like old barn wood. Perfect for the modern farmhouse style I'm working to achieve in here. We actually love it so much that we are thinking we'll replace the the flooring in the other three bedrooms with this! I will say that we learned A LOT during the process of picking out this flooring and I'm going to share that with you soon, so stay tuned!
If you missed the first two parts of this modern farmhouse office makeover, you can find those here: