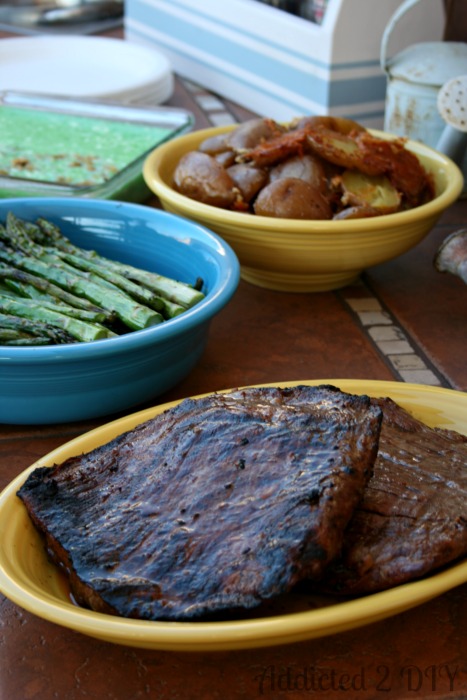 Memorial Day is just around the corner and today I want to share a recipe that is a favorite at family BBQs. It is one of my favorite steak recipes and it instantly becomes a favorite for anyone who hasn't ever tried it. It is super juicy and flavorful. It's also so easy to make! You marinate the flank steak for 24-48 hours and then grill! It's a great main dish for a BBQ because it doesn't require a lot of prep and it is easily sliced and served. That means less stress for you and your friends will be begging for the recipe!
When we make this, we always make at least two flank steaks. We usually purchase them from Costco in packs of two. This recipe is marinade for one steak, so just double or triple it if you are making more. If there are leftovers, they are great reheated or served cold on top of salads. Check out the printable recipe below.
Luau Steak
Ingredients
Flank Steak
1/3 cup soy sauce
1/3 cup vegetable oil
2 tbsp vinegar
1-2 bay leaves
1/2 teaspoon dried minced garlic
1/4 teaspoon liquid smoke
meat tenderizer
Instructions
Sprinkle the flank steak with meat tenderizer and place in a ziploc bag or plastic container. Mix the marinade ingredients in a small bowl and pour over the flank steak. Marinate for 24-48 hours, then grill to desired doneness.