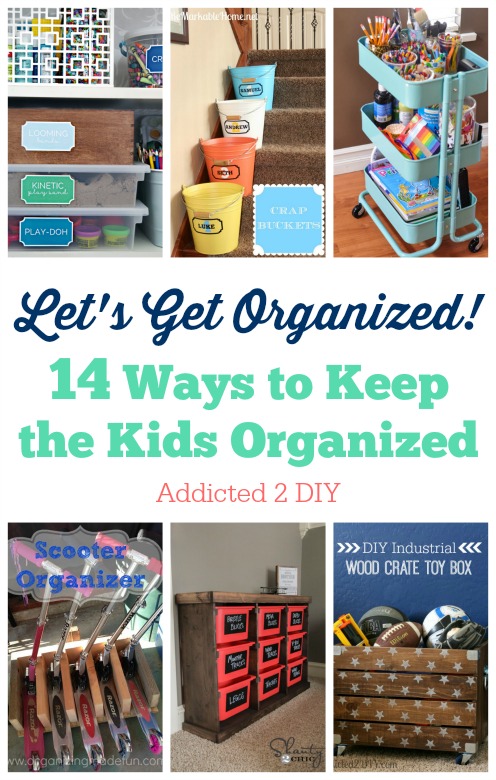 This weekend, I spent some time going through all of my boys' clothes and figuring out what could be kept and what needed to go. It of course inspired me to figure out some awesome organization for not only their bedrooms, but for all of the spaces they utilize around the house (which is basically everywhere). Today, I've got some great ideas for keeping your children's things organized and hopefully keep your sanity. Given that I have two boys, obviously some of these ideas are a tad steered in the masculine direction;) And some of them are my own organizing ideas!
1. Awesome DIY Toy Storage Idea!
I love this toy storage idea from Shanty 2 Chic. It's perfect for keeping toys organized and the kids know where everything goes! I actually feel inspired to do something similar to this in my youngest son's room.
2. Keep Books Organized and Put Away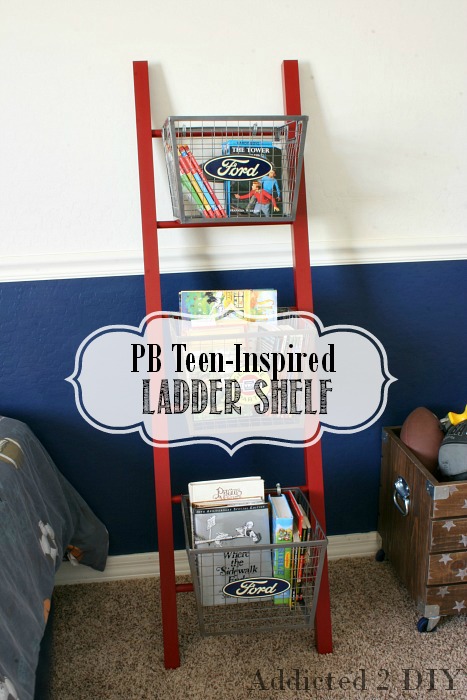 I built this PB Teen-Inspired Ladder Shelf to keep my oldest son's books in order. He's a bookworm and I was so tired of them spilling out of the shelf we originally kept them on. Now everything is put away and he can find his books when he reads at night.
3. Keep Legos Neatly Tucked Away
When you don't have room for storing your legos neatly, why not utilize the space under their beds like this one from Daniel Sicolo Blog. Plus it still gives a space for them to create when it's pulled out from under the bed!
4. Speaking of Lego organization…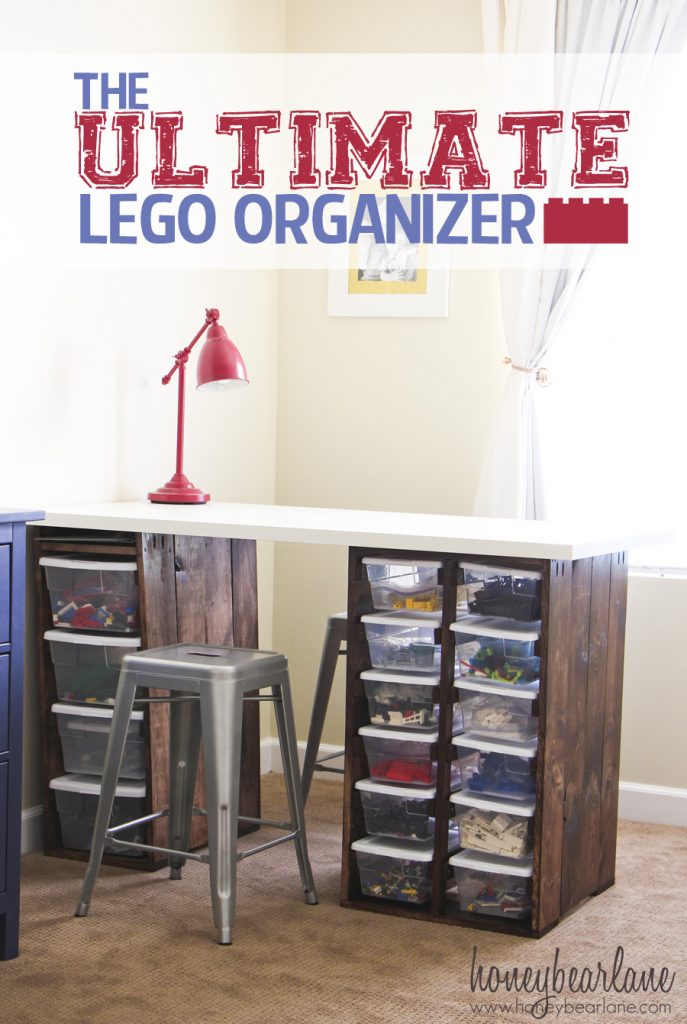 This Ultimate Lego Organizer definitely lives up to its name! This table/organizer is awesome and probably a boy's dream come true!
5. Upcycle storage for under the bed.
Have an old dresser that's falling apart? Dress up the drawers, add some casters, and you've got amazing under bed storage like these from Olive and Love.
6. Add an industrial edge to toy storage.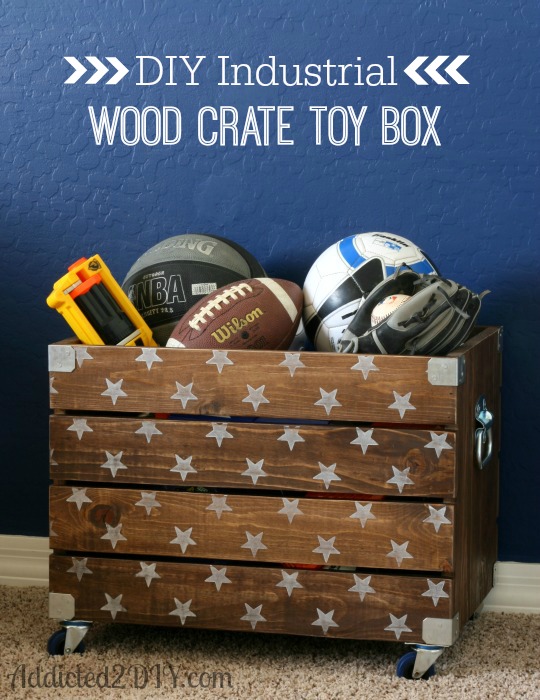 This industrial wood crate was a perfect addition to my oldest son's bedroom. It was so simple to build and can be customized any way you like, such as stenciled stars.
7. Hide a desk in plain sight!
How awesome is this diy murphy desk from Shanty 2 Chic!? It's the perfect solution when you don't really have the space to have a desk set up all of the time. Plus when it's folded up, it's a fun chalkboard!
8. Utilize wall space for storage.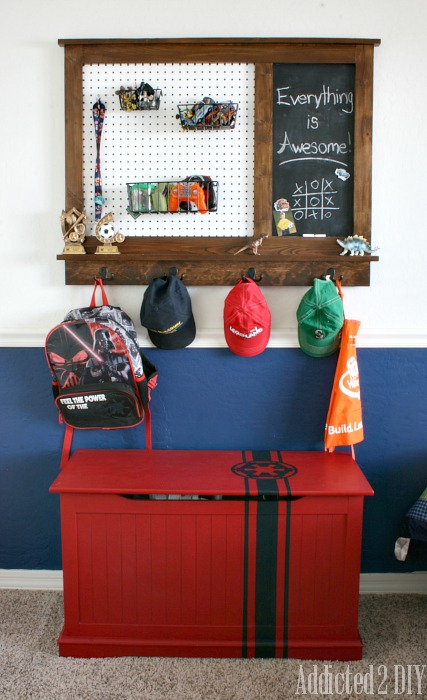 This past summer, I built each of my boys these fun pegboard organizers with chalkboards. My boys love that they can doodle on their chalkboards, and I love that their RC remotes, and small toys, medals, etc have a place to go.
9. Keep the kiddos crafting supplies organized and put away.
When you need to keep your kids' arts and crafts cabinet organized, plastic totes and colorful labels are perfect! I'm especially loving the box with the Rainbow Loom bands! My kids could definitely use some organization like that!
10. Make art supplies mobile.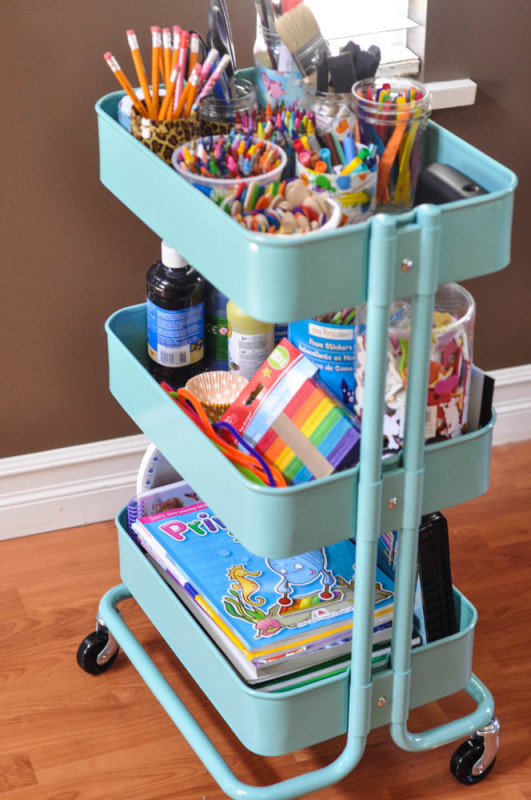 Kids love when things are mobile. A fun and functional cart from IKEA makes a perfect cart for your kids' art supplies, just like this one from Suburble.
11. Knock off some numbered bins for toy storage.
I love these numbered storage bins by Blue i Style. They were inspired by Land of Nod when the real thing was just too small for the IKEA Expedit shelves she bought for her son's room.
12. Make up a way for the kids to help keep things neat and put away.
These colorful buckets decorated with vinyl from Remarkable Home are a perfect way to have your kids pitch in with keeping the house neat and their things organized. I love the fun colors and they're from IKEA! I don't have stairs, but it's tempting sometimes to make my own kids buckets to take to their rooms each day. Just as long as they don't dump the contents on their floors and walk out;)
13. Stop tripping over their outside toys.
Raise your hand if you feel like you constantly have to avoid tripping over scooters and bikes in the garage. I love this simple scooter stand and have definitely got to make one for my boys' scooters and bikes!
14. Rotate toy bins and hide things in plain sight.
This is a fantastic idea from White House Black Shutters! Her kids' toys are organized in bins that they can use and then rotate when they're done playing with a particular set of toys. Plus, she has great ways that she hides some of their toys, diapers, etc. in plain sight around the house.
Feeling Inspired?
Are you feeling inspired? Hopefully these tips will help you with your organization goals for the new year. Pin them for later, when you're ready to get started! If there's a particular idea that you love, please pin from the original source!
I'm definitely feeling inspired to get my boys' things organized. Our den is their "office space" for homework, arts & crafts, etc. so that area could definitely use some attention. I'm also planning to get some major organization done in their bedrooms and I can't wait to get started?
Do you have any kid organization tips? I'd love to hear them!