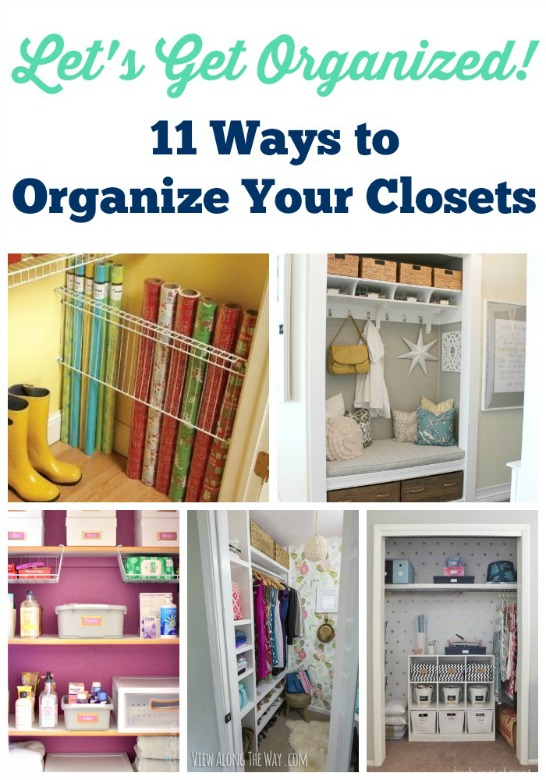 Happy Thursday! Today I've got 11 ways to help you organize your closet space! Closet organization is an area I struggle with quite a bit. I dream of having organized and functional closets in my home, but have yet to come up with a system. Part of our problem is that our closets have to pull double or triple duty. We don't have a single linen or coat closet in our house, which means we have to keep everything in the bedroom closets. It's not ideal to say the least, but it's just one of those oddities about our house that we have to deal with. I'm hoping this year to come up with some solid organization plans for our bedroom closets that will help our overworked and overstuffed closets.
I found these 11 ways to organize your closet to be pretty inspiring!
1. Get creative with shoe storage.
PVC Pipe Shoe Storage from Cookie Loves Milk
2. Store wrapping paper in that dead space.
Found on Just Imagine
3. Create an organized closet retreat.
Organized entry way closet from The House of Smiths.
4. Gorgeous office closet organization.
Decorated and organized office space from House for Five.
5. Hang baseball caps on the back of the closet door.
DIY Hat Organizer found on Just Imagine
6. Organization for a big master closet.
Closet organization from A Bowl Full of Lemons
7. Dollar Store Linen Closet Organization.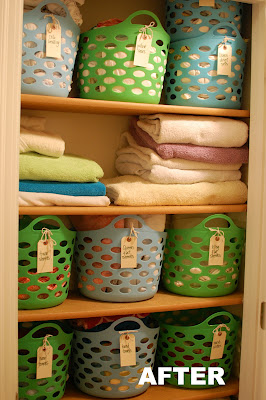 $10 Linen Closet Redo from A Bird and a Bean
8. How to Get an Organized Linen Closet.
6 Steps to an Organized Linen Closet from Tipsaholic
9. Organize Your Closet on a Budget.
DIY Budget-Friendly Closet Makeover from View Along the Way
10. Tips for an Organized Master Closet.
10 Tips to a Better Closet from Confessions of a Serial DIYer
11. Organization can be pretty too.
Radiant Orchid Organized Bathroom Closet from A Prudent Life
I can't wait to implement these ideas in my own closet organization plan. Did you find any ideas that you liked? Do you have any tips to share? I always love hearing how others stay organized!