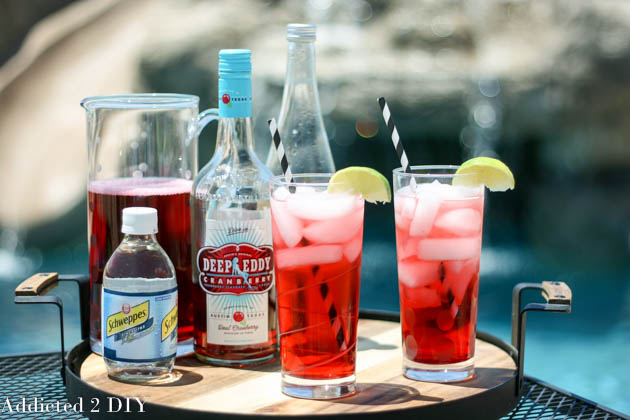 Hey everyone! It's no secret that I love to build a good knockoff project, but recently I managed to recreate an amazing knockoff recipe! A few weeks ago, we went out to celebrate a friend's birthday and the place we went to had this insanely good cocktail called the Deep Eddy Sipper. I love fruity cocktails but sometimes they can be sickeningly sweet. This was not one of those cocktails. It was sweet, but so light and refreshing, so you didn't have a tummy ache when you finished it. I knew I needed to figure out a way to recreate this cocktail so I could enjoy it at home. After a few tedious (insert sarcasm) rounds of recipe testing, I think I finally nailed it!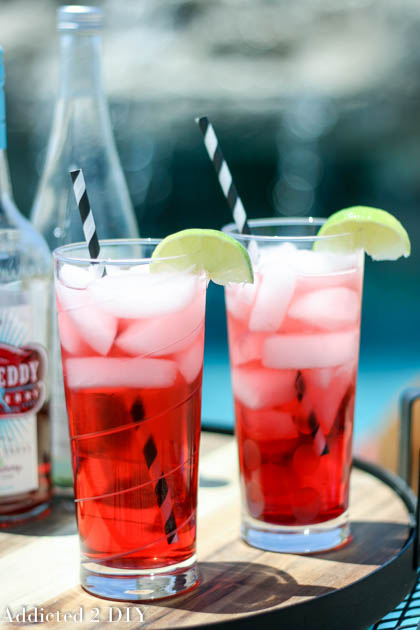 The star of the show is Deep Eddy brand cranberry vodka. I've never heard of this brand before, but apparently it's pretty popular. I guess I just don't get out much:) Here's the yummy recipe for you to enjoy for yourself!
Deep Eddy Sipper
1 1/2 oz Deep Eddy cranberry vodka
1 oz elderflower liqueur
2 oz cranberry juice
lime wedge
club soda
Fill a 16 oz glass with ice cubes. Add in the vodka, elderflower liqueur, and cranberry juice. Top off the glass with club soda and squeeze the lime wedge into the cocktail. Stir and enjoy!
This cocktail recipe would be perfect as a signature cocktail at your next backyard gathering and your friends will love it! Just be sure to enjoy it responsibly.