Hey guys! I'm partnering with HomeRight today to show you one of the latest and greatest products in their AutoRight line of products! Yep, they can help you keep your vehicles looking their best, too! A couple of weeks ago, HomeRight sent me the new AutoRight Steam Machine to try out. The timing couldn't have been more perfect! My husband opened the box and said "I've gotta say. I'm pretty excited about this." Something you'll get excited about is that HomeRight is letting me host a giveaway and one lucky reader will win their very own AutoRight Steam Machine! Make sure you make it to the very end of the post to enter.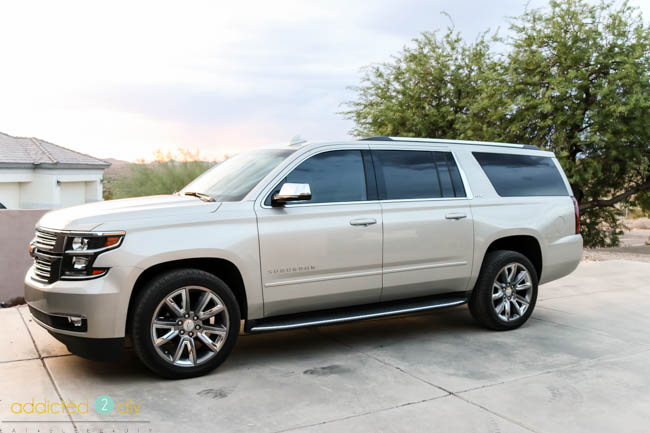 Back in May, I bought a "new" vehicle. I say it that way, because it's new to me. It's a 2015 Suburban, and it only had 10,000 miles on it. It replaced my Ford Expedition that I owned for the past 11 years. Needless to say, I want to keep my luxury boat (as my husband calls it) looking as nice as possible for as long as possible. With two boys and two dogs, that is a bit of a challenge. Quick sidenote: Ever since I bought my slightly used Expedition 11 years ago, I vowed to never buy new again. It also was a year old, had just under 10,000 miles, and had every bell and whistle for $20,000 LESS than a brand new one! My Suburban was exactly the same case. I kept my eye out for that perfect deal, got EXACTLY what I wanted, and again spent $20,000 less than buying new! I'm still learning how to use all of the features in it, but that will come with time;) If you've got the time and patience, and love to save money, I highly recommend going this route when buying a vehicle.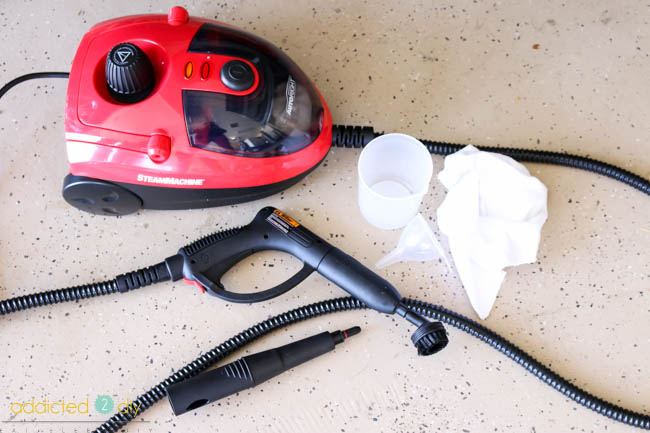 I quickly discovered that no matter how hard I try (and threaten) to keep my boys from putting their feet on the seats or the doors, it's not going to stay sparkling clean without regular care. Thankfully, the AutoRight Steam Machine lets me quickly and easily keep it clean without spending tons of money on multiple products and chemicals.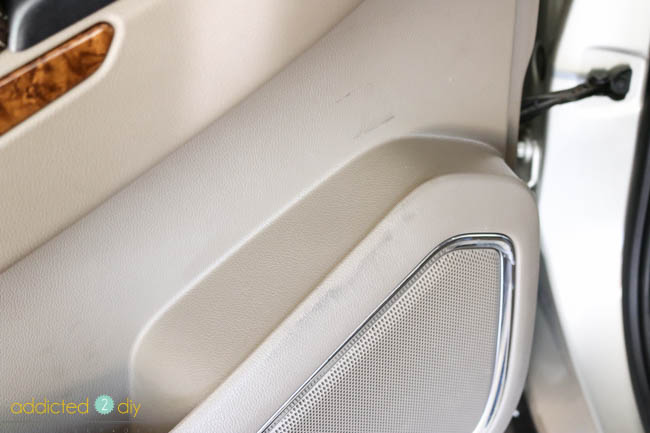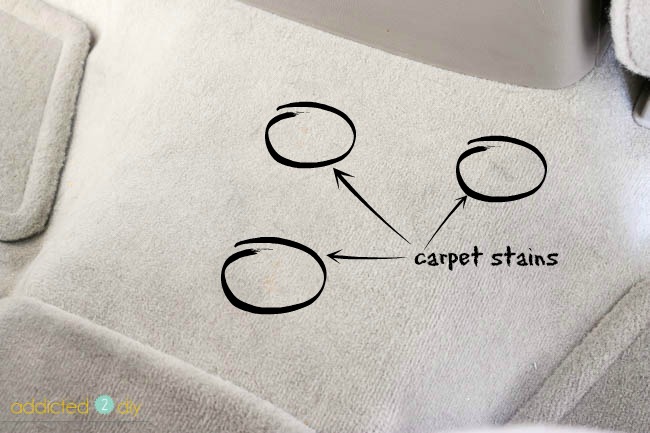 As you can see, nothing is safe from my boys and their dirty shoes or the fact that I let them on occasion have something besides water to drink.
Which had me feeling like this when I found the above carpet stains after only having the Suburban for maybe a month.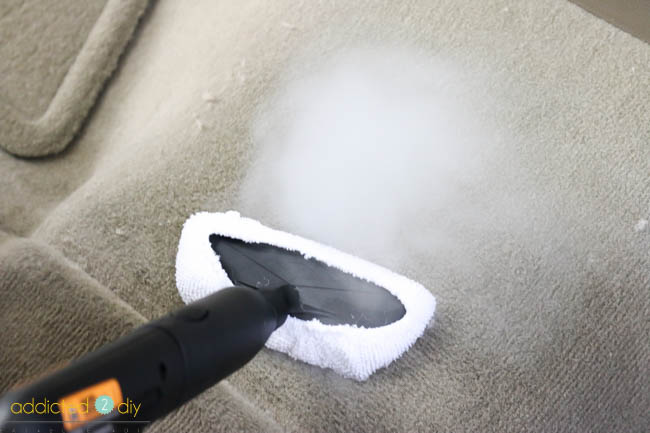 The steam machine comes with a ton of attachments. One of them being this handy carpet cleaner. It's safe to use on carpets and also leather!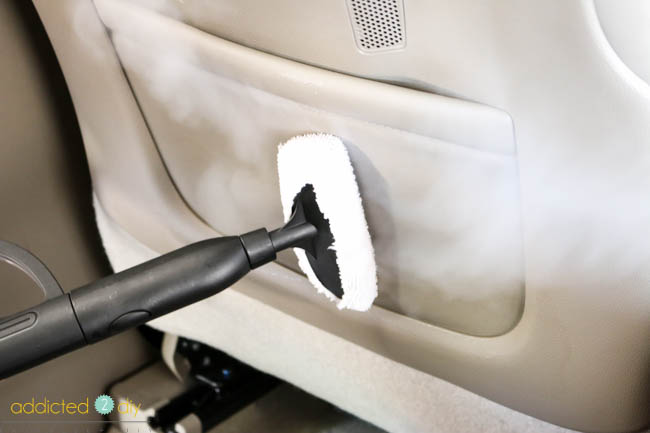 The back of the driver's seat also had several shoe prints from my 8 year old. They came right off with just a few passes with the steamer. On top of the microfiber cover for the carpet attachment, the steam machine also comes with a microfiber rag to wipe down any areas after you've steamed them.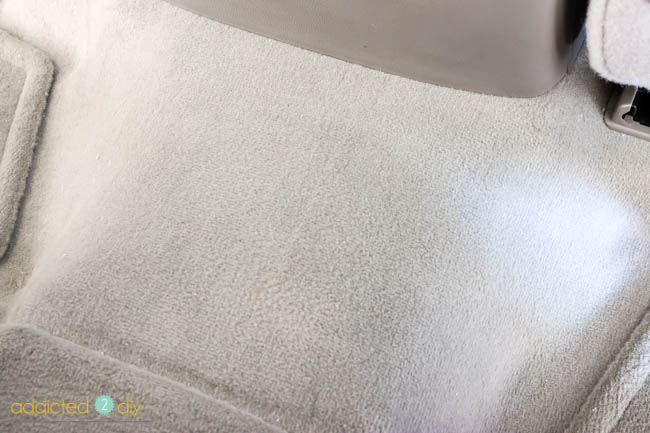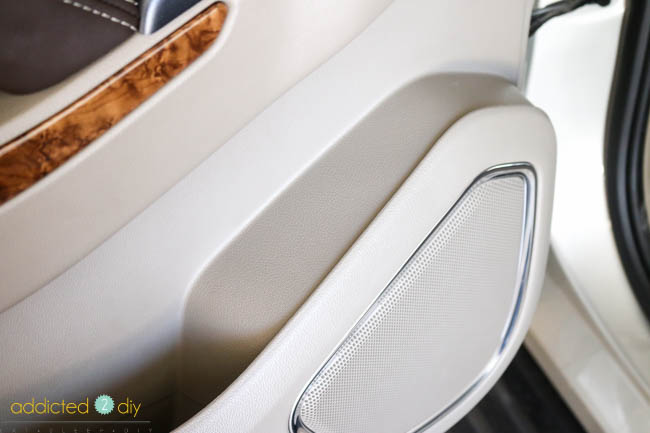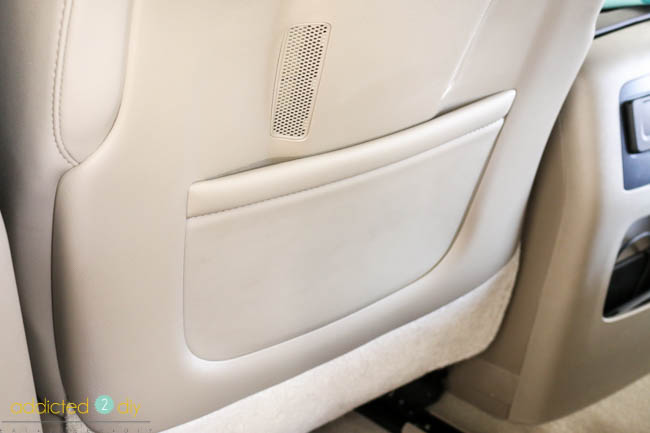 Now everything looks as good as new! Or rather, new to me:)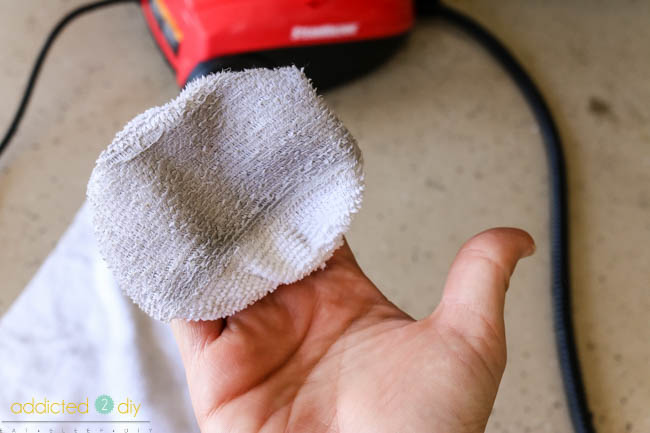 And here's how the microfiber cover for the carpet attachment looked when I was done. Gross!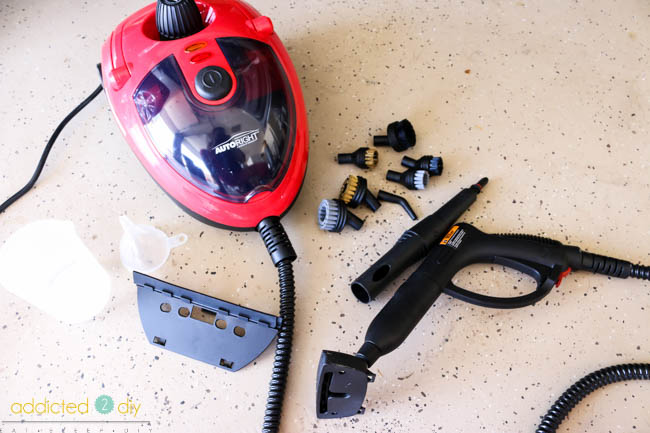 The steam machine comes with a ton of attachments that can be used for different cleaning applications on your vehicles. There's soft brushes, medium brushes, wire brushes, a squeegee, a carpet attachment, and the crevice nozzle.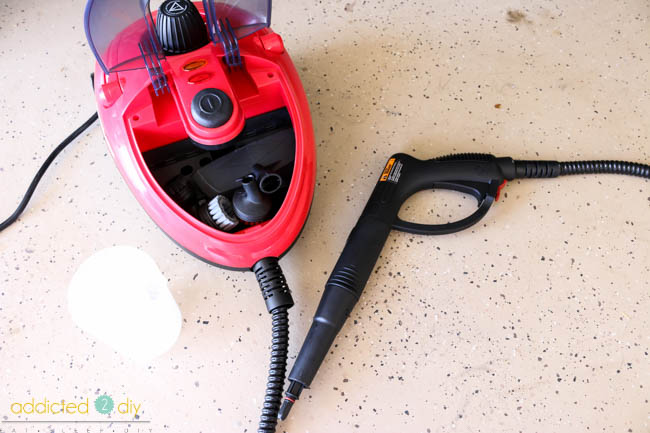 Believe or not, all of these things actually fit inside the machine!
The steam machine works great on the outside of your vehicle too. My husband used it to clean the wheels and I put a medium bristle brush on to clean the bug guts off of my grill. I can definitely see this coming in handy after long road trips where we seem to find every bug imaginable while on the road. By the way, this doesn't just have to be used on your vehicles. You can use it in your home for chemical-free cleaning as well!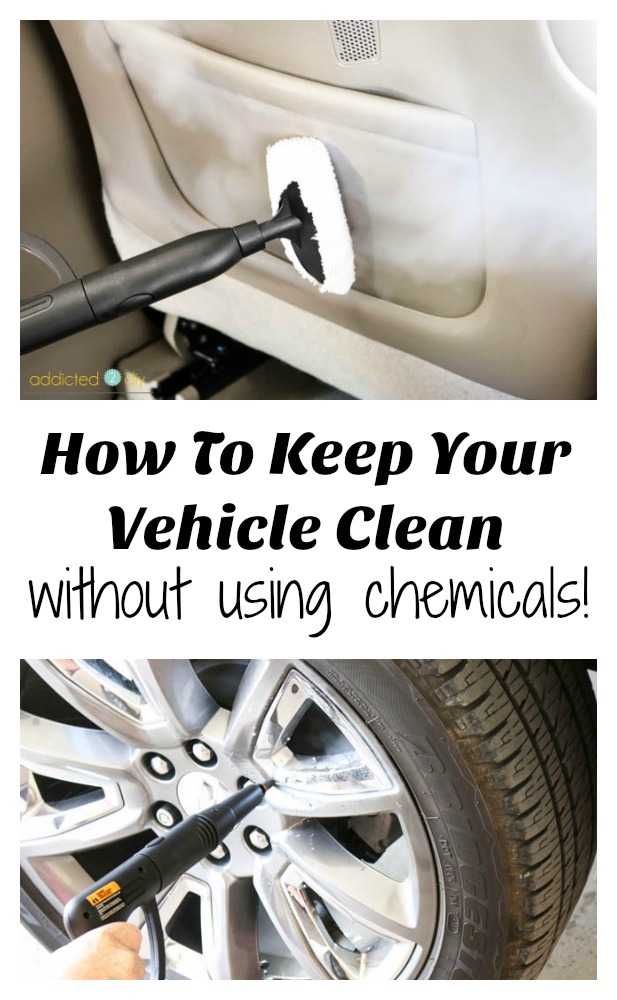 Are you ready for the giveaway? Just follow the Rafflecopter instructions below to enter! One lucky reader will be randomly selected and notified via email. To enter, you must be a U.S. Resident age 18 or over. Void in Alaska and Hawaii. The winner has 48 hours to claim their prize or another winner will be randomly selected.
DISCLOSURE: I was compensated and/or provided product for this post. All opinions and ideas; however, are 100% my own. I would not share a product with you that I did not believe in. This post also contains affiliate links for your convenience. Please read my disclosure statement for more information