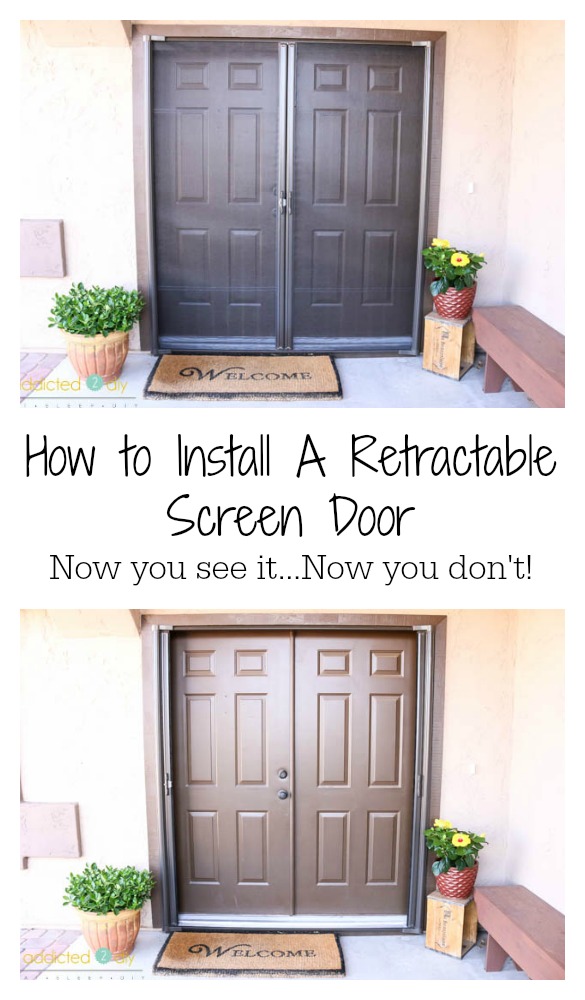 Hey everyone! Cooler weather is going to be upon us soon and I can't wait to open up my doors and windows and let the breeze flow through the house. One thing we love to do is open up our front door. The problem is that the dogs sometimes wander outside of the courtyard or unwanted guests (mice) come inside. That's really only happened once, but it scared the heck out of me!
Ever since we bought our house, my husband has been talking about getting a screen for our front door. He kept telling me there were some that roll up and you don't see them. I had no idea what he was talking about and the images in my head of what it might look like weren't pretty. As if almost by fate, ODL contacted me about their Brisa Retractable Screen Doors. They asked if I'd like to try one on my home and, of course, I did! You can find out about my experience with our new retractable screen door below. I've also included some affiliate links for retailers where you can purchase your own. If you purchase anything from these links, I will receive a small commission at absolutely no extra cost to you.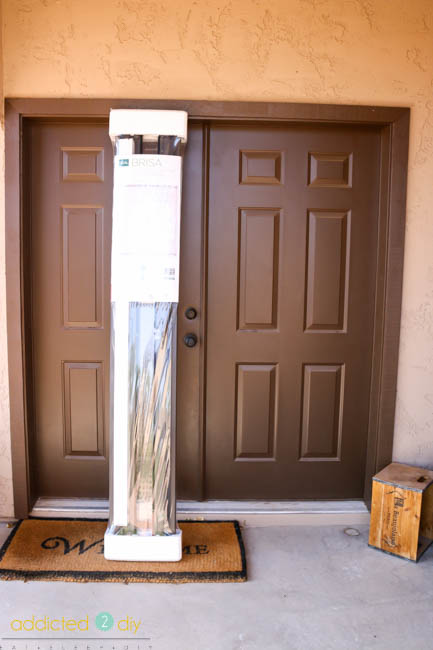 Brisa offers several types of retractable screen doors to fit just about any opening. Our front door is a double door, so I chose that style in the bronze color. The color almost matches our front door color, perfectly! You can search for the perfect screen for your doorway on ODL's website, then purchase it from retailers such as The Home Depot
or Amazon!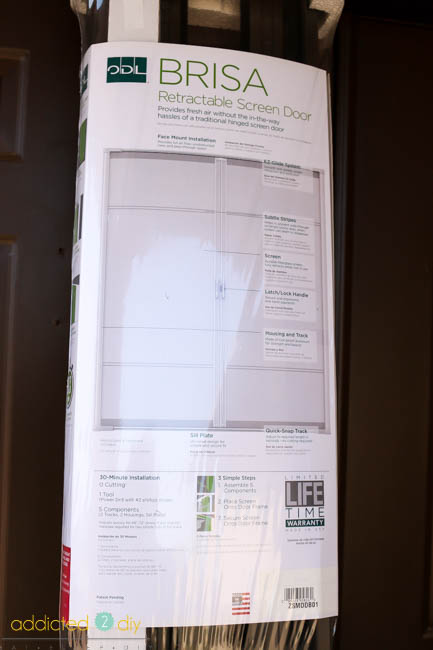 The screen was delivered right to my door and we immediately opened it up to install it. Per the included instructions, it should take only 30 minutes and a drill/driver to install. I would absolutely believe that. Unfortunately for us, nothing ever comes easy with our house. The way our front door is situated, and the fact that we have 2×6 construction meant that we had to make some modifications in order to install the screen.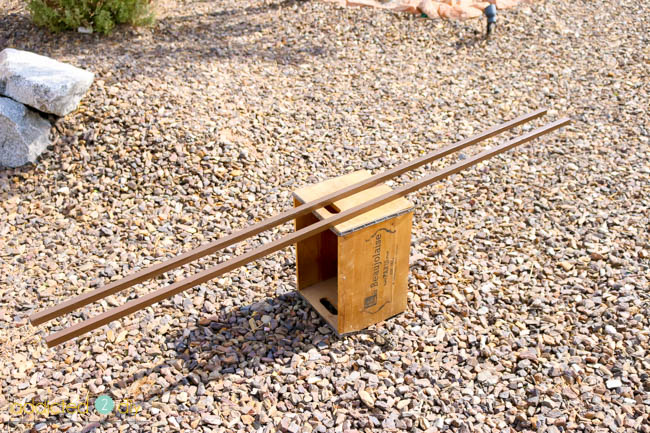 That being said, the added time was really just a trip to Home Depot and then watching paint dry. Our door trim caused the screen frame to not fit flush against the door frame, but we discovered that 3/4″ square towels would fill that gap perfectly. I painted them to match our door color and then we used those as a shim between the screen frame and the door frame.
To make up for the fact that our house is 2×6 construction, we needed to extend the front stoop a bit. The Brisa screen comes with an aluminum track at the bottom that would normally fit on top of the existing aluminum frame/stoop. We purchased a pressure-treated 2×4 and ripped it down to the proper height, painted it, then attached it to the concrete stoop. This allowed the aluminum plate to sit perfectly flush against the existing plate.
We screwed the frame into place, using the 3/4″ dowels as a shim. The aluminum bottom plate isn't the full width of the door, which allows the screen frame to fit different widths of doors. The Brisa Retractable Screen kit comes with weather stripping that slides across the bottom plate to be flush with each side of the door and make up the difference. It keeps everything but the cooler air out of your house.
Because ours is a double screen, we needed to drill holes for the top and bottom stops to slide into. This way it is supported in the middle and you can leave one side closed if you like. I did have issues with one side of the screen not retracting properly; however, ODL's customer service is amazing and they helped me to troubleshoot and fix the issue right away!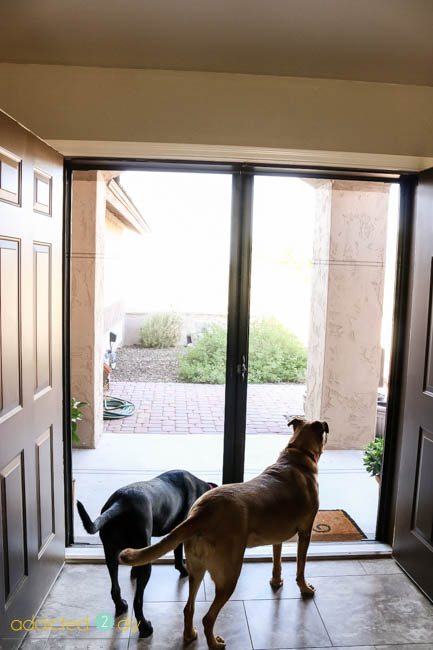 Now we can leave our front doors open and keep the dogs in while the cooler air blows through the house. You can also just see the lines in the screens that help remind you not to walk through them. Speaking from experience, this is definitely a valuable addition! While these screens will keep the girls from wandering outside, I can't say they will keep them from barreling through the screens if they happen to see a rabbit hopping around in the courtyard. Unfortunately, not much can keep all 93 pounds of Dakota from crashing through it after a bunny.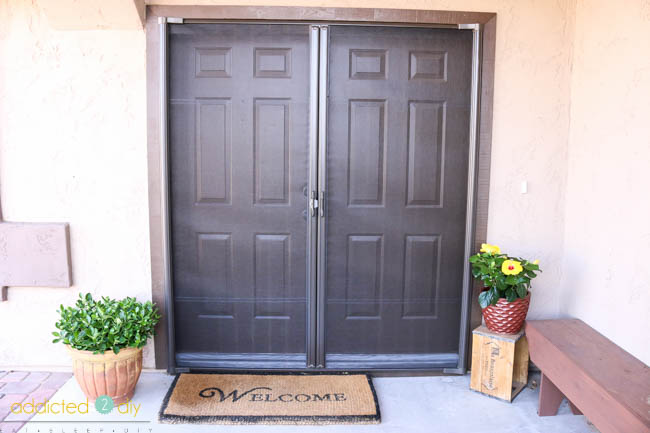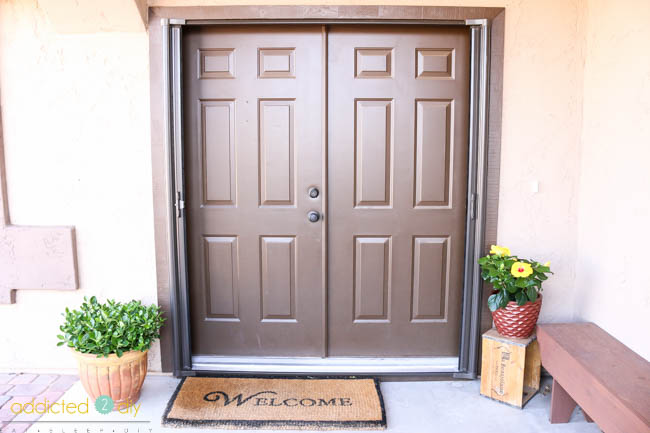 I am so happy with the look of our new screen door. It definitely exceeded my expectations and fears of having to look at an ugly door frame. It blends in so well with our door and nobody notices the frame it until we point it out to them. I'm definitely even more excited with the cooler weather to get here so we can leave our front doors open without worrying about the dogs wandering out or critters wandering in. If you're interested in one, definitely check out ODL's website to pick the perfect door and color for your home!
DISCLOSURE: I was provided product and/or compensation for this post. All opinions are 100% my own. Please see my disclosure statement for more information.