This quick and easy football wall art is the perfect addition to any kid's room or man cave.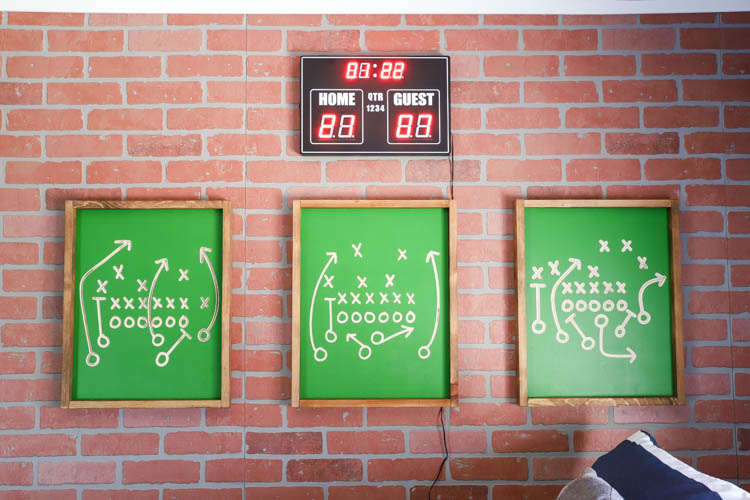 Hey everyone! I'm still working on projects in my youngest son's bedroom and today I'm sharing the tutorial on YouTube for this DIY football wall art. My son LOVES football and he wanted his new bedroom to have a sports theme to it. I was trying to figure out ways to make it happen when I looked over at my X-Carve and realized I could carve out some cool football plays on some scrap wood I had left over from building his bed! I'm partnering with Inventables today to bring you this project and I hope you enjoy it!
Watch The YouTube Tutorial:
I drew up three different plays on my iPad Pro and then used Adobe Illustrator to convert them into SVG files, which I uploaded to the Easel program on the Inventables website. What's fun about this is that you can draw up any type of play you like. If your kid is on a football team, have them draw up their favorite football plays that they use and then it makes it even more personal.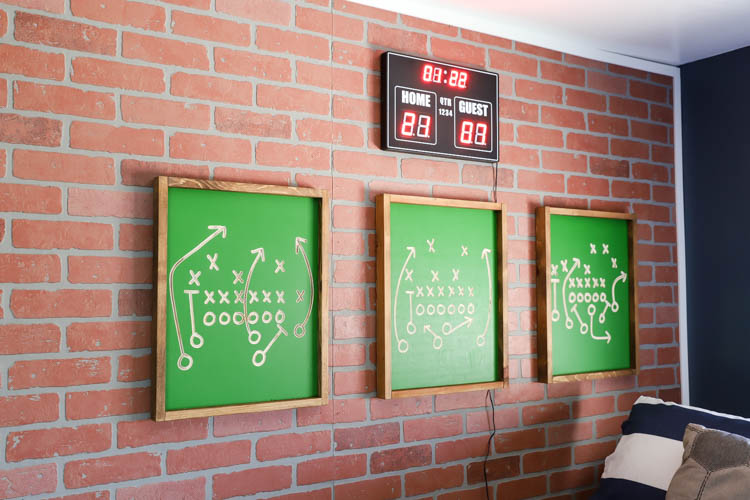 If you don't have an X-Carve and getting one isn't in the cards for you, you can still create this wall art using a paint pen to draw the plays, or use the SVG files I included below to cut out vinyl stencils of the plays to paint onto wood!
Cut List:
3/4″ plywood cut down to 14 1/2″ x 18 1/2″
2 – 1×2 @ 20″ long
2 – 1×2 @ 14 1/2″ long
This will make one piece of wall art, so double or triple it, depending on how many you're making. Don't forget to also watch my YouTube tutorial to see how I made them! Also make sure you pin the image below for later inspiration or to share with your friends!
DISCLOSURE: I was provided product and/or compensation for this post. All opinions and ideas are my own. This post contains affiliate links. Should you purchase a product from one of these links, I will receive a small commission at no extra cost to you.