Hey there, everyone! Today, I'm excited to share with you my simple spring tablescape that I put together. I'm joining 22 other bloggers who have been sharing their stunning spring tables throughout this week. Ever the procrastinator, I chose the final day to share my table with you all. If you're joining me from Charleston Crafted, welcome! Thanks for stopping by to visit! Okay, grab a cup of coffee and lets go through what I did!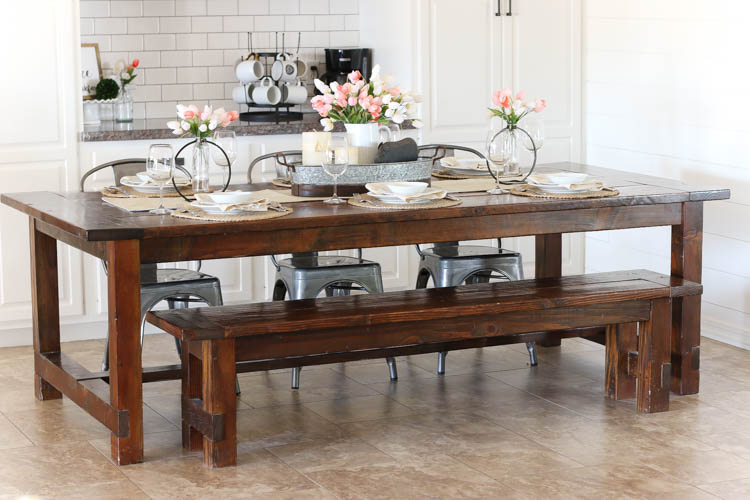 I'll be honest, I swoon over the beautiful tablescapes that I see other bloggers put together, but it is something I have never ever felt good at. That was part of the reason why I joined this blog hop. I knew that if I challenged myself, I would finally face my tablescaping fears and do it! I'm not sure if tablescaping is a word, but I'm going to own it and move on:)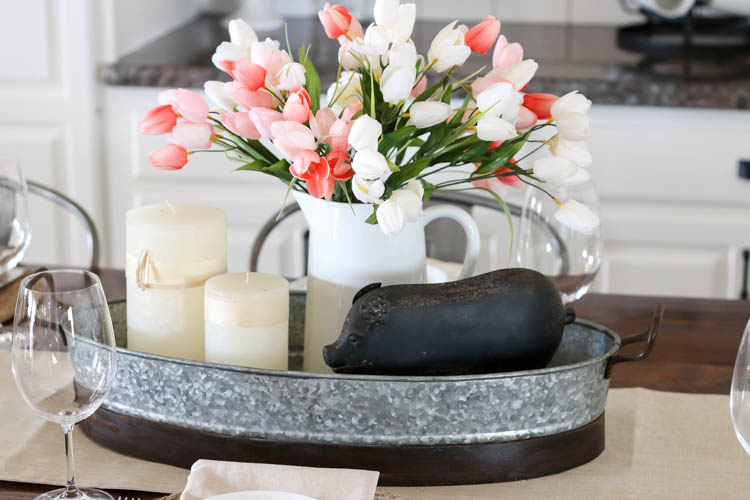 Let's get started with the centerpiece. I wanted to keep this tablescape simple, so I only make a few changes. Not only does it save time, but simple swaps here and there in decor also saves money! The tray and everything in it are always on my kitchen table.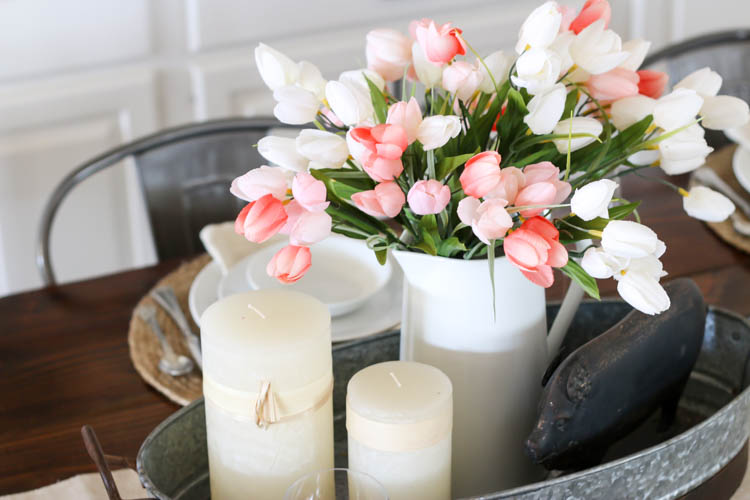 The only swap I made was the greenery in the pitcher. I swapped it out with these pretty tulips. Believe it or not, I bought these for $2 a bunch at Michaels! I mixed up a few bunches of white and a few bunches of pink to break up the colors a bit.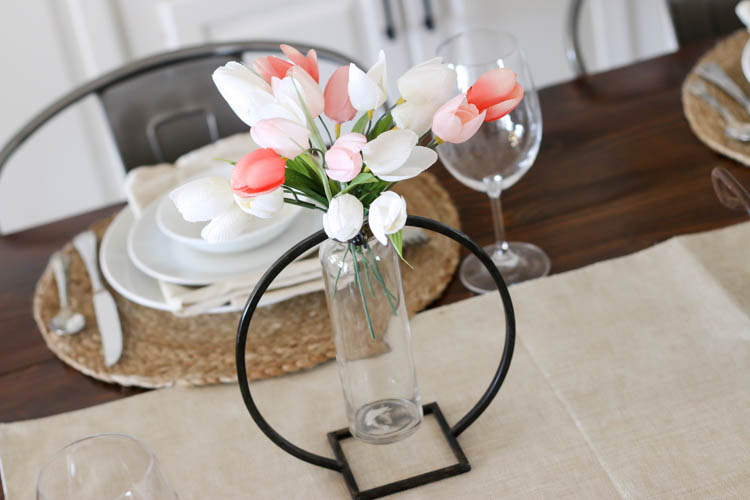 These pretty bud vases were a great find during my recent trip to Texas where I was able to carve out an afternoon with girlfriends and visit Magnolia Market. The metal stand on the vases matches perfectly with the darker metal on my galvanized tray, so these were a match made in heaven! I snipped the tulips from a few bunches and again mixed up the white and pink buds to fill the vases.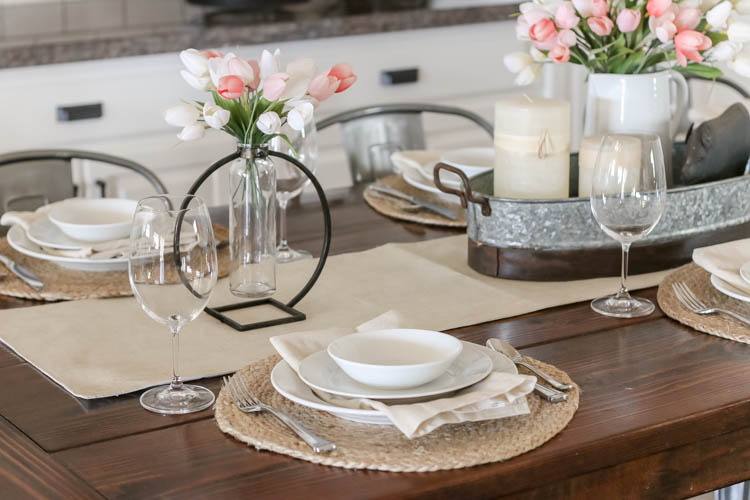 I bought these simple linen napkins on Amazon back in November when I had grand plans of putting together a show-stopping Christmas centerpiece. Needless to say, this is the first time these have seen the light of day, but I do love how versatile the natural colored napkins are. They can be used again and again throughout the holidays and seasons.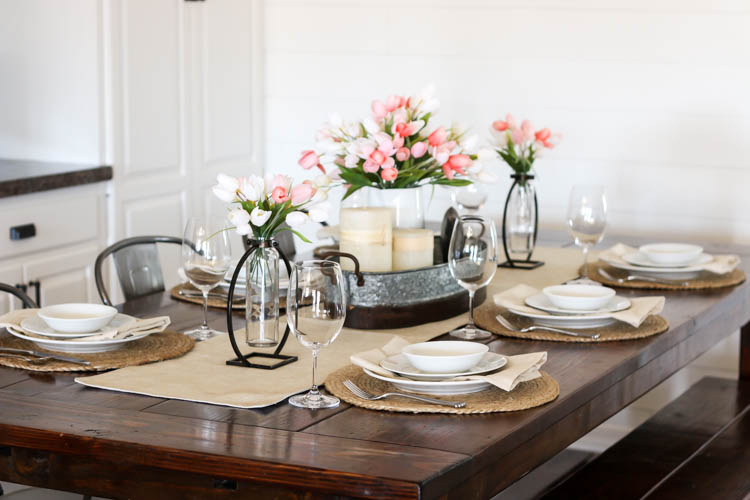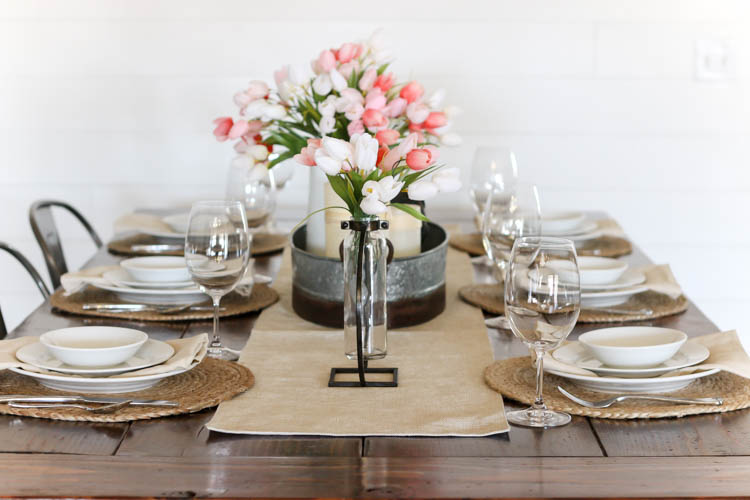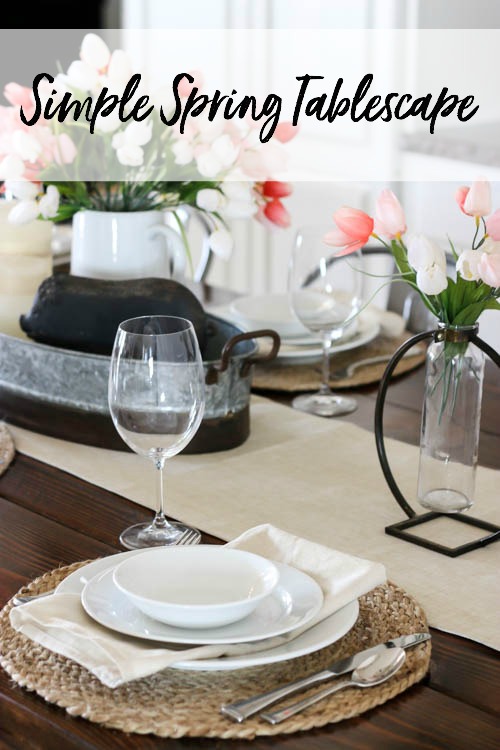 While I don't plan to leave the place settings out permanently (we eat every meal here), I can still keep the centerpiece and bud vases out and have a pretty spring table to look at. I think now that I've gotten one tablescape under my belt, you may be seeing more from me with the changing seasons and holidays. I think I'm hooked! How about you? Do you have any decorating challenges that you've been wanting to try, but have been afraid to? Leave me a comment and let me know! Also, be sure to pin this for inspiration later!
Now lets visit the next stop in this blog hop. Be sure to stop by and see the gorgeous table put together by Major Hoff Takes A Wife. You definitely won't be disappointed! Also, stop by and visit all of the other talented bloggers who have been participating in this blog hop all week.
Monday March 26
Pink Peppermint Design
Almafied
2 Ladies & A Chair
Our house now a home

Tuesday March 27
Meaningful Spaces
Atta Girl Says
Green With Decor
Red Cottage Chronicles
Little Bits of Home

Wednesday March 28
11 Magnolia Lane
Noni's House
Kreativ K
Hearth and Vine
Postcards from the Ridge

Thursday March 29
Spicy Salty Sweet Home
My Life From Home
Monica Wants It
Shine Your Light

Friday March 30
Home Made Lovely
Charleston Crafted
Addicted 2 DIY
Major Hoff Takes A Wife
Saw Nail and Paint
SaveSave