Now is the time of year when we begin spending a lot of time outdoors. It seems a little counterintuitive, given that our summers are scorching hot; however, scorching hot summers mean lots of time in the pool and having friends over. It also means it's that time of year for getting our backyard into shape for guests. One of the big tasks I've had on my list for the past couple of months is to clean our very dirty patio cushions. I'm partnering up with Dremel today to show you how to clean patio cushions using the new Dremel Versa tool quickly and easily.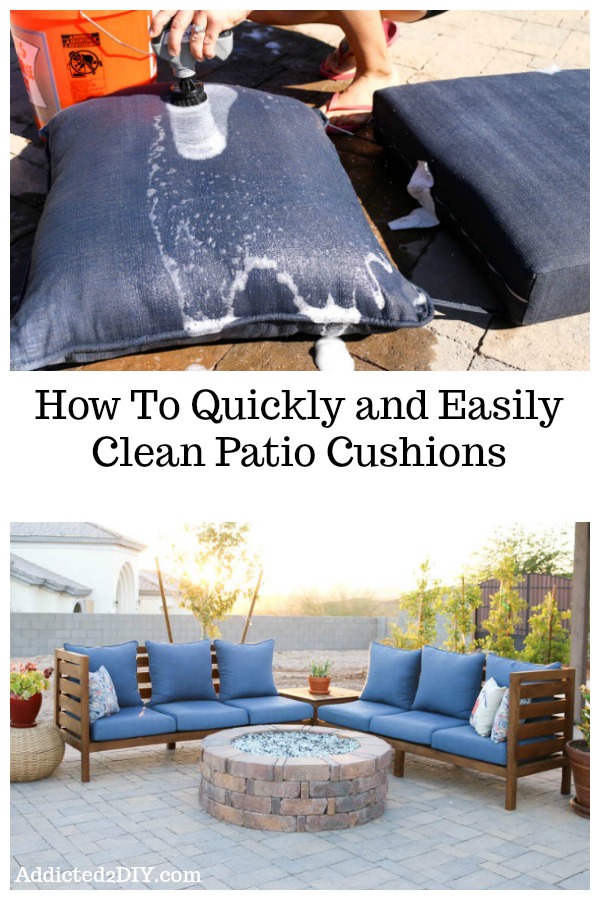 Last year, I built a wooden sectional patio set for our backyard. I love how it looks, but I'd been noticing over the spring that our patio cushions were looking pretty dirty (we are in the desert after all), so I started researching how to clean patio cushions. The overall consensus was to fill a bucket full of soapy water and get scrubbing. Have you ever tried to scrub fabric with a brush? It's like trying to wrestle an alligator! The brush catches on the fabric, it takes forever to get anywhere, and you just end up a sweaty, angry mess. Or maybe that's just me. Either way, it was a job that I knew needed to be done, but it was definitely not high on my "to-do" list. As if by fate, Dremel asked me to try out their new Versa handheld cleaning tool and I realized I finally had the perfect tool to complete this task!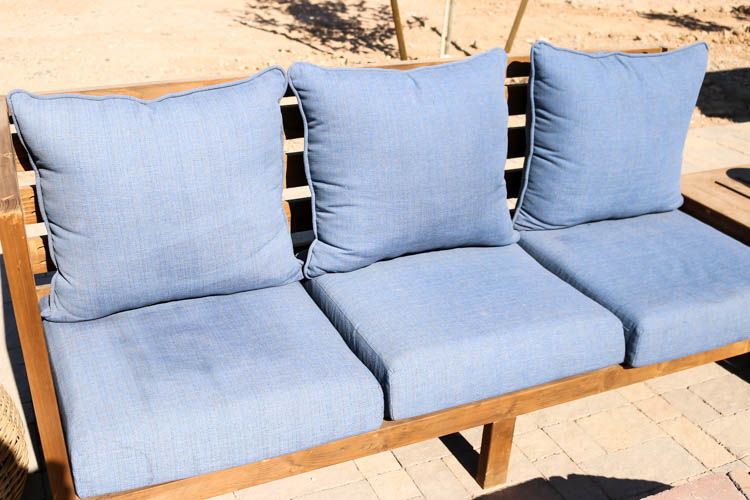 What Is the Dremel Versa?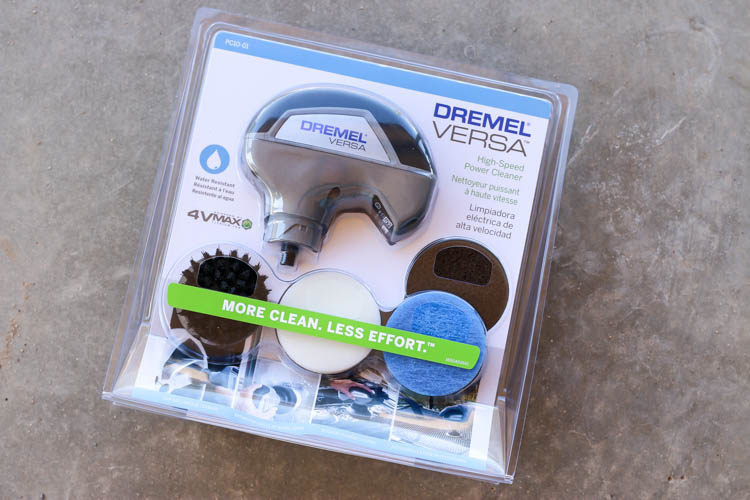 The Dremel Versa is a handheld, cordless cleaning tool. It's brand new in the Dremel lineup and can be used for a multitude of cleaning applications from light-duty to heavy-duty. It retails for $49.97USD and you can find it at a wide range of home improvement stores, such as Home Depot, Lowes, and also Amazon.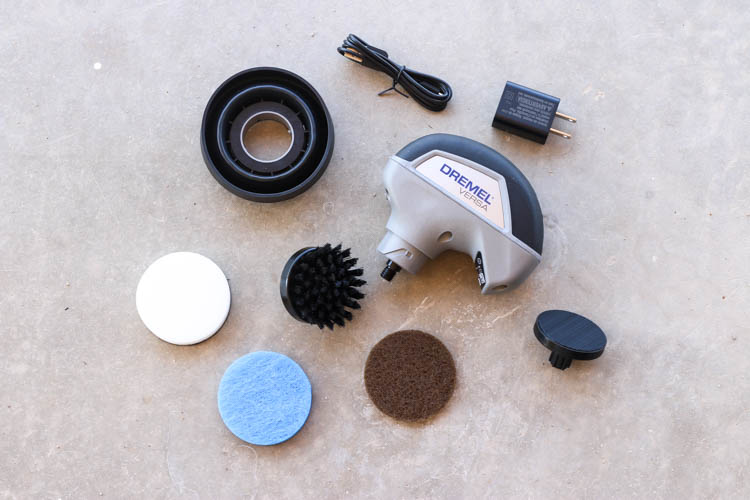 Included with the Dremel Versa are several different types of cleaning attachments, including a scrub brush, eraser sponge, non-scratch scrubber, and a heavy duty scrubber. There's also a splash guard and USB charger. The Versa can be used for a wide range of applications, from cleaning tile and grout, shower doors, stovetops and ovens, patio furniture, etc. You can even use it to clean your shoes! I may actually need to try this on my husband's dress shoes for his class A uniform. The best part is that it's water resistant, so you don't have to worry if it gets a little wet.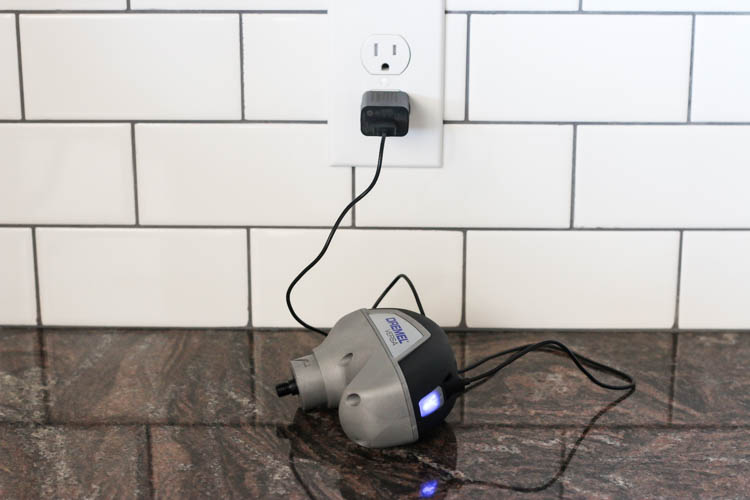 The Dremel Versa can be quickly and easily charged using the included USB cord and plug. The blue light on the tool lights up when it is charging and turns off when fully charged (about 2 hours). Do not use the Versa tool while it is plugged in.
How To Clean Patio Cushions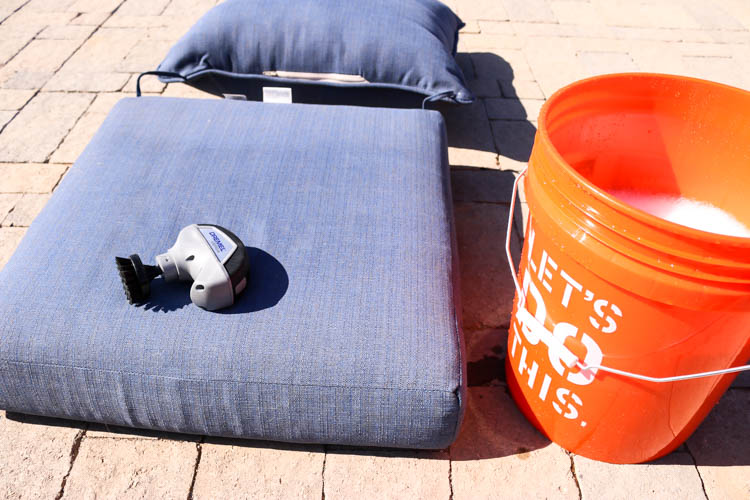 Once my Dremel Versa was fully charged, I screwed the brush attachment on and went outside to get started on the cushions. For this task, you'll need a bucket, water, dish soap and a spray nozzle attached to your hose.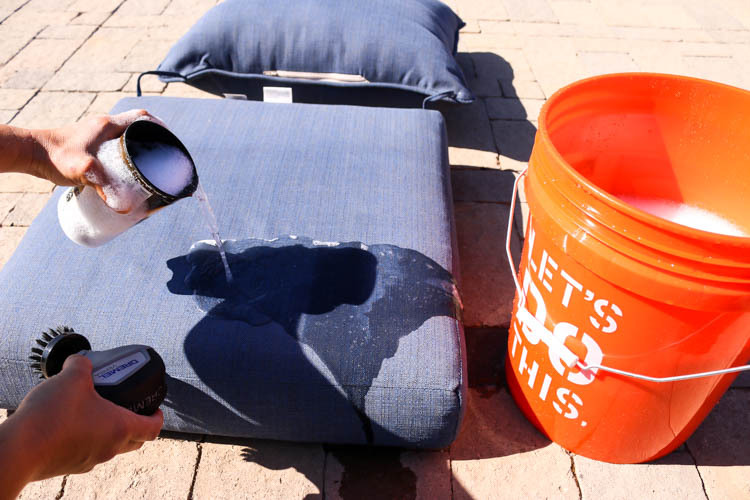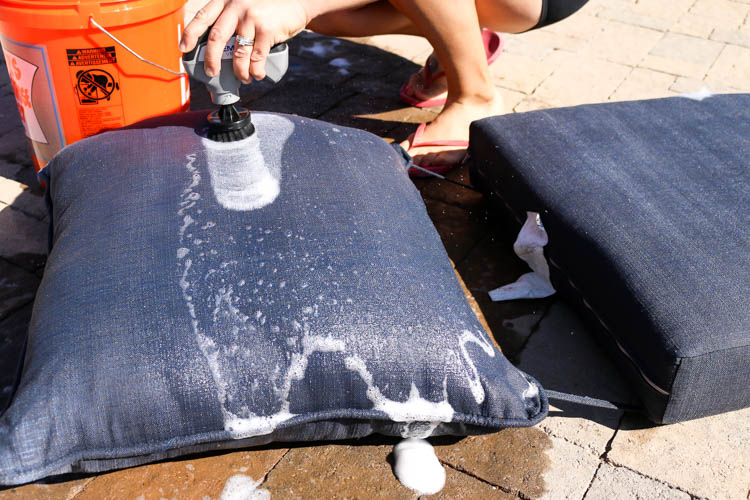 I scooped up some of the soapy water in a cup and went to town, scrubbing the cushions on each side. What I loved was how easy the Dremel Versa made this task. I'm 100% certain that it would have taken me 10x longer to complete this task with a simple scrub brush, and I probably would have given up after one whole cushion. I ran the scrubbing brush over the entire area of each cushion, pouring more water on when necessary. There were a few areas where some very rude birds had relieved themselves on the cushions, but those spots were quickly erased when I ran the scrubbing brush over them.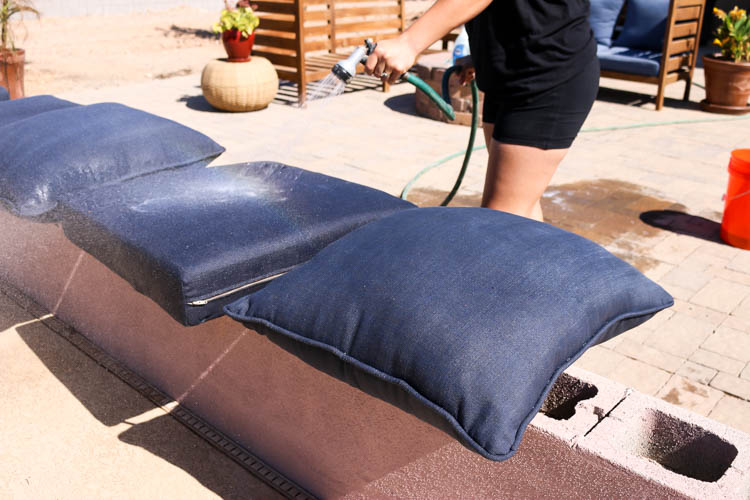 Once all of the cushions were scrubbed, I hosed them down on each side to rinse the soapy water off of them, then set them out to dry. The Dremel Versa has a charge of about 15-20 minutes, which meant I was able to clean three of my patio cushions and backs before I needed it to plug it in to recharge.
Clean and Ready For Summer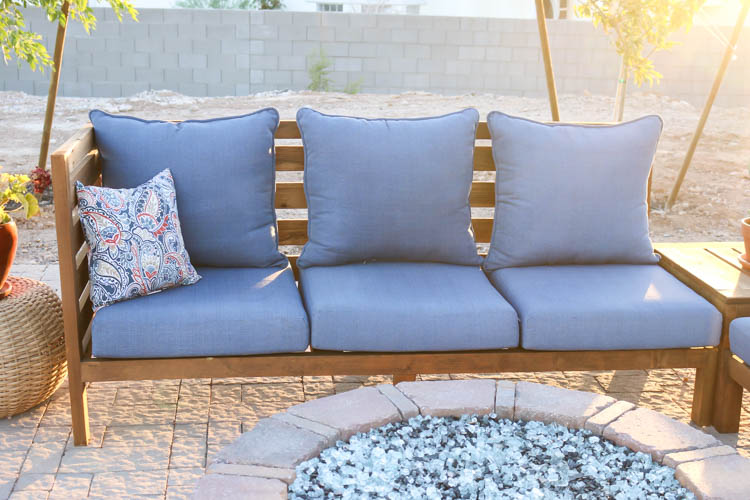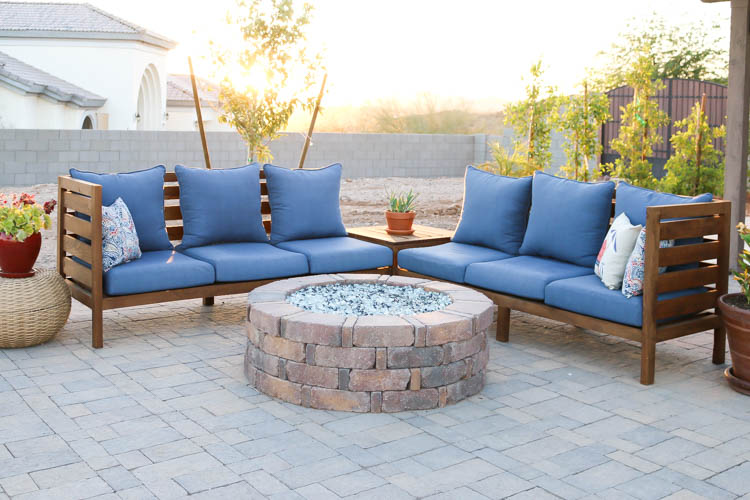 Once the cushions were cleaned and dry, I set them back on the patio set. They look and feel so much cleaner now that they don't have a coat of dust, or bird droppings on them. One thing I still need to do is find a great fabric treatment for the cushions to keep them looking nice for a few more seasons. Patio cushions are not cheap, you guys, so keeping these clean and protected from our blazing Arizona sun is definitely a priority. Thankfully, now that I know how easy it is to clean them, I'll definitely do it more than once a year. For more information on the Dremel Versa, be sure to visit Dremel's website. If you've already heard enough and need one in your life right now, then pop over to your local home improvement store, or Amazon and order one! Also, make sure you pin this post for later and share it with your friends who you know would love some advice on making tasks like this even easier.
DISCLOSURE: This is a sponsored post written by me on behalf of Dremel and Find Your Influence. I was provided product and compensation for this post. All opinions and ideas are 100% my own.
SaveSave
SaveSave
SaveSave
SaveSave
SaveSave