Learn how to build an office foot rest to keep yourself comfortable while you work from home or your kids as they are practicing virtual learning. This foot rest is simple to build or you can dress it up with special wood.
Being a DIY blogger means I spend a lot of time in my workshop building things, but once those projects are finished, I end up spending a lot of time at my desk editing photos, videos, and typing up tutorials like this one. I'm not exactly tall, so it's always a little uncomfortable to sit for any period of time at my desk, as my feet don't fully reach the floor. I decided I wanted to build an office foot rest to make myself a little more comfortable while I'm working at my computer.
With schools closed to in-person learning right now, my boys are also distance learning at home, which means they're in front of the computers while they are also in school. My oldest is super tall, so he has no issue at all with his feet reaching the ground at his desk, but my youngest isn't that tall yet. I decided to build a second foot rest for him as well and it's a little bit taller so he feels a little more comfortable while working at my computer.
*I've included affiliate links to the products I used in this project. If you purchase an item from one of these links, I will receive a small commission at no extra cost to you.
Office Foot Rest Two Ways
This foot rest is super simple to build with very minimal materials and is perfect for all skill levels. Just a simple board cut to size and some hairpin legs. That being said, I couldn't leave it at just that. I wanted to have a little fun with some new to me techniques, making a patterned plywood foot rest for myself! It was super fun and I've put together a whole tutorial on building both types of office foot rests.
Watch The YouTube Video
I put together a YouTube video to show you how I made each of the foot rests.
How To Build A Simple Office Foot Rest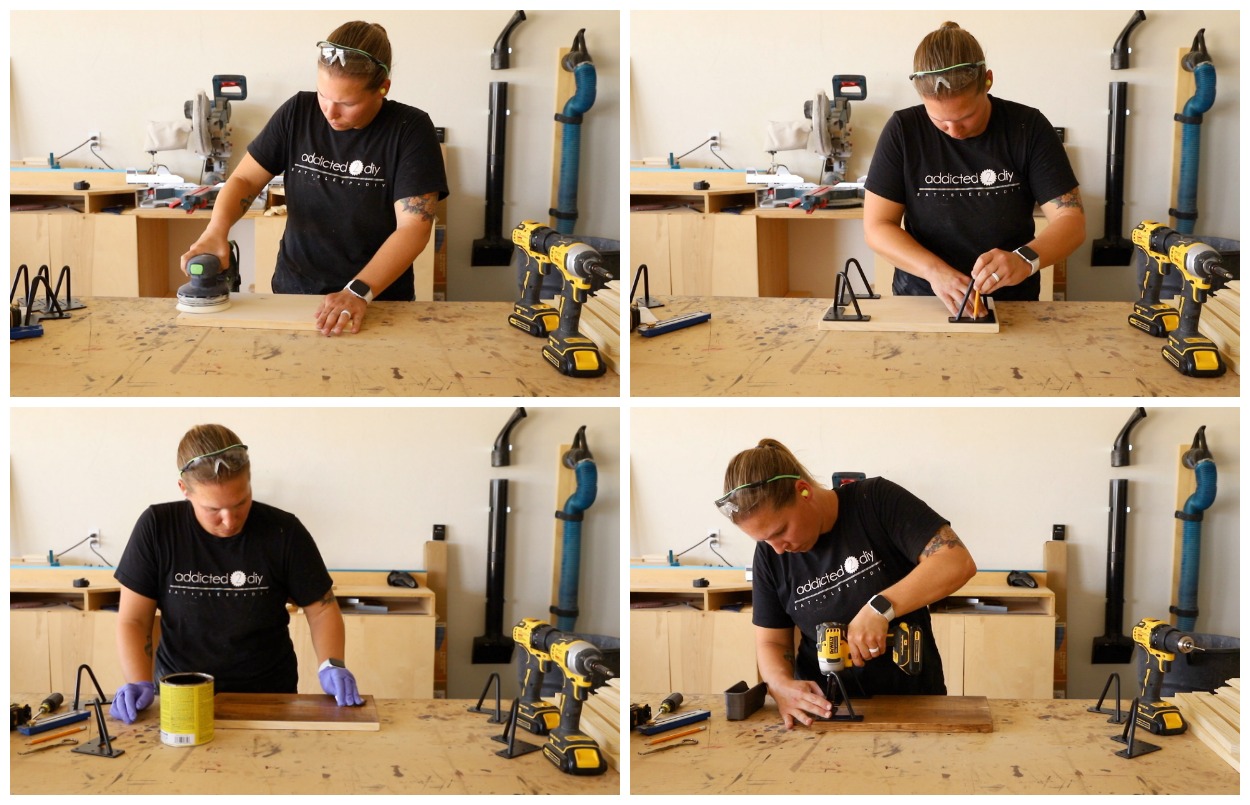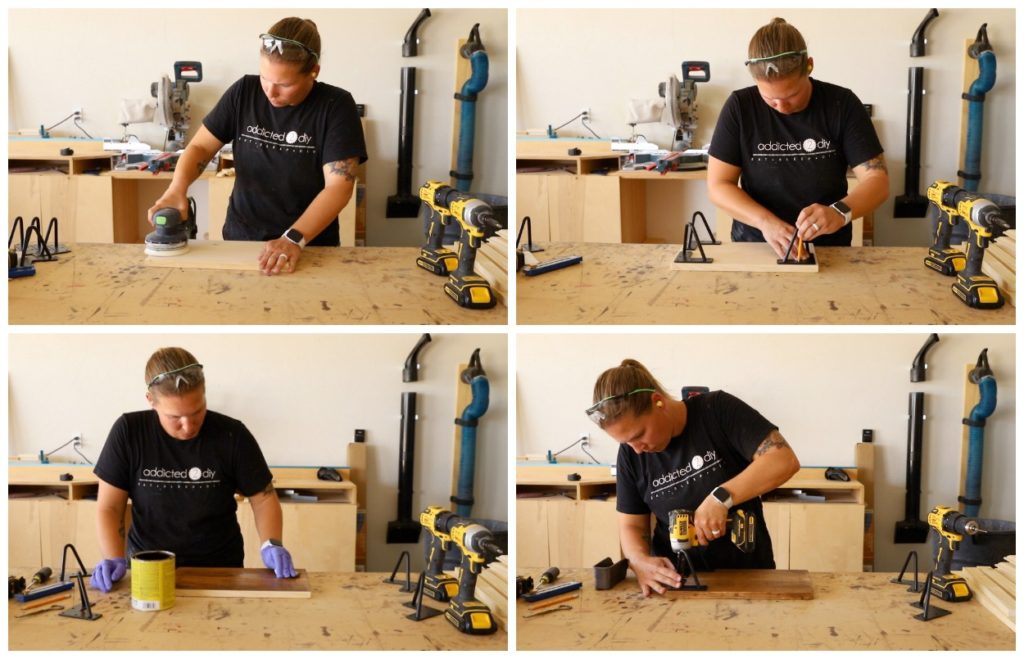 To build a simple office foot rest, cut a board down to about 15″ long. You can also use plywood. I used a scrap 1×10 board for this foot rest.
Sand the wood down with 220 grit sandpaper on both sides and all edges.
Place hairpin legs evenly on each corner of the board. I marked them 1/4″ in from the corners. Once I marked the hole locations with a pencil, I used a scratch awl to pierce the wood at the center of the marks.
Stain the board in desired color and let dry.
Attach the hairpin legs with 3/4″ wood screws and you're ready to go!
Patterned Plywood Foot Rest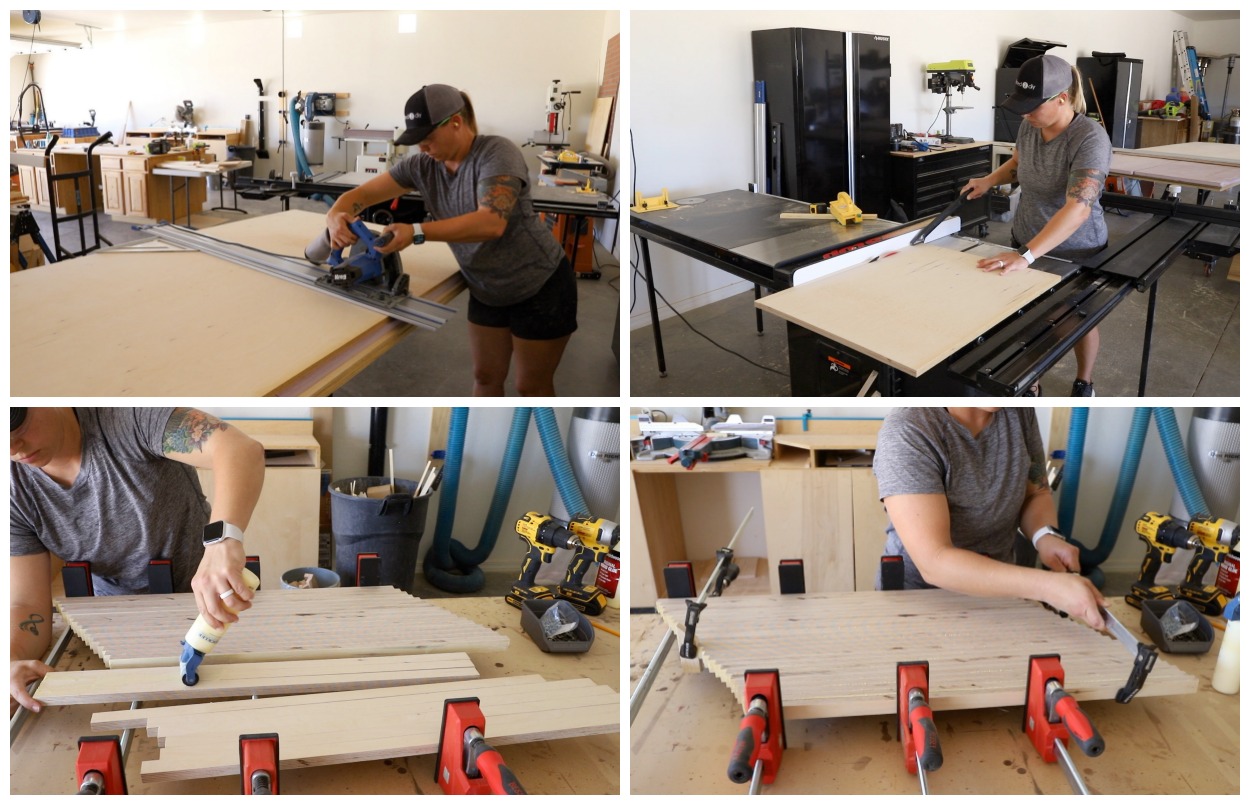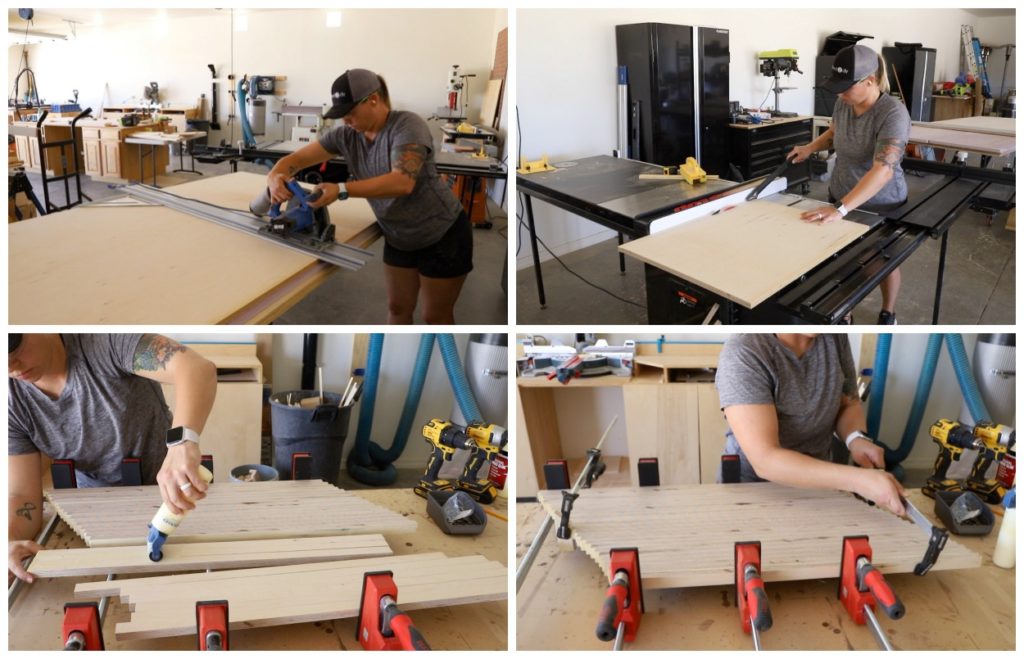 To make the patterned plywood foot rest, I used baltic birch plywood. I cut a piece down to size with my Adaptive Cutting System, then moved over to my table saw and ripped down 1″ wide sticks of the plywood.
I set up my parallel clamps on my workbench and placed the sticks on the clamps, staggering them as they will be cut at a 45 degree angle once the glue dries.
I applied glue to the veneer face of the plywood and then clamped the pieces together with the edge facing up, revealing the plys in the wood. I clamped the ends as well to ensure everything fit tightly together and let it dry for a few hours.


Once the panel was dry, I took it out of the clamps and sanded it down smooth.
Using a speed square, I set up my adaptive cutting system to cut the end of the panel off at a 45 degree angle. I cut more waste off than I had wanted, so definitely make sure your sticks are offset more than I offset mine.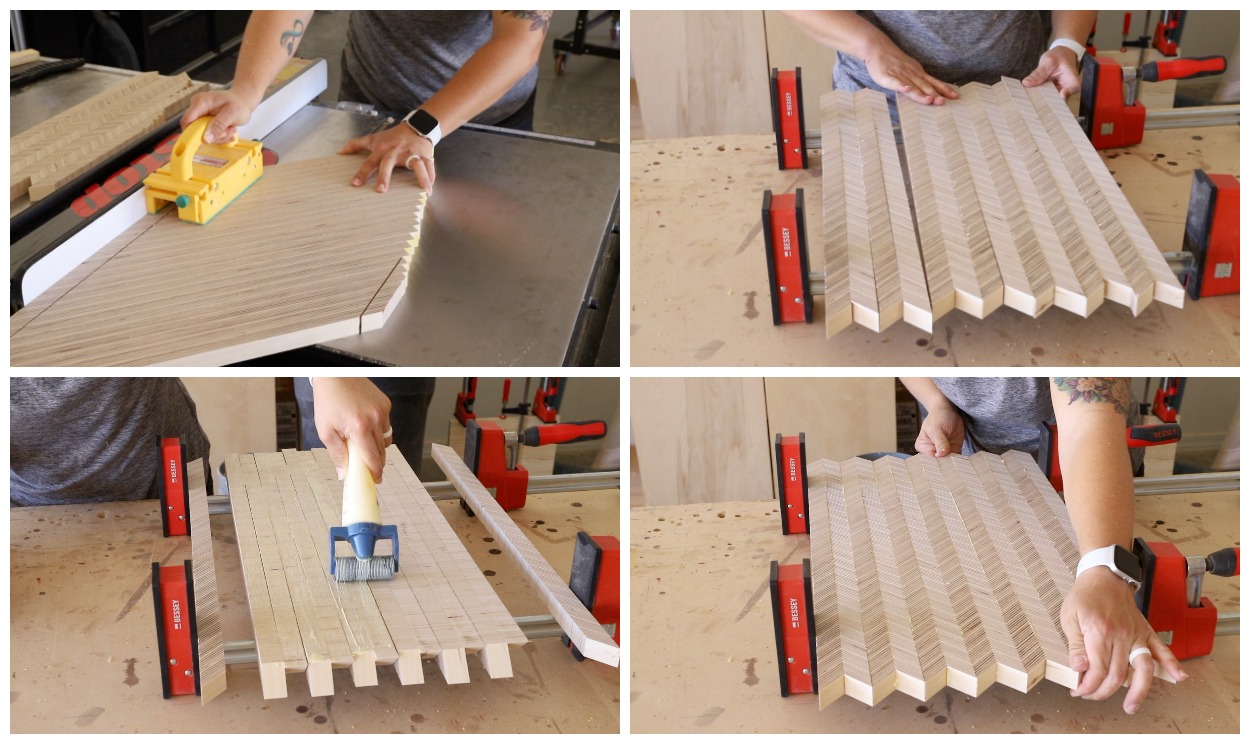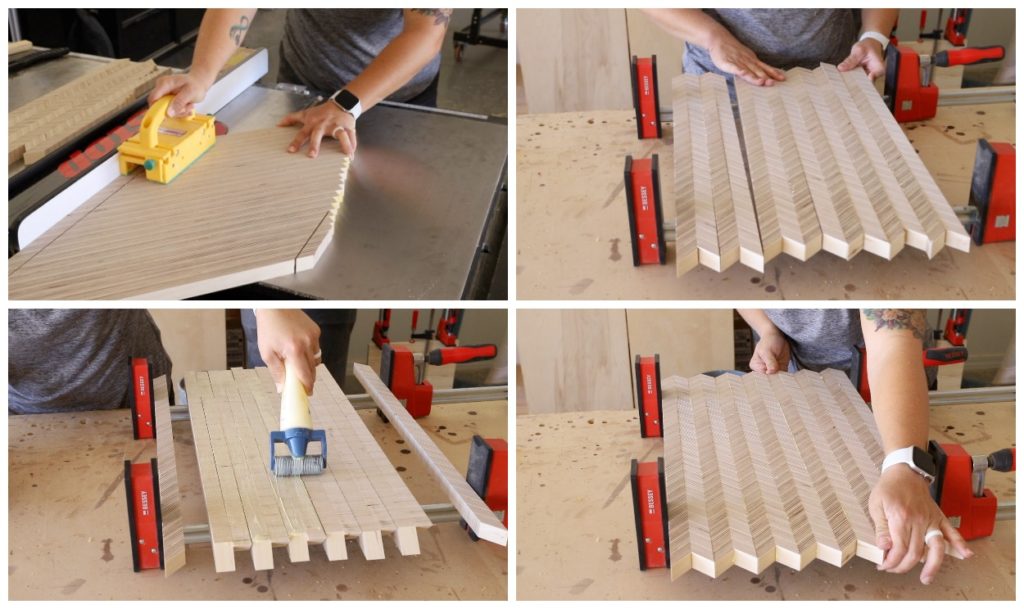 I went back over to my table saw and again ripped it down into 1″ sticks. With the angle being so sharp, I used a push block to make sure I was able to hold the wood against the fence and also safely slide it past the blade. NOTE: make sure you keep the sticks in the same order when ripping them down and setting aside.
At my workbench, I arranged the sticks by flipping every other one over to make a chevron pattern. I flipped them on their sides and used my glue roller to apply an even coat of glue over all of them, then clamped them together.
When clamping the sticks, make sure to adjust them as needed so the points of the chevrons line up with each other. At this point, the panel can left as is with the pattern and just trimmed down to size, or you can keep going.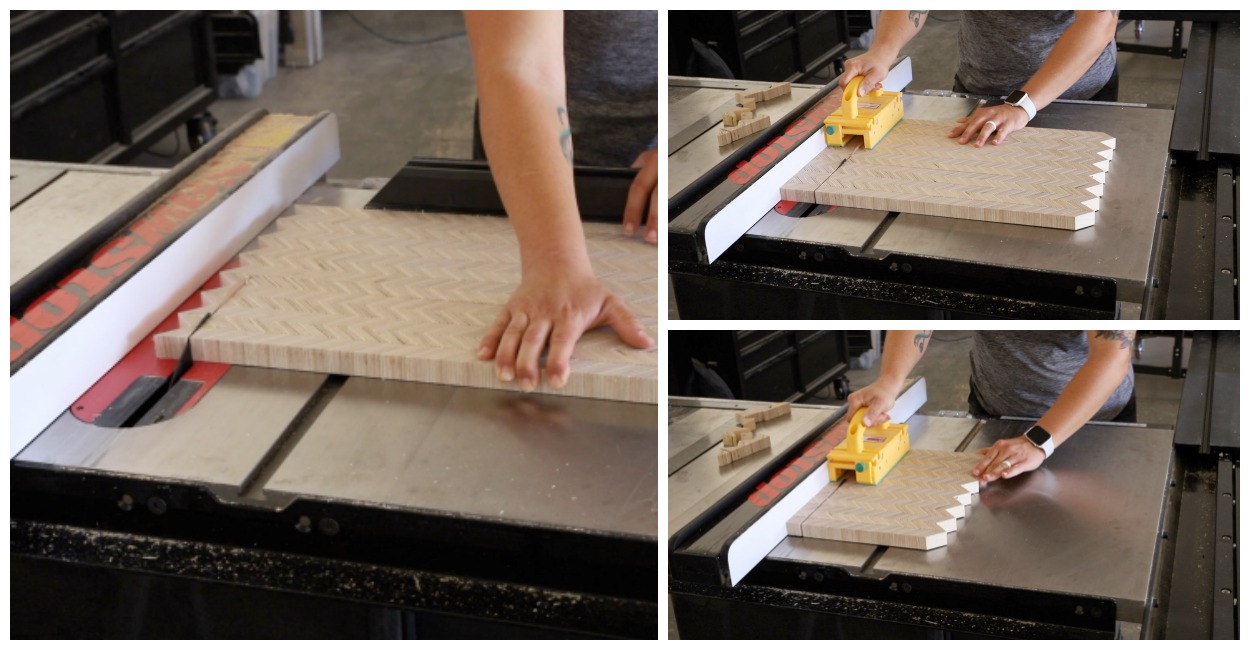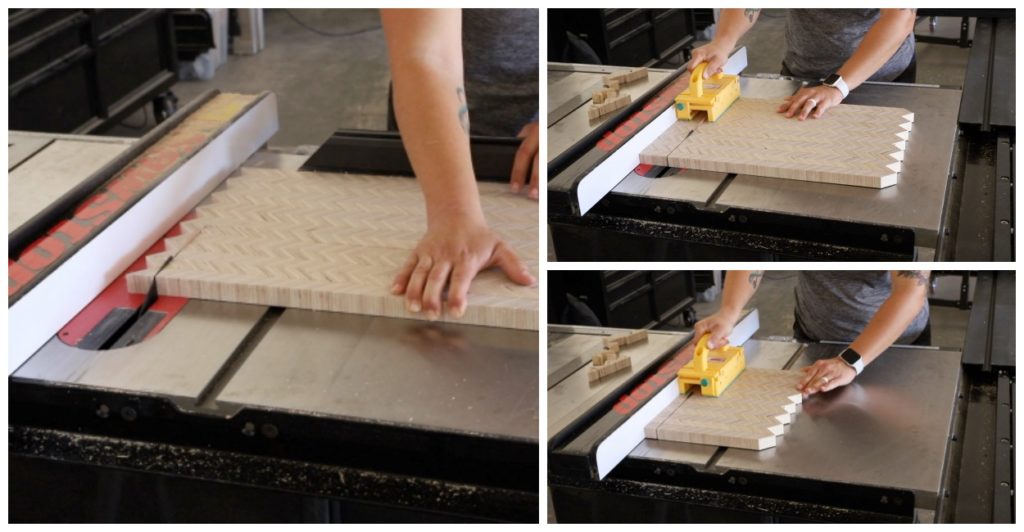 After a few more hours, I took the panel out of the clamps and took it back over to my table saw to cut down again.
I wanted to play around with patterns, so I set my fence up to cut 2 1/2″ strips. I squared off the end of the panel, then cut four 2 1/2″ strips and set them aside. I still had a good amount of the panel left, so I also set the fence back to 1″ and finished off cutting it down into 1″ strips.
The two different sizes will give me two different patterned plywood panels.


Back at my workbench, I glued up the two panels, being very careful to make sure all of the points lined up so the patterns were consistent. I clamped the panels and left them to dry overnight.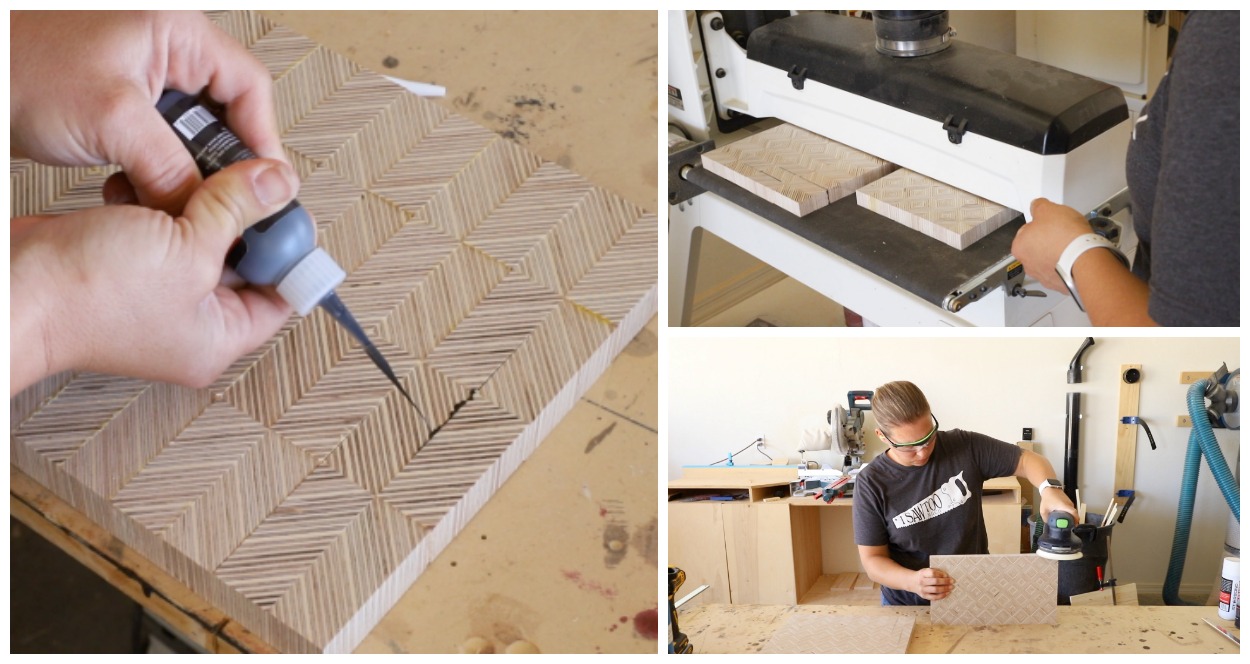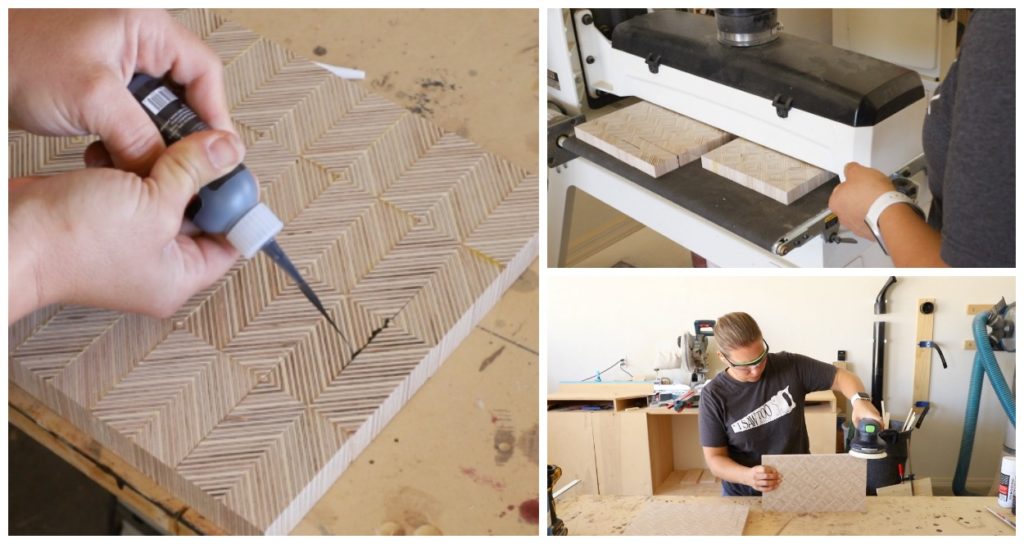 The next morning, I noticed the larger panel had a few gaps in it where the glue bond wasn't very tight, so I "patched" it up with some CA glue and accelerator spray. I used black CA glue, which I would not recommend, as it makes the glue bond very visible when you are done. I had hoped it would just blend in, but the wood absorbed the glue so it spread as it was applied to the panel.
I sanded the panels down on my drum sander, though you can also use your orbital sander, then I squared them up on my table saw. I went back over to my workbench and gave them a final sanding with 220 grit sandpaper, making sure to sand the ends and edges and round them off just a bit.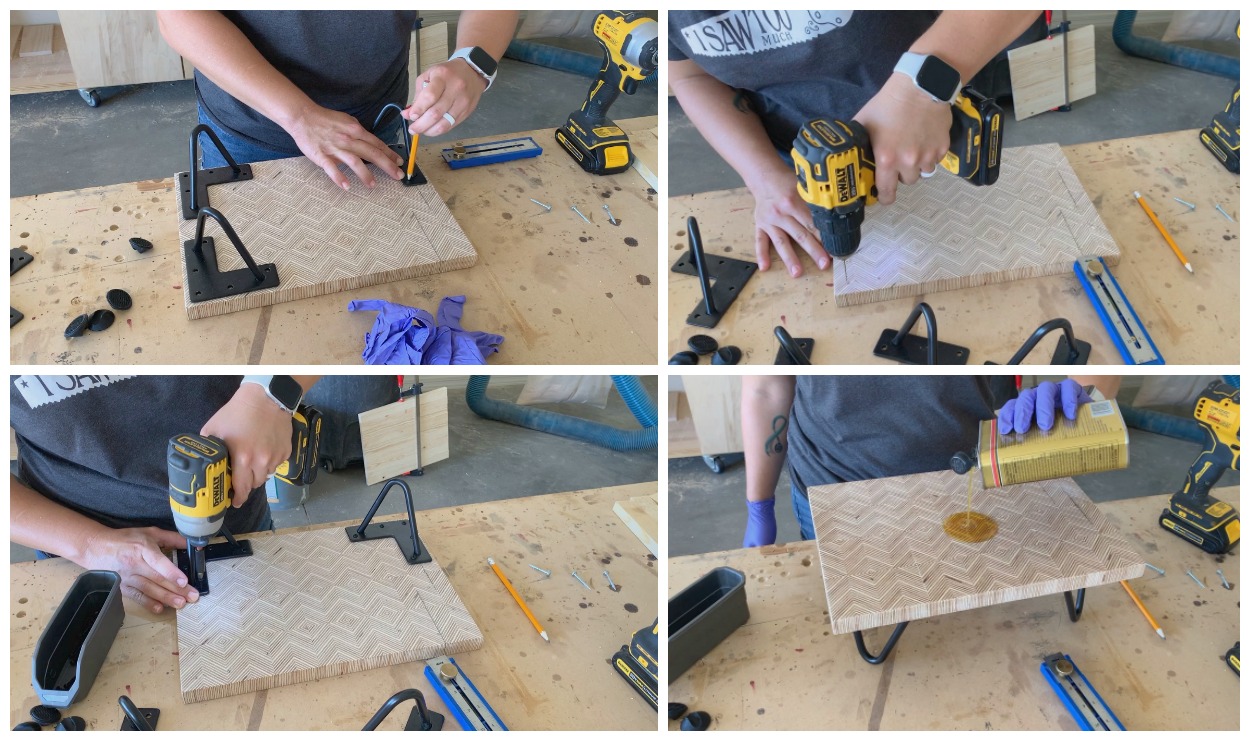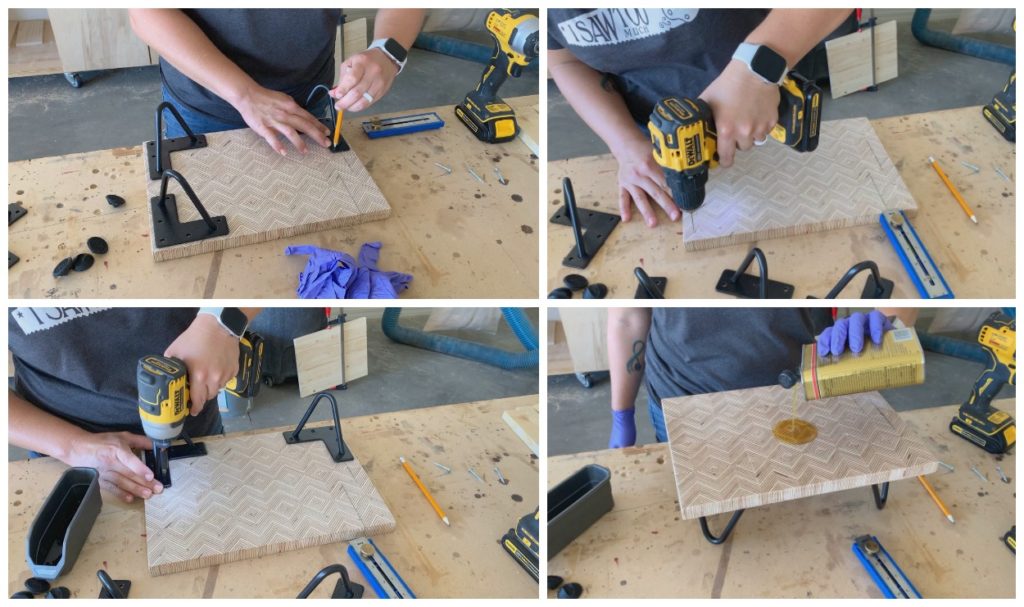 It was a tough choice to decide between the two patterns, but I ended up going with the larger of the patterns for the foot rest. I marked out the locations of the legs and drilled pilot holes for all of the screws. I attached the 4″ legs with 3/4″ wood screws (again the screws that came with the legs are too long), and then flipped it over and applied 3 coats of wipe on polyurethane.
Custom Office Foot Rests
You'll notice that the height of the simple footrest got a little taller. I had ordered two sizes of legs and my son said that he preferred the taller height as he was able to reach it better with his feet, so I swapped them out. I used the 4″ legs for my patterned plywood footrest.
Working at my desk has never been more comfortable! I've been dealing with a lot of sciatic pain over the last several months, so being able to have my feet elevated a bit so that I can sit up straight in my chair is so much nicer. I'm actually using my foot rest as I type!
My youngest is also much more comfortable while he's working, which hopefully will help him to stay focused and on task as they continue to dive into the new school year.
Be sure to check out the YouTube video I put together along with this post and also feel free to pin this for later! It's a great project for the weekend or even if you have a few hours free in the evening!