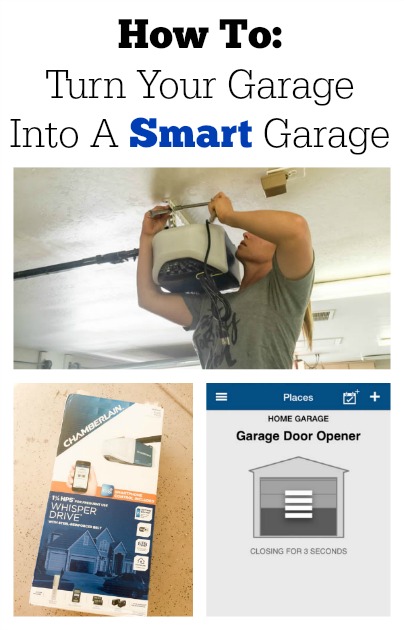 I'm not the most technologically savvy person in the world. I am not one that runs out and buys the latest gadget when it comes out and I'm certain I only utilize half of the capabilities of my current gadgets. That being said, there are some new forms of technology that are so amazing that I can't imagine my life without them! One of them is my new garage door opener. I was recently asked to provide my opinion of the brand new Chamberlain Wi-Fi Garage Door Opener with Smartphone Control. Just reading about all it was capable of was enough to make me want to try it out!

We may or may not have once left our garage door open for an entire week while we went on vacation one summer. Our neighbor was kind enough to watch the garage for us, but never thought to call us to let us know that we'd left it open. Thankfully, we live in a very small, safe neighborhood so the only things that entered our garage were desert critters. We found quite a few scorpions in there in the following weeks. Having this technology back then would have been amazing!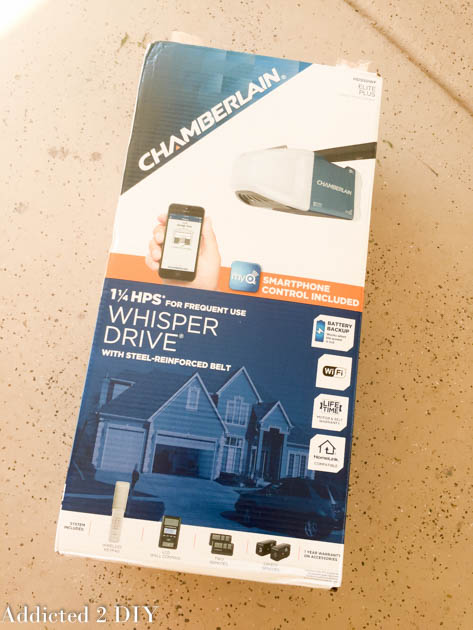 We've been Chamberlain users for years on our garage doors, so I've already been a fan of the brand for a while. Their openers are quiet and work great! The MyQ technology makes it easy to always make sure your garage door is closed and you can open it from anywhere!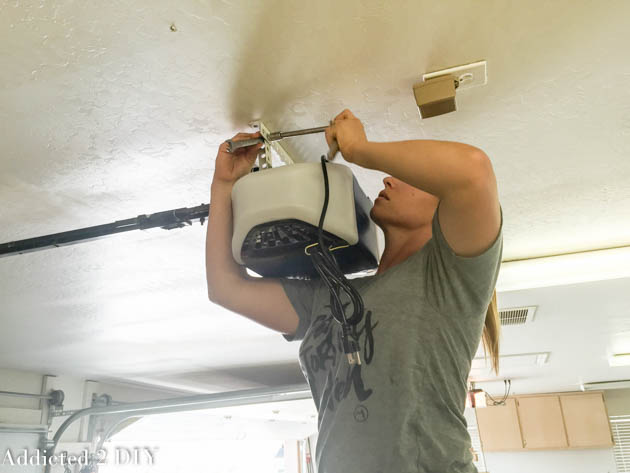 Installing the new opener was pretty straightforward. I followed the instructions in the manual and was able to get the new opener installed without a problem. We were able to use our old brackets in order to install the new opener, which also make things go much faster.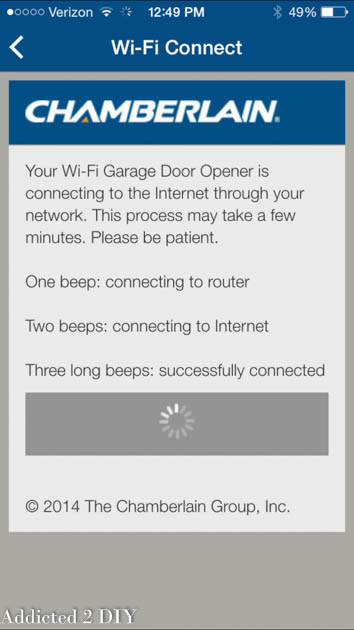 The cool part was setting it all up afterwards. You pretty much do everything from your phone. The instructions walk you through the process of connecting your garage door opener to your home router and then getting your phone set up with the MyQ Smartphone app. You can download it in the App Store and Google Play, which is great since I have an iPhone and my husband has a Samsung. We're a bit of a divided household when it comes to technology;)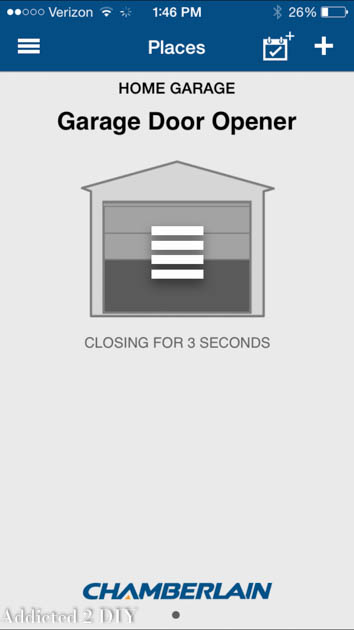 Once everything was set up, I opened my app, set my garage using the serial code and I was done! I have to say that I probably looked like a little kid playing with a new toy. I couldn't resist opening and closing the garage door several times with my phone. A really cool safety feature with the Chamberlain MyQ Garage Door Opener is that it starts beeping for several seconds when you tap the screen to close the garage. That way it alerts anyone who may be in there that the door will be closing. It will also tell you how long your door has been open or closed. It's a great feature when you are wondering how long the door has been left open when you leave your house.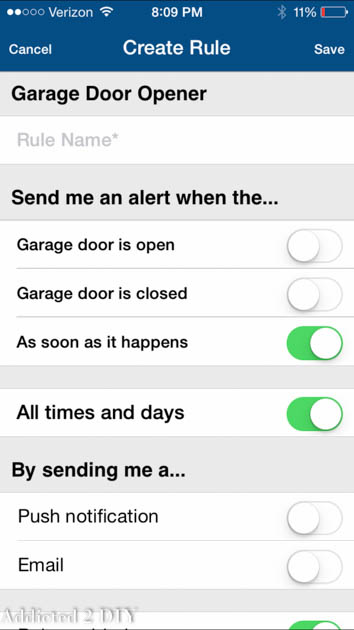 I kept discovering tons of cool features the more I played around with my app. You can set "rules" to alert you any time your garage door opens or closes. My kids are still pretty young, but for those who have children who get home from school, it's a great way to know they've made it home safe. We set it up to alert us at night when we're about to go to bed so we know to shut the garage door. It's pretty convenient to just roll over and tap your phone to shut it. It's totally a first world problem, but there's nothing worse than being super comfortable and then having to get up and shut the garage.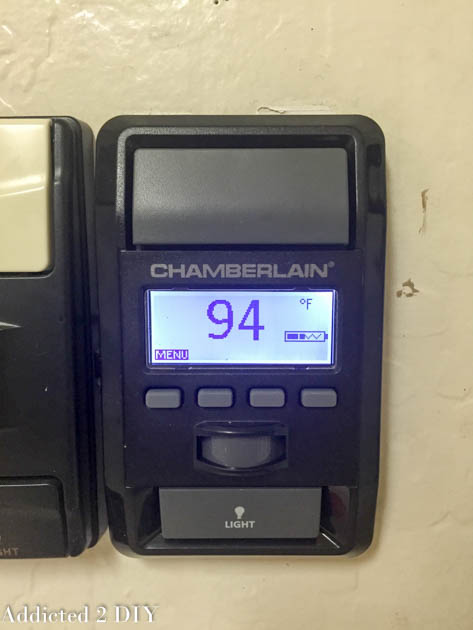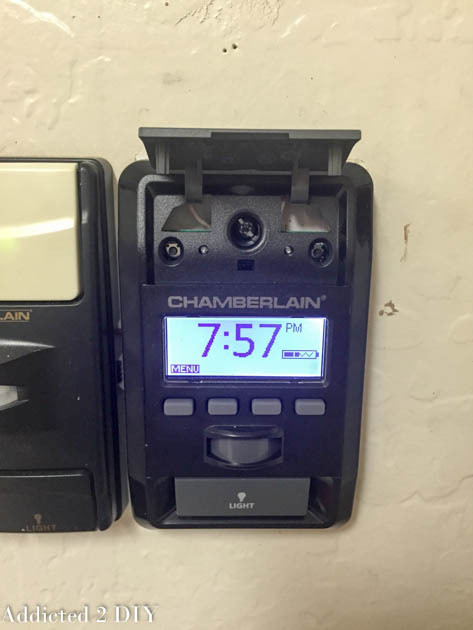 As we continued to set up the garage door opener, we kept finding more and more awesome features. The wall button not only tells you the time, but also the temerature of your garage! And yes, it was 94 degrees in there at 8:00 p.m. That's Arizona for you. My husband really loved the fact that the button flips up for easy installation of the panel. He pretty much broke the old one trying to get it off the wall. The battery symbol is for the included battery pack in the garage door opener. You'll never have to worry about getting into your garage when the power is out.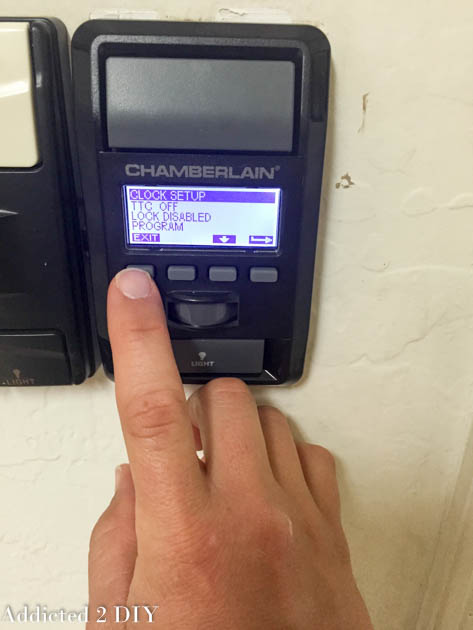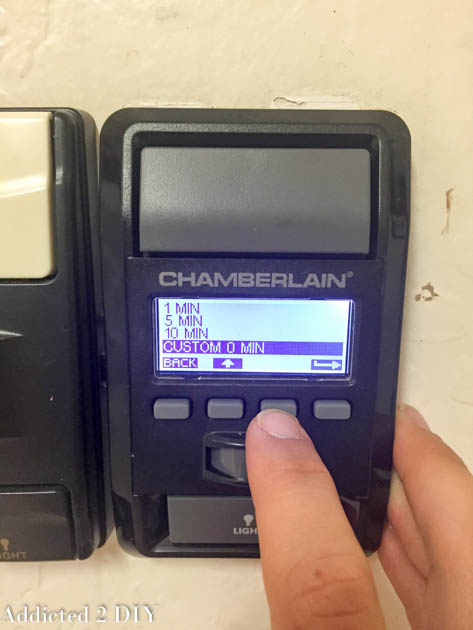 Programming the garage door is easy too. You can set a timer on the door to have it automatically close after a certain amount of time. So if you've got a handful of groceries and then get distracted in the house, you can make sure your door is set to close a few minutes after you get home.
Chamberlain didn't stop with just garage door openers, though. They also offer their MyQ technology with lighting controls. Now you can not only control your garage door from anywhere in the world, but you can also turn your lights on and off with just the tap of your smartphone screen.
The Chamberlain Wi-Fi Garage Door Openers with Smartphone Control are available now at The Home Depot. You can purchase the entire opener, or just the wifi door controller if your opener is still working great. I absolutely love this new opener and I want to get one for our other garage door now, too. We're also building a huge shop in our backyard and this would be perfect for those garage doors. I really don't want to walk ALL the way out to it late at night when I need to close the garage doors.
DISCLOSURE: I was provided product and/or compensation for this post. All opinions of the product are 100% my own.
SaveSave
SaveSave