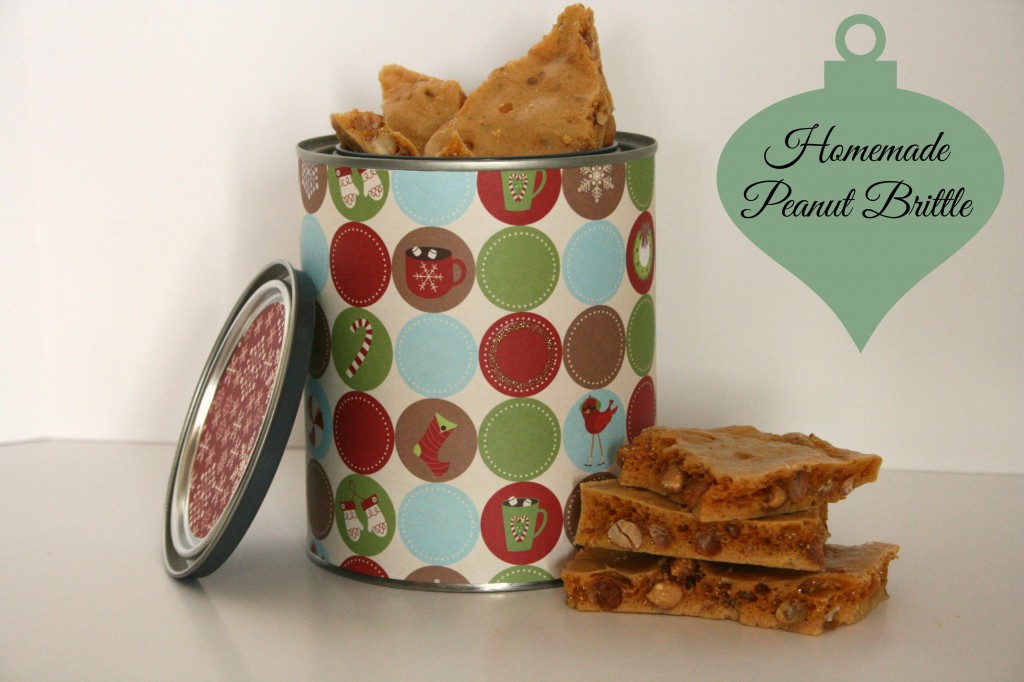 Happy December! This month kicks off my annual Christmas baking marathon. I absolutely love Christmas baking and this year I've started with peanut brittle. Peanut brittle is one of those things that people are pretty picky about. Some like it airy, and some like the bubbles all tapped out to make a harder brittle. I've found that everyone I know who "doesn't like" peanut brittle, usually is swayed when they try this recipe. I probably make about 10 batches of this every December. People love to snack on it when they come to our house, and it also makes a great teacher/neighbor gift. I found this recipe when I was going through my grandma's old cookbooks after she died. It was in a cookbook from the 70's put together by a bunch of farmer's wives in Iowa. To me, that pretty much guaranteed that this recipe would be a winner. I wasn't wrong.
I don't use a candy thermometer when I make this, so when it says to cook the sugar to the thread stage. I get a glass of water and drizzle the sugar into it until it drips long strings of sugar into the glass. You could always use your candy thermometer, but I didn't have one when I first started making this, so I have always done it this way. Also, I always tell people that there is a very fine line between a nice amber color and burnt, so as soon as you think it's the perfect color, don't hesitate to add the rest of the ingredients.
I hope that this recipe makes it onto your annual Christmas baking list. As always, I'd love for you to share it, pin it, or like it:)
~Katie
Peanut Brittle
2013-12-01 23:33:47
Nutrition Facts
Amount Per Serving
* Percent Daily Values are based on a 2,000 calorie diet. Your Daily Values may be higher or lower depending on your calorie needs.
Ingredients
1/2 cup water
1 cup light corn syrup
2 cups granulated sugar
1 12 oz package Spanish peanuts
1 tsp vanilla extract
3 tbsp butter
3 tsp baking soda
Instructions
Butter a large cookie sheet and set aside. In a heavy saucepan, bring the water to a boil. Add the sugar and corn syrup and boil until the mixture reaches the thread stage. Add the peanuts and cook until the mixture turns an amber color. Remove from heat and add the vanilla, butter, and baking soda. Stir until the mixture expands and becomes airy. Pour into the greased cookie sheet. Using oven mitts, pick up the cookie sheet and turn it from side to side to spread the mixture. Do not use a spoon or pat the cookie sheet. Set in a cool place to harden. I usually put mine out in the garage. Once the brittle is cooled, break it apart into pieces and enjoy!
Addicted 2 DIY https://addicted2diy.com/
You can find me hanging out at these fun parties!