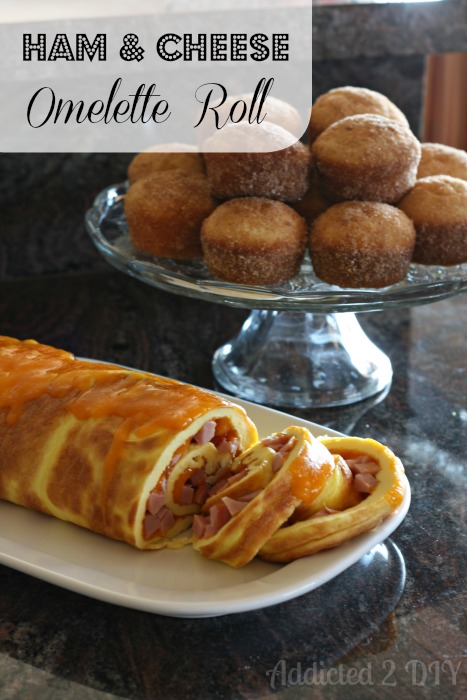 Today I'm sharing with you a dish that I have been making for years now. I originally found it in an old Taste of Home cookbook of my mom's. It looks difficult, but it is so easy to make! I made it yesterday for Easter brunch and I managed to throw it together in minutes and then pop it in the oven while rushing to get ready for church. We were only 5 minutes late. Woohoo!
This dish is always a huge hit with everyone that tries it and it can be changed up any way you like. I've obviously made it with ham and cheese, but I have added chopped peppers and I've also made a Spanish version with chorizo. Just pick your favorite ingredients and roll with it. Get that little play on words there? Okay, excuse my terrible humor and give this omelette roll a try. It's perfect for Easter, Mother's day, baby showers, etc. It reheats well too! On the few occasions that there have been leftovers, I've reheated it for dinner. I've included the handy, printable recipe below. Oh, and if you are wondering what those amazing looking muffins in the background are, they're French Breakfast Puffs from The Pioneer Woman. Give those a try too! They're awesome!
Ham & Cheese Omelette Roll
Author:
Ingredients
4 oz cream cheese, softened
3/4 cup milk
2 tbsp all-purpose flour
1/4 tsp salt
12 eggs
2 tbsp Dijon mustard
2 1/4 cups shredded cheddar cheese
2 cups finely chopped cooked ham (or whatever filling you like)
Instructions
Line the bottom and sides of a greased 15×10 inch baking pan with parchment paper. Grease the paper and set aside.
In a large mixing bowl, beat the cream cheese and milk until combined. Add the flour and salt. Beat in the eggs until blended.
Pour the egg mixture into the prepared pan and bake at 375 degrees for 30-35 minutes, or until puffed and golden brown.
Remove from the oven and spread the Dijon mustard over the top. Then evenly sprinkle the cheese and ham over the top.
Starting from the short side, carefully roll the omelette, peeling the parchment paper back as you roll. Center on the pan and sprinkle with more shredded cheese and place back in the oven for a few minutes to melt the cheese.
Linking up to these parties: